Do I Need a Bassinet for Newborn Baby?
A big Yes, yes you need a bassinet for newborn baby because, from the last nine months, they've enjoyed the shelter of their mother's womb, but now they've found themselves in a different environment.
To give them approximately the same cosy feel of a womb to sleep well, you should consider buying a bassinet.
Bassinets are specially designed for that purpose, for example, you can buy a bassinet for premises baby, a bassinet for C section mom, a bassinet for reflux, a bassinet for small space, a bassinet for aeroplane, a bassinet for twins and for so many other purposes.
Well, you can buy bassinet according to your needs. But crib is just a square piece of wood, which can't be used for so many purposes as a bassinet.
Now the question is. Should i buy a bassinet? Definitely Yes, go ahead and give a beautiful gift to your baby. If you still think, why do you need a bassinet? Then check the below reasons that help you to make a decision.
1.) Safety Come First for Baby:
Whether it's to feed your baby or to change a diaper in the middle of the night, a bassinet is much more convenient.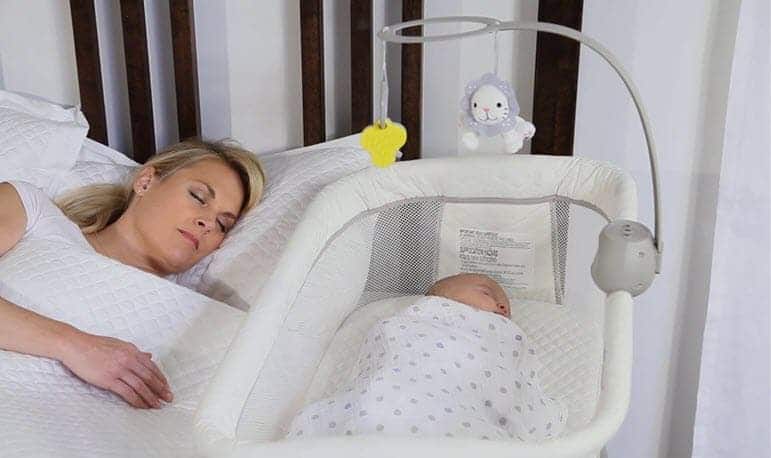 I kept my baby's bassinet in my room, right next to our bed (significantly reducing the chances of an accident that may occur at night).
So, I didn't have to stumble through the dark to feed him in the middle of the night.
Thats why most of the parents prefer co-sleeping. Here is our few of the best co sleeper bassinet for baby.
All I had to do was reach over into the bassinet, and there he was!
The sides of a bassinet are a lot shorter so that you can easily pick your baby up and put him back down without much effort, making it a lot more convenient for recovering moms.
Also, the material use to design/made these bassinets are chemical-free, and JPMA certified.
Have a look at the JMPA certified bassinets list, One of the safe and secure bassinets in the market.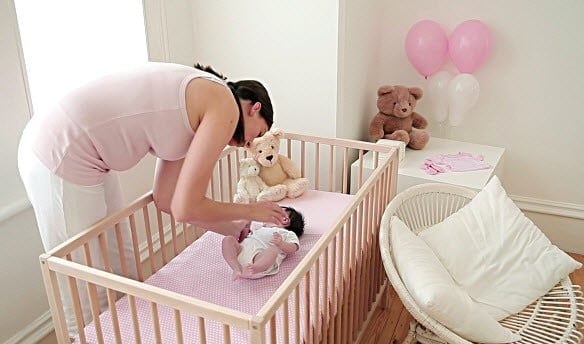 2.) Cozy & Comfortable Place:
It's really heart-warming to see your baby fast asleep, snug and cozy. And a bassinet will provide your little one with complete coziness and comfort that they need for a sound sleep.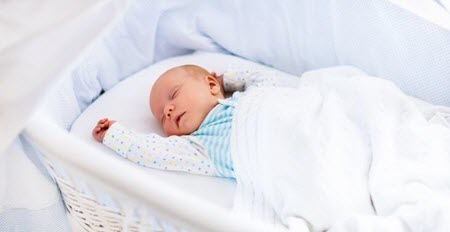 A small-sized bassinet provides a feeling of being cocooned that will help your baby fall asleep a lot faster.
Plus there are many accessories to choose from to make the bassinet even more comfortable. And, unlike a giant crib, your little angel won't feel isolated and uncomfortable in a bassinet.
Small-sized bassinets are best for premature babies. I liked the way my baby was almost hugged by his bassinet. I don't think he would have slept as well if he was flailing about in a big crib.
So what could be better than having your baby snug in a bassinet next to you all night?
4.) Portable & Consume Less Space:
Parents with not a lot of room generally prefer bassinets over cribs because bassinets come in a smaller size, easily fit into small spaces & easy to assemble and disassemble within a minute as compared to cribs.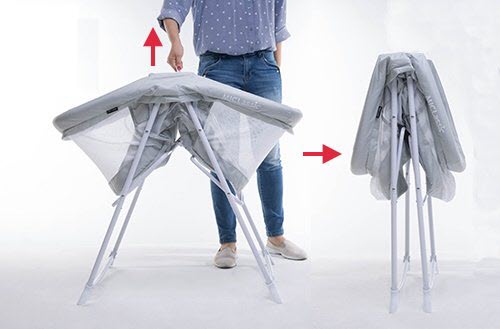 We have a pretty small house, so we really don't have room for something as large as a crib.
A bassinet also comes with wheels that allow parents to move it around the house conveniently, but in the crib, it is not possible to move because of its heavyweight.
Some bassinets are portable, offering parents less hassle when travelling.
5.) Protection from Light & Bugs:
Providing a cozy, safe place for your baby is not enough. You have to protect your baby from direct sunlight or bulb light, dust and, especially, pets.
Although nowadays, pets are treated like members of the family. Parents can struggle with keeping them out of the bassinet or even out of the room where the baby is.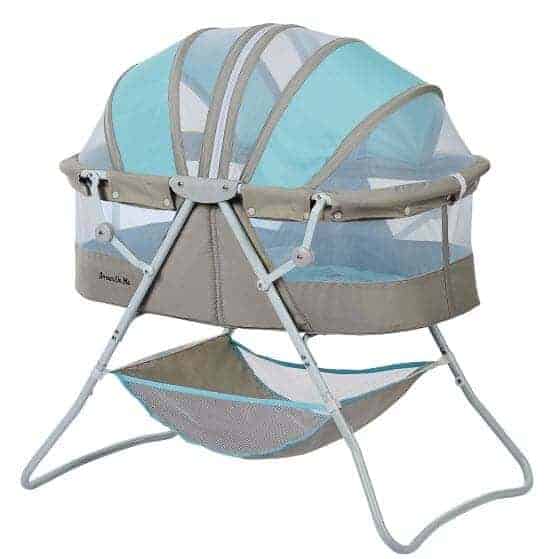 Equipping your bassinet with a hood or a canopy can eliminate unwanted light and dust as well as surprise visits from pets.
The Dream On Me Karley Bassinet is one of the most affordable and safe bassinets that come with a canopy to protect baby from pets.
A hood or a canopy will also block the sun's rays as well as unwelcomed pets so that your baby can enjoy uninterrupted sleep.
I firmly believe that each and every baby has the right to a pleasant slumber, whether day or night.
I hope you like our, Do I Need a Bassinet for a Newborn Baby and this valuable information help you to make a valuable decision in the future.
Some Things to Consider for Your Baby's Safety
AAP recommendations on creating a safe sleep environment include:
Place the baby on his or her back on a firm sleep surface such as a crib or bassinet with a tight-fitting sheet.
Avoid the use of soft bedding, including crib bumpers, blankets, pillows, and soft toys. The crib should be bare.
Share a bedroom with parents, but not the same sleeping surface, preferably until the baby turns 1 but at least for the first six months. Room-sharing decreases the risk of SIDS by as much as 50 %.
Avoid baby's exposure to smoke, alcohol and illicit drugs.
What Intermountain Healthcare recommends?
Other things to note:- Follow the instructions in the bassinet manual and check that all the hardware is tightened to prevent the bassinet from collapsing.
There is no hard and fast rule of how many months you can use the bassinet. So, always monitor and check that your baby is feeling comfortable in the bassinet and doesn't rollover.
When they start to roll, that means it's time to switch to the crib. Here are two more useful information that will help you to make this decision:-
My baby was pretty late in rolling over, so I kept him in his bassinet longer. So, in short, this thing depends upon your baby's current situation.
Word of Advice
We know that every family has its own needs and requirements.
And, in this article, we've evaluated the issues that you can resolve through buying a bassinet. So, i hope you get the answers to your "Do i need a bassinet for newborn baby?"
You are still confused, whether you need a bassinet or Is bassinet necessary?
Yes, the bassinet is necessary and don't worry about the safety, Bassinet is the safest choice of bed for your infant. So stop hesitating and give your baby the comfort and security of a bassinet that they truly deserve.
Now, it's your turn. Let me know in the comments section what you think. Which do you think is best, a bassinet or a crib, for your newborn? So you can help other moms make a quick decision.
Don't forget about to share the article, because sharing is carring.