Deciding what to buy for a newborn baby is a difficult task, especially if you are a first-time parent.
You don't have that much information about what to bring or buy when you come home from the hospital. Like baby clothes, which formula to use, the kind of changing table to buy, sterilizer and so many other things.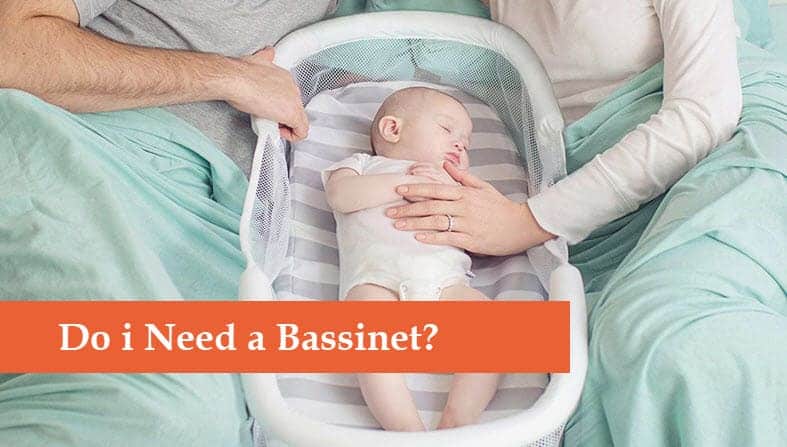 But, besides those necessary items, one of the most important decisions that you'll have to make is, "where should baby sleep first 6 months"
When I came home from the hospital (back in 2014), to be honest, I was so excited that I forgot to decide where my baby would sleep.
I got a lot of suggestions from my family.
Some said I should place the baby in his own room, others said he should sleep in my room, and some even suggested that we co-sleep.
And, on his first night home, the baby slept with us (with me & my husband).
My husband and I share a small bed, so it was very difficult for us to co-sleep with the baby. It was also very unsafe.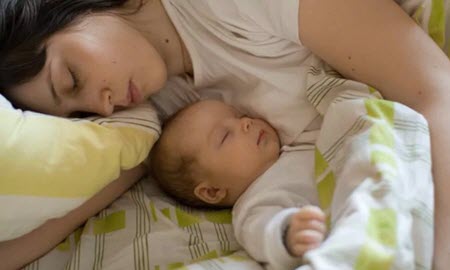 Next day, when I read a paper on "ELSEVIER" in the Journal of Pediatrics evaluating SIDS risk factors for infant sleeping arrangements, to be honest, I got really shocked and stopped co-sleeping with my baby for his safety.
Here is what the paper said:
Approximately half (30%) of all sudden and unexpected infant deaths in the United States occur when an infant is sharing a sleeping surface with someone else; the factors associated with bed sharing are also associated with SIDS.
The question that came to my mind was, where will my baby sleep safely if not with me?
After doing further research I got the answer to my question from the American Academy of Pediatrics (APP).
San Francisco, CA—Infants should sleep in the same bedroom as their parents–but on a separate surface, such as a crib or bassinet, and never on a couch, armchair or a soft surface—to decrease the risks of sleep-related deaths, according to a new policy statement released by the American Academy of Pediatrics.
So, now it's clear, the best place to sleep for my baby to sleep is a bassinet or a crib.
But which one is the best and the most comfortable for a baby? To get an answer to this all-important question I think you should first read "Should Baby Sleep in Bassinet or Crib".
If you ask me (as well as other experienced moms), then I personally recommend to go with a bassinet instead of a crib.
Let me tell you why you need a bassinet for a newborn baby.
But before reading the article I recommended, you must check out the difference between bassinet and crib if you don't know.
Do I Need a Bassinet For Newborn Baby?
The answer is a big "YES". But why? Simply because from the last nine months, they've enjoyed the shelter of their mother's womb, but now they've found themselves in a different environment. To give them approximately the same cozy feel of a womb, to sleep well, you should consider buying a bassinet.
Also, bassinets have all the features you need, from soothing to keeping your little one safe.
The best thing about bassinets is that they help to build a strong bond between mom and baby by keeping your baby near you.
Of course, there are tons of reasons to go for a bassinet.
Let's have a look at a few of them:
1. Safety Come First For Baby:
Whether it's to feed your baby or to change a diaper in the middle of the night, a bassinet is much more convenient.
I kept my baby's bassinet in my room, right next to our bed (greatly reducing the chances of an accident that may occur at night).
So, I didn't have to stumble through the dark to feed him in the middle of the night.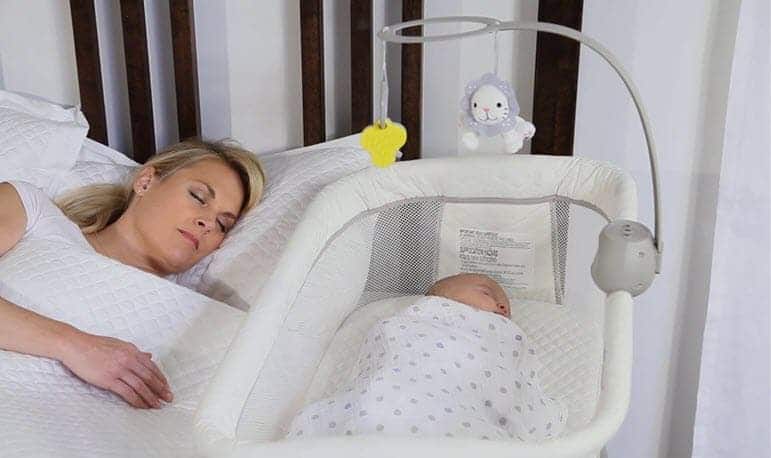 All I had to do was reach over into the bassinet and there he was!
The sides of a bassinet are a lot shorter so that you can easily pick your baby up and put him back down without much effort, making it a lot more convenient for recovering moms.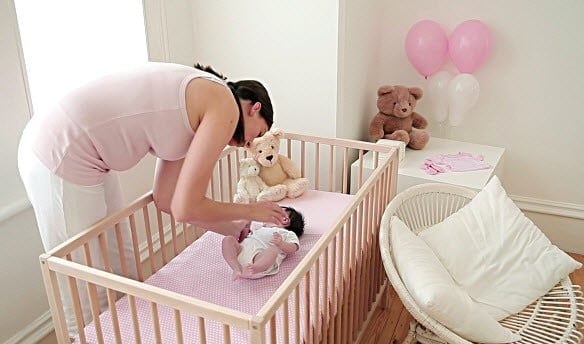 And you can even lay your champ down without bending down from your own bed.
There are a few bassinets that are specially designed for that purpose (especially for recovering moms), Like the halo bassinets and bassinets that are specifically designed for C-section moms.
Furthermore, you can have ease of mind when choosing a bassinet as industry guidelines call for the use of high-quality materials.
So your baby will be completely safe and secure in a bassinet.
Furthermore, studies show that bassinets are safer for a baby while they sleep, reducing the risk of SIDS by up to 50%. 
Have a look at the JMPA certified bassinets list, One of the safe and secure bassinets in the market.
2. A Cozy & Comfortable Place:
It's really heart-warming to see your baby fast asleep, snug and cozy. And a bassinet will provide your little one with complete coziness and comfort that they need for a sound sleep.
A small-sized bassinet provides a feeling of being cocooned that will help your baby fall asleep a lot faster.
Plus there are many accessories to choose from to make the bassinet even more comfortable. And, unlike a giant crib, your little angel won't feel isolated and uncomfortable in a bassinet.
Small-sized bassinets are best for premature babies.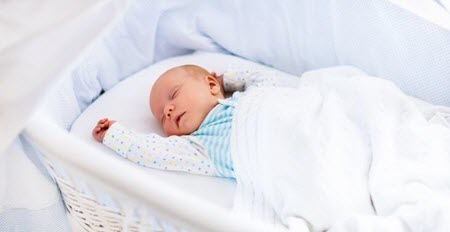 I liked the way my baby was almost hugged by his bassinet. I don't think he would have slept as well if he was flailing about in a big crib.
So what could be better than having your baby snug in a bassinet next to you all night?
3. Help to Soothe Baby:
By noticing the problem with babies' sleep (crying at night, for example) manufacturers design mobile devices for bassinets that help babies to soothe and sleep faster.
These bassinets with mobiles and music are excellent for soothing your baby to sleep.
These bassinets that soothe your baby to sleep with the help of vibrations and music (lullabies), as well as a built-in toy that helps keep your baby busy so that you can do the work you want.
In a large-sized crib, however, it is not possible to soothe your baby with vibration.
Additionally, studies show the babies love to sleep in the inclined bassinets because such bassinets help to reduce the acid reflux in babies.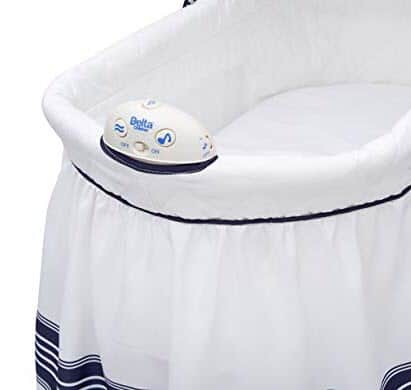 4. Portable & Consume Less Space:
Parents with not a lot of room generally prefer bassinets over cribs because bassinets come in a smaller size, easily fit into small spaces and easy to assemble and disassemble within a minute as compared to cribs.
We have a pretty small house, so we really don't have room for something as large as a crib.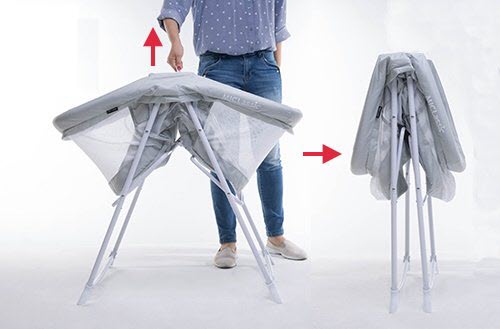 A bassinet also comes with wheels that allow parents to conveniently move it around the house, but in the crib, it is not possible to move because of its heavyweight.
Some bassinets are portable, offering parents less hassle when traveling.
We are a family on the go. Whether it's a weekend away or a Sunday afternoon at the relatives, you're going to love being able to take the bassinet with you.
Note: We don't recommend to use the bassinet as a car seat because bassinet is not designed to provide safety in the car.
If you are planning to buy bassinet instead of a car seat then we recommend to read this article first "Is a Car Seat or Bassinet Better for Newborn Baby?" before making a decision.
5. Protection from light & bugs:
Providing a cozy, safe place for your baby is not enough. You have to protect your baby from direct sunlight or bulb light, dust and, especially, pets.
Although nowadays, pets are treated like members of the family, parents can struggle with keeping them out of the bassinet or even out of the room where the baby is.
Equipping your bassinet with a hood or a canopy can eliminate unwanted light and dust as well as surprise visits from pets.
The Dream On Me Karley bassinet is one of the most affordable and safe bassinets that come with a canopy to protect baby from pets.
But if you want quality bassinet then go with Baby Bjorn cradle.
A hood or a canopy will also block the sun's rays as well as unwelcomed pets so that your baby can enjoy uninterrupted sleep.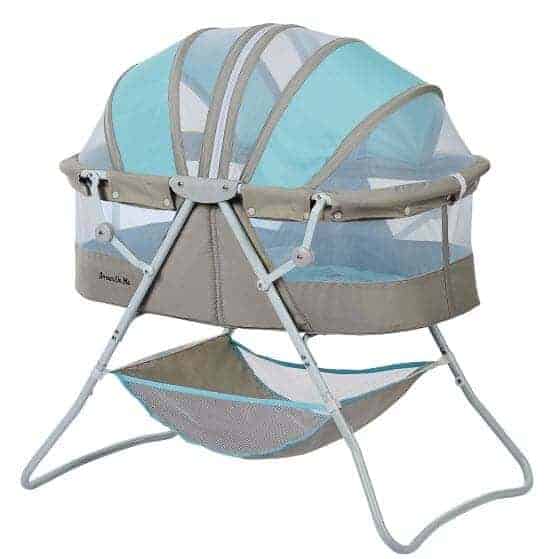 We firmly believe that each and every baby has the right to a pleasant slumber, whether day or night.
So, these are just a few points that answer your question "Do I Need a Bassinet for a Newborn Baby" and help you to make a valuable decision in the future.
Some Things to Consider for Your Baby's Safety
What APP recommends?
AAP recommendations on creating a safe sleep environment include:
Place the baby on his or her back on a firm sleep surface such as a crib or bassinet with a tight-fitting sheet.
Avoid the use of soft bedding, including crib bumpers, blankets, pillows and soft toys. The crib should be bare.
Share a bedroom with parents, but not the same sleeping surface, preferably until the baby turns 1 but at least for the first six months. Room-sharing decreases the risk of SIDS by as much as 50 %.
Avoid baby's exposure to smoke, alcohol and illicit drugs.
What Intermountain Healthcare recommends
And what we recommend.
Follow the instructions in the bassinet manual and check that all the hardware is tightened to prevent the bassinet from collapsing.
There is no hard and fast rule of how many months you can use the bassinet. So, always monitor and check that your baby is feeling comfortable in the bassinet and doesn't roll over.
When they start to roll, that means it's time to switch to the crib. Here are two more useful information that will help you to make this decision:
My baby was pretty late in rolling over, so I kept him in his bassinet longer. So, in short, this thing depends upon your baby's current situation.
Word of Advice
We know that every family has its own needs and requirements. And, in this article, we've evaluated the issues that you can resolve through buying a bassinet.
Still confused whether you need a bassinet or not?
Don't worry, a bassinet is definitely the safest choice of bed for your infant. So stop hesitating and give your baby the comfort and safety of a bassinet that they truly deserve.
Go ahead, choose the best bassinet for your newborn baby so you can both sleep well at night.
Now, it's your turn.
Let me know in the comments section what you think. Which do you think is best, a bassinet or a crib, for your newborn? So you can help other moms make a quick decision.
If you really liked and enjoyed this article, be sure to share it on social media with your friends and family.