Using a bassinet for a newborn baby is the best option and also recommended by APP. But knowing, When you should have to stop using it, Is also a crucial thing.
A bassinet provides extra comfort and coziness in the first few months of the baby.
But using it longer than recommended can increase the risk of Sudden Infant Death Syndrome (SIDS)
Also, it's not a good bigger baby to sleep in a small or uncomfortable place.
It affects the health & growing child and soo many other things.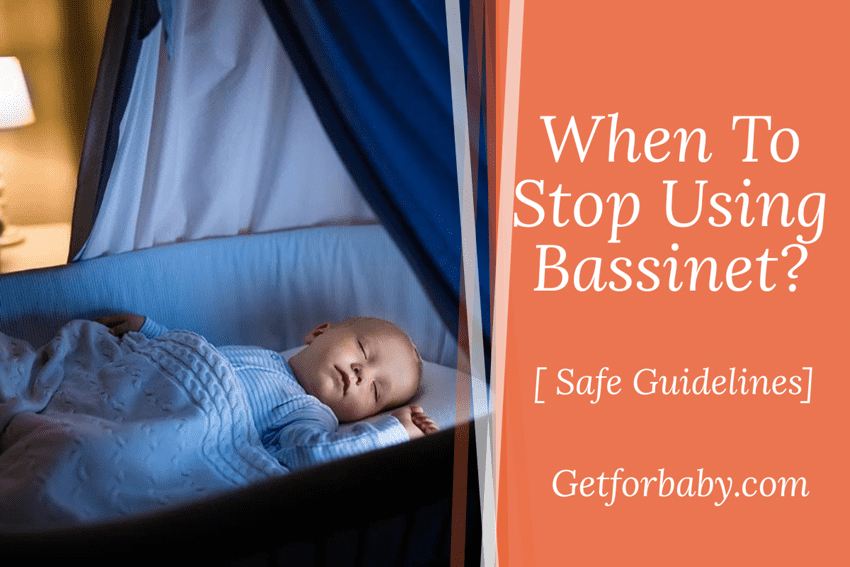 Your baby is growing faster than you think, and they need something that can provide them safe & comfortable sleeping area. But here the question is, At what age should a baby stop sleeping in a bassinet?
Or, When to move the baby out of the bassinet?
Well, if these are your questions, too, then keep reading this Ultimate Guide. I will explain and share some evidence that on which basis you can make a more valuable decision.
When To Stop Using Bassinet?
In short, you should have to stop using a bassinet if your baby starts rolling in it. If your baby's Weight & Age exceeds the prescribed limit set by the manufacturer. In that case, that is also the time to retire the bassinet. Usually, the weight limit is 15lbs to 30lbs, approx & 5-6 months of age.
If you are using your bassinet beyond that limit, that means you are putting your baby at risk.
American Academy of Pediatrics also recommends stopping using it after 5-6 months or until the baby will not feel uncomfortable in it.
But there is not any fixed number that you have to keep in mind. This thing depends upon your instinct and decision to keep your baby safe.
So, let's check something that helps you identify that it's the time to stop using a bassinet.
1.) Newborn Rolling to Side In Bassinet:
If your infants start rolling in the bassinet, that means he or she is at much higher risk than before.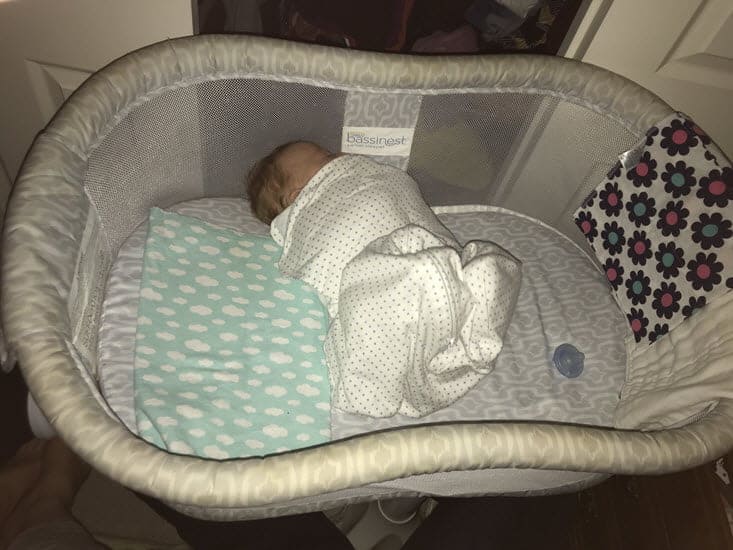 Every year 3,500 infants die due to suffocation, as the WebMD said:
About 3,500 infants die every year in the U.S. from sleep-related deaths. The number of babies that die from sudden infant death syndrome (SIDS) has been falling.
Suppose you are sleeping and it's the middle of the night.
Your baby rolls over in the bassinet making their face come in contact with the side of the bassinet wall.
Some bassinets do have mesh sides which reduces the risk, but you can never be too careful. 
Infants don't have the strength to move his head or turn back as we do. So, this increases the risk of suffocation.
Watch this experiment perform by Full Control Lab.
Now the question is, How do you know when your baby starts turning over in bassinet, or At what age do babies turn over?
As per the Helpmegrowmn, usually, the newborn baby takes up to 4 months to turn or rock from side to side. In both cases, they can't turn over on their back. They, however, lack the strength to get back from the tummy.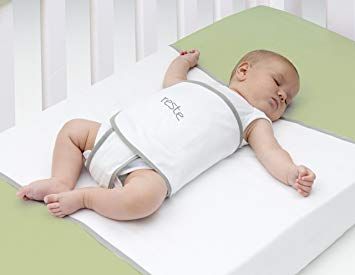 At the age of 6 months, the baby will roll in both directions and can also roll over from tummy to back.
So give close watch between the age of 4 to 6 months, start preparing your transition from bassinet to crib.
Now the next question is: How to keep the baby from rolling in the bassinet?
The answer is by using an Anti-Rollover blanket, if you baby is comfortable & not corss the prescribed limit.
There are many Anti-Rollover Blankets available in the market.
You can attach these to the crib or bassinet to ensure your baby will not turn or roll over during sleep.
If your newborn baby strat is rolling in the bassinet, that means it's time to stop using it.
According to AAP recommendations, infants should stay in the same room for about 6 months to avoid the risk of SIDS. Yet, if he starts rolling over early, you should make the transition fast to the crib.
2.) Keep Eyes on Age & Weight:-
Most of the bassinet age range falls between 4 to 6 months, after that, you have to stop using it. Because after that age, your baby is grown enough that he or she will not fit or feel comfortable in it.
But, suppose you give birth to a premature baby, then how much time he needs to outgrow his bassinet?
Well, definitely more than 6 to months.
This is what you have to understand and test by yourself; until what age can a baby sleep in a bassinet?
The same thing happens with a bassinet weight limit. Manufacture recommends using a bassinet up to 15lbs to 30lbs ( depends upon the design & material).
But, Some babies grow faster than normal due to varieties of reasons. Which means they will cross the weight limit before their age reach.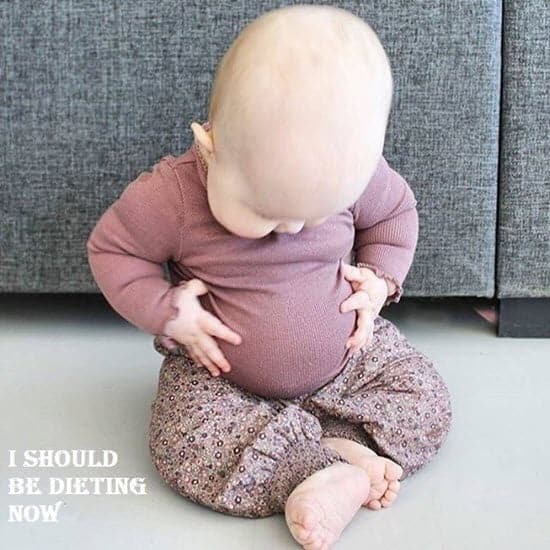 Check this Table: Age with Weight of the newborn baby as per CDC.
| | | |
| --- | --- | --- |
| Age | 50th percentile weight for male babies | 50th percentile weight for female babies |
| Birth | 7.8 lbs. (3.5 kg) | 7.5 lbs. (3.4 kg) |
| 0.5 months | 8.8 lbs. (4.0 kg) | 8.4 lbs. (3.8 kg) |
| 1.5 months | 10.8 lbs. (4.9 kg) | 9.9 lbs. (4.5 kg) |
| 2.5 months | 12.6 lbs. (5.7 kg) | 11.5 lbs. (5.2 kg) |
| 3.5 months | 14.1 lbs. (6.4 kg) | 13 lbs. (5.9 kg) |
| 4.5 months | 15.4 lbs. (7.0 kg) | 14.1 lbs. (6.4 kg) |
| 5.5 months | 16.8 lbs. (7.6 kg) | 15.4 lbs. (7.0 kg) |
| 6.5 months | 18 lbs. (8.2 kg) | 16.5 lbs. (7.5 kg) |
Information source CDC boy Chart growth & CDC Girl Growth chart 
Note: Don't use the bassinet after your baby crosses the weight limit because your baby bassinet is not designed to hold more than that. It can be collapse and cause serious injury.
Several of the deaths were associated with risks that are unique to bassinets. Bassinets may collapse, have broken wooden slats, or malfunction stabilizing clips.
Such mechanical problems could lead to the movement of the child either within or outside of the bassinet.
Always ask 3 questions to yourself to understand when to move the baby out of the bassinet?
Have your baby reach the bassinet age limit recommendation.
Have your baby cross the recommended weight limit.
Is he start feeling uncomfortable in it before the age & weight limit.
Your child's safety depends on your decisions. The bassinet is designed to provide extra comfort & safety to the newborn during the first few months of his life. Still, later on, you have switched from bassinet to crib.
Note: Always check if your bassinet is recalled or not for extra safety.
You can sign up for our newsletter. We let you know when the manufacture recalls their product & also share a handy guide to get the follow-up.
Word of Advice:-
Don't be so quick to make any decision. Take your time. Evaluate your baby's current situation to understand when it's the best time for your baby to move out.
If your little angel is not sitting up or rolling over and weighs within the bassinet limit recommendation, then there are no worries. Let him sleep in it & enjoy his comfortable sleeping area.
Watch this video; it will help you to lower the risk of SIDS.
Now, what next?
Well, if you decided to switch from bassinet to crib, then here is a guide for you: When & How to transit from bassinet to crib?
If not, check some of the below guides to ensure your baby sleeps in a safe environment.
Now, it's your turn. I love to hear from you; when should baby stop sleeping in the bassinet? Put your question in the comment box. I love to answer your query.
Some FAQ
When is the Baby too Big for a Bassinet?
After 5-6 months of age, the baby is big enough to move out of the bassinet. Sometimes, babies grow faster. They may outgrow the bassinet before the age limit set by the manufacturer. If this thing happened to you, move your baby out of the bassinet and place him to a bigger safe space which is a crib.
Here is our list of the Best Baby Crib for Newborn.
Can Baby Sleep in Bassinet If Rolling Over?
You have to understand how much he is rolling over in the bassinet. If you feel your baby rolling to much, then you should have to discard it. If its initial rolling, then starts planning ahead. Prepare to switch from bassinet to crib; it is the best sign that you need a crib for your growing child.
Also check, what the bassinet side wall is made of. Nowadays, most of the bassinet sides are mesh to increase the airflow & lower the risk of SIDS.
If your bassinet has a mesh side, you can use it longer because your bassinet is breathable.
When Do Babies Outgrow Bassinets?
After the age of 4-6 months, the baby can outgrow the bassinet. But there are many other factors. These include; growth rate, baby size, and weight. If you put all these things in one bucket, I'm sure you can understand that when your baby outgrows his bassinet.
Don't forget to share the article because sharing is caring.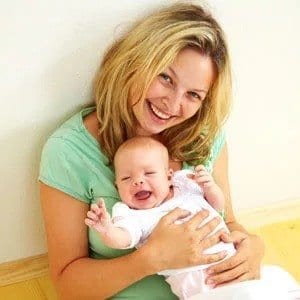 Dr. Sakshi Patel
Senior Content Writer
Dr. Sakshi Patel is a housewife who loves to spend most of her time with her Twin daughter. She loves to share her parenting journey with other new parents. She completed her Ph.D. from MP University in HDFS. Her hobbies are internet browsing, doing research on products, reading, and writing.