4 Best Bassinet For Twins [ Review By Expert ]
Are you in search of a bassinet for your twins? Or you have someone expecting twins, and you want to gift them one?
Then this is the right place.
A bassinet is one of the essential products to buy when expecting a baby. And if it's the case that you are expecting Twins, then a bassinet is paramount.
Twin Bassinets are significant because of the convenience and coziness they offer children.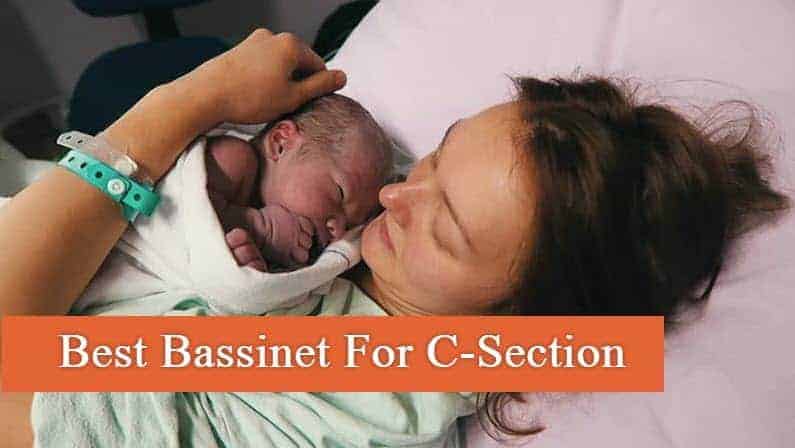 I didn't see the need for a bassinet when my sister had twins until I realized how painful, inconvenient, and less cozy a standard full crib was for both the mother and her babies.
The twin baby bassinet makes the job easy as it is compact, small and comes with a feature that you need to take care of your twins.
Some of them are also travel-friendly and easy to move from room to room because of their wheel.
We have gone through the best of the best bassinet for twins and have also gotten feedback from other moms so you can get the very best.
Here Is The List Of Best Bassinet For C Section Moms
Choosing the best one is very important. so, to help you in the process, we have highlighted the main features of the bassinet followed by our full review so that after reading this article, you'll be able to make a valuable decision
1.) Halo Bassinet Twin Sleeper Double Bassinet:-
Halo twin bassinet is #1 on our list of the best bassinets for twins due to its top quality and feature. It is a single bassinet that has a separator in place of a stand-alone bassinet attached.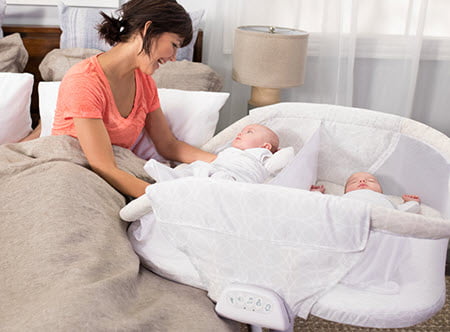 The major selling point of this bassinet is the 360-degree smoothness of rotation that isn't found in any other bassinets.
Halo twin bassinet is the answer for a perfect sleep for families that are expecting twins. It offers your babies the closeness they want because of the mesh walls.
The mesh walls provide total visibility and breathability for your babies.
It ensures your babies do not lack soothing or nighttime feeding as they are close to you, and you do not have to leave the comfort of your bed necessarily.
It has a beautiful design of the bed that enables you to make adjustments to the height of the bassinet from 24 inches to about 34 inches, depending on your bed's height.
The best thing about Halo twin bassinet is that it is a co sleeper bassinet for twins.
Means you can use it as a co-sleeper too. You can place the bassinet such that it overlaps the bed.
Halo twin bassinet not just helps you do co-sleeping but also save space in the room by minimizing the space between the wall and the bed.
But, In case you don't want to do co-sleeping then you can use it as bedside bassinet for twins. One bassinet but you can use it in many ways.
The feature I like the most is its mobile device: It offers three lullabies and three soothing sounds.
It also has two-level vibration, a back to bed reminder, two-level nightlights and a 30 minutes auto shut off.
Back to bed reminder is handy, sometimes mom is tired and gets fall in sleep during breastfeeding, and this thing can be the case of death due to suffocation.
It also comes with two polyester sheets (fitted), two waterproof mattress pads, two cotton sheets.
But I recommend buying a few more because to manage a twin is a tough job, and you need at least three mattress pad to make sure your babies always get to sleep in a clean environment.
From my point of view, Halo twin bassinet is an excellent product for new mothers, specifically for those that went through c-section. It is quite pricey, but given the features and quality, I can assure you it's worth the price.
You can also buy this bassinet right now from our verified seller for unbeatable rate by clicking the link. It comes with the manufacturer's warranty.
2.) Baby Trend Go Lite Twins Nursery Center:-
This double bassinet for twins is #2 on our list of the Best Bassinet for Twins. If you can't get the first one, try to purchase this as it is also perfect for parents expecting twins.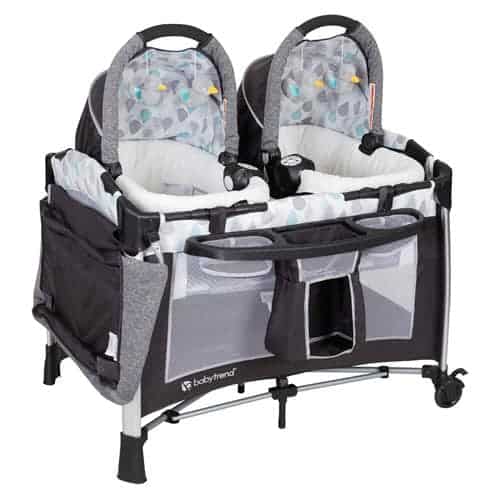 It's a little less expensive than the one above but doesn't offer co-sleeping.
But this bassinet has its features that you will not found in the halo bassinet too. Let me explain which one.
A baby trend is a double bassinet for twins because it comes with two rock-a-bye-baby bassinets that are positioned side by side
And have a handle on the top — means you can pick each bassinet separately and move in the house without disturbing the other one.
To protect your babies' eyes from the light, this bassinet offers canopy. This feature will help you when you go to the market with your little one.
This twin nursery center has two sound machines, two toys, two dim night light and two soft vibrations for good sleep.
It also comes with a flip away changing table that is convenient to change diapers without taking the baby.
And its organizer will help to store your babies' essentials in one location
This bassinet comes in three versions, and the first two are the same Goodnight Forest and Circle Tech only difference in its color.
The third one is the Drip Drop Blue.
The thing that makes it different from both is its Storage.
This bassinet is recommended for babies from a day old to 6 months old.
The weight range of babies that should stay in this bassinet is anywhere up to 15lbs or until your babies get to twenty-two inches.
It comes with a playard made of solid aluminum and a locking mechanism that can be operated with one hand.
This is the thing that makes is better than Halo because you can use this bassinet as Playard after using it as a bassinet.
It also comes with a travel storage tote bag that makes packing convenient. Another bonus to it is the easy assemble with One-hand locking mechanism.
With this bassinet, you can go on short trips and move around without hurting or inconveniencing your babies.
So, what are you waiting for? Give this beautiful gift to your twins baby by clicking on the link!
3.) Graco Pack n Play Twin Bassinet For Twins:-
This pack n play twin bassinet is #3 on our list of the best bassinet for twins because it does not have features are much as the top two above, it's a simple, sobber and small size bassinet for twins.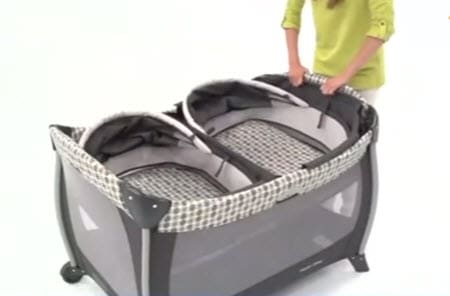 It is a bassinet that is great for its height. For moms that go through c-section, it is perfect!
You would not have to bend so low to lift your baby from the bassinet.
And its light body along with wheel makes it easy for you to move the bassinet from room to room.
This is a suitable bassinet for you if you are leaving in a small size apartment or house because this bassinet helps you save ample of space as compared to the above two.
These bassinets have canopies that add to the soothing environment and protect your baby's eyes from high-intensity light so that your babies can rest well.
The middle support of the twin bassinet can droop because the bassinets are not separated.
It has a quilted mattress pad that makes a nap comfortable and cozy.
And also comes with a carrying bag for convenience during a journey, and you will have a no-fuss trip.
Graco twin bassinet is the second cheapest twin bassinets on your list as well as in the market.
Note: If you don't have a reasonable budget, then I recommend to check our #4 product — one of the cheapest bassinet on our list.
Graco bassinet looks simple, but it is made of quality material that allows your baby to sleep comfortably.
Check our Graco Pack N Play Twins Bassinet Reviews to get some more information about this product.
4.) JOOVY Room2 Twin Nursery Center For Twins:-
This Twin Bassinet is last on our list because it is not so comfortable and conducive for your babies. The reviews on it haven't been entirely bad, but this bassinet should be the best in your mind.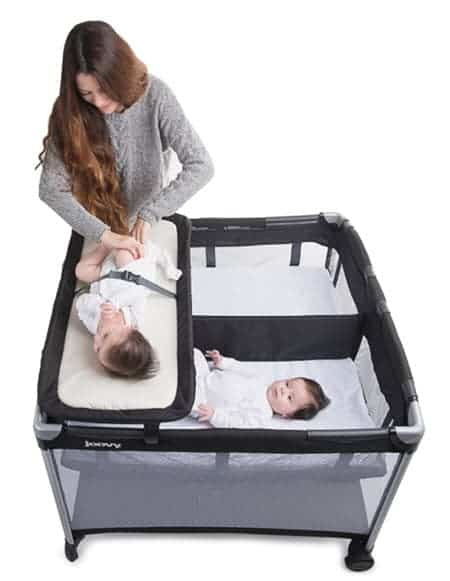 This does not mean it does not have some basic features that are quite nice.
It comes with two bassinets that are separated with a divider. This divider zips into place for two separate sleeping areas.
It can be used if one baby is lying down at the bottom of the nursery, and the other baby is on the top changing table.
No other bassinet on our list of the best bassinet for twins can do this.
It also comes with a removable surface of the twin nursery center that is water-resistant.
The cover of the bassinet can be washed in the washing machine. This makes it more convenient. 
The changing table holds up to 25 lbs, and it can be folded down and out whenever you want. The overall bassinet can hold 30lbs means each section can hold 15lbs.
It's a large one so your baby can move around.
This implies that this bassinet is not well suited to fit in two babies, that is twins.
Some reviews say if one of the babies rolls over or move, the whole bassinet sways.
This can disrupt the sleep of both babies. It may now depend on how your babies sleep.
But, still, this bassinet offers a lot of other benefits too, that you can read in our Joovy Room2 Twin Nursery Center Reviews
Although, it is perfect for parents that have limited space. They can still place the twins in it as they can play and sleep.
I hope you have found this information useful and this "Best Bassinets For twins" guide will help you in making a valuable decision.
What Do We Recommend?
Well, if you ask me, then I recommend going with Halo Twin Sleeper.
This bassinet is little costly no doubts in it, but the value of your money is directly converted in quality and comfort.
A lot of people try to save some money and go with lower price bassinet, but after a few days, they realize that they made a mistake.
This is because babies can't sleep in it, and they try to buy some extra things that make bassinet more comfortable.
So, rather than spending it on other things, now invest it into the bassinet for health and good sleep.
The second bassinet I want to recommend is the Baby Trend Twins Nursery Center.
Another useful and good bassinet on our list. The only difference I observe in this bassinet is, you can't use it as a co-sleeper.
Now, it's your turn to let me know which bassinet you are going to buy.
Drop your valuable comment in the comment box.