Top 5 Best JPMA Certified Bassinet [ Safe & Meet ASTM Standard ]
Today, I will review the top 6 best JPMA certified bassinet. But before we start to review it, let me first tell you what is JPMA and what does it means?
JPMA means, "Juvenile Products Manufacturers Association".
If you are looking the seal of JPMA on the bassinet that means this product met the guidelines set by standards developer ASTM International.
In short, means safe to use the bassinet for newborn baby.
Not all the bassinet in the market met the guidelines set by standards developer ASTM International, that's why today I filter out 6 bassinets out of 10 Best JPMA Certified Bassinet.
So, let's check these ones by one and compare its feature with each other to figure out which one is best for your baby.
Quick Comparison of the Best JPMA Certified Bassinet
List of The 6 Best JPMA Certified Bassinet
Choosing the best bassinet is a very difficult task. So, to help you in that process, we have filtered out 6 Best JPMA Certified Bassinet and tested it and also collected the feedback from moms just like you to make sure you get the best. So here we go;
1.) Halo Bassinest Swivel Sleeper:
All the Halo Bassinest model bassinet is JPMA Certified ( you can check here ) and it's top on our list because it is a multi-functional bassinet.
You can do co-sleeping, use as a bedside sleeper and it is the best bassinet for c section mom.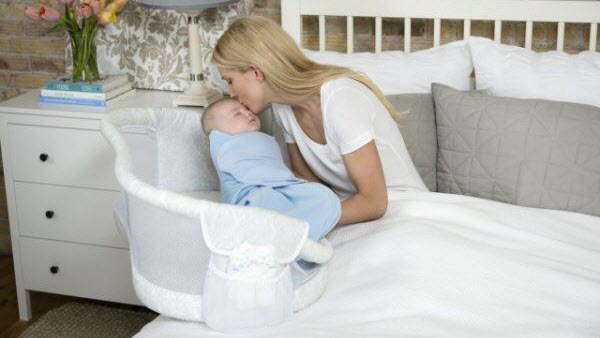 One of my favorite feature of this bassinet that you will not find in any other bassinet is its 360-degree rotation feature.
Means you can rotate your bassinet to hover it on the bed so that you can easily do co-sleeping as well as for breastfeeding.
Halo bassinet also comes with a mobile device, 
that vibrates, play music and provide soft glow light that to help baby to see at night without lighting the whole room.
Due to its vibrating feature, this bassinet gets #2 on our list of Best Vibrating Bassinet.
Not only its vibrating device produces vibration and music to soothe the baby.
It also comes with 30 min auto switch-off feature
Means after 30 min it automatically switches off the mobile so you don't need to leave your bed to OFF the mobile.
If you want better-vibrating device that soothes your baby in a more better way then I recommend to check the below product ( #2 ).
Apart from that, If we talk about the quality then no one can beat the halo bassinet, it's a chemical-free bassinet, you will not feel any sent of chemical.
Its sidewall is transparent for better airflow that way it is #1 on our list of best JPMA certified bassinet. There is no other bassinet that you can use as long as that age.
So, what are you waiting for, just click the link and gift your baby a peaceful sleeping environment?
If you would like to explore its more feature then don't forget to check Halo Bassinest Swivel Sleeper Reviews.
3.) SwaddleMe By Your Bed Sleeper
SwaddleMe sleeper is the best bassinet for a baby who is suffering from acid reflux that's the reason it gets #1 on our list of the best bassinet for reflux.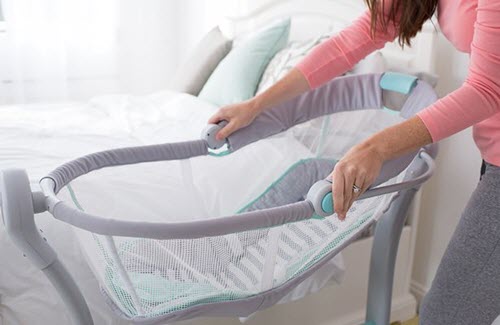 You can use this bassinet as a bedside sleeper, that helps you to keep the focus on your baby and sleep near to him to make a strong bond.
Don't worry about the bed height, its come with an adjustable leg
That allows you to adjust the height with any bed to bring the baby to eye level.
The bassinet also has mobile which contain 2-speed vibration, lullabies and nature sounds, and soft-glow nightlight, that help you and your baby.
Its feature just not end here, its Side-to-side rocking allows parents to soothe baby without getting out of bed.
Apart from that features, it is also a JPMA certified bassinet (You can check here ), So don't worry about its safety and quality.
I personally recommend this bassinet if your baby suffering from reflux problem.
I'm also using this bassinet for my little angel and she loves to sleep on incline place.
So, what are you waiting for, just click the link and gift your baby a peaceful sleeping environment.
4.) BABYBJORN Cradle
Babybjorn is another good bassinet that gets #4 because of its simplicity and quality.
This combination of wood and steel look a perfect piece of furniture in your room and it's also the best JPMA certified bassinet ( you can check here ) according to me.
It does not only look elegant, but its gentle rocking motion also helps your baby to sleep faster as compared to other bassinets.
And the best thing about BABYBJORN bassinet is "No Electronic Device" that make it electric shock free bassinet.
The padding of the bassinet is made of 100% polyester and its sidewall is transparently made of mesh fabric which makes it fully breathable.
The temperature of all the bassinet rises quickly when we put your little angle in it, that why most of the bassinet that has large sidewall made up of mesh fabric to reduce the temperate inside the bassinet.
The inner, as well as the outer area of the bassinet ( bars and loose parts ), are smooth and soft so that it does not hurt or trap the feet or hand of the baby.
These are just a few safety features of the bassinet that make it JPMA certified bassinet, but you can even explore its more feature on our BabyBjorn Cradle Review
Don't forget about to check the latest price or even you can buy this bassinet by clicking the below link to save some bucks.
5.) Graco Dream Suite Bassinet
Graco gets #4 on our list due to its trusted brand name and simple design. It's a complete bedside bassinet come with diaper changer functionality.
You can convert this bassinet into all in one changer by just rotating it with a single hand.
Like Halo bassinet, It also has 2 level-vibration feature, One is called aggressive that help you when your baby is crying and another one for when your baby just ready to fall in sleep called soft.
This bassinet also gets #3 on best bassinet for premiss list because Graco is a perfect bassinet for the premature baby to provide extra comfort and care.
Graco is a well-known brand with a strong portfolio, and also is an innovator of baby and children's products that provide solutions to help parents make smart choices.
Have a look on this Graco DreamGlider Gliding Swing, is also a JMPA certified bassinet and has a lot of features that you will like and help you baby to sleep well.
Graco Dream Suite Bassinet bassinet comes with the Wheel that makes it easy to move from room to room.
By considering the safety of the bassinet they add Lock system on Wheel so that it doesn't slip/move on an inclined surface.
A canopy over the bassinet is also added to protect baby eyes from direct sunlight.
6.) Delta Children Smooth Glide Bassinet
All the model of the Delta Children bassinet is JPMA certified and meets or exceeds all ASTM and applicable CPSC standards too.
These bassinets look simple but they use high-quality fabric and material to provide extra comfort to the baby.
That's the reason delta bassinet get #1 on our list of the best bassinet for premiss.
Don't stick with the rule, if you want to provide more comfort to your newborn baby then I recommend to go with delta bassinet.
Delta Children Smooth Glide Bassinet look small in size, light in weight and have a wheel to move it from room to room
This is the only bassinet in the market that has a variable speed vibration device. 
Means you can adjust the speed of the vibration according to your baby need.
Along with vibration, this bassinet also offers music and nightlight to keep watch on baby at night.
The storage under the neath helps me a lot to keep my baby session near my baby.
If you are searching for the best bang on Delta Bassinet, then click on the link for an unbeatable price
What Do We Recommend?
So these are all the Best JPMA Certified Bassinet on our list.
If you ask me what I recommend, then I would like to recommend, Fisher-Price Soothing Motions Bassinet, one of the best bassinet of 2019, but if you are c section mom then I recommend to go with Halo bassinest.
All of the bassinets on our list are unique in their own way and have some specialties. We tried our best to filter out the best that meets all the needs of the parent.
But in the end, the choice is yours!!!!!
Now, it's your turn, let me know which bassinet you are going to buy. Your review will help other mothers to make a quick decision.
And don't forget to share this article with others.