You buy a bassinet for a little angel, but your baby won't want to sleep in it. If that the case with you, then you are not the first one who is facing this issue.
It is very common in infants to refuse to sleep in a bassinet for several reasons, but one of the most common reasons is "Unfamiliar place."
Your newborn baby is habitual to the environment of the womb for the last 9 months.
And now they are in a totally different, unfamiliar place that makes him feel uncomfortable & unsecured in it.
You have to understand how you can fill that gap of the womb & your presence to give them the security, to ensure they are safe in the bassinet so that newborns can sleep in the bassinet easily.
Babies are the most beautiful gift that life has given to us. But, we all know that they don't come with an instruction manual.
The first few months can be a little hectic for new parents, but if you follow this guide, I guaranty you, you will never face this issue again.
How To Get Newborn To Sleep in Bassinet?
When I gave birth to my first child, this situation came as one of the greatest hurdles in front of me. My little one was very reluctant to sleep in the bassinet at night.
To know more about the same, I did a proper analysis about the reasons behind it. And, all of them came in very handy to me to make my baby comfortable in the bassinet.
And the same tips & tricks that I'm going to share with you that allow newborns to sleep in the bassinet effortlessly.
Tip #1: Make Bassinet Comfortable for Infants:-
If your baby doesn't feel comfortable in the bassinet, he will not sleep there. No matter how hard you try, you won't make your baby sleep in the bassinet.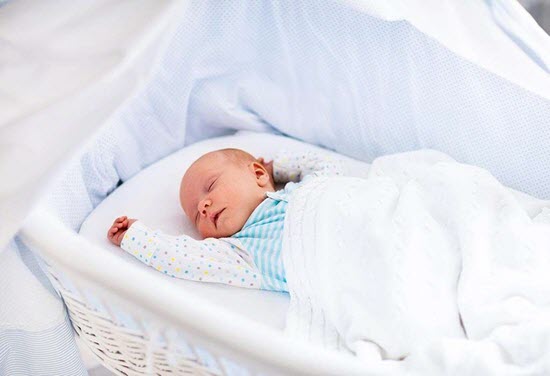 That's why we always recommend buying a premium bassinet OR Bassinet with Modern Technology that helps you to soothe the baby to make sure you feel comfortable & secure in it.
But if you don't have that, then you have to do it manually.
The thing that baby wants is YOUR PRESENCE. So if you have a new bassinet, then make sure it saints like you.
Place some of your clothes in it and leave for an hour; this gives the sense of your presence in the bassinet. So that baby doesn't refuse to sleep in the bassinet when you place it in it.
Placing the bassinet near the bed also gives him a sense of security, and your infants always under your arm's reach to do baby chores too. That's why Bedside co-sleeper bassinet is trending nowadays.
It is also recommended by APP to keep your baby's sleep area near you because it reduces the risk of SIDS & builds a strong bond between mother and Child.
Another thing that affects a lot in terms of comfort is the atmosphere.
When you place your baby in the bassinet, then you need to be sure about the temperature around the baby. The temperature should neither be too cold nor too warm. In either of the situations, the baby can wake up and becomes cranky.
Watch this video to understand how you can put your baby to sleep in a bassinet.
Note: These are just a few tips that you can use to make your baby bassinet comfortable for your baby to sleep in it, But I recommend reading our Ultimate Guide: How to make the bassinet more comfortable for a baby?
Tip #2: Swaddle Them To Give Comfort of Womb:-
Swaddling the newborn is one of the most effective ways to put them to sleep in a bassinet. If your baby can't roll over independently, then swaddling them can help to a great extent.
When you swaddle your little one, he feels the warmth and comfort of the womb.
This thing has extremely come to my rescue when my newborn refuses to sleep in a bassinet.
I used to swaddle ( with swaddle Blanket for Bassinet ) him until he gets to sleep. Only after that did I put him into the bassinet.
The newborns feel more protected & secured when they are swaddled. Besides being protected, it also reduces the risk of the startle reflex in babies.
The startle reflex is the reason that why babies wake up throughout the night.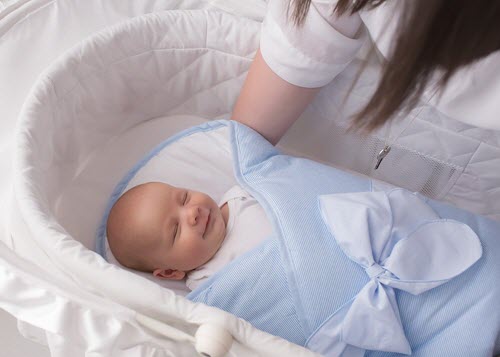 Startle reflex refers to an involuntary motor response that infants develop shortly after birth. A Moro reflex may involve the infant suddenly splaying their arms and moving their legs before bringing their arms in front of their body.
When the child starts observing changes in his environment, then it gives rise to the startle reflex. The changes can be any change in light, touch, noise, etc. When you swaddle your newborn, then it will restrict their movement, and it will help them to fast asleep.
Watch this short video to understand how you can swaddle your baby in a blanket by UPMC.
The feeling of anxiety also shoos away for your baby when you swaddle them. This is such a relaxing moment not only for the infant but also for the mother.
Tip #3: Lay Him Down Awake:-
This is one of the most crucial pieces of advice you should never neglect while placing your baby in the bassinet. You should place your baby in the bassinet when he is a bit awake.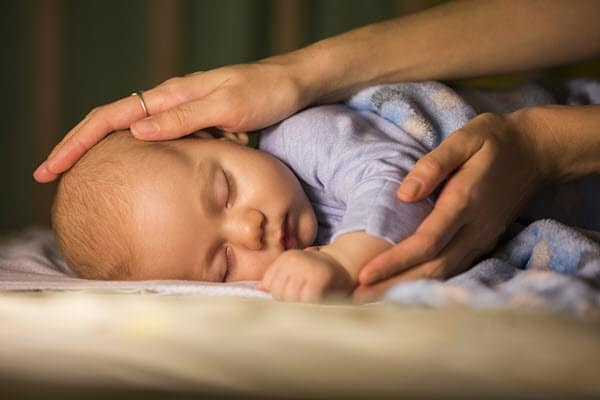 Mothers usually swaddle their babies in their arms till they get asleep. As soon as the baby sleeps, you put them in the bassinet.
But, this technique wakes them up and makes them irritable. You should never make this mistake.
Place your baby in the bassinet when he is drowsy or a bit awake after swaddling. In other words, place the baby in the bassinet when he is on the verge of being asleep.
This will make the baby realize that he is being shifted to some other environment.
Besides that, it will also help that your baby is not in such a condition that he will resist a lot. It is the best time to place the baby in the bassinet when he is drowsy but a bit awake.
Here is another question is, how you stop your baby stop crying if he is crying.
If your baby is crying and calming down, then watch this video by Dr. Robert Hamilton to learn how you can calm your baby down before placing a baby to sleep in a bassinet.
You can keep a tab of this time and can watch your baby sleep peacefully in the bassinet with this routine.
This is an amazing way to make your little one a bit habitual for sleeping in the bassinet.
Tip #4: Make a Concrete Bedtime Routine
Adopting a fixed bedtime routine is one of the crucial aspects that you should never avoid. If your baby doesn't sleep at the fixed time or doesn't know that sleep time has arrived. Then it can make him cranky.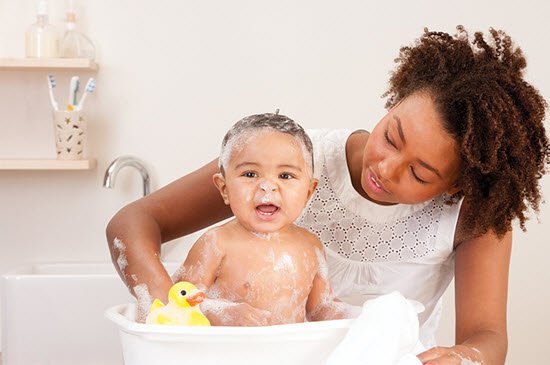 Make a proper routine to make your baby sleep. If a proper set of activities are followed in the same fashion, the baby realizes that it's time to sleep.
Try to give your baby a warm bath, light massage, or breastfeed them before putting him to sleep in a bassinet.
When these processes are done regularly, then the baby will automatically be prepared for the next time. This will help the baby to get a sound sleep.
The NSH recommends you don't need to bathe your baby daily.
A 2-3 times in a week is enough. And rest of the day, you can just wash their neck, hand, feet, and bottom carefully. Watch this video to understand how you can bathe your infants.
Don't give your baby a sudden change of the place with the bassinet. Because a newborn is more connected with the womb's environment or the mother's warmth.
You need to take care of this thing before placing your little one in the bassinet.
I hope you like our guide, "How To Get Newborn To Sleep in Bassinet," and found it informative that it helps you to make the valuable decision for your infants.
Word of Advice:-
Having a proper and sound sleep not only helps your baby to grow properly but will also relax you a lot. If your baby cannot sleep at night, it will not only hamper their sleep, but your sleep cycle will also be hampered.
No, doubt babies show a lot of reluctance to sleep in the bassinet in their early months. But, you can use these tips to develop a habit of sleeping in the bassinet.
Your newborn can securely sleep in the bassinet and offers you great rejoice. You just need to make the bassinet a familiar and comfortable place for your little one so that they can have a sound sleep.
Want to know the secret to put your baby to sleep? Then watch this "5S method" by Dr. Harvey Karp.
As you know how to get your newborn to sleep in the bassinet, you must also be aware of the age at which you must shift the baby to a crib.
Bassinets are small beds that do not let babies roll over, but they require the space for a comfortable sleep as they grow taller.
We hope this article has helped you gain those extra few hours of sleep for you and your baby.
My advice is, do not rush into any sudden changes; take your time because these moments pass by very fast.
Now, what next, well below are a few more informative guides that help you make a more valuable decision, Or you can explore or Bassinet Blog, see what is new on it.
Now, it's your turn. Let me know which tips work most for you and share your tips too, Let help other moms like you to get newborn sleep in bassinet effortlessly.
Don't forget to share this article because sharing is carrying.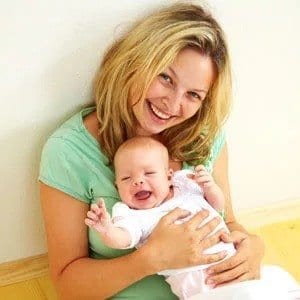 Dr. Sakshi Patel
Senior Content Writer
Dr. Sakshi Patel, an expert in Human Development and Family Studies, combines her academic knowledge with personal experience as a mother to twins. She provides comprehensive articles and meticulous reviews on baby essentials, offering accurate and up-to-date information to help parents make informed decisions. Read more.