Top 5 Best Vibrating Bassinet With Vibration & Music
The vibrating bassinet is quite popular nowadays.
Because it doesn't just soothe the baby, it also helps the baby to sleep faster.
But one question that you might be asking yourself would be 'How can I find the bassinet that vibrates and plays music for my cute little one?'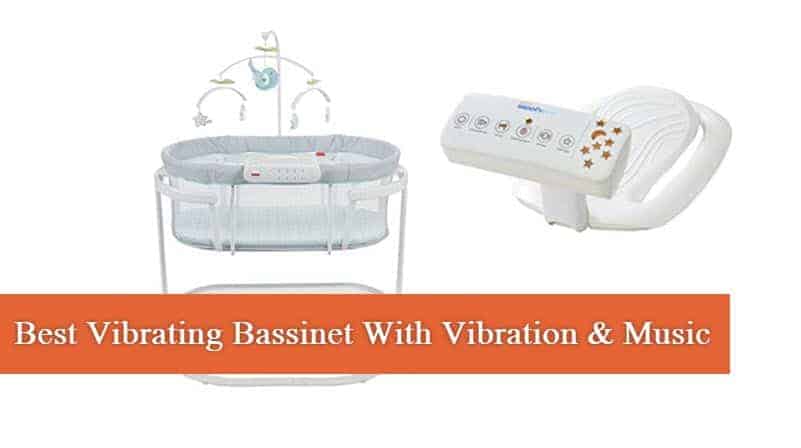 If you google "Best vibrating Bassinet for Newborn baby", you will get a lot of results. But which one is the best for you?
It's very difficult to select one when there is a lot of bassinets available in the market.
That's why we tested and filter the best vibrating bassinet for you. A group of 6 women, just like you. They have tested it, used it for their babies and have provided us with their feedback
Only 5 out of 11 best vibrating bassinet have passed our product evaluation test with flying colors.
So, here we go: –
List of 5 Best Vibrating Bassinet With Vibration And Music
Selection of vibrating bassinet is very easy if you know which vibration device is best and how it is different from the rest of the bassinets. So, We are going to cover that in this article.
1. Fisher Price Soothing Motions Bassinet:
Fisher price vibrating bassinet is top on our list because of its unique vibration and other features which work together so the baby can get the sleep he deserves.
This bassinet doesn't just help the baby, it has been designed to provide comfort to the mom as well.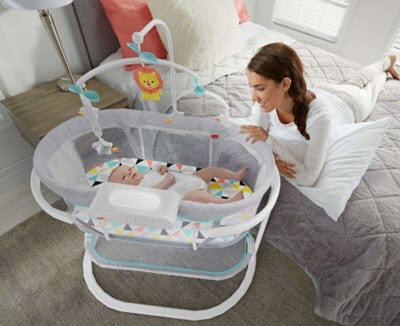 Now, let's talk about its vibration system.
First of all, Fisher-Price has a nice looking vibrating device just over the side wall of the bassinet and the best thing about it is that it is detachable.
So you can attach or detach as you want.
It provides 30 minutes of calming vibrations, means once you press ON, the vibration will automatically switch off the system after 30 min.
So, you don't need to stay awake to turn the OFF button.
This feature is really good & very helpful, especially when you are tired or feeling lazy like me.
Not only does the vibration automatically switches off itself, but it also turns off other things like the light and sound.
That's the things that make it the best vibrating bassinet with vibration and music.
Another feature that will got your attention is the "Auto Calming Sway Motion". The bassinet is designed to generate calming sway motion whenever the baby is on the bassinet.
This is the only bassinet that vibrates and rocks on our list.
It is called a self Rocking system. So, whenever the baby wakes up (for example by some noise ) in the bassinet, this vibrating bassinet will generate a motion to sooth the baby so that he can go back to sleep.
Note: Optional lock-out to minimize swaying motion. So you don't need to worry about over swaying motion.
The feature that is really liked by the moms is its "Dual-mode lighting!" What's that? Let's find out.
Whenever a baby wakes up, the first thing that they do is find something.
They will look here and there and if there isn't anything that grabs their attention, they will start crying.
You have to give something to keep him busy. That's the reason some bassinets come with a hanging toy. And the same thing is possible by the light system of the fisher price.
It projects light on the wall (which look like moving stars) to get the baby's attention and keep them busy so that you can do your daily chores.
Want to explore its more feature, read our Fisher Price Soothing Motions Bassinet Review
This vibrating bassinet is perfect for a new-born baby, You can buy this bassinet now from our verified seller for unbeatable rate with manufacture warranty.
2. Halo Bassinet Swivel Sleeper:
Another awesome bassinet is Halo Bassinet Swivel Sleeper. It comes with almost the same functions as Fisher-Price bassinet.
The only reason why it is #2 on our list of "Best Vibrating bassinet with vibration and music" because of its price. Otherwise, this bassinet really deserves to be on #1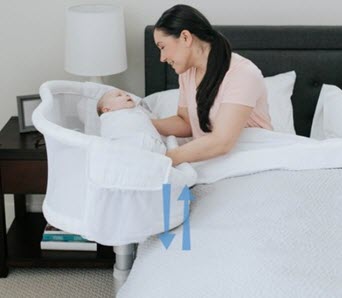 Halo bassinet is a little costlier than Fisher, (Check the latest Price) but the value of your money is directly converted into quality and comfort.
This bassinet is primarily designed for the c section mom so that you can do the work without leaving the bed. This bassinet is the best option if you are recovering from a c section or want to give some comfort to yourself too.
Now, let talk about its vibrating features.
The vibrating feature of the halo bassinet is fixed. It means that you can't remove it like fisher price.
But these devices have the ability to adjust its vibration speed up to 2 levels (also 30 min auto shut off) which you won't find in Fisher.
The physical location of the device is near the right-bottom side wall (almost under the bassinet) of the bassinet. This means that it soothes the bassinet more efficiently.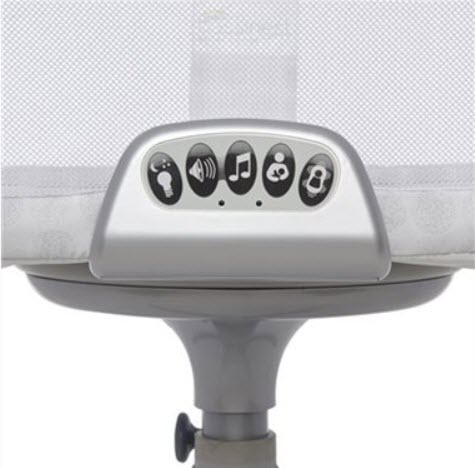 The feature that makes it awesome is its "Auto reminder". After 30 minutes, the device will start beeping to remind you if the baby is in the bassinet or not. You can turn off the beeping from the settings.
Now the question arises 'How this feature is good for me?

When you are breastfeeding the baby, chances are that you will fall asleep. This increases the risk of suffocation for the baby and can even cause death.
That is the primary reason to set the reminder to put the baby back in the bassinet after breastfeeding. That's the reason it also gets #1 on our list of the best bassinet for breastfeeding.
Apart from the vibrating feature, this bassinet also has light and sound feature.
The sound system of the halo bassinet can play 3 different soothing sounds, plus 3 lullabies that help the baby to fell asleep faster.
But its light system is a little different from fisher. It's just a simple light to see the baby at night, no light projection.
The feature that is mostly liked by the moms is the rotating feature.
You can adjust the height of the bassinet and rotate it and can easily bring it over the bed.
In this way, you can share the bed with your baby without actually sharing it. It's risk-free.
If you are a mom who doesn't like to share your bed, then I would recommend to check our #3 product. You are going to love it.
Don't foget to check our Halo Bassinest Swivel Sleeper Reviews to check its other feature and models too.
3. SwaddleMe By Your Bed Sleeper:
This bassinet has won over a lot of moms because of its attractive design and the ability to incline the bassinet at 2 different angles (11 degrees and 30 degrees).
You can adjust the angle of the incline with just one click according to your baby's needs.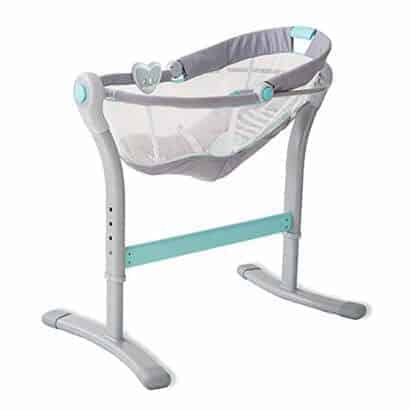 For example: After feeding the baby, you can adjust the angle to the maximum (15-20 min) to help baby to digest milk faster and after that, you can adjust it up to some extent of sleep.
And believe me, the babies are going to love sleeping on the incline bassinet. If you want bassinets with more designs then here is the list of the best bassinet for acid reflux.
Now, let's talk about the vibrating feature.
The vibrating device of the SwaddleMe By Your Side Sleeper is in the shape of a heart. It is physically attached on the right top side wall of the bassinet.

This vibrating bassinet also generates 2 levels of vibration.
I recommend using high vibration when your baby is crying and slow vibration when they are about to fall asleep.
The thing that makes this vibrating bassinet unique is that it can vibrate the bassinet in all the incline angles.
That's the thing that makes it special vibrating bassinet for newborn
Again no other bassinet in the market can do this.
Its nightlight system is not bad. It softly glows during the night.
Not too high nor too low, just perfect for the baby. This bassinet also has a canopy that you can use to protect the baby's eyes from high intensive light.
SwaddleMe By Your Side Sleeper also has a few nature sounds and lullabies. This comes in handy when the baby is crying.
The feature that is mostly liked by moms is the "Side-to-side rocking" that allows the parents to soothe baby at night if needed.
This Side Sleeper has a transparent sidewall so you can see your baby from far away and set it at bedside if you have a newborn baby.
If you are looking to buy this bassinet at an amazing price, then click on the link for an unbeatable price.
4. Graco Pack 'n Play Nearby Napper Playard:
The Graco vibrating bassinet comes on #4 in this list because of its function. This Playard can be used as a vibrating bassinet, napper changer, and pack play yard.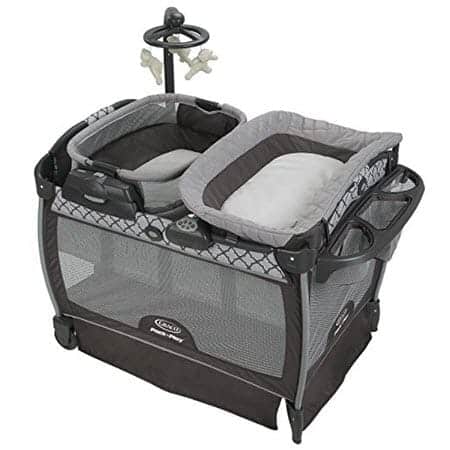 The reason why I put this bassinet on #4 is that it is fully detachable and portable. If you don't want to use playard then you can pick the bassinet from the handle and go where ever you want to go.
The bassinet can easily be converted into a rocking bassinet by folding the leg and can easily rock the bassinet with little push. Apart from that, you can switch the bassinet to napper changer with just one hand.
You don't need another person to pick your baby. You can do it yourself by converting it into a diaper changer.
Now, let's talk about its vibrating feature.
Its vibrating feature is not a fixed device. This means that you can attach it on the side of the playard or side of the bassinet where ever you want.
This gives you the flexibility to attach where ever you want.
The device is also designed to generate 2 gentle vibrations. Speed to sooth the baby in napper or even in the bassinet.
The soothing music and nature sounds are almost similar to another bassinet, No major change here. Everyone provides you with different music and lobbies to help the baby fall asleep.
This vibrating device also has a "look light". This is useful if you want to make sure the baby is asleep.
This light is not for projection to get the baby's attention. Graco manufacturers use "start toy" to get the baby's attention.
But what works more efficiently is the lighting. The lighting project is the best way to get the baby's attention. It works amazingly. My child loves it.
If you are looking for a simple and sober bassinet without any other features then check out the product on number #5 on our list
So, Overall, Graco Pack 'n Play Nearby Napper Playard is a good option if you consider its functions from napper changer to bassinet to playard. And the good thing about this bassinet is that you don't have to buy separate napper changers for your baby.
5. Delta Children Gliding Bassinet:
Delta children Bassinet is #5 on our "Best Vibrating Bassinet with Vibration and Music" list because of its simple and sober design.
The thing that makes it different from other bassinets is its small size. It is specially designed in this way to provide extra comfort to the premature baby.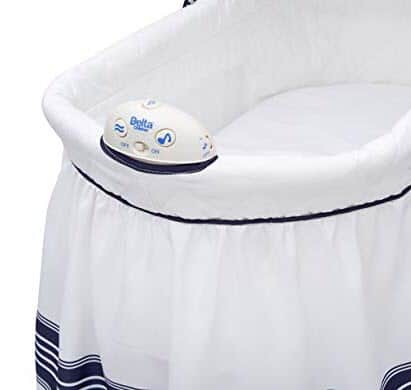 This bassinet also gets #2 on the list of the best bassinet for preemies. All the above bassinet except SwaddleMe By Your Side Sleeper, require large space to place.
Apart from that, it is upper lightweight bassinet and it also comes with a wheel that makes it super easy to move from one room to another.
Now, it's a vibrating feature.
This Bassinet has variable speed vibrations to soothe. This means that you can adjust it according to your need.
It has a button-like volume that you can rotate to lower or increase the speed of vibration to meet the level of comfort of your baby. You will not find this type of vibration in any other bassinet.
Apart from that, delta bassinet also comes with soothing music and calming nightlight feature.
Soothing music is really unique but the light doesn't have any function. It is a simple soft glowing light to check the baby at night.
As I have told you, this is a simple and sober vibrating bassinet that fits in your pocket. You can buy this bassinet from our tested and verified seller with manufacture warranty.
There is also one more vibrating bassinet that I would like to share with you.
I'm adding this bassinet in Delta Bassinet because both of them have the same features.
But Delta Children Smooth Glide Bassinet has high-quality material and more robust design.
It can hold more weight as compared to the one above. More weight means it will be durable.
So, this was our review of the "5 Best Vibrating Bassinet with Vibration and Music". I hope this article will help you to make a valuable decision for your baby.
What We Recommend To Buy.
If you ask us, we strongly recommended you to buy Halo bassinet. But if you have a limited budget like most of the parents because you have to buy some other baby essentials as well then go with fisher price bassinet.
Both are the best bassinet of the year 2019 (Check our best bassinet list ) and both of them have almost the same features. Apart from one: Halo has auto reminder while Fisher has a light project.
You even can compare the feature of Halo vs Fisher here.
All of the bassinets are unique in their own way and have some specialties. We tried our best to filter the best vibrating bassinet with vibration and music, that meets all the needs of a parent.
But in the end, the choice is yours!!!!!
Now, it's your turn, let me know which vibrating you are going to buy and why did you choose it. Your review will help other mothers make a decision.
And don't forget to share this article with others. You never know how one small deed can help others!