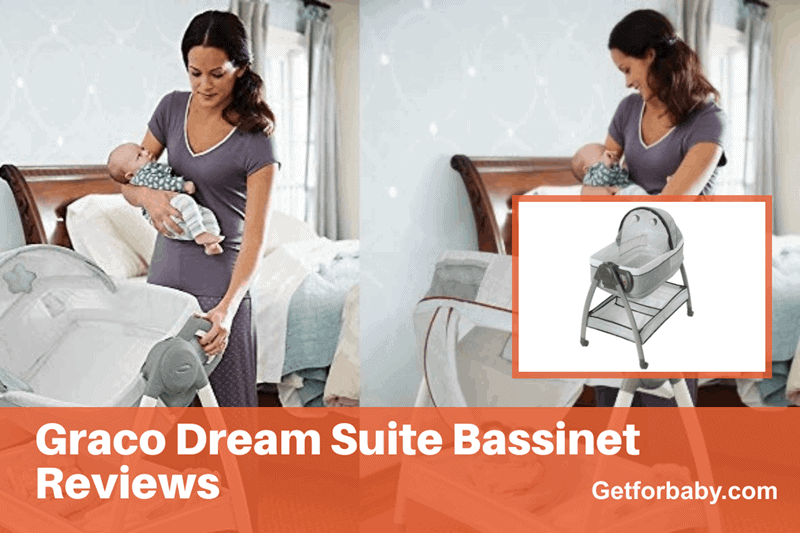 Breakdown: Graco Dream Suite Bassinet Reviews
The Graco Dream Suite is a reversible bassinet that doubles up as a diaper changer for your baby. With one easy flip, you can turn the bassinet upside down to use the base as a safe and comfortable baby changer. The large storage basket, which hangs out beneath the bassinet, is perfect for diapers, wipes, and other necessities you might need throughout the day. The fabric of the bassinet is easy to wash. For additional safety and convenience, the bassinet has lockable wheels to assist portability. Mesh side panels in the sleeping area allow airflow, good breathability, and visibility. With a height of approximately 34 inches, it is ideal for you to reach out to your baby without having to get out of bed. Want to explore more features? Simply keep reading our Graco Dream Suite Bassinet Reviews.
Safety

91%

91%

Comfort

95%

95%

Easy of Use

92%

92%

Price and Longevity

70%

70%
Convertible from a bassinet into a changer
2 Speeds of vibration for soothing
Lightweight & lockable wheels
Storage underneath
1 D battery required
Expensive
Product Name
Graco Dream Suite Bassinet

Brand

Graco
UPC
1963639
Age Limit
Up to 3 month
Item Weight
18.52 lbs
Weight Limit
30 lbs
Dimension
6.18 x 19.37 x 33.94 inches
Availability
In Stock
Rating
⭐⭐⭐⭐ ☆

4.5

/5

Price
$132.99
Latest Price
Do I Need Graco Dream Suite Bassinet?
The Graco Dream Suite Bassinet has a great versatile little setup for your little one that can provide prolonged use and fulfill multiple functions for your family.
This bassinet can also become a changing station when you flip the sleeping area upside down.
The flip is done with a handle at the foot of the bed, enabling you to move the top smoothly without much effort.
This a feature that makes this bassinet great for mothers healing from giving birth.
Even a small comfort when looking after the baby is appreciated, especially when you have to get up in the middle of the night for it.
The bassinet has a small footprint. This means you can use this bassinet close to the bed to easily co-sleep with your little one.
However, the lower sleep surface height means you'll need to sit up in bed to access your baby.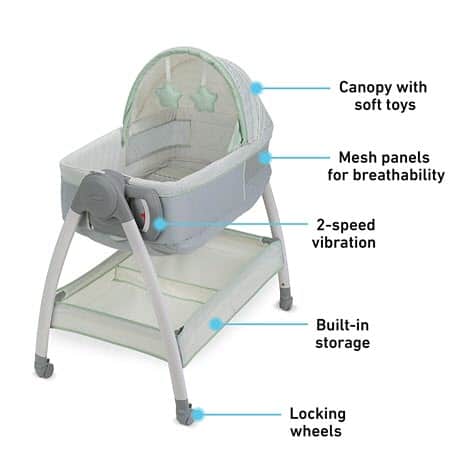 Note:- Keep on mind, this bassinet is not a true co-sleeper where you can access baby as you lay down in bed. If you are looking for a co-sleeper option, then check this list of the best bed-sharing bassinet.
The good thing is that the Graco Dream Suite Bassinet comes in three versions: Mason, lullaby, and Tasha. Giving you a choice when it comes to design.
So, suppose you're someone with limited sleeping space but want something durable, lightweight, and multi-functional for your baby. In that case, we believe that the Graco Dream Suite Bassinet is an excellent choice for you.
Keep reading to read more about Graco Dream Suite Bassinet Reviews.
Graco Dream Suite Bassinet Reviews & Features
The Graco Dream Suite Bassinet is functional and straightforward in all manners of speaking. Albeit on the high-end price-wise, it is worth the investment. We have given you a general overview of what this bassinet has to offer.
However, if you're interested in knowing more about the features you feel are necessary to decide to invest, read the rest of the article about Graco Dream Suite Bassinet reviews.
1.) Clever & Unique Design:-
The majority of the bassinets feature mesh walls on all sides of the sleeping area. However, the Graco Dream Suite Bassinet for infants has fabric sides with only small mesh panels near the baby's head.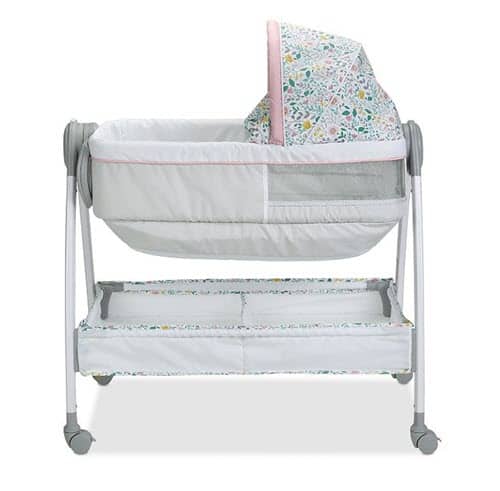 This helps the baby maintain the airflow even if the baby moves in the crib and ends up with their face pressed against the sidewall.
It is crucial to invest in bassinets with mesh sidewalls to prevent any risks of SIDs in infants.
The curved bottom of the bassinet offers your baby a soothing effect as it rocks back and forth.
The bassinet has a smaller footprint, so it doesn't take up too much room, which is a great advantage for parents who have limited space.
You can set it up next to your bed in the bedroom; however, it should be remembered that you won't be able to access your baby without at least sitting up because it's lower than most beds. Still, you can use it as a bedside bassinet to a certain extent.
We found that it works better as a stand-alone bassinet. The assembly takes only a couple of minutes, and you don't need any tools to do it.
So, suppose you're someone with limited sleeping space and want something cost-effective and well thought through for your baby. In that case, the Graco Dream Suite Bassinet is an excellent choice for you.
2.) Portability & Mobility:-
This product is small, minimalistic, and light in weight, which is up to 15lbs. It comes with four locking wheels, which look small and petite as well.
These features make it very easy to move from room to room as you get on with your day. And that why this bassinet gets #4 on our list of the Best bassinet with Wheels.
You can keep a constant eye on your little one while you get your work done around the house.
Being lightweight, you can even carry it up or down the stairs.
However, it is not suitable for travel and requires disassembly to transport.
It is also not ideal for postpartum mothers to carry it down the stairs.
In short, this bassinet is not a travel-friendly bassinet, but it is a portable bassinet that you can move from room to room.
3.) Ease To Use & Maintain:-
The Graco Dream Suite has a massive storage basket underneath the bassinet.
It's the same size as the bassinet itself. It can hold almost everything you might need for the baby, including an extra change of clothes, diapers, feeding bottles, and so on.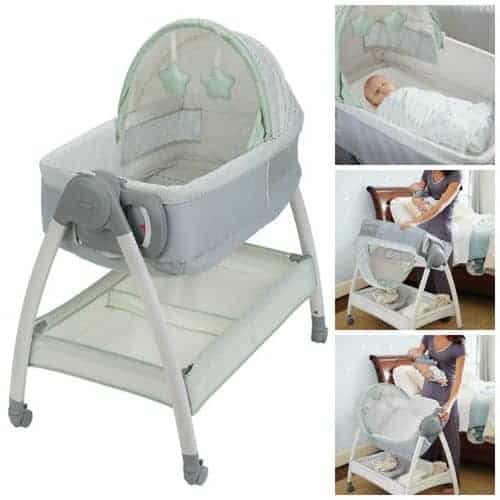 It's one of the best features you get with this purchase apart from the flip changing station.
If you have a small apartment, it provides all the primary storage room for your baby's stuff that is needed at any time of the day or night.
You do not need to run around in case you have to change a diaper. Everything is just under the bassinet, at an arm's reach.
Bassinets and their mattresses get dirty more frequently than we'd like.
Diapers may leak, babies drool, or throw up. It is all a part of the process of raising a baby. That is why we always appreciate easy to clean bassinets.
The mattress cover is removable and machine washable. As for the rest of the bassinet, you can clean the frames and fabric with mild soap and water.
Note: If you need help or want to know how you can clean the bassinet without damaging it unintentionally, then read our guide: How to clean a bassinet?
4.) Other Features:-
The Graco Dream Suite Bassinet is one of the most affordable quality models out there. It's a classic bassinet with many useful features that you will love.
This bassinet comes with two vibration levels designed to help soothe the baby and lull it to sleep.
Modern research shows that babies love sleeping on a vibrating surface. That's why nowadays, vibrating bassinets are more popular.
It's a convenient feature for times when you're too tired.
But keep in mind that the Graco Dream Suite Bassinet's vibrating device needs a 1 D battery to work.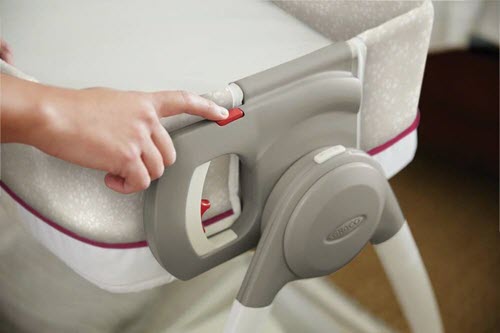 Note: Vibrating bassinets are generally safe for you and your baby. All you have to remain mindful of is that the baby does not get addicted to the constant to and fro motion.
That way, the baby becomes hard to comfort in everyday scenarios. Read this guide: Is Vibrating bassinet safe for infants.
Its canopy is designed to block the light from entering the bassinet and protect your newborn baby's eyes.
The canopy also has two soft toys hanging from the edge to keep your little one entertained.
This feature keeps your baby engaged when awake so that you can comfortably carry on with your daily chores.
You can also make your bassinet more comfortable by using some tricks and tips that I use. This will help your baby sleep longer, and you will get some extra time to finish your work.
5.) Graco Bassinet Changing Table:-
We already discussed a lot about Graco Bassinet Changing Table, now let's talk about how you can set it up,
Graco Bassinet Changing Table is effortless can turn into a changing table in a matter of seconds.
The bassinet's left side has a round switch that rotates the table for 180 degrees, turning it into a changing table when needed.
You can simply flip the bassinet over for the underside to come upwards that you can easily use as a changing station.
Your tired back will thank you for this feature when you have to change your baby's diaper at 2 AM.
Watch this short video that helps you to understand how you can use Graco Bassinet Changing Table?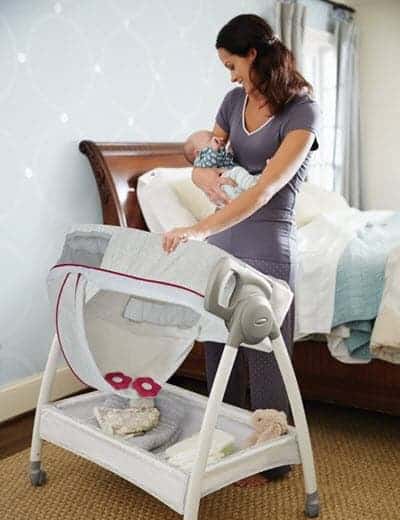 One of the best things about this bassinet is it a portable bassinet with a changing table.
6.) Graco Dream Suite Bassinet Sheets:
The Graco Dream Suite Bassinet's sheets are made up of a "stretchy cotton" that fits a variety of the mattresses, ranging anywhere from 12″ to 17″ In width and 28″ to 34″ in length.
So, you don't have to worry about the size of the sheet.
Graco comes with a single sheet, but we think it is ideal to stock up on a few extra sheets for keeping your baby clean and the bassinet tidy.
If you're interested in ordering a few extra pairs of the Graco Dream Suite Bassinet sheets in cute prints, click here for the best price.
Or you can buy them from the official site.
I hope you like our Graco Dream Suite Bassinet Reviews and found information that helps you make valuable decisions in the future.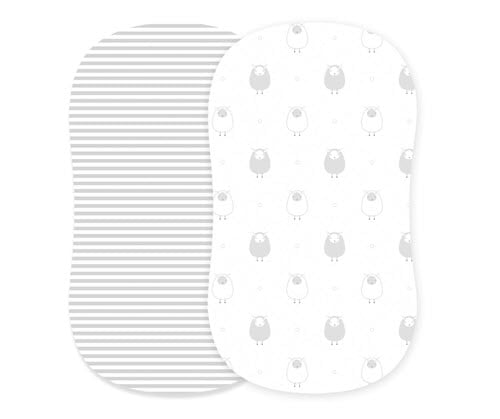 The changing station, the base storage hampers, and the bassinet itself offers great usability experience by giving you a great deal of variety and functionality.
It also comes with easy to wash fabrics, dual speed vibration settings, a canopy, soft toys, and a mattress pad cover.
All the pieces come together neatly to give you the versatility of use in a single investment.
You can use this best compact bassinet to sleep close to your baby. It will keep your baby comfortable, and with the dual vibration, the feature will keep your baby calm and soothed.
The bassinet to changer flip feature is the highlight of Graco Dream Suite Bassinet. It is easy to clean, and the materials are durable.
The Suite Dream is an excellent bassinet for any family looking for a bassinet set up with a good score for ease of use. So, what else you want? Click on the link to save some bucks.
Sakshi Patel
Senior Content Writer
Sakshi Patel is a busy Mom who enjoys spending most of her time with her cute daughter and a pet dog. She joins us as a senior content writer, and because of her creative writing style, has become our top-rated content writer