If you have already bought a basket bassinet and now feel the need for a Moses basket bassinet stand to place the bassinet where you want, you are in the right place.
A stand is beneficial as it brings your baby to an eye level.
Many stands come with extra features like wheels that make it easy to move your baby around or produce rocking motions to soothe the baby.
The great thing about bassinet stands is that they fit most of the Moses Basket Bassinets in the market.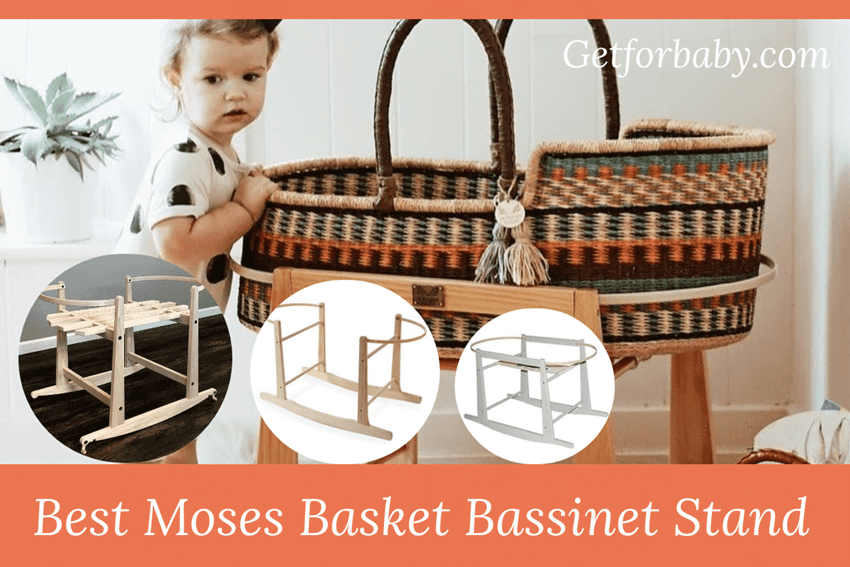 You don't need to worry about the size; all the basket stands come in a standard size.
But which one suits you the best and is the safest for your baby is the biggest question. That is why we have compiled a list to help you find the most suitable Moses bassinet stand out there.
So, let's explore the list of Moses Basket Bassinet stand.
1.) Addy & Sage 2-in-1 Natural Rocking Stand Baskets:-
Addy & Sage Rocking Bassinet Stand is one of the finest Moses basket bassinets stand out there in the market. It does not matter which bassinet you have, it will accommodate them all and the best thing it's a universal bassinet stand.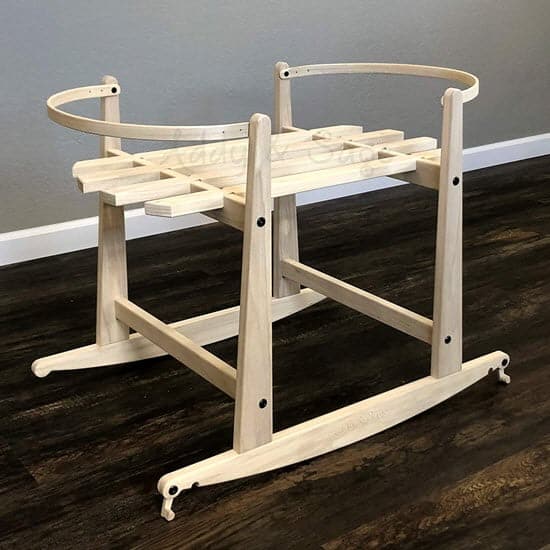 This universal basket stand is made out of all-natural hardwood material, which is solid and will last a long time.
It may be heavy, but it is super durable and provides ample support to the Moses basket on top.
The feature that makes it unique and gives it the #1 ranking is its ability to rock.
It is designed in a way that gives you the ability to rock the Moses bassinet stand just by closing the foot strap.
And the best thing is, this rocking motion is lockable to avoid rocking even if you push it accidentally.
And to keep the baby as well as your Moses Basket safe inside the rocking stand while you are rocking the stand, the additional frame is added on the top.
This provides an extra layer of security to keep the baby safe and sound.
The Addy & Sage stand comes in a natural wood finish which is an intentional touch. You can paint and customize the stand according to your own choice.
Another great thing about this wooden bassinet stand is that it is a BPA-free, phthalate-free, plastic-free, latex-free, lead-free Moses basket stand.
It is a little on the expensive side for a Moses basket bassinet stand. Still, the value of your money is converted into the safety and comfort of your baby. So click the link to buy this.
2.) Jolly Jumper Moses Basket Rocking Bassinet Stand:-
The second Moses basket bassinet stand comes from Jolly Jumper. It's another excellent rocking bassinet stand that helps you soothe, and it's a durable frame that you can use for a long time to come.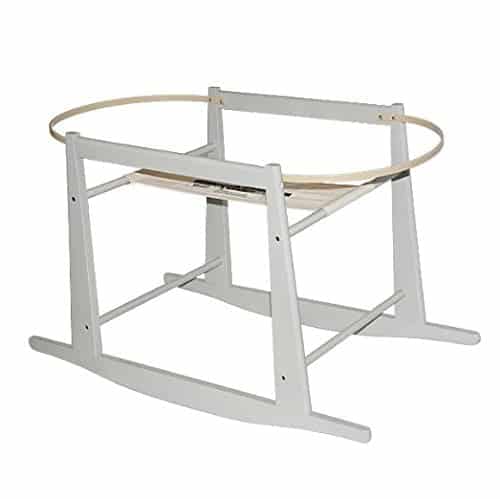 The Jolly Jumper Moses Basket Stand is well-made and has four thick legs joined at the bottom with a curved end to enable the locking mechanism.
However, one significant downside is that the stand does not provide a lockable system to stop the rocking motion.
So, an accidental push can enable the rocking of the stand.
This wooden bassinet stand has an outer frame to create a boundary for the basket when it is slotted in.
This prevents the basket from slipping and sliding and keeps your baby safely in place.
The bassinet can be slotted into the frame to fit atop a base made of wood & plastic solid fabric.
This provides ample support and secures the basket on top so your baby is safe and protected.
And the best thing is that its size is 38.2″ by 6.2″ by 2.1″, which is a good size for most Moses baskets to fit in nicely.
This hardwood frame is strong without being too heavy, so it is not cumbersome to move about. It only weighs 5.7 pounds which is pretty easy to carry.
And for the parents who like multiple options, Jolly Jumper Moses Basket Stand is the best for them because it comes in 3 pre-made shades, Grey, Expresso, and Natural.
3.) Clair-De-Lune Folding Moses Basket Bassinets Stand:-
If you live in a small apartment or have less space in the room, then the Clair-De-Lune folding Moses basket bassinet stand is the best option.
This portable Moses basket bassinet stand is made out of solid wood and measures 31.5″ x17.32″ x23.62″ while weighing a mere 3.31lbs.
A lightweight, compact, and easy to fold bassinet stand is best for a small room.
The wooden frame crisscrossed in the middle, and the base support consists of thick fabric strips which are woven and can bear a lot of weight. The stand can be folded flat, making it easy to store it away when not in use.
You can even carry it about anywhere with you. Simply fold it and put it in the car, something you cannot do with a normal stand. 
This compactness and ease of mobility truly set this bassinet to stand apart from others on our list and gives this stand a high rating.
Compared to the other two wooden bassinet stands, the only missing feature is the locking mechanism to soothe the baby.
Another thing is an extra frame, so the Moses basket is securely slotted in the stand.
It is a simplistic bassinet stand, but it fulfils the purpose it is supposed to while taking up very little space.
The company has been in the business of making baby beds and accessories since 1943. Located out of Manchester, the brand is defined by luxury, comfort, and elegance to your baby's nursery.
Meaning you can rely on Clair-De-Lune to always deliver a quality baby product. So click the link to buy it.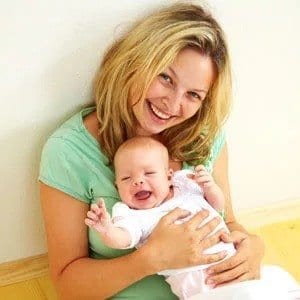 Sakshi Patel
Senior Content Writer
Sakshi Patel is a busy Mom who enjoys spending most of her time with her twin daughter & dog. She also a good nanny and Ph.D. holder in Human Science (HDFS). She joins us as a senior content writer because of her creative writing style & now she becomes one of our top-rated content writer.