5 Best Luxury Bassinet [ Fancy & Expensive ]
People who are looking for a luxury bassinet for their newborn baby is at the right place.
This list of the best luxury bassinet in 2021 has all the modern and high end baby bassinet you need for your infants.
A few of the below Bassinet is design with kind of technology that automatically detects if your baby cries even after other friendly in the room and quick response to the baby destress.
It acts as a smart baby nurse who knows which kind of music has to play, or vibration level your baby enjoys.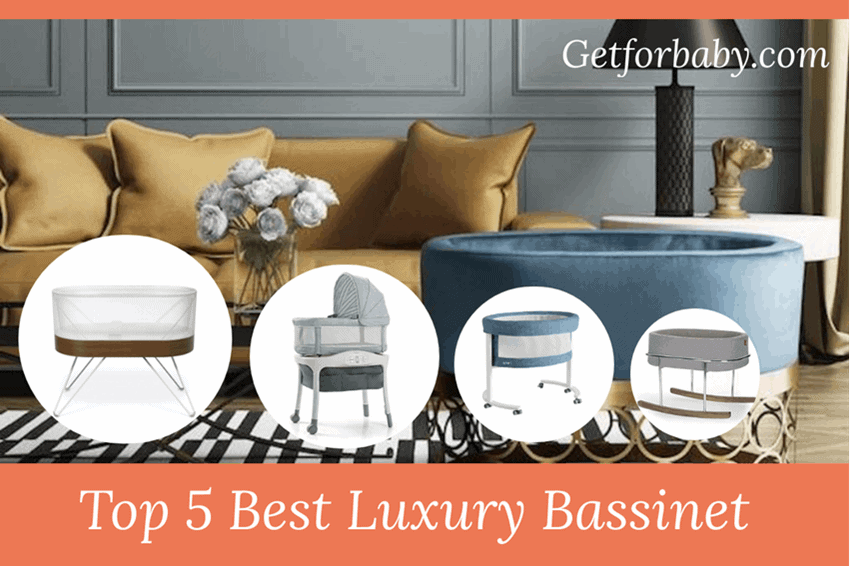 To make sure to fall asleep back if he/she wakeup in the middle of the night.
Also, the quality you found in these high end bassinets you will not found in the standard Bassinet. That the thing that makes it the most expensive baby bassinet.
So, let check its luxury bassinet and explore its features.
Quick Comparison of the Luxury Bassinet
Product Image
Product Name
Features
Our Rating
SNOO Smart Sleeper High End Baby Bassinet
Algorithm Response to Crying
Auto Nurse The Baby
Mobile App With Wifi
Prevent Risk Rolling
Music, lullabies, Sounds
4.6
Graco Sense2Snooze Cry Detection Fancy Bassinet
Algorithm Response to Crying
Auto Nurse the Baby
Music, lullabies, Sounds
Wheel for Portability
Storage for Baby Essential
Canopy for sunlight Protection
4.7
HALO Bassinest Swivel Sleeper Modern Luxury Bassinet
Auto Restore Sidewall
Vibration for Soothing
Hover Over Bed for Cosleeping
Music, lullabies, Sounds
4.5
Monte Design Modern Rockwell Luxury Baby Bassinet
Elegant look
High-Quality Self made fabric
Rocking Cradle
4.4
Micuna Smart Fresh Wooden Fancy Baby Bassinets
Elegant look
Wheel for Portability
Mesh Side for Breathability
High Quality Material
4.2
5 Best Luxury Bassinet [ Fancy & Expensive Bassinet]
Below we have select 5 bassinets out of 8 luxury bassinet to provide you the best bassinet one that meets your need. We will check all features of the bassinet side by side. I also highlight how it is going to help you.
You can also review the separate full review on each product in case you want to explore it more.
So let's check it one by one.
1.) 
SNOO Smart Sleeper High End Baby Bassinet:
One of the best high end and most expensive Bassinet on our list of the best Luxury Bassinet. This Bassinet gets #1 on our list due to its clever design with a smart feature that works together to soothe your newborn baby.
This Bassinet is made based on the Philosophy of Dr. Harvey Karp, 'who wrote a book about how babies are happiest in a womb-like environment with constant motion and a fair amount of noise.
And Happiest Baby bassinet is one of the perfect bassinets that replicates approximate the same atmosphere outside the mother's womb.
Let me tell you how?
Snoo is designed with an advanced algorithm that can identify the baby crying from room noise and respond to the baby's distress in less than one minute.
It increases the levels of white noise and soothes the baby by producing that gentle rocking moves.
In all, it has a premium motor that modulates its noise and enhances the reliability that makes it more expensive. If you are the parents with a tight budget but want the same feature, then check our #2 product. It fits in your pocket.
The side of the Bassinet is made up of breathable mesh walls for excellent airflow, and also Helo reduces the temperature in the Bassinet.
In addition to all these features, it comes with a mobile app that allows you to: check the progress of your baby's sleep, alerts you to discomfort in your baby while sleeping, and receive health tips from Dr. Harvey Karp.
It connects with your phone with Wi-Fi so that you can use it at any point in the house.
All these features are integrated into the bed to nurse the baby back to sleep when needed without you raising a finger.
The only downside of the basinet is its most expensive Bassinet in that market, but the value your money is directly converted into the quality and comfort.
Snoo is "like a night nurse." All you need to do is strap your baby in the sleeper, and you can be assured of his/her safety; while you do other things you need to do.
So, what else you are looking in this Luxury and fancy baby bassinet, Click the link to give a beautiful gift to your infant.
2.) Graco Sense2Snooze Cry Detection Fancy Bassinet:
Graco Sense2Snooze is another high end baby bassinet that comes with a smart algorithm to detect the cry of your baby and respond to that to soothe your baby.
The price of this Bassinet is much less as compared to the Snoo, But still offer the feature that you can only find in the modern and expensive Bassinet.
This Graco bassinet gets #2 on our list of the best luxury bassinet, but not on #1 because it does not offer a Mobile App app that you can use to adjust the setting according to your need.
Let's talk about its features now,
This Bassinet automatically detected the cry of your baby and reponed to it automatically by adjusting the motions, speed, vibration, and sounds so that you don't have to wake up.
The motion of the Bassinet is head-to-toe (3 Motions Speed), and vibration (2 vibration level) music (white noise, music, or nature sounds) repeats until it finds the best setting to meet your baby need.
Don't worry about the vibration, because its safe and baby love to sleep on the surface that vibrating, Check out this: Is vibrating Bassinet safe?
The algorithm, observe, learn, and respond to act as a night nurse.
To provide excellent airflow and breathability in the Bassinet's side is crafted with Mesh Side. This Mesh side also lower temperature in it and provide visibility.
Additionally, this luxury bassinet comes with a canopy that you will not found in Snoo.
This canopy act as a shield to protect your baby from high-intensity light or sunlight if you place Bassinet near the window for fresh air circulation.
The feature you will not found in the snow is Storage, But Graco Brand takes care of everything. Provide a storage pocket to keep wipes, diapers, and other baby essentials.
Its feature does not end here; It is integrated with wheels to help move the Bassinet with you any part of the house you want to go to.
In short, Sense2Snooze, offer extra hands that soothe your baby back to sleep if he/she cries at night. If you are searching for the best price, then click the link to get it from our verified seller.
3.) HALO Bassinest Swivel Sleeper Modern Luxury Bassinet:
Halo bassinet is another modern and fancy bassinet. The thing that makes it more popular is its 360 degrees rotating feature.
It is the only Bassinet in the market that rotates 360 degrees to bring your baby closer or over the bed without sharing the adult bed. This thing makes it excellent bedside as well as a co-sleeper bassinet, which is perfect for C Section mom.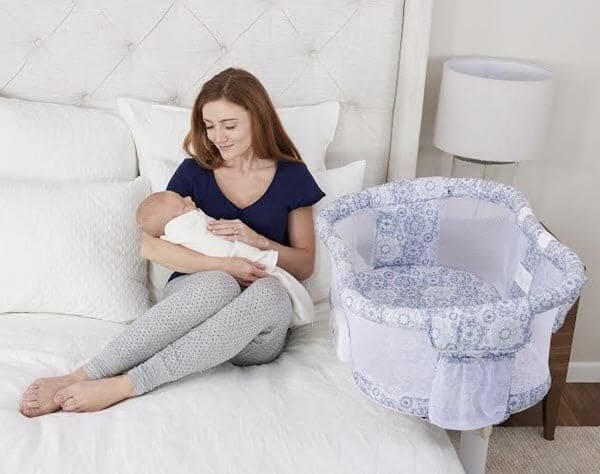 The feature that makes it high end baby bassinet is a Mobile device, and Auto restores sidewall. So let's explore its function more.
The feature we like the most in this luxury bassinet is it, Side Wall.
You don't need to get out to nurse to cuddle your baby; it comes with a patented lowering sidewall.
Which is automatically restore its an original shape to keep the baby in the Bassinet safe.
An excellent option for recover mom or who has back pain. Which is very common after pregnancy
Also, the storage pocket is on the side of the Bassinet that acts as life-saving for you. You don't have to leave your bed to pic the baby essentials. Everything is just right next to your bed in arms reach.
Another great feature is vibration with soothing music. The combination of vibration and music helps your baby to fall asleep very fast.
Extra sleeping hours for your baby means extra rest for you.
The feature does not end here. Its Nightlight, which comes very handy to see the baby at night without lightening the whole room.
The only downside of this luxury bassinet is, it's not portable due to its big and bulky, but you can still move it in the room with the help of someone else.
You can explore its more feature in our Halo Bassinest Swivel Sleeper Review.
Or, if you are looking to buy this luxury bassinet, then click on our link to get it from our verified seller for an unbeatable rate with manufacture warranty.
4.) Monte Design Modern Rockwell Luxury Baby Bassinet
Rockwell bassinet is the 2nd most expensive Bassinet on our list of the best luxury bassinet. It is a handcrafted, clean, simple, and elegant look modern bassinet made in Canada with the self-made highest quality materials.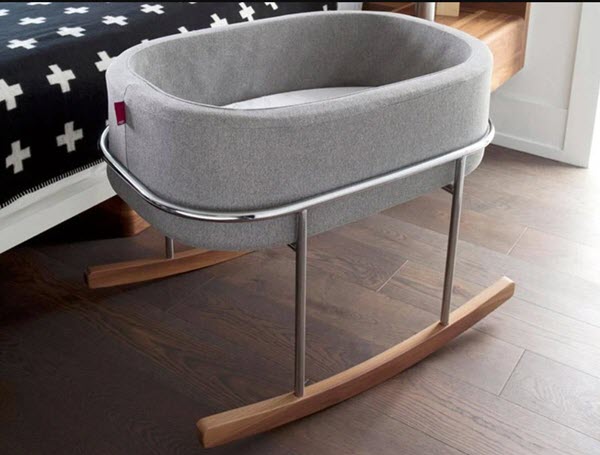 That's why people also call it: Ultimate Modern Luxury.
The Bassinet was made with soft lining to enhance your baby's sleeping time, no matter the time of the day.
The soft protective side guarantees the safety of your baby, and its removable fabric makes it machine washable to ensure your baby sleep in a clean environment.
Keep in mind: Cleaning of any bassinet is not an easy task. Doing it in a wrong way can damage the bassinet, So we here hight light some general guidelines that help you to clean your bassinet safely.
This Bassinet is durable, made for stability with streamlined chromed stand with a strong walnut rocking field that makes it modern bassinets.
This upholstered basket can be removed and taken to a different part of the house.
When your baby has outgrown using the Bassinet, you can convert the basket into a storage compartment to keep all your baby' stuffies,' your money is not wasted.
It's safe for the health of your children as it doesn't contain any flame retardant chemicals.
And the right things, it passes all UK, European, and Canada safety standards.
If you want something similar looking Bassinet at a lower rate, then try Modern Design Baby Castle Bassinet (Check price). Have the same feature with little difference in quality.
If you have a taste for luxury, this is the Bassinet you need.
It has a streamlined chrome stand, with solid walnut rocking feet and a soft upholstered basket.
5.) Micuna Smart Fresh Wooden Fancy Baby Bassinets:
Simple design with an elegant look, Made of wood along with D mesh fabric, and chemical-free water paint, Put this Bassinet on #5 on our list of the best luxury bassinet.
Its design is a blend of modern and straightforward features, made to the taste of the parent who loves fancy Bassinet.
Its side is crafted with D Mesh fabric 100% Polyester from out Side, which gives you the ability to see your baby while you do other chores in the house and also much better airflow for sound sleep.
And to maintain the coziness inside the Bassinet is made with 100% Cotton. As a result of this, prevent the discomfort that comes from overheating.
Apart from that, there is a lot of other things that you can do to make the bassinet more comfortable.
A base is designed with a wood over six wheels that gives you the ability to move the Bassinet in the room to room.
Don't worry about inclined surface; all the wheels come with a break to prevent any chances of it rolling out of position while you are sleeping.
For, mom how loves color or shade, there are three different finishes: natural, white, and metallic. So pick whatever you like.
Don't forget about its Soft, comfy mattress with a sheet which helps you to make maintained the sleeping area clean and hygiene.
Simple design that offers excellent comfort for your infant. So click on the link to gives the softest gift to your baby for comfortable sleep.
I hope you found our Best luxury bassinet in 2021 useful and informative that helps you to make an educated decision.
What Do We Recommend?
Each brand added uniqueness to its styles to better express there features. Some bassinet has technological advancement that can soothe the baby back to sleep, play a lullaby, and notify the parent in case of any distress.
If you ask us what we recommend, then we would like to recommend to go with the #1 product. Snoo Smart Sleeper is one of the most expensive and high end baby bassinets on our list of the best luxury bassinet.
But if your pocket is tight, then you can go with Graco Sense2Snooze bassinet.
The second Bassinet we like is Helo; helo bassinet also gets #1 on our list of the best baby bassinet for C Section mom.
Monte Design & Micuna Smart Fresh, Both are a simple design, elegant look bassinet but offer great comfortable sleep due to their high-quality material.
Looking for more options, then check our Top Rated Best Bassinet 2021,
Now, it's your turn, let us know which luxury bassinet you are going to buy and why? What you like about it. Don't forget to share the article because sharing is caring.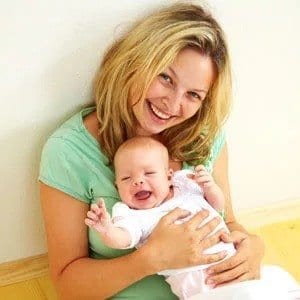 Sakshi Patel
Senior Content Writer
Sakshi Patel is a busy Mom who enjoys spending most of her time with her cute daughter and a pet dog. She joins us as a senior content writer, and because of her creative writing style, has become our top-rated content writer