Keeping a bassinet warm in winter is not a big deal if you know how to keep bassinet warm?
A lot of people use a normal woolen blanket to keep baby warm in winter but let me tell you one thing, it's not safe and can lead to death due to SIDS.
The American Academy of Pediatrics (AAP) recommends don't place anything like Blanket, pillows, bumpers in the bassinet or crib to keep baby comfortable, because in actual you are putting your infant into more danger.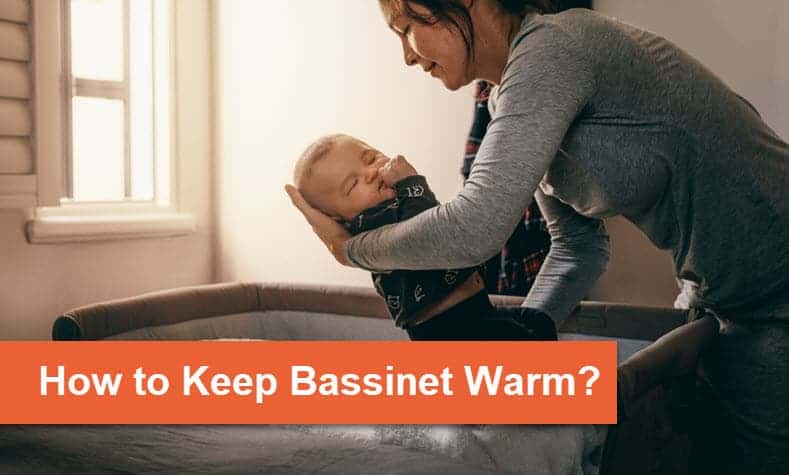 San Francisco, CA — Infants should sleep in the same bedroom as their parents – but on a separate surface, such as a crib or bassinet, and never on a couch, armchair or soft surface — to decrease the risks of sleep-related deaths, according to a new policy statement released by the American Academy of Pediatrics.
Also, recommend to put the baby on their back on the flat surface for safe sleep. But, if I can't place anything in the bassinet then how you can keep your baby warm in the bassinet.
Well, this is exactly what we are going to learn in this article.
So, let check.
How To Keep Bassinet or Crib Warm?
Keeping the bassinet warm in freezing night is very important for baby good sleep and safety. So, Today I'm going to share 5 ways that I'm using from a long time as well as my family too, to keep my baby bassinet warm in winter.
I hope these things will help you too.
1. Keep The Room At Right Temperature
Keeping the room at the right temperature is the best way to keep bassinet warm without swaddling her/him in warm clothes.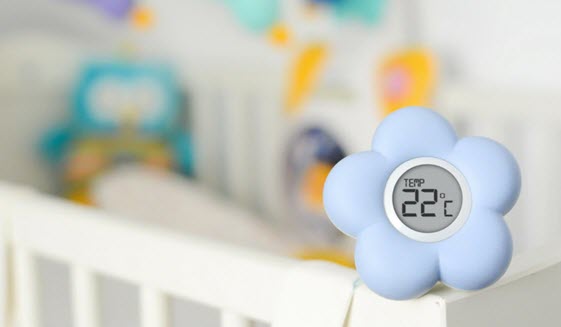 Pediatrics recommend keeping baby room temperature around 70 to 72 degrees F.  And the best way to achieve that ideal room temperature is by using a Nursery Space heater.
I recommend to use Vornadobaby Tempa Nursery Heater. Because I was used to it. My baby loves the Gently heats and circulates air all around her.
Note:- Always check your nursery room temperature stays at a safe ( 70-72 degrees F) comfortable temperature. You can use ThermoPro to keep an eye on that.
This Nursery heater comes with Advanced safety features like a cool-touch exterior, tip-over protection, and an automatic safety shut-off system. So I can sleep free without any worry.
This is the best way to To Keep Bassinet warm in winter.
2.) Preheat the Bassinet Or Crib
Putting a baby on a cold place means putting an alarm on the trigger, And once that alarm gets triggered, it becomes very difficult to put back it on the silence mode.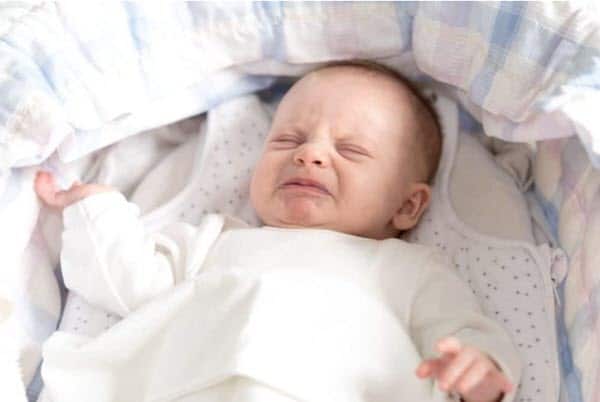 So, before putting your baby in a bassinet, make sure their sleeping space is warm and cozy.
Trust me, your baby will love this place and never cry whenever you put him back in her/his warm and cozy place.
To do this, you can place a water bottle in crib or bassinet at least 20-30 minutes before you put your little one to sleep.
Note: Don't forget to remove it from the bassinet or crib before you put your baby in it.
Preheating the bed another good way to keep bassinet warm, so that they can sleep loudly, but still, there is lot of other things that you can do to make your bassinet more comfortable.
3. Keep Bassinet Dry & Warm
A wet diaper can make your baby sick even in winter, then think about what it will do in winter.
Wet clothes easily become cold in winter, So changing the diaper frequently is the best way to keep baby skin healthy and safe.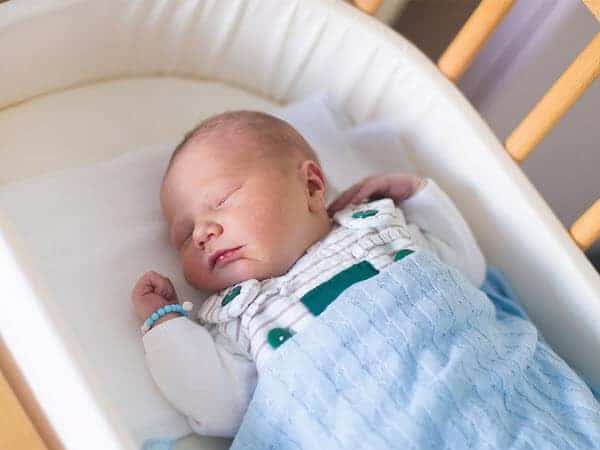 To save some bucks on buying Diaper for the Baby. I recommend to sign up for Diaper Fund on Amazon, It will help you to get an additional 20% discount on all the diaper you bay for your baby.
4.) Bassinet Can't Cover Baby's Head, Hands
Bassinet keeps the baby sleeping area warm, but can't warm his Hand, Foot & Head. These are the body parts that directly come with the contact of Cold Air, where 70% of your body lose their heat.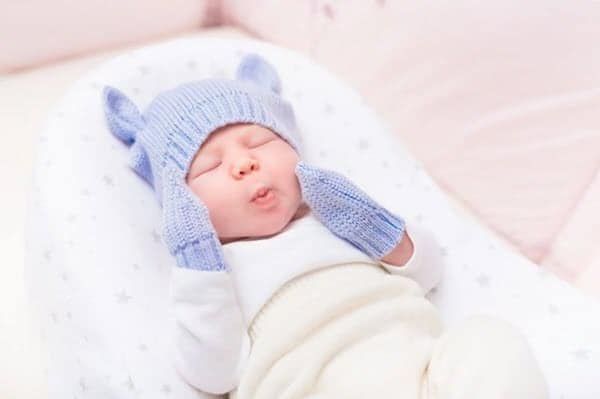 So always keep your baby Hands and foot cover with mittens and Socks, like Gerber Mittens and Luvable Baby Socks.
My baby love to wear these things because it keeps her hand safe.
To, protect his/her head, you can buy a separate Upeilxd Newborn Hospital Hat, to provide your little one with an extra layer of warmth.
Note: In case your baby is a thumb sucker by nature like my one, you have to buy an extra pair of mittens.
So, Covering the body parts is another good way to keep your baby warm in the bassinet.
5.) What I Do In Freezing Night
Doing the above things is not enough, sometimes you have to do swaddle your baby in a blanket to keep your baby warm in freezing nights.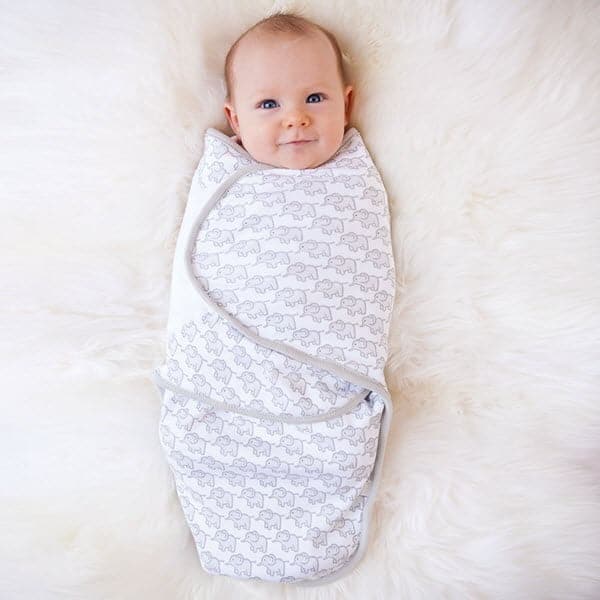 Instead of overloading your soft baby with heavy woolen clothes, use thinks warm blanket like Muslin Swaddle. It's safe thin and a warm blanket made with a woven layer that makes it breathable.
Note: But some baby kicks very often, and easily remove their blanket. So, if your baby does the same then use a wearable blanket like Halo Sleepsack Micro-Fleece Swaddle
Note: Some baby doesn't like to swaddle themself by a blanket and start crying at night, So that kind of little noisy baby you can use Warm Footie Pajamas. A good rule of thumb is to dress your baby in one more layer than you.
Most parents prefer co-sleeping with an infant in winter so that they can get heat from mom's body.
But sleeping on the same bed is not safe and risky. But thanks to some special design bassinet to do co-sleeping safely. And also there is a lot of benefits of doing co-sleeping with baby
I hope you have found this information useful and this "how to keep bassinet warm" guide will help you in making a valuable decision.
Final Thoughts
Keeping a baby warm at night is very important. He/She spending 9months in the womb where he/she is getting all the things to need.
But now, they are totally indifferent environment, so you have to keep them safe now.
I mention above all the things that my family and others are continuously doing form a long time to keep baby warm in the bassinet.
Now it's your turn. leave your answer in the comment box, what you are doing to keep bassinet warm? Your decision will help other moms to make a quick decision.
And finally, don't forget to share this article because sharing is caring.