Keeping a bassinet warm during winters is not a big deal if you know how to keep bassinet warm.
Many people use a regular woolen blanket to keep baby warm in winters but let me tell you one thing, it is not safe and can lead to death due to SIDS.
The American Academy of Pediatrics (AAP) recommends that you do not place anything like blankets, pillows, bumpers in the bassinet, or in the crib to keep your baby comfortable, because, in actuality, you are putting your infant into more danger.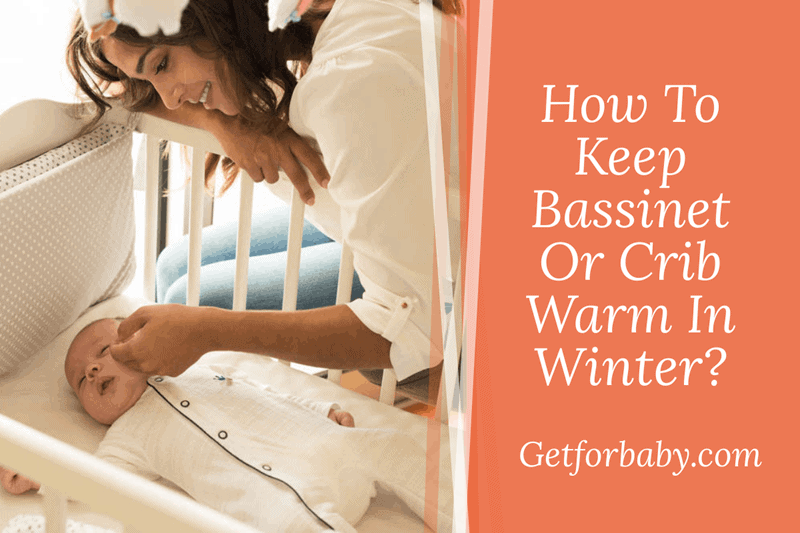 San Francisco, CA — Infants should sleep in the same bedroom as their parents – but on a different surface, such as a crib or bassinet, and never on a couch, armchair, or softcover — to decrease the risks of sleep-related deaths, according to a new policy statement released by the American Academy of Pediatrics.
It is also recommended that you put the baby on their back on a flat surface for safe sleep. But, it can't place anything in the bassinet, how can you keep your baby warm in the bassinet?
Before I explain, How to keep bassinet warm in winters? I strongly recommend watching the below video to understand what a doctor does when a newborn baby is born to keep him/her warm.
I hope you watched it.
Now, it is time to share my tips and tricks that I tried and tested to keep my baby warm in winters during cold, freezing nights. So, let's check them out.
1.) Keep The Room At Right Temperature?
Keeping the room at the right temperature is the best way to keep baby warm at night without swaddling her/him in warm clothes.
Pediatricians recommend keeping the baby's room temperature around 70 to 72 degrees F. Temperatures above or below that level will be uncomfortable for infants and can even put their lives at risk.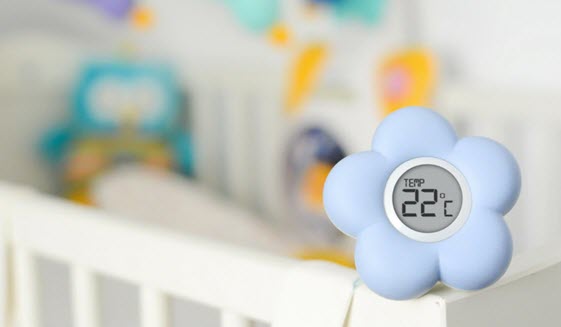 Read what stanfordchildrens.org says about this:
….Babies can lose heat rapidly, nearly 4 times faster than an adult. Premature and low-birthweight babies don't have much body fat. Their bodies may not be ready to control their own temperature, even in a warm environment. Even full-term and healthy newborns may not keep their body warm if the environment is too cold.
Let me explain how.
You are already well aware that babies get introduced to a much colder environment at birth when they come out of their mothers' wombs. This is why they need to be wrapped and swaddled during the first few months of their lives as they get slowly accustomed to the world around them.
Alternatively, the temperature of the room must not be too warm, either. Since your baby is mostly bundled up and cannot yet move around to free itself from the clothing covering their body, they can actually end being too warm.
This can lead to sweating, and your baby may become wet due to this.
The most alarming thing is that the chances of SIDS increase as the bassinet or crib's temperature increases.
Clearly, temperature control is significant, not just for making your baby comfortable but also for protecting them from harm.
Now the question is, how can I control the temperature of the bassinet or crib?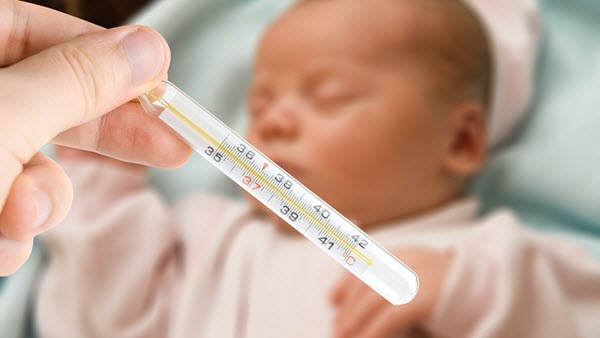 Well, there are many methods to achieve the ideal temperature for a baby's bassinet or crib. Still, we recommend using a bassinet heater like the "Vornado Nursery Heater."
But, you may ask, can I use a heater in my baby's room?
Yes, you can use a heater in your baby's room to keep the room temperature ideal for the baby. Make sure you use the nursery heater designed for babies like the Vornado Nursery Heater. It is the safest crib heater that helps you to keep the baby warm at night without a Blanket.
It helps you safely regulate the room temperature, so your baby's unique needs are fulfilled.
Watch the video below to understand how it warm the baby room and what makes it safe for the baby?
It is a little costly because it comes with a digital meter, but you can lower the model if you are on a tight budget. But keep in mind that it does not offer you auto control.
This nursery heater comes with advanced safety features like a cool-touch exterior, tip-over protection, and an automatic safety shut-off system. So, I can sleep without any worries.
You can use it as a baby crib heater or a bassinet heater to keep the baby warm throughout the night without blankets.
2.) Preheat the Bassinet or Crib:-
Putting a baby in a cold place means placing an alarm on the trigger. Once that alarm gets triggered, it becomes challenging to put it back in silent mode.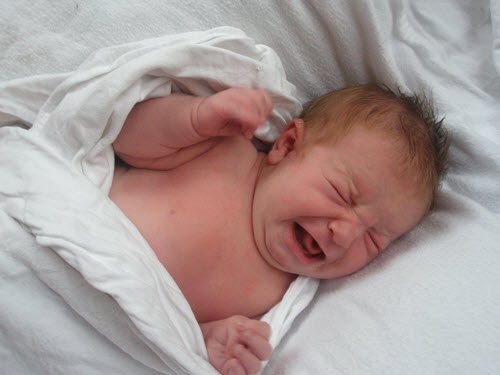 You can imagine for yourself how difficult it is to leave a warm, cozy bed. This is because we rely on our body heat to get comfortable. And this is also the case with your little one.
So, before putting your baby in a bassinet, make sure their sleeping space is warm. And the best way to do this is by using a bassinet warmer, a bassinet heating pad.
But, can a baby sleep on a heating pad? Yes, you can use it to warm the bassinet up, but don't place anything in the bassinet as per APP (as we mentioned above) recommendations. Before placing the baby in a bassinet, make sure you remove the heating pad from it.
You can place the bassinet heating pad between the bassinet and mattress to warm up the bed in a matter of seconds.
Note: – Don't overheat the bassinet. Just place the baby heating pad in the bassinet or crib for least 20-30 minutes before putting your little one to sleep.
The heating pad for bassinet is small in size, so what will you do in the case of a crib?.
Well, you can use a crib heating pad. This heated crib mattress pad heats up the whole crib, making it warm for your little one.
There are some excellent options, with heating pads explicitly made for bassinets and cribs. This way, you need not worry about these heating pads' safety as they are meant for babies.
For a bassinet, you can use the Hugo Frosch Baby Bed Warmer
For a crib, you can use the Bed Warmer Mattress Pad
So, before putting your baby in a bassinet or in a crib, make sure you remove the heated crib pad.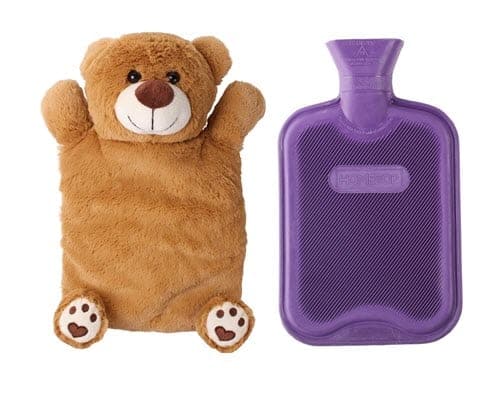 Preheating the baby's bed is the best way to make a crib warmer. So that they can sleep soundly. However, there are still many other things that you can do to make your bassinet more comfortable.
3.) Keep Bassinet Dry & Warm:-
A wet diaper can make your baby sick even in summers, then think about what it will do in winter.
Wet clothes quickly become cold in winters, and not only does the wetness make your baby ill, but the moisture is also unsanitary. Changing the diaper frequently is the best way to keep the bassinet warm & reduce leaks.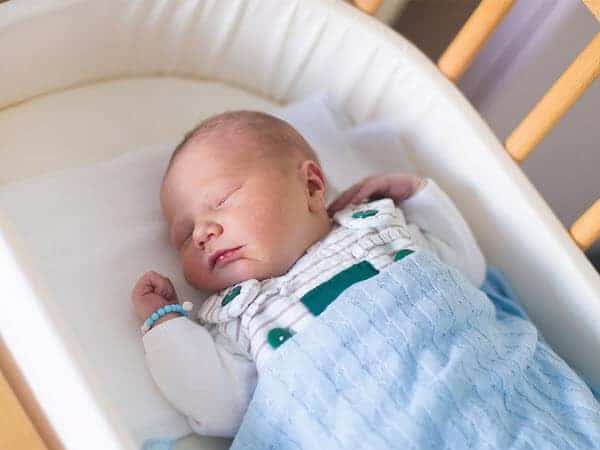 You can try some great brands in the market that offer dryness of up to 12 hours due to their high absorption ability like,
You should warm up the wipes during cold weather using a Wipes dispenser holder to prevent your baby from feeling the cold wetness during a diaper change.
What I additionally recommend is to buy another set of bassinet mattress & Bassinet Sheets.
The reason being that warm and moist places are the most suitable environments for all kinds of bacteria. You do not want your baby's bassinet to become a hotbed for bacteria.
Note: Make sure you clean your bassinet properly & from time to time. A hygienic environment is essential for good health.
Here is our ultimate guide: How to clean a Bassinet?
So, keeping the bassinet warm with one sheet is not possible. You need at least 3 sets of sheets and 2 sets of mattresses to make sure your baby always sleeps in a hygienic and clean environment.
If you still have doubts about extra bassinet sheets and mattresses, then read our guide; Do You Need Sheets for a Bassinet, Crib & Pack n Play?
4.) Bassinet Cannot Cover Baby's Head, Hands:-
You may have taken all the precautions and ensured that your baby's room and the bassinet bed are warm and dry. However, these still do not cover up your baby entirely.
Hands, feet & head are the body parts that directly come in contact with cold air, where 70% of your body loses their heat.
This is why baby hand mittens and baby caps for sleeping are so necessary.
See what Dr. Mike Petric has to say!
Even if babies move around and fidget, you can be assured that their hands are covered with mittens and do not come in contact with the cold air.
You can always get hand mittens made out of cotton or similar thin material for summers and a warmer material for winters. And the same goes for the nightcap.
It is better that you have your baby wear these then depend upon wrapping them.
Babies can get out of their wrapping sheets, and it can be a real hassle for you and very uncomfortable for your baby to get wrapped up again.
With mittens and caps, you can be saved from having to wrap your baby again and again, because at least they remain covered.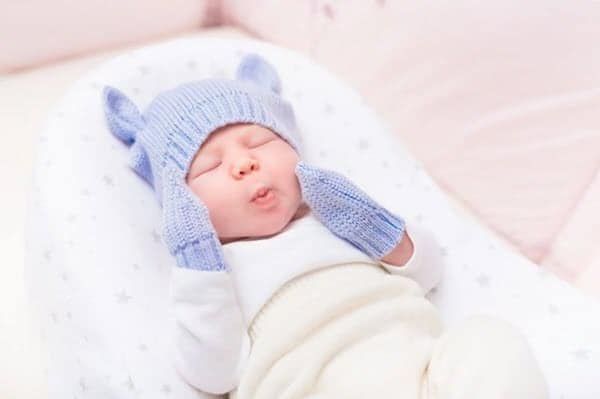 Here are some of the best options out there.
Note: If your baby is a thumb sucker by nature like mine is, you will have to buy a few extra pairs of mittens.
So, covering the body parts is another excellent way to keep baby warm in winter.
5.) What I Do In Freezing Night for Baby:-
Doing the above things may not be enough to keep baby warm during the freezing night. Sometimes you have to swaddle your baby in a blanket to keep him warm in these cases.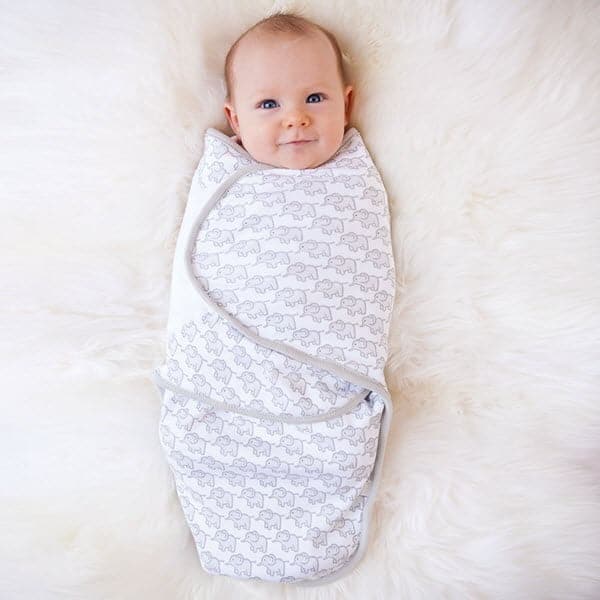 We have already mentioned how pediatricians discourage using blankets and extra padding in the bassinets because this increases SIDS risk.
But you can always use a Swaddle Blanket that is explicitly designed for newborn babies.
Most of the blankets are large enough that you can quickly wrap them around your baby's body and safely tuck them in.
Watch this video to understand how Dr. Jagruti Anadkat helps you safely wrap the baby in a blanket.
Baby blanket warmers are soft and extremely warm, especially those made out of wool. There are many options in the market, and you can get a baby blanket for any season.
Apart from this, most parents prefer co-sleeping with an infant in winters so that they can get heat from mom's body. But pediatricians don't recommend this because it is not entirely safe.
But if you want to co-sleep and get the benefits of doing co-sleeping. Then first, you have to understand how you can do safe co-sleeping with infants.
Some specially designed bassinets help you to do safe co-sleeping. Explore this list of the best co sleeper bassinet. You can also buy a bassinet according to your as well as your baby's need. Each bassinet has its own advantage.
I hope you have found this information useful. This "How to keep bassinet warm" guide will help you make a valuable decision.
Final Thoughts
Keeping a baby warm at night in winter is very important. Your baby spends 9 months in the womb where he/she is getting all the things they need.
However, upon birth, they are thrust into a totally different environment, so you have to keep them safe and protected.
I have mentioned above all the tried and tested ways my family and many others have kept their baby warm in a crib or a bassinet.
You can use a bassinet heater, a baby crib warmer, a nursery heater, or even a swaddle blanket, etc. There is no need to buy all the stuff, as I mentioned above.
No one knows your current situation better than you, so make your choice wisely bases on your baby's specific needs.
Now it is your turn. Leave your answer in the comment box. What are you doing to keep bassinet warm? Your decision will help other moms make an informed decision.
And finally, don't forget to share this article because sharing is caring.