Bassinet cleaning is a very easy process; you just have to take care of few things to do it properly & to avoid any damage.
For example, washing the bassinet fabrics in a machine that is not designed for machine-wash.
Cleaning the wooden bassinet with a detergent can damage its wood and leave a stain on the surface. Also, using a chemical to clean a bassinet is not good because it leaves its smell.
There are many other things that you have to consider when you are cleaning it. That's why bassinet's manufacture always provides an instruction manual to explain what to do and not.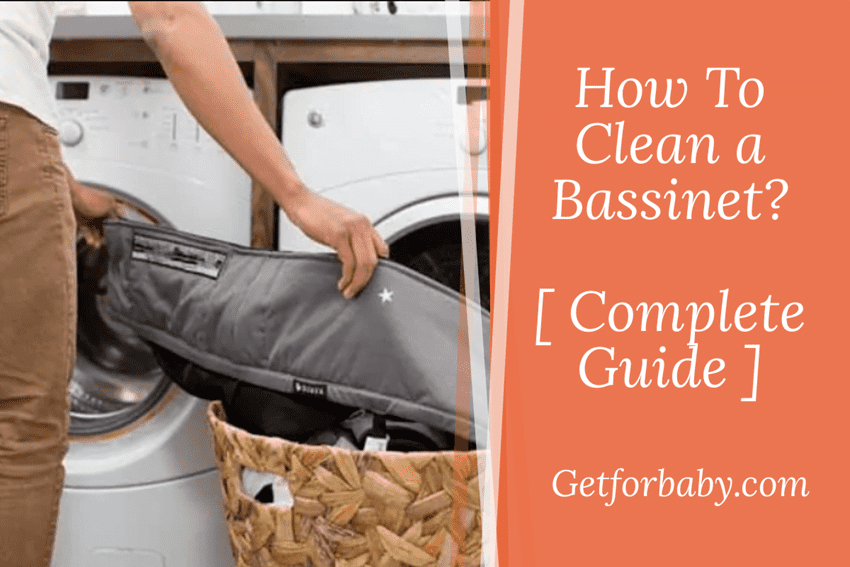 In this article, I will explain, How To Clean a Bassinet & its accessories like bassinet fabrics, bedding, Canopy, Mattress Pad, Sheet, Mesh, etc.
Having a hygienic and clean sleeping environment is always good for your baby's health, but the baby mess frequently. So It can only be achieved by proper & time to time cleaning it.
But, when should you have to clean the bassinet?
Well, if you look dirt or the baby has overcome a recent illness, Or there is visible soiling on the bassinet, then it's a time to clean it, But if not, then still follow the thumb rule, Wash your baby's linens 1 to 2 times a week.
These are the most active part that comes in contact with your baby, rather than other like, Storage basket, Wheels, Stand & Frame, etc.
So, let start washing your Baby Bassinet.
How To Clean a Bassinet & Its Accessories?
The bassinet cleaning process is consists of 5 steps. At first, you have to check the "Do & Don't list," in step 2, you have to take apart a bassinet; in step 3, you need cleaner as per your bassinet requirement & in step 4, you can clean your bassinet. And the last one is, assemble it again.
Now, let explore these all in more detail step by step.
1.) Check the Do & Don't List:-
Every bassinet is designed with the different mind of approach and use different material to craft. So, there must be an instruction manual that is shared by the bassinet manufacturer.
For example, the fabric and the material they use to craft the bassinet and how you can assemble or dismantle it. If you don't pay attention to these things, you might end up damaging the Baby Bassinet instead of cleaning it.
Download the bassinet Instruction Manual pdf, as per your product. Here is some frequently ask manual.
| | |
| --- | --- |
| Product Name | PDF |
| Arm's reach co sleeper instructions | Link |
| Graco pack n play with bassinet instructions | Link |
| Halo bassinest swivel sleeper manual | Link |
| Ingenuity bassinet instructions |  Link |
Note: If you don't have the instruction manual, Just check the official site Or contact the manufacturer, Or you can google it.
Just type "manual + product name + pdf" in Google, and you will get the manual.
2.) Take Apart a Bassinet:-
A lot of a different type of Baby Bassinet is available in the market. The below-mentioned parts are common and can be wash with just a dry cloth.
Bassinet Frame: Usually made up of aluminum and can be fully disassembled depending upon the design.
Bassinet Sheets & Mattress: These are fully removable & design for easy to wash.
Bassinet Mobile Device: Not all bassinets offer mobile devices. But, if you have, then de-attach it, if possible, to keep it safe from water content.
Bassinet Mesh sides: Some manufacturers use Mesh while others use cotton, but both are easy to clean.
Bassinet Canopy: Not all bassinets have canopies, but it also a removal part of the bassinet.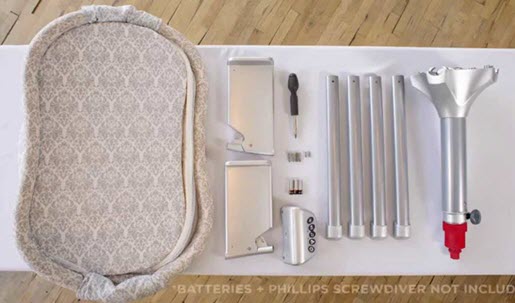 Note: You don't need to dismantle the things like wheels, Lower body frame, etc. This thing can be clean easily without removing it. Removing that kind of part is easy, but it takes time to properly align it back.
3.) Things You Need To Clean The Bassinet:-
I hope you understand the importance of the above 2 steps. Now it's time to prepare the things you need to clean the bassinet. Keep in mind, not all the cleaning materials listed below are useful for everyone.
Even some of them you will find in your kitchen too.
Well, I just highlighted the cleaning material for the bassinet; if you don't have one, you can use other. So, pick the product according to your need.
Baby Laundry Detergent
Empty Spray Bottle Or Sponge Or Scrub Brush
White Vinegar, & Lemon essential oils,
Antibacterial soap Or Sanitizer Spray
Step 4: Time to Clean a Bassinet:-
A different part of the baby bassinet needs a different kind of approach to clean it; for example, Bassinet Bedding, Canopy, Mes, Cover & Skirt can be machine wash, whereas the Bassinet Stand, Frame & another attached part such as Bassinet Wheels, Storage Basket, etc. needs to clean manually.
So let's clean each of them step by step.
a.) How To Clean Metal, Plastic & Wooden Fram Bassinet:-
To disinfect the Bassinet Frame & Stand properly, you need a mixture of white vinegar (1 cup) & water (1 cup). Pour both these liquids into a Spray Bottle & mix them together properly and leave it for 2 to 3 minutes.
This mixture will clean & sanitize the bassinet as well as remove the Corrosion & Stain from it.
Once it's ready, you can spray it on the bassinet frame and clean it with a towel or paper or even a can-use sponge.
Note: Vinegar can leave its smell on it, so don't forget to add a few drops of Lemon essential oils to rid yourself of the acidic smell.
Some Plastic Bassinets have plastic cushions on the side for some reason. To clean the cushions, you can use a mixture of Warm Water & Anti Bacterial Soap.
And to properly clean its surface, I recommended using a scrub brush.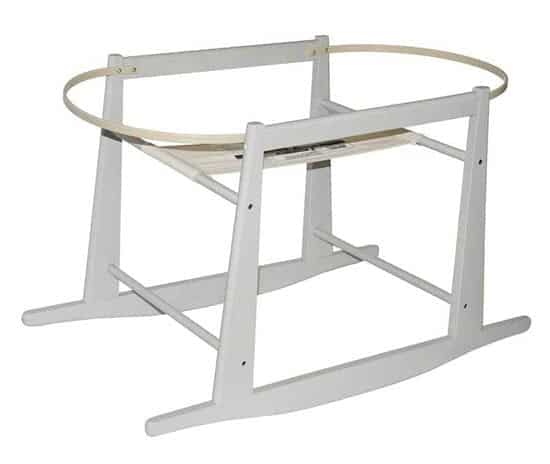 But what you will do if you have a Wooden Bassinet. It's totally different from others; you can't clean it with the above solution because it can damage the quality & leave a stain on it.
So, to clean a wooden frame bassinet, try Dry Cloths to remove all the dust from the frame & then use any wood cleaner to effectively clean it.
b.) How To Clean a Bassinet's Sheet, Mattress & Mesh Cover:-
In our step 1, we already evaluated that our Bassinet Sheets, Mattress & Mesh, are machine washable or not?
From my experience, all the Bassinet Mattresses ( Polyester Material ) & Sheets available in the market are machine-washable.
So, just remove it and throw it into the washing machine.
Make sure you always use Baby Laundry Detergent because other chemical detergents can cause allergies to baby skin.
Keep in mind that the mattress and sheet are the most active part of the bassinet; this means that they are easily contaminated by germs, bacteria, viruses, etc. So you need to clean these frequently.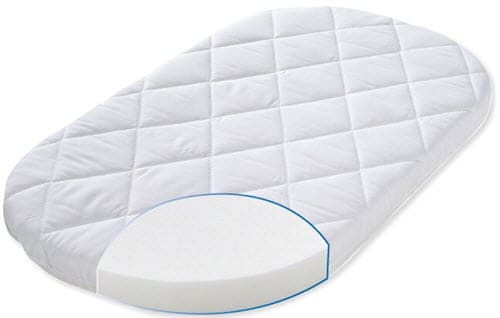 Now, it's time to clean the Bassinet's Canopy.
Canopy is also a removable bassinet part, but some bassinet doesn't offer a removable option.
So to clean that kind of bassinet, you have to do a manual approach. But if you have a removable canopy, then you can do machine wash Or do dry wash to maintain its look.
The fabric you are looking at canopy is just a Mesh Or clothe which can lose its shine, So make the decision wisely.
Step 5: How to Dry & Re-Assemble the Bassinet:-
After cleaning the bassinet parts, it is time to Dry & Assembles it again.
How you dry the bassinet is depended upon you? You can place it out in the sun & dry it inside the home with Air Dryer.
But if it is a wooden bassinet, I recommend using The Dryer to dry it because it loses its shine after coming in direct contact with the sunlight.
Re-assembling it is the crucial last step in the Bassinet Cleaning Process.
If you clean it nicely but don't properly assemble it, that means you are putting your baby at risk.
A lot of bassinet collapse due to various reasons and lead to infants death. So make sure you properly assembled it.
Add put some pressure to make sure it doesn't collapse when you place your baby in it.
So this 5 step process to clean the bassinet; let me know if you have any questions & how you like my tips and tricks in the comment box.
Word of Advice:-
The immune system of an infant is not fully developed, and it can be an easy target for germs, viruses. So make sure your baby always sleeps in a clean environment;
Don't forget about cleaning the bassinet hanging toys with white vinegar & hot water mixture; you can add lemon essential oil drops to reduce the vinegar smell.
So, you have to disinfect it too because baby touch everything comes in contact.
Some people buy Used Bassinet. But personally, I don't recommend getting it because of several reasons. Many bassinets in the market are less than $50 & have all the necessary features, then why go with a used bassinet.
The bassinet is where your newborn baby will spend the next 6 to 8 months of his/her life. That is why to must make sure that it is fully hygienic and clean.
Next, here is a few more informative articles that help you take care of your newborn are:
Now, it's your turn; lets us know how you like our "How To Clean a Bassinet" guide. Please share your valuable feedback to make this guide even better for moms. You can help other moms, just like you, to make an informed decision.
Don't forget to share this article and spread the word because sharing is caring.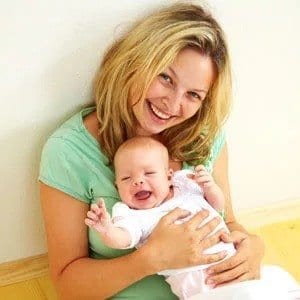 Dr. Sakshi Patel
Senior Content Writer
Dr. Sakshi Patel, an expert in Human Development and Family Studies, combines her academic knowledge with personal experience as a mother to twins. She provides comprehensive articles and meticulous reviews on baby essentials, offering accurate and up-to-date information to help parents make informed decisions. Read more.