Many bassinets come well-equipped & ready to be used once assembled.
However, sometimes you still need bassinet accessories like Mobile devices, Hanging Toys to make your baby's sleeping space comfortable.
Sometimes you need replacement parts such as Mattress, Sheet to make sure your infants always sleeps in a clean environment for good health & to avoid the risk of skin infection.
Other things like Batteries if supported to keep the bassinet working, Changing the wheel from plastic to rubber to avoid starch on the floor, Bassinet stand to keep baby on eye-level, etc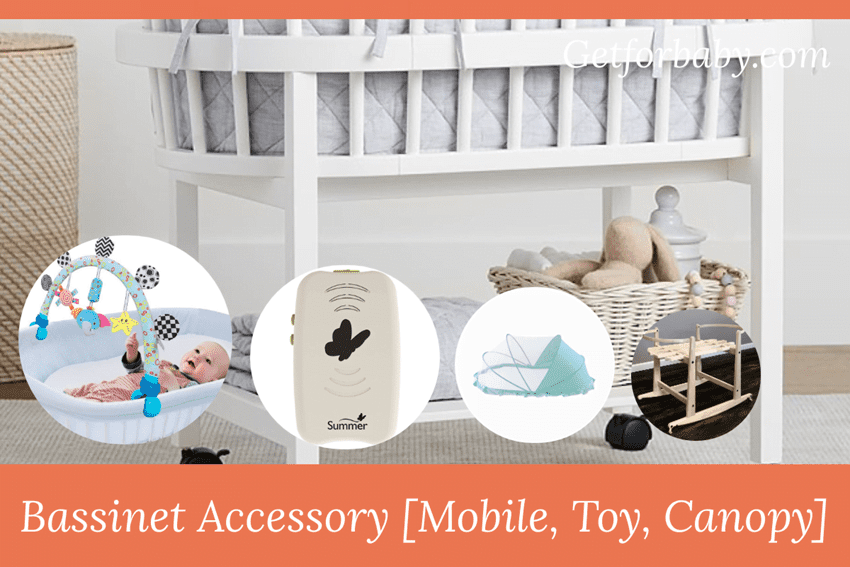 Not only this, but you can also get add-ons to make the bassinet able to produce sounds, vibrations, or have a nightlight, in case you bought one without these features.
There are plenty of bassinet accessories that can be bought to make the bassinet more comfortable & functional. 
A simple bassinet can be made state-of-the-art by adding a few accessories. So let's check them one by one. And in this guide, we will do the same.
1.) Hanging Bassinet Toys:-
Hanging Bassinet Toys are among the most popular bassinet accessories. This is because it improves the bassinet's aesthetics by adding colors and fun shapes and playing a vital role in development.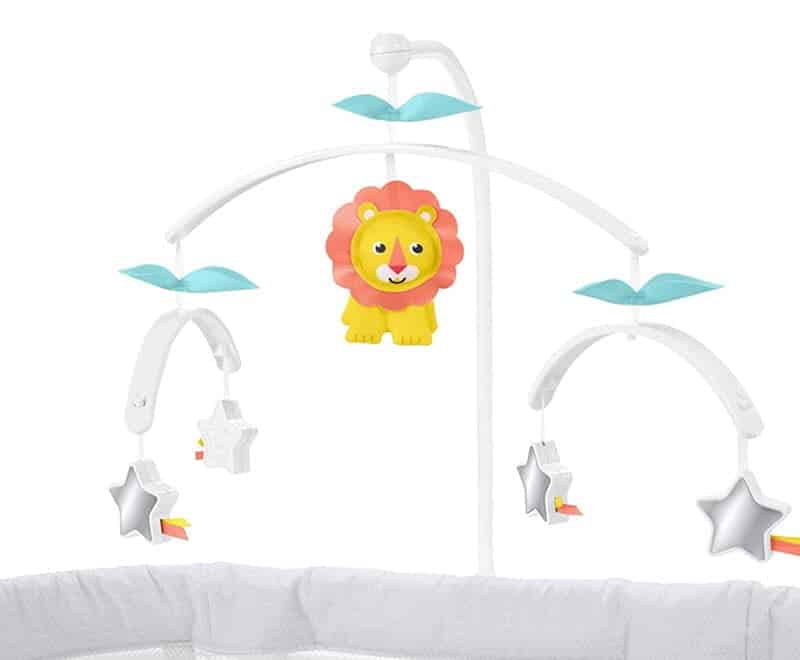 Hanging toys provide stimulation to babies since their bright colors, and sounds attract the attention of babies.
It requires babies to use their senses, and this enables them to learn more quickly.
Hanging toys in the bassinet also make babies more playful and active.
Increased activity may lead to increased diet and, as a result, faster growth.
Research indicates that stimulating toys improve babies' hand and eye coordination and assist with learning.
There are many options for choosing bassinet hanging toys, and you can select anyone based on your baby's preferences. So, Here is a small list of the hanging bassinet toys:–
| | |
| --- | --- |
| Product Name | Price |
| Caterbee Bar Haning Toy for Bassinet | Price |
| Animal Toys for Bassinet | Price |
| Taf Toys Tropical Orchestra Arch for Bassinet | Price |
Note: If you have another kind of toy-like homemade toy and are looking for something to hold over the bassinet, you can try a bassinet toy bar to hold the toy; check this side Holder.
2.) Bassinet Mobile:-
A bassinet mobile is a handy bassinet accessory. It can make a simple bassinet look adorable and attach to your bassinet with minimal effort. It comes with a variety of designs at a very reasonable price.
You can get any kind of a bassinet mobile, one which has soft toys so your baby can grab them and play with them, Or one which has sounds and lights, vibration.
Note: Baby love to sleep on vibrating surface & its 100% safe.
That is why a vibrating bassinet is trending nowadays, but using it in excess can addict the baby to it. So use it wisely.
Just like hanging toys, bassinet mobiles are encouraged as they keep the baby preoccupied & happy.
Babies get stimulation and can learn to process colors, sounds, movements, and so on.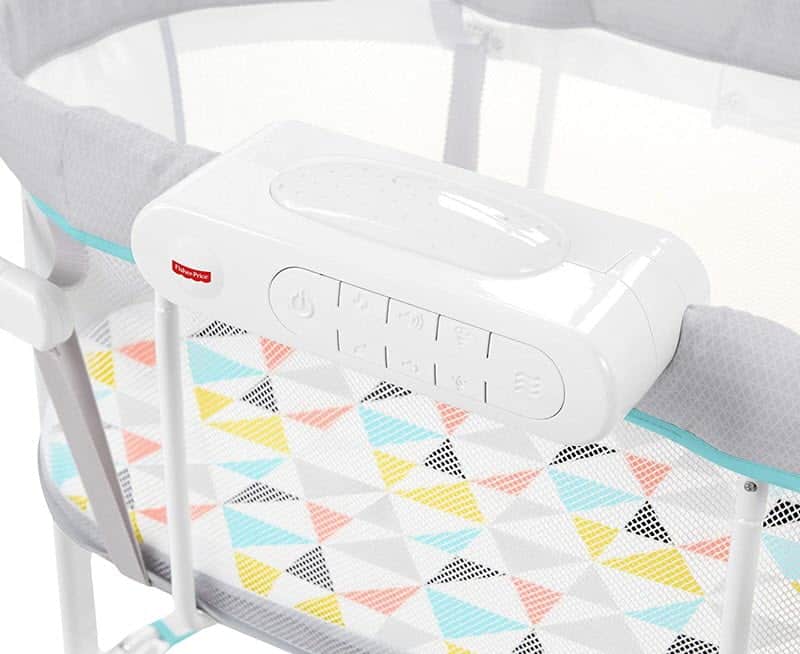 You can attach some bassinet mobile on the side or hang over the bassinet or even place them under the bed to soothe the baby with vibration.
Here are some of the best options of mobile for bassinets:
| | |
| --- | --- |
| Product Name | Price |
| Summer Soothe and Vibe Soother | Price |
| Munchkin Lulla-Vibe Vibrating Mattress Pad | Price |
| Tiny Love Meadow Days Take Along Mobile | Price |
| Mini Tudou Baby Musical Crib Mobile | Price |
3.) Bassinet Canopy:-
A Bassinet Canopy is a very versatile bassinet accessory that adds extra protection to the bassinet. It is made out of a Mesh Fabric, which is easily placed on top of the bed portion to cover the baby.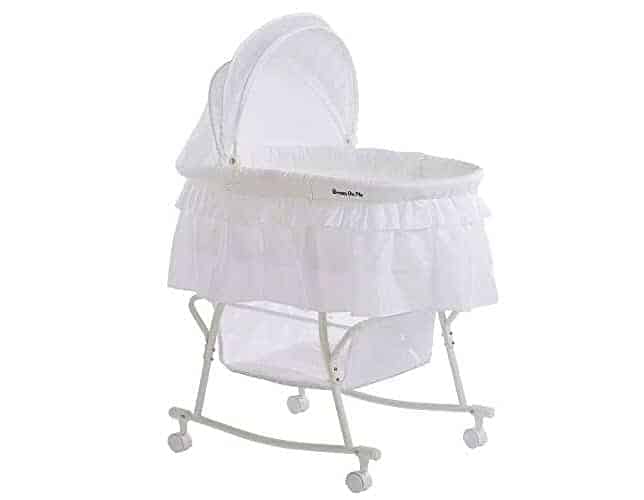 The mesh allows for a free flow of air for maximum ventilation & complete visibility, so you can keep monitoring your baby at all times.
A canopy is convenient as it protects the baby, especially if you decide to take them outside for some fresh air and a change of scenery.
It also prevents bugs from getting into the bassinet, acting as a mosquito net. Many canopies also have a feature where a portion of the canopy is made of solid fabric material that blocks light.
You can even get adjustable canopies which can be pulled down halfway or all the way, depending upon your preference and need.
I recommend buying a bassinet with a canopy because in that case canopy perfectly matches the size of your bassinet, but if you already bought the bassinet, then you can try these are;
| | |
| --- | --- |
| Product Name | Price |
| BABYBJORN Canopy for Cradle | Price |
| Baby Portable Bed Canopy | Price |
| Quick Connect Design Net & canopy | Price |
4.) Bassinet Stand:-
Many bassinets come with a stand, especially Mose Basket Bassinet, But this is not the case with all bassinets in the market. Travel bassinets, especially generally, do not have a stand since they are supposed to be compact and foldable for easy portability.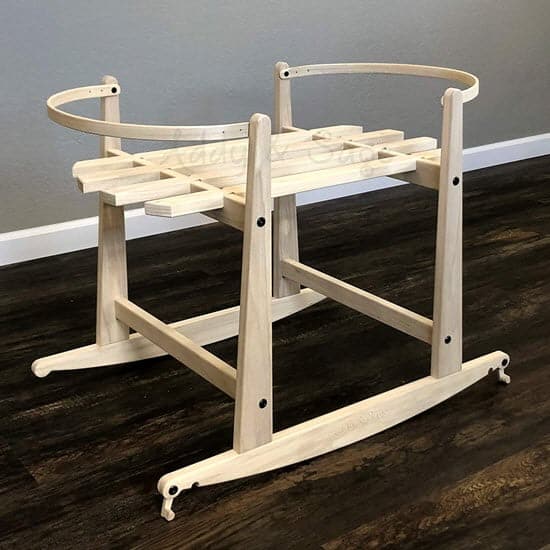 Having a stand is very practical and tremendously handy.
A stand brings the baby to an eye-level when you are standing up and going about your tasks around the house.
It is also safer in general since being on an elevated level.
It prevents other toddlers in the house or pets or from getting inside the baby's bassinet, which does pose a risk of suffocation for the baby.
Getting a stand with lockable wheels or a rocking mechanism is particularly beneficial.
It assists in mobility and may also help calm down the baby during a temper tantrum.
So, here is a list of stands for a bassinet for you, Or you can check the below table for available options in the market.
| | |
| --- | --- |
| Product Name | Price |
| 2 in 1 Natural Rocking Stand | Price |
| Jolly Jumper Moses Basket Rocking Stand | Price |
| Clair de Lune Wooden Rocking Stand | Price |
5.) Bassinet Batteries:-
Many bassinets come with built-in sounds, music, lights, and vibration functionalities that can do wonders in soothing the baby and keeping them calm.
But these require batteries, and running out of batteries at the wrong time can spell disaster.
This is specifically true if your baby has a fixed routine to only sleep when you turn on the vibration function or a lullaby or both.
Running out of bassinet batteries means that your baby will remain disturbed until their routine tasks are resumed.
Always keep extra bassinet batteries ready because you never know when the old batteries will run out.
It is challenging to keep track of the battery life, and your best bet always has a couple of backups just in case.  List of some of the batteries requires for bassinets.
| | |
| --- | --- |
| Product Name | Price |
| Duracell AA Alkaline Batteries for a bassinet | Price |
| Amazon Basics 48 Pack AA High for a bassinet | Price |
| Amazon 9 Volt Alkaline Batteries for a bassinet | Price |
6.) Bassinet Sheet & Mattress:-
Leakages, spills & drool are common with infants, and things can get really nasty quickly, and you do not want the mattress, sheet & bassinet clothes to start smelling.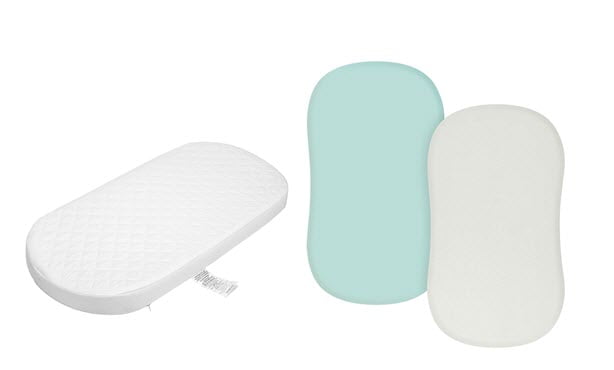 From a practical point of view, bassinet sheets are needed in the inevitable case the original sheet becomes dirty.
You can use sheets interchangeably & this will increase the use time of all the sheets.
Also, moms like you recommend having more than one sheet to keep your baby in a clean & Hygienic environment.
Sheets back-up is a must; you need to have at least two fresh sheets ready just in case. And also one mattress, to use in case the first one becomes wet.
Placing a baby in a wet place can lead to infection or severe skin disease. But if you don't want to buy an extra Mattress, you can go with Mattress Cover.
A bassinet mattress protector cover is a game-changer for parents who have babies who tend to throw up.
Babies may also drool & sweat during their sleep.
The combination of all these fluids can make a baby's bassinet appear extremely dirty and unhygienic.
Without a mattress protector cover, you may have to frequently wash the mattress along with the sheets to get the smell and the residue out.
But regular washing destroys the softness and integrity of mattresses, meaning more frequent replacements. This can be costly.
This issue can be quickly resolved by getting a mattress cover that can be pulled over the mattress to rate a waterproof barrier, saving the mattress from getting dirty and needing a wash.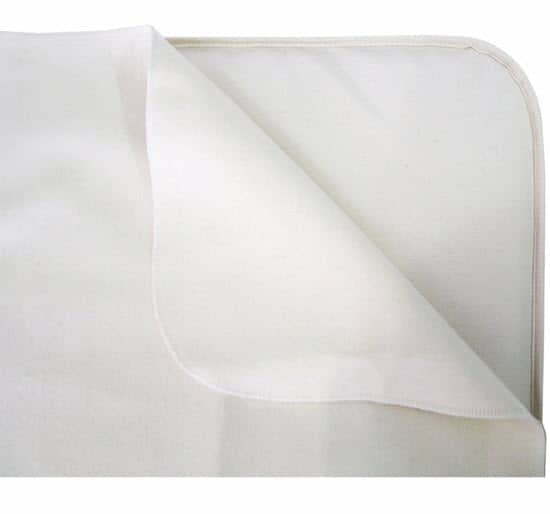 But you still need to clean the bassinet from time to time. Explore our list of bassinet mattress and sheet;
Best Bassinet Mattress
Bassinet Mattress Cover
7.) Bassinet Storage Bag:-
This bassinet accessory you are not going to use in day-to-day life. However still, the bassinet storage bag is essential for everyone.
Suppose you are planning to travel to your mom's home and you don't travel a friendly bassinet that you can pack in a bag. Now let me know what you will do. Well, this big-size storage bag comes in handy.
Another great use of the bassinet storage bag is when your baby outgrows the bassinet. You don't need it anymore for your infants.
At that stage, you can fold the bassinet again and pack it in the storage bag to safely place its somewhere to reuse it.
| | |
| --- | --- |
| Product Name | Price |
| Tote Duffel Storage Bag for bassinet | Price |
| Duffel Space Saver Bassinet Storage | Price |
What next? Here are some of the other guides that keep your baby safe and helps you to take care.
Now, it's your turn to let me know which bassinet accessory you like and planning to buy; drop your valuable comment in the comment section to help other moms to make a quick decision.
Don't forget to share the article because sharing is caring.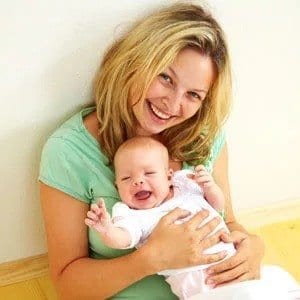 Dr. Sakshi Patel
Senior Content Writer
Dr. Sakshi Patel, an expert in Human Development and Family Studies, combines her academic knowledge with personal experience as a mother to twins. She provides comprehensive articles and meticulous reviews on baby essentials, offering accurate and up-to-date information to help parents make informed decisions. Read more.