THE BREAKDOWN|BabyBjorn Cradle Review
The Baby Bjorn Cradle is a simple, safe and compact designed bassinet. Its lightweight design makes it easy to carry around the house. The surrounding mesh walls with breathable fabric enable great airflow and visibility of the baby at all times. The height is perfectly suited to reach in and comfortably hold the baby. This bassinet provides a gentle self-rocking motion in conjunction with the baby's movements. This helps you lull your baby to fall asleep quickly. The fabric and waterproof mattress cover are removable and machine washable for easy cleaning. This no-frills cradle provides great functionality and meets the requirements of new parents.
Safety

90%

90%

Comfort

92%

92%

Easy of Use

89%

89%

Price and Longevity

88%

88%
High quality and safety standards
Innovative gentle rocking motion with spring suspension
Transparent and breathable mesh siding
Compact and lightweight making it easy to carry
No-frills design
Simple white fabric prone to visible dirt
| | |
| --- | --- |
| Product Name | BabyBjron Cradle |
| Brand | Baby Bjorn |
| UPC | 765326471483 |
| Duration |  up to 6 month |
| Item Weight | 13 lbs |
| Weight Limit | 18 Pounds |
| Batteries required | NO |
| Target Gender | Unisex |
| Dimension | 31 x 23 x 26 inches |
| Availability | In Stock |
| Price | $ 335.00 |
| Latest Price | |
Do I Need A BabyBjorn Cradle?
Sleep is crucial for the development and growth of limbs, muscles, and bones of your baby. It is important that your little one gets a comfortable sleep to help them grow in the first 6 months.
The BabyBjorn considered these aspects and offered a nice product for my little one to ensure peaceful sleep daily.
Since it comes with white breathable mesh, it provides a classic look and feels and is very practical to use. It is also fitted with a Canopy that protects your infant from ambient light. This ensures an undisturbed sleep for your newborn so that you need not to worry about anything.
Unlike other offerings in the market, it has no bars or loose parts that may trap tiny hands or feet of a little child. At the same time, the soft edges allow free movement of the baby.
This enables healthy growth and development of ligaments and limbs. It is very practical to use with a height that is neither too low nor too high. This makes it comfortable to reach in and hold the baby.
Its amazing design enables me; you too place the cradle next to the bed at night. This gives me adequate sleeping space on the bed.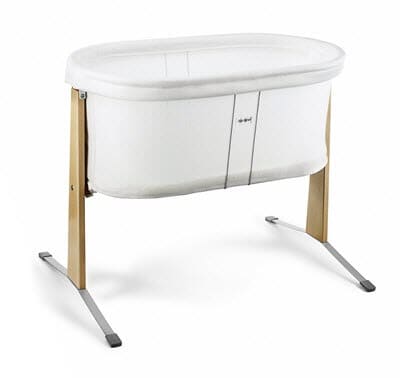 Usually, I place the cradle next to your bed to make breastfeeding more manageable and easier. As I undergone-section and unable to reach the baby every time to breastfeed, it has helped me a lot.
The newborns would feel secure and safe in this small and cozy space fitted with a comfort fit mattress. It is convenient and comfortable sleeping space for your baby in its first few weeks after birth.
Take a quick glance at the Baby Bjorn Cradle reviews and its feature to understand the real value of your money investing on it!
Babybjorn Cradle Review & Its Feature
From the looks of it, the BabyBjorn Cradle may come across as a simple cradle without any frills. But even this simple design features very critical and useful characteristics. Below are some features, which make BabyBjorn cradle a safe and convenient choice for you.
1. Clever Design For Gentle Rocking Motion
With an innovative mechanism, this cradle has been designed for self-rocking. This means you can move the cradle back and forth to make your baby sleep well.
This amazing thing creates a gentle rocking motion, which soothes the baby. So, parents do not need to sit constantly beside the cradle to rock it. If the baby does wake up and moves around, the cradle will rock by itself and ease the baby back to sleep.
I personally love the spring suspension used in the cradle, which is actually like used in strollers. This provides a smooth functionality and long-term durability.
The bassinet is especially helpful when the mother is busy with something and the baby needs to look after. The cradle will keep the baby engaged and enable the mother to work undisturbed.
2. Safe And Tested Material
Obviously, as a new parent, you wish to purchase a cradle that is designed by meeting all the safety measures to render a secure sleeping environment for your baby.
The Baby Bjorn cradle is safe, comfortable, equipped with high-quality fabric, which allows adequate airflow to the baby.
Moreover, there are no bars or loose ends in the fabric and thus it does not cause any hazardous for the baby. This makes it safe to let the baby play by itself in the cradle. You would not have to worry about the baby getting tangled in any loose parts of the cradle.
The material used in creating this cradle has been assured for quality and safety. It has been measured against the most stringent quality standards for baby safety.
The best thing about the material is completely dedicated to baby skin and it is harmless to taste or chew.
3. Transparent & Ventilated Mesh Fabric Wall
Traditional cradles were designed with evenly spaced bars. This allowed the parent to keep the baby in view. But bars pose has the threat of entangling and hurting the small limbs of the baby. Hence, instead of bars, this cradle employs a mesh fabric.
This fabric is easy to see-through and helps in easy and effective monitoring of the baby. The breathable mesh fabric provides adequate ventilation to the baby at all times.
This addresses the other concern of potential suffocation. Even when the cradle is completely covered, the baby gets fresh air from all sides.
Most importantly, the parent can move about and still keep the baby in view. With the see-through fabric, you can watch the baby even from a distance. This helps you free from all the worries and tension in taking care of your baby all the times.
4. Easy Cleaning
A major issue with most cradles is that they get dirty quite often and very frequently.
Anyone who had a baby would be able to tell you horror stories of fluid and pooping incidents. This raises concerns for hygiene and sanitation. Wet fabrics further complicate the situation with potential baby rashes and skin allergies.
However, you will not face any problems like this in this cradle because the base cloth and sides of the BabyBjorn cradle feature high-quality fabric. This keeps your baby safe from rashes or potential fabric allergies.
The fabric and waterproof mattress with canopy cover fitted sheet are easy to remove. This makes it easy to disassemble them and run through a washing cycle as per your convenience.
You can wash them on a gentle cycle in the washing machine and air-dry them before reassembling. This means you need not spend more time washing the cradle to ensure it is safe for your dear ones.
 5. Portability & Ease Of Use
One of the best qualities of this product is, simple and compact. Additionally, it is very lightweight allowing you to move it casually from room to room.
You can carry it to different locations and even think about going out and taking the baby with you in this cradle. So, you do not have to worry about mobility, you can easily keep up with your daily chores.
It is tangle free, without any loose or free hanging fabric or parts.
The wood and steel legs provide the utmost durability for long terms use. It is very easy to move and carry and features a soft leg area to keep your floor free from any damage.
I hope that this Babybjorn review will help you make a better and informative buying decision, which is beneficial for you and your baby!
BabyBjorn Cradle Accessories Reviews
The BabyBjorn Cradle comes with accessories, which are simple to install and provide a lot of value and functionality. These accessories give it that extra edge over other products in the market. After all, who does not like getting the best value for their money?
1. BabyBjorn Cradle Canopy
Baby Bjorn comes with a beautiful soft mesh canopy specially designed to fit the cradle. Irritating lights, which can disturb and wake your baby are softened by this canopy.
Moreover, the sheer mesh provides your baby great air circulation even when completely closed. You can rest assured that the baby breathes fresh air while asleep in this cozy space.
Due to its easy to remove and reattach. it is easy to wash and ensures good hygiene.
2. BabyBjorn Cradle Sheet
The Fitted Sheet provided with the Cradle is soft and comfortable to provide the baby with a sound and cozy sleep.
The organic cotton fabric of the sheet meets the highest standards of safety for babies.
The elastic band of the sheet ensures that it fits the mattress and keeps it in place.
This has been designed keeping in mind the necessity to work quickly when you are with a baby.
Even after multiple washes and cleaning, the fabric retains its quality and softness. So it is perfect for long-term use, more than six months at the very least.
> One of The Best Twin Bassinet <
BabyBjorn Cradle is highly sophisticated in delivering a comfortable option. This is vital for everyone to keep track the best outcomes by finding the reviews above. So, this is essential for the folks who want to carry out the best brands as per the guidance.
This is what customers are seeking the first class results and able to operate on the large network.
Of course, the bassinets are largely used because it provides safety and comfort zone to the users.
Moreover, it could able to provide the massive response among the audience who could buy the latest bassinet.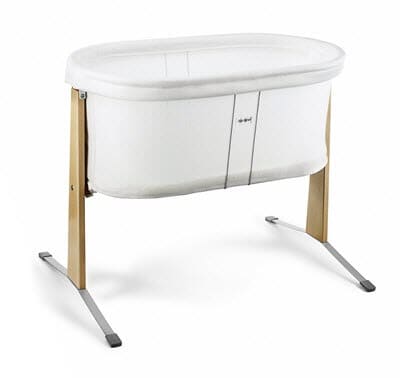 BabyBjorn Cradle is our tested and verified bassinet. So, feel free to buy this bassinet online from our verified seller.
Why are you still waiting? Purchase this bassinet by clicking on our link now and give comfort and better sleep for your newborn