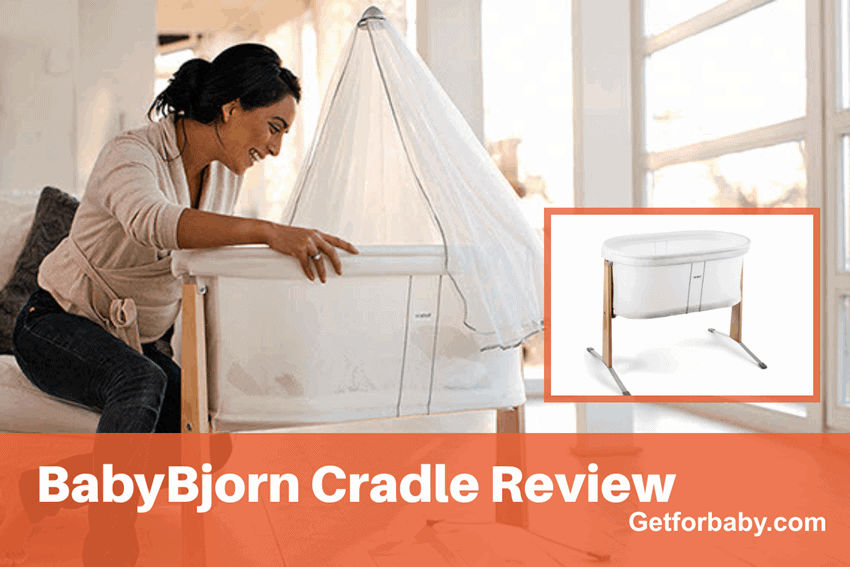 The Baby Bjorn Harmony Cradle is one of the simplest, sober and elegant bassinets. Its lightweight design makes it easy to carry around the house. And mesh walls with breathable fabric enable excellent airflow and visibility of the baby. BabyBjorn comes with a smart, gentle self-rocking motion in conjunction with the baby's movements, So you don't need to leave the bed to soothe the baby. This smart feature also helps you lull your baby to fall asleep faster. The fabric and waterproof mattress cover are removable & machine washable for easy cleaning. And have many more things, So keep reading our Babybjorn Cradle Review.
Safety

92%

92%

Comfort

97%

97%

Easy of Use

91%

91%

Price and Longevity

50%

50%
Lightweight and Portable

High quality & safety standards

JPMA Certified Bassinet

Innovative, gentle rocking motion with spring suspension

Transparent & breathable mesh siding

Compact & lightweight making it easy to carry
Expensive

Simple white fabric prone to visible dirt
| | |
| --- | --- |
| Product Name | BabyBjorn Cradle |
| Brand | BabyBjorn |
| UPC | B008TML9AQ |
| Age limit | Up to 6 month |
| Item Weight | 13 Pounds |
| Weight Limit | 17 Pounds |
| Dimension | 31 x 23 x 26 Inches |
| Mattress Size | 14 x 28 Inches |
| Sheet Size | 14 x 28 Inches |
| Batteries Required | No |
| Availability | In Stock |
| Rating | ⭐⭐⭐⭐ ☆  4.7 / 5 |
| Price | $349.99 |
| Buying Options | |
| Registry Options | |
Baby Bjorn Bassinet Review & Its Feature
From its looks, the BabyBjorn Cradle may come across as a simple cradle without any frills. But even this simple design features very critical and useful characteristics.
Below are some features that make Baby Bjorn cradle a safe and convenient choice. So, let's check our Baby Bjorn Bassinet Review.
1). Clever Design For Gentle Rocking Motion
You are facing an issue in soothing your baby in the middle of the night or want a high-quality bassinet that keeps your baby safe and provides a peaceful sleeping environment.
If yes, then you are in the right place.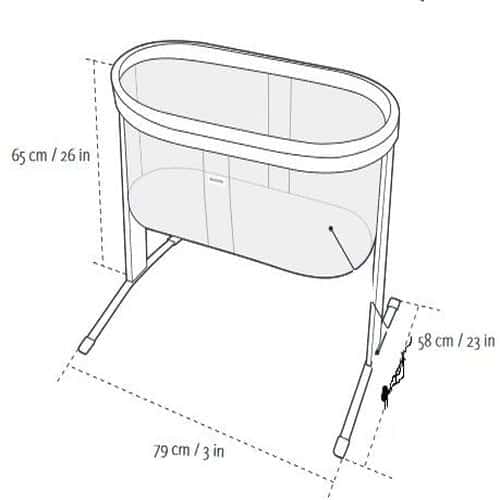 Sleep is crucial for the development and growth of your baby's limbs, muscles, and bones.
And the BabyBjorn considered these aspects and offered an excellent product for my little one to ensure peaceful sleep daily.
The Baby Bjorn bassinet dimensions are 31 x 23 x 26 inches as assembled and 23 x 31 x 5 in as Folded up, which is pretty cool to keep this bassinet in a small size room.
I love the spring suspension used in the cradle, mostly used in strollers. It provides smooth functionality and long-term durability.
You can use this bassinet for up to 6 months; this is what is recommended by babybjorn.
But despite the age limit, weight also matters.
Moreover, you have to keep an eye on how long to keep the baby in the bassinet. So, if your baby is in his 7th month but still looks small and has low weight, then you can continue to use this bassinet.
The Babybjorn weight limit is 17lbs, so that you can use it for your baby without any stress.
My little one does not give up the habit quickly, so I had to use this cradle for one month extra until he easily got ready to transfer a newborn into a crib.
From a mother's point of view, it is efficient to use a height that is neither too low nor too high. This bassinet has a suitable height that makes it comfortable to reach in and hold the baby.
The newborns would feel secure and safe in this small and cosy space fitted with a comfortable mattress.
It offers a convenient and comfortable sleeping space for your baby in its first few months after birth.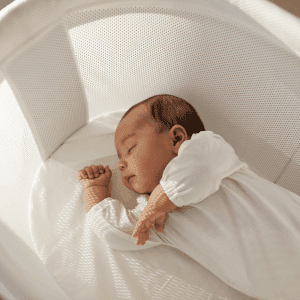 Keep reading our babybjorn harmony review because still, I have a lot to tell you about it.
2. Safe And Tested Material
If you are concerned about baby Bjorn bassinet safety, then let me tell you that Baby Bjorn is a 100% safe and JPMA certified bassinet and got #4 on our list of the best JPMA certified bassinet.
This bassinet is safe, comfortable, and equipped with high-quality fabric, allowing adequate airflow to the baby.
Moreover, there are no bars or loose ends in the fabric, and thus it does not cause any hazard for the baby.
This feature makes it safe to let the baby play by itself in the Cradle. At the same time, the soft edges allow the free movement of the baby.
This feature enables healthy growth and development of ligaments and limbs.
You would not have to worry about the baby getting tangled in any loose parts of the Cradle. As usually happens in other cradles.
The material used in creating baby Bjorn fabric has been assured of quality and safety.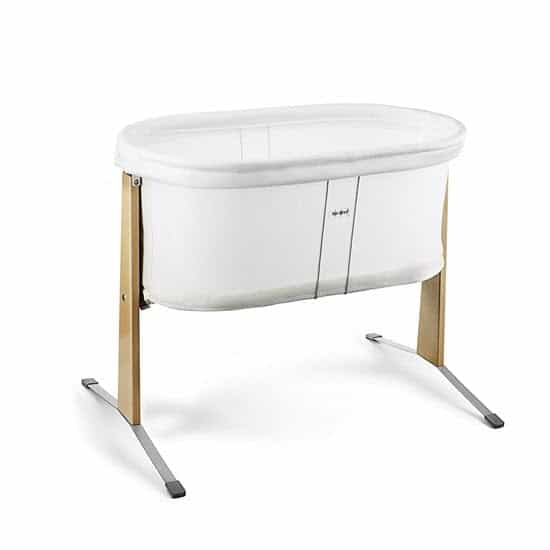 The fabrics are Oeko-Tex Standard 100, class 1 approved, an international safety
standard for textiles, and contain no health-hazardous substances.
Cradle sides: 100% polyester

Cradle base: MDF, Class 2

Cradle legs: beechwood

Mattress: 100% polyester

Mattress cover: 100% cotton
Moreover, it also meets both European and American safety standards, EN 13209-2:2005 and ASTM F2236.
The wood and steel legs provide the utmost durability for long terms of use.
It is straightforward to move and carry and features a soft leg area to keep your floor free from any damage.
3. Transparent & Ventilated Mesh Fabric Wall
Traditional cradles were designed with evenly spaced bars. They allowed the parent to keep the baby in view. But bars pose the threat of entangling and hurting the small limbs of the baby.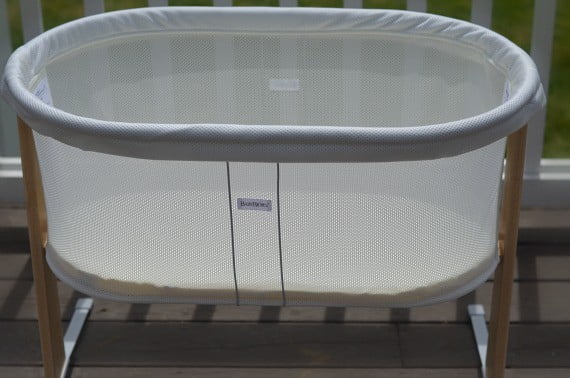 Hence, instead of bars, this Cradle employs a mesh fabric.
This fabric is easy to see-through and helps in easy and effective baby monitoring.
The breathable mesh fabric provides adequate ventilation to the baby at all times.
It addresses the other concern of potential suffocation. Even when the Cradle is completely covered, the baby gets fresh air from all sides.
Most importantly, the parent can move about and still keep the baby in view. With the see-through fabric, you can watch the baby even from a distance.
It helps you free from all the worries and tension in taking care of your baby all the time.
4. Gentle Rocking Motion
Baby Bjorn Bassinet is also known as Babybjorn gentle rocking cradle bassinet due to its Gentle Rocking Motion.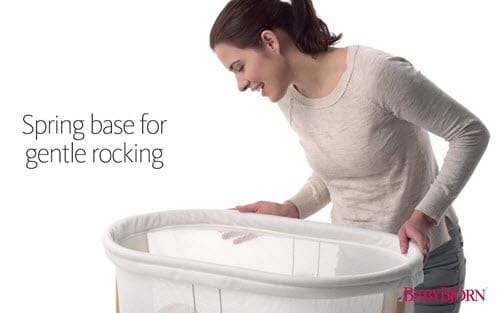 Let me explain how it works. Suppose your baby wakes up at night and starts moving in the bassinet.
As he or she starts moving, the bassinet automatically converts this motion into rocking.
So, parents do not need to sit constantly beside the Cradle to rock it. You also don't need to leave your bed to soothe.
It is not like other bassinets, in which you have to manually ON-OFF the rocking system.
Note: Days are changing very fast, so there is an auto shut ON-OFF system available in some bassinets. Check the below two options;
Another good thing is you can move the Cradle back and forth manually to make your baby sleep well like the traditional self rocking bassinet.
The bassinet is especially helpful when the mother is busy with something and the baby needs to look after. The Cradle will keep the baby engaged and enable you to work undisturbed.
5. Portability & Easy to Assemble 
Portability is one of the most used features of any bassinet. The Babybjorn cradle weight is just 13 pounds, making it super easy to assemble and disassemble ( Bassinet Manual ) and move from home to home. 
I know you are also seeking a wheel to make it super easy to move.
But having a wheel on spring suspension can cause an accident.
So from a safety point of view, this bassinet doesn't have wheels.
But one thing I want to highlight about this bassinet is that it is not a travel-friendly bassinet because you have to disassemble and reassemble it again to do this.
There are many travel bassinets in the market that you can fold even in 10 seconds and come with a backpack for travel.
But this one is particularly designed for easy nursing of a baby at home.
6. Baby Bjorn Bassinet Canopy:
The BabyBjorn Cradle white comes with accessories, which are simple to install and provide a lot of value and functionality. These accessories give it that extra edge over other products in the market.
In these babybjorn cradle reviews, I can't deny the value of a canopy. After all, who does not like getting the best value for their money?
Baby Bjorn bassinet comes with a beautiful soft mesh canopy specially designed to fit the cradle.
Irritating lights, which can disturb and wake your baby, are softened by the baby Bjorn bassinet canopy.
The dimension of this canopy is 2.75″ H x 5.5″ W x 28″ D. It is perfect enough to use with your baby's cradle without causing any inconvenience.
Moreover, it is made up of a sheer mesh that provides your baby with excellent air circulation even when completely closed.
You can rest assured that the baby breathes fresh air while asleep in this cosy space.
And the good thing about the Baby Bjorn bassinet canopy is that it is easy to remove and reattach, making it easy to wash and ensuring proper hygiene.
With a manufacturer warranty, you can buy this babybjorn bassinet canopy from our verified seller.
7. Maintenance and Ease of Use
A significant issue with most cradles is that they get dirty quite often. Anyone who had a baby would be able to tell you horror stories of fluid and pooping incidents.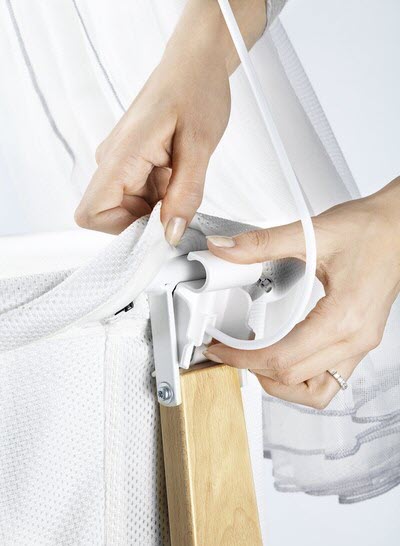 It raises concerns about hygiene and sanitation.
Wet fabrics further complicate the situation with potential baby rashes and skin allergies.
However, you will not face any problems like this in this cradle because most of the fabric of the Baby Bjorn is machine washable.
The base cloth and sides of the BabyBjorn cradle feature high-quality fabric.
It keeps your baby safe from rashes or potential fabric allergies. But cleaning the bassinet is very important to maintain this.
Proper cleaning and maintenance of the bassinet keep your baby safe and healthy and increases the cradle's durability.
8. Baby Bjorn Bassinet Sheets and Mattresses
The Babybjorn fitted Sheet is made up of super-soft, organic cotton fabric to ensure the overall quality and meets the highest safety standards for babies.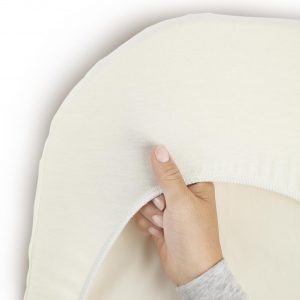 The elastic band of the sheet ensures that it fits the mattress, keeps it in place, and is machine washable.
Even after multiple washes and cleaning, the fabric retains its quality and softness. So it is perfect for long-term use, more than six months at the very least.
But after cleaning, you have to wait until it is ready to use again. So, what logic demands is to buy new sheets or mattresses.
Pooping and throwing up are the main reasons that compel me to buy extra accessories. So, pay your full attention while buying them because small and large ones may cause problems for you and your baby.
But here in the babybjorn review, I am going to share the babybjorn bassinet sheet and mattress that I have used for my baby.
| | | |
| --- | --- | --- |
| Name | Dimension | Lates Price |
| Babybjorn cradle sheet | 14 x 28 Inches | Price |
| Babybjorn cradle mattress | 14 x 28 x 2 Inches | Price |
I hope you enjoyed our babybjorn harmony carrier review, and you will find it helpful in making a good purchase decision in the future.
The Bottom Line
Elegant design, Gentle Rocking Motion with a bunch of safety features keeps your baby safe when they are growing in their bassinet.
JPMA certified bassinet and high-quality material used to craft this bassinet, so don't worry about the safety.
All the value of your money is directly converted into the quality and comfort you are going to give your baby.
Last but not least, BabyBjorn Cradle is tested and verified by thousands of moms like you, with 4.5-star ratings all over the network.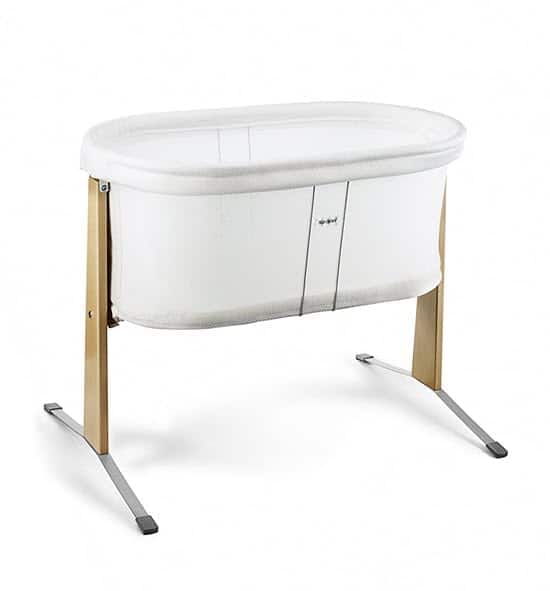 So, Why are you still waiting? Purchase this bassinet by clicking on our link now and giving your newborn comfort and better sleep.
Here are some of the important pieces of information that you need.
Getforbaby editorial team is committed to providing the most helpful, updated & trustworthy parenting information. When creating or updating the existing content, we rely on credible sources, respected health organizations, professional groups of doctors, & only high-quality sources, including peer-reviewed studies, to support the facts within our articles. Learn more about how we write Getforbaby content.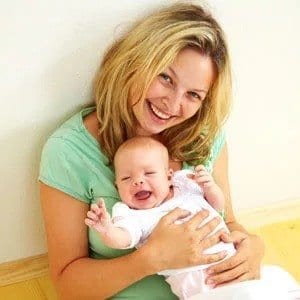 Dr. Sakshi Patel
Senior Content Writer
Dr. Sakshi Patel, an expert in Human Development and Family Studies, combines her academic knowledge with personal experience as a mother to twins. She provides comprehensive articles and meticulous reviews on baby essentials, offering accurate and up-to-date information to help parents make informed decisions. Read more.