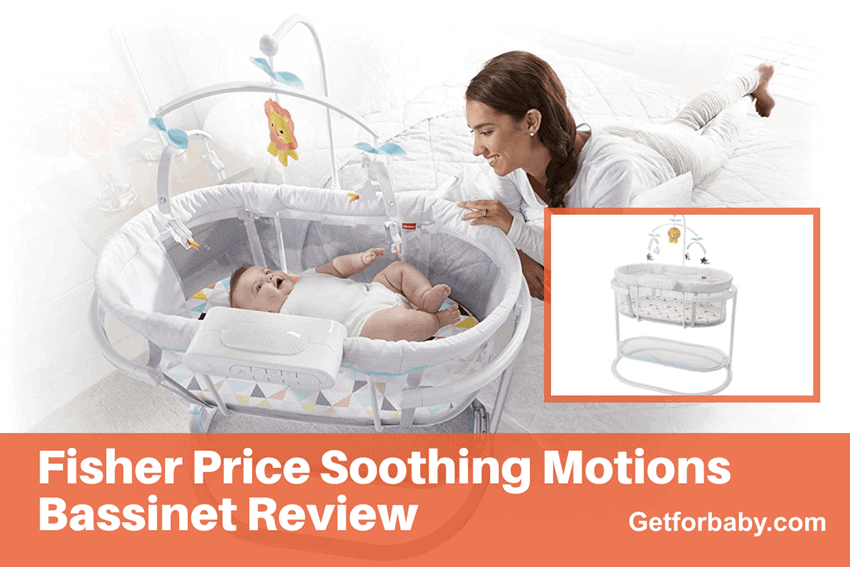 Fisher Price Soothing Motions Bassinet Review
The Fisher Price is one of the most intriguing bassinets in the US market and quite suitable for babies to enjoy a pleasant sleep. It comes with a variety of entertainment options designed to soothe and lull your baby. Its deluxe overhead mobile, as well as a dual-mode light projection, helps the baby to fall asleep faster.  It also equipped with music and sounds which keep them happy. Its self-calming feature calms the bassinet with the conjunction of motion of the baby.  Due to its lightweight and easy to fold feature, you can easily move it from room to room.  So, keep reading our Fisher Price Soothing Motions Bassinet Review to explore its more features.
Safety

90%

90%

Comfort

95%

95%

Easy of Use

93%

93%

Price and Longevity

80%

80%
Dual-mode lighting & it's Removable
30 minutes of calming vibrations, music and sounds
Lightweight and easy to move
Soft mattress
Deluxe overhead mobile
Self swaying motion system
Product Name
Fisher Price Soothing Motions

Brand

Fisher Price
UPC
887961326093
Duration
Up to 6 month
Item Weight
20 pounds
Weight Limit
20 pounds
Dimension
22.8 x 5.9 x 40 inches
Availability
In Stock
Rating
⭐⭐⭐⭐ ☆    

 

4.5

 /5

Price
$149.99
Latest Price
Captivating light feature on their overhead projection would give you a clear vision of your baby at night time.
You can also adjust the brightness of the nightlight, which does not disturb your baby during night time.
Cool songs and sounds in the bassinet will be pleasant for your baby's ears.
 All the exciting features of this bassinet would make your little ones sleep calmly by enjoying the music.
In short, having Fisher Bassinet is much suitable for your baby to have a peaceful sleep for long hours. I trust this bassinet is an ideal gift for your baby.
After exploring our fisher price soothing motions bassinet review, you will understand how your investment in this product is valuable.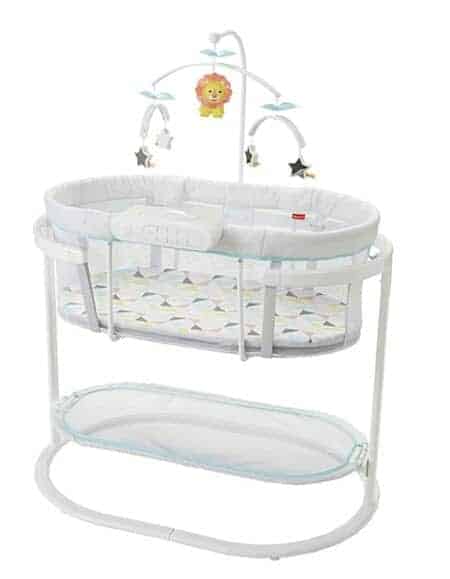 Fisher Price Soothing Motions Bassinet Review & Features
The design and the additional features provided in this bassinet are more attractive than other bassinets. Under this topic, we can see various features of fisher price soothing bassinet and how it helps your baby to sleep calmly and enjoy sitting in this bassinet.
So, Let's take a deep insight into Fisher Price Soothing Motions Bassinet Review and explore it's each feature
1.) Clever Design for Baby Comfort
The Fisher Price Soothing Motions Bassinet has an outstanding design that is highly helpful for your baby to provide peaceful sleep throughout the day to your baby and night.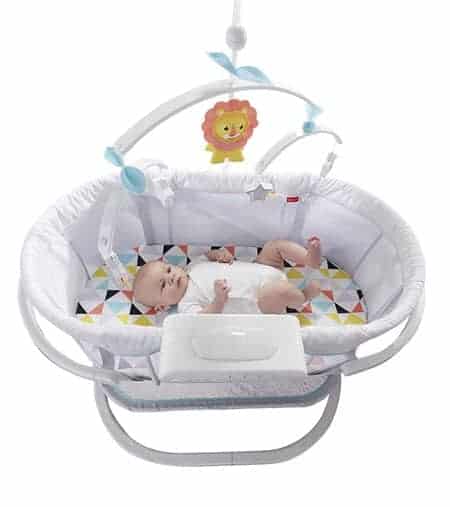 Its dimension is 27 x 38.8 x 48 inches means ample of space in the bassinet. Due to its spacious design, you can use it up to 6-7 months, but as my experience with this bassinet, you can use it up to 8 months.
There is no hard and fast rule you, can only use bassine up to 8 months; you can use it until your baby not start rolling in it, or feel uncomfortable in it. check the below guide
The oval-shaped bassinet structure saves space when compared to other kinds of bassinets, Like Halo bassinet.
The height of the bassinet is perfect for a standard bed.
You can place bassinet near to your bed and can easily see your baby. But if they add the leg extension too then, it becomes more flexible.
It's out as well as the inside of the bassinet is very smooth; you will not see any sharp point inside/outside the bassinet.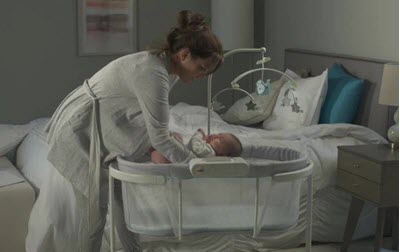 Its sleek design makes it good looking and perfect bassinet piece of furniture in the house that gets everyone's attention.
2.) Portability & Mobility for Easy To Move
The fisher price soothing motions bassinet weight limit 20.5 pounds. So, it could be easier to carry for a mom as compared to other bassinets.

But, If you are looking for a bassinet that can hold more weight, then check out this list of the bassinets with a higher weight limit.
Fisher price bassinet doesn't have a wheel feature like other bassinets to move for baby along with bassinet.
So, you have to pick and place it in another room, in order to move it.
By the way, this bassinet is not travelled friendly because it takes up to 10 minutes and 20 seconds for assembling. But, you can easily put together the structure based on the direction (manual guide).
If you are a travelling mom, then I think you should have to try Travel bassinet for 5 months old baby.
3.) Entertaining Device for Baby
The dual-mode lighting feature of fisher price soothing motions bassinet is one of my favourite features in this bassinet and its fully removable. This dual light projection module can be used in two ways.
First, you can enable soft light to check your baby is sleeping or not without lighting the whole room and second, to project light on the wall.
Babies love to see attracting things, so this is a perfect tool to get the baby's attention to keep them busy. This thing helps me a lot when I have to do work.
Just enable it, and my baby starts playing with it.
And the best thing about this soothing kit is detectable, Means even you can use it to use in a crib. You can also buy it separately.
Not only this, this bassinet offers projection light, but it also provides 30 minutes of calming vibrations, music, and sounds.
Nowadays, the vibrating bassinet is in trend, becaumarse it soothes the baby and helps them to sleep faster. 
Also, the study shows that babies love to sleep in a vibrating bassinet.
And the fisher price is the best in its vibration; it gets #1 spot on our list of  Best Vibrating Bassinet with vibration & music. So, you can guess the quality of this vibrating device.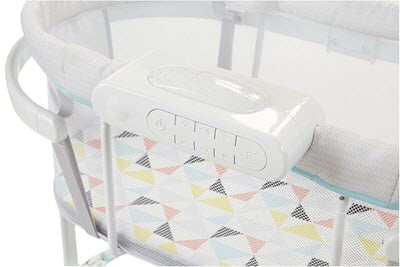 Note: If you have any question can about is vibrating bassinet safe, then check this guide: Can baby sleep in a vibrating bassinet
The entertainment device features of this bassinet do not end here, its natural music and sound feature, won my heart. You can enable it with vibration, and it goes OFF after 30min.
The designing feature that I like the most is its swing motion.
Once the baby wakes up in the bassinet, they start moving there and generate motion in the bassinet. And bassinet converts this motion into swing motion, to put your baby back to sleep.
This feature is really helpful during the night when I can't leave my bed to enable vibration and music to soothe my baby.
4.) Breathability & Low Temperature for safety.
The  Fisher Price Soothing Motions Bassinet safety is paramount to explain in our Fisher Price Soothing Motions Bassinet Review to keep baby safe.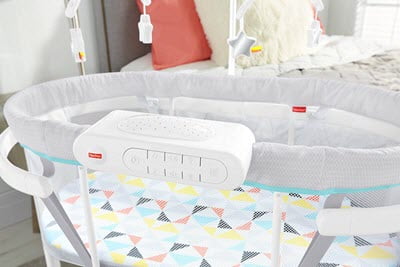 In terms of breathability, fisher bassinet will get 10 out of 10 because the side of the bassinet is made up of the clean Mesh.
The mesh of the fisher bassinet does not only cover the two sides of the bassinet as we usually see in the other bassinets.
However, it covers all the sides, which makes it sufficiently ventilated and reduces the temperature inside the bassinet.
Suffocation and high temperature are the two main reasons an infant dies in the bassinet.
So you don't need to worry about the high temperature in the bassinet.
As per the CPSC policy, the surface where the baby sleeps should be flat so that the baby can sleep comfortably and soothing Motions Bassinet provides the same thing.
Its sleeping surface is mainly designed to sway so that it would give a stable aspect while sleeping.
5.) Eco-Health & Easy to Maintenance:
The fisher price soothing motions bassinet windmill is JPMA certified Bassinet and the material used in the bassinet is of good quality. According to a recent report, Fisher-Price has been listed on the Center for Environmental Health (CEH) as the leading bassinet.
A soft and comfortable bed ensures that the baby sleeps peacefully, and it is more wet absorbent.
The fisher price bassinet soothing motion sheets are machine washable, and you don't need any tool to remove it from the bassinet. You can read our guide on how to clean a bassinet,
This guide will help you to clean the bassinet without damaging it. In short, taking care and maintenance of this bassinet is not a tedious task.
6.) Fisher Price Bassinet Sheet & Mattress
The Fisher price soothing motions bassinet sheet is Cozy, soft, and easy to uses sheet; It is made up of high-quality fabric and its machine washable. So the cleaning process is easy.
The one negative thing that I observed about this bassinet is that it does not come with an extra sheet, so managing baby with a single sheet is tough.
The dimension of the Fisher Price Soothing Motions Bassinet mattress is 15 x 3 x 15 inches and its weight is just 10.4 ounces.
And good things, its waterproof mattress and also machine washable.
But it's better to use fisher price soothing motions bassinet mattress cover ( Click here to Buy )to use this mattress for a long time.
I recommend to buy 2-3 sets of the sheet to keep your baby sleeping space clean. Check out the latest Price of the sheet.
We hope that you liked our Fisher Price Soothing Motions Bassinet Review and hopefully, it will help you to make your decision in the future.
The Fisher Price is the most reliable and suitable bassinet for your baby to have a peaceful sleep.
Most of the parents like you tend to choose this bassinet as it is much more convenient and efficiently handle the features of this bassinet.
Therefore, as a mother, you need not worry about the safety of your child while sleeping in this bassinet.
Its vibrating feature, Dual light projection and music system work with each other to create a perfect sleeping environment for babies to sleep.
You won't have to compromise on your comfort by leaving your cosy and warm bed to check on your baby.
\Your life would get much more efficient should you get this top quality product.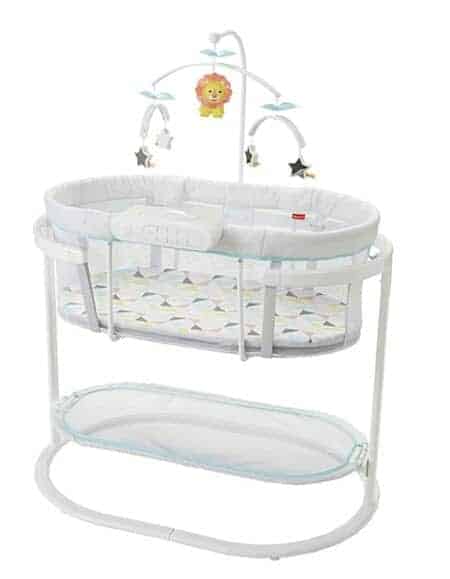 If you ask me, then yes, it's a worthy product for both of you. So, what are you waiting for? Simply click on our link to keep your baby happy and calm as well as offer him a peaceful sleeping environment.
Sakshi Patel
Senior Content Writer
Sakshi Patel is a busy Mom who enjoys spending most of her time with her cute daughter and a pet dog. She joins us as a senior content writer, and because of her creative writing style, has become our top-rated content writer