The majority of parents buy a bassinet for their newborn babies to provide extra care and comfort. But they actually don't know how long a can baby sleep in a bassinet.
But in today's article, we will explore some more hints that suggest how long a baby should sleep in a bassinet.
So let's dive in!
How Long Can a Baby Sleep In a Bassinet?
How long you can use a bassinet depends on the size of your baby. It also depends on the age & weight limit of the bassinet. If your baby starts rolling over, that is also a sign you should make the switch.
If you test all these things, you can make your final judgment. You can understand when you should have to move the baby from the bassinet to the crib.
So let talk about all these in more depth.
#1 Factor: Baby Start Rolling Over:-
The factor rolling in the bassinet is the #1 factor and indicates the time to stop using the bassinet.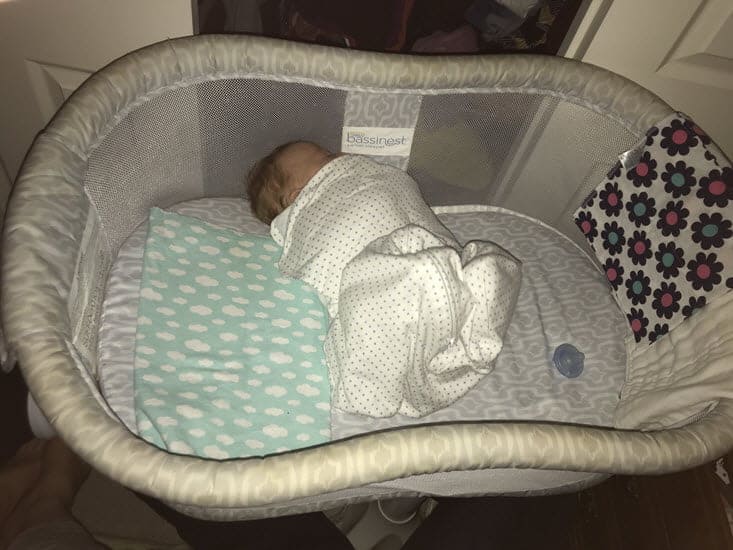 There is a lot of case of infants death (3500 infants).
When a baby rolls in the bassinet, it can get stuck on the side. Since they don't have the strength to pull their body back to its original position, this can be dangerous.
And due to the suffocation, the newborn baby dies in the bassinet.
Well, keep in mind, if they just start rolling in the bassinet, then it's a sign to move from bassinet to crib.
If they are rolling in a bassinet too much, you should have to baby sleeping in the bassinet.
#2 Factor: Age & Size of The Baby:-
The dimension of your baby sleeping area defines how long they can sleep in the bassinet.
Your bassinet will come with directions telling you how small your baby needs to be to use it.
If your baby is pint-size, you can allow them to stay in the bassinet a little longer to enjoy their sleeping area.
But, if your baby is a big bruiser, you may need to have their crib ready for them sooner to keep them safe.
So, in short, their size will decide when to move them into a crib. Remember, an age limit is a ballpark; your observation plays here a crucial role.
For example, in the case of premature babies, the growth is slower.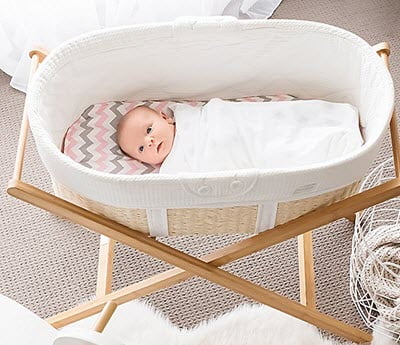 They might need more time to outgrow the bassinet. And for a bigger baby who is growing faster, take less time to outgrow the bassinet.
So, age is just a number that gives you a sign, but your observation matter here.
#3 Factor: Your Baby's Weight:-
The lightweight bassinet that you can move from room to room is made of steel, aluminum, or plastic. That gives it the strength but not enough to hold the heavier baby.
Almost all bassinets in the market today come with a maximum weight limit. Usually between 15lbs and 30 lbs, depending on the material they use to craft it.
And, every bassinet is tested in the lab to check how much it can hold. Adding more weight to it can be why the collapse and cause seriously injure your baby.
If your baby grows quickly and exceeds the weight limit, it's the right time to switch to the crib. Though, in general, the larger baby will graduate to a crib sooner.
#4 Factor: Is Your Baby Comfortable In It:-
Besides your baby's size and weight, comfort will also be a significant determinant.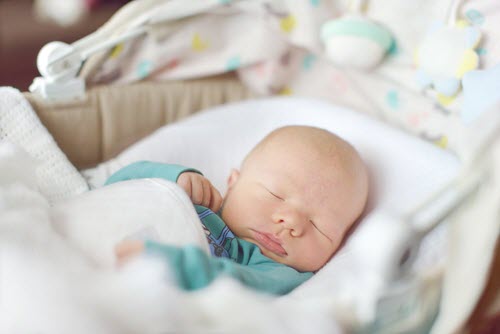 Choosing a bassinet made from soft material and offering innovative features is best.
It will give your baby a perfect sleeping environment for the life of the bassinet.
There is a lot of way & accessories on the market you can get to make the bassinet even more comfortable.
But at some stage baby does not feel comfortable in it due to several reasons.
Maybe they are not feeling comfortable in it, Even if the size of the bassinet looks good to you. You baby can't say, but you have to understand it; your baby is comfortable in it or Not.
Word Of Advice
Every family has its own needs and requirements. I've tried to show you the factors I think are essential when deciding how long a baby can sleep in the bassinet.
If you are looking for strong evidence that helps you more, read our guide: When To Stop Using Bassinet?
Or, if you made your mind and are starting to plan on switching, here is a step-by-step process that you should have to follow for east transition.
Hopefully, it helps you make your decision.
What next? Well, spend some time exploring our Bassinet blog for more information.
Leave a comment to tell me what you think and let me know how long you're planning to keep your baby in a bassinet. I'd love to hear from you.
Don't forget to share the article because sharing is caring.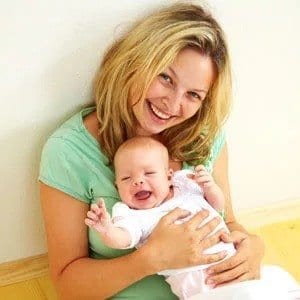 Sakshi Patel
Senior Content Writer
Sakshi Patel is a housewife who loves to spend most of her time with her Twin daughter. She loves to share her parenting journey with other new parents. She completed her Ph.D. from MP University in HDFS. Her hobbies are internet browsing, doing research on products, reading, and writing.