If you are planning to buy a bassinet that you can use up to 12 months, then me let you one thing there is no bassinet is design to use more then 6 months.
All the bassinet's manufacturer recommends to use bassinet only up to 6 months for infant safety, but there is no hard and fast rule that you can only use up to 5-6 months.
Let me tell you how?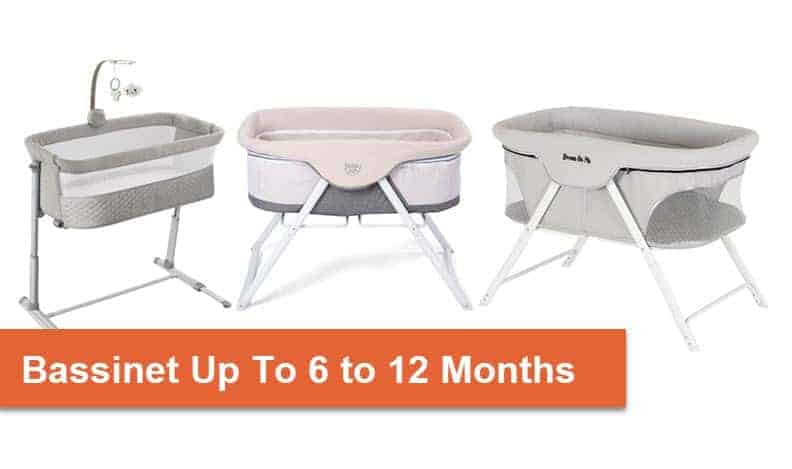 For example, a premature baby grows very slowly, so they will outgrow bassinet very late But on another hand, a good and healthy baby can grow fast and they will outgrow the bassinet very soon.
So, In short, you can use bassinet according to your baby SIZE & NEED, but how you can make sure what time is good and when you have to move your baby from bassinet to crib.
Well, I think then you should have to read the below two articles first.
I hope you read it.
But for those who don't like to read all the things like me… lol.  Let me tell you, Uses of the bassinet is depended upon the Size and Weight of the baby.
The weight limit of the bassinet also plays a very important role. For example large in size but can't support the heavyweight means its useless for the purpose you are going to buy.
There is a lot of bassinets that can support a lot of weight, but these are small in size. That's why we filter some large size bassinet base upon the weight limit.
So let's check
Table:- Bassinet Up to 6 Months to 12 Months
| | | | |
| --- | --- | --- | --- |
| Product Name | Size | Up to 6 to 12 months | Weight Limit |
| BABY JOY Rocking Bassinet, 2 in 1 | L37.5 x W23 in | 8-9 months | 33lbs |
| Dream On Me Traveler Portable Bassinet | L37 x W22 in | 8-9 months | 25lbs |
| RONBEI Bedside Sleeper Baby Bed | L38 x W22.2 in | 9-10 months | 19.8lbs |
| Chicco Lullago Nest Portable Bassinet | L36 x W22 in | 7-8 month | 20 |
Bassinet That Can Use More than 6 to 12 Months
There are not many bassinets that you can use up to 12 months, Only a few bassinets are available in the market that full fill your need. To help you to make a valuable decision we make a list of the bassinet Up To 12 Months.
1.) BABY JOY Rocking Bassinet:-
BABY JOY Bassinet gets #1 on our list of Bassinet up to 12 months due to its large size L 38.2 x W 24.8 and supports up to 33 lbs weight. No other bassinet on our this list can support that much weight with this size.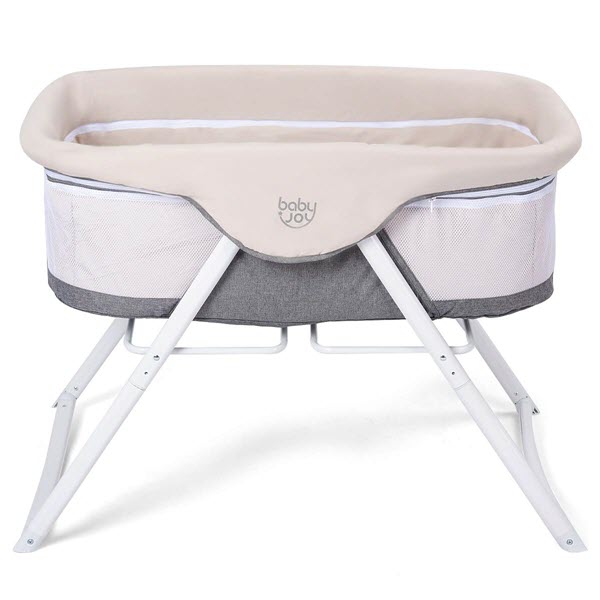 If you want similar design bassinet with more large size then check Dream On Me Willow Bassinet. This bassinet has 43L x 33W but can only support 15lbs.
JOY is a 2 IN 1 Convertible Rocking Mode bassinet, which means you can use it as a rocker or as normal bassinet by just tuning the rails on the bottom of the bassinet.
Easily detachable clothes make it super easy to wash, but pay close attention to the instruction in the Manual to clean the bassinet.
You can also read our in-depth article, how to clean bassinet perfectly, avoid damage to the fabric.
The side of the bassinet is breathable and made up of mesh. The bottom of the bassinet is padded with a soft, comfy mattress for your newborn baby.
Another good thing about the bassinet is light in weight just 16lbs and an easy to fold, which makes it perfect for parents who love to travel. And the good thing is it comes with a carry bag.
So, let me know what you more want from this supper bassinet. According to me and the review I read on the Amazon, you can use this bassinet for more than 8-9 months.
So, what are you waiting for? Click on the link to buy this bassinet from our verified seller.
2.) Dream On Me Traveler Portable Bassinet:-
Dream On Me Bassinet get #2, not #1 because this bassinet just supports 25lbs Whereas JOY bassinet supports 33lbs, Both the bassinets are the same in size but have a huge difference in weight.
If you prefer weight more then the size of the bassinet then I recommend to check the list of the bassinet that holds up to 30 & 40 lbs.
It has transparent mesh not only just to provides breathability. It is designed to provide a clear view of your baby from far away.
In this way, you can keep your eye on your cute baby.
One seconding folding feature, snap-on legs, and one-piece top structure along with its carry bag make it travel-friendly.
For more travel Option,explore ous list of the Best baby bed for travel
Its Soft and roomy mattress is fully removable, which helps you to make sure your baby always sleeps in a clean environment.
The only difference between the above one and this one is its leg. You can't use it as a Rocking bassinet.
3.) RONBEI Bedside Baby Sleeper:
RONBEI bassinet deserves #1 but we put this bassinet on #3 because it does not support more weight. Its weight limit is just 19.8lbs. But it is the only bassinet that has L 38 x W 22.2 inches size. One of the large size bassinet on our list of the Bassinet Up To 12 Months.
Also, this is a bedside sleeper that means you can place this bassinet near your bed to do co-sleeping. Some parents want to do bed-sharing because it plays an important role in child health.
But co-sleeping is not safe for an infant due to a lot of reasons.
Well, it doesn't mean you stop having to do co-sleeping with baby, there is some special design bassinet to make co-sleeping safe. Check that list of the best co sleeper in bed.
Note: If you are planning to do co-sleeping then I strongly recommend to read
Design of the bassinet is very simple, One of the sides is lower so that you can pick the baby easily.
Hanging Toy on the top to keep baby busy and Music device that generates lullabies to help baby to fall asleep faster.
You can also Zip-Up the side to convert it into a normal bassinet and Both Sides of the bassinet is Air Mesh for breathability.
RONBEI makes with high degree microfiber to touch babies' skin lightly and carefully and meet ASTM F2906 safety standards.
Don't worry about the height of your bed. It comes with Adjustable Height and Feet that help you to match the eight your bed.
This bassinet is a little costly, but the value of your money is directly converted into the quality and feature. If you want to save some money then click on the link to it from our verified seller.
4.) Chicco Lullago Nest Portable Bassinet:-
Chicco is another good brand that continuously making excellent bassinet from the decade. This Chicco Portable Bassinet comes in 3 models with little modification in design. Lullago, LullaGo Primo, & Lullago Nest.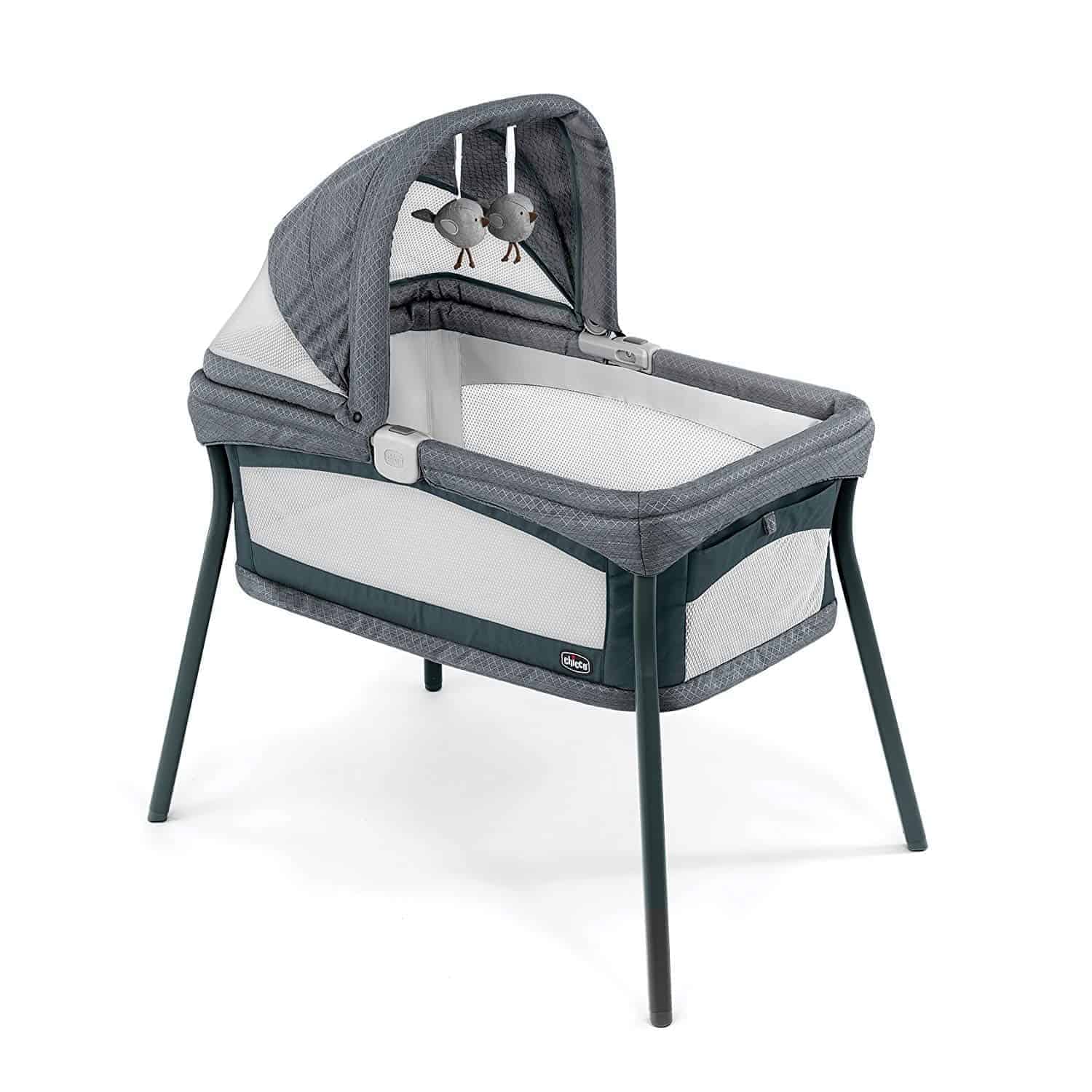 We put Chicco on #4 because its weight limit is just 20lbs but it still large in size L37 x W22 that makes sure you can use this bassinet more than 7-8 months.
Its lightweight frame makes it easy to carry on the trip Or room to room.
It has Mesh on the side of the bassinet that makes it breathable and the thing that makes it unique is its canopy.
You can place this bassinet even in the garden and its canopy just right over the top of the bassinet protect your baby eyes from the light. And the good thing is, Canopy is removable.
Another thing that you will only find in this bassinet is TOY
There are two hanging Toy fish (A toy fish made with non-toxic material) on the top of the canopy that keeps your baby busy so that you can do your work.
Apart from that this bassinet is easy to fold and its mattress pad is easy to remove so that you can clean it.
I hope you have found this information useful and this "Bassinet Up To 12 Months" guide will help you in making a valuable decision in the future.
What Do We Recommend?
All the bassinet on our list of the Bassinet Up To 12 Months is the best bassinet. But if you still ask me which one I buy, then I recommend to go with RONBEI Bedside Sleeper.
With this bassinet, you can do co-sleeping and the high-quality fabric make your baby feel cozy and safe in it. And its large size makes it possible to use the bassinet even after 6 months.
But if you are parents who are always on the go, then I recommend to buy BABY JOY Rocking Bassinet, its folding feature makes it super easy to fold. Plus its lightweight frame & carry bag make it easy for you to carry.
If you're looking for more options, then check out the list of the best baby bassinet 2020.
Now, it's your turn, let me know which bassinet you like the most.
Leave your comments and questions about bassinets in the comment section. And we promise to answer your questions quickly because we know that time is of the essence, with your little one on the way!
And don't forget to share the article, because sharing is caring