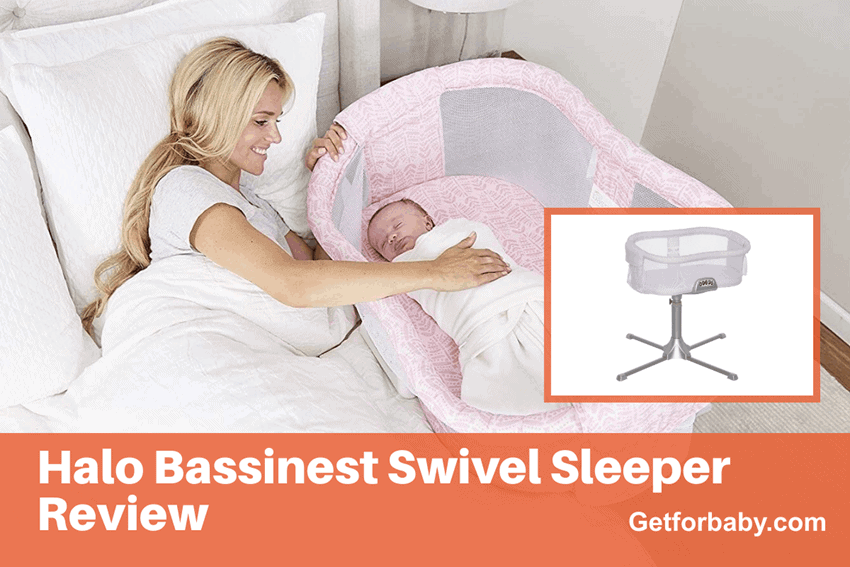 Breakdown | Halo Bassinest Swivel Sleeper Review
Halo bassinest swivel sleeper is one of the best bedside co-sleeper that you can also use as a bed-sharing bassinet too. Halo Bassinest primarily designs bassinet for C section moms to provide all the comfort you need. Its auto restores sidewall make it easy to pick & put the baby back and eliminate unwanted stress on the back. Its 360′ rotation provides a variety of features, like use it on the bed, place it near the bed like bedside sleeper. It comes with inbuilt mobile, that generates music, Vibration, and nightlight to easily check-up baby. And the good thing, it comes in 3 different models to meet your needs and budgets. So keep reading our Halo Bassinest Swivel Sleeper Review, to explore its more features.
Safety

90%

90%

Comfort

95%

95%

Easy of Use

93%

93%

Price and Longevity

80%

80%
Swivels up to 360 degrees.
Features retractable sidewalls.
Includes numerous soothing features.
Come with changing sheet & organic mattress.
The mattress pad cover is waterproof.
Meets all the U.S. safety standards.
Super solid construction.
Lacks mosquito net.
The heavyweight makes it non-portable.
Not for people on a low budget.
Not travel friendly
Brand
Hallo Bassinest
Target gender
Unisex
Duration
up to 6 month
Weight Limit
30 lb
Item Weight
44.9lb
Size
35 x 19 x 12 inches
Battery Required
NO
Availability
In Stock
Rating
⭐⭐⭐⭐⭐

5

/5

Price
209.99
Latest Price
Do I Need a Halo Bassinest Swivel Sleeper Bassinet?
The initial six months in a newborn's life play a vital role in their physical and mental growth. During this period, you have to make sure your child sleeps frequently and for shorter time periods, as it is crucial for their development.
But if you are a c section mom, then it becomes challenging to take care of your infant,
Along with yourself—that why Halo Bassinet Swivel Sleeper bassinet is designed.
It has all the features a C-Section mom need, like convenient storage location for frequently diaper change, Easy to pick and put the baby back, Co-sleeper feature, to ensure you don't need to leave your warm bed at night and soo many other features.
Everything you need will find in this Bassinet.
This Bassinet get #1 on our list of the best Bassinet for c section mom, and also #1 one Best JPMA Certified Bassinet list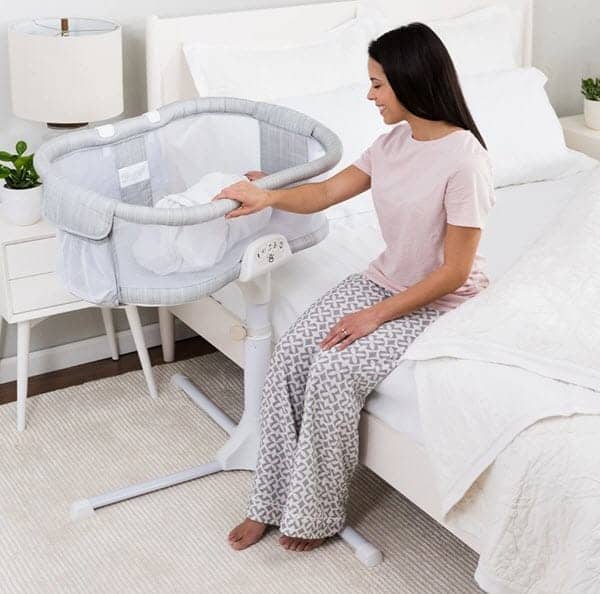 Its feature does not even end here, from the baby safety point of view, it has a back to bed reminder.
This means it automatically generate sound after 30 min during breastfeeding if you don't but baby back into the Bassinet.
It is beneficial when you are exhausted and feeling not well. You fell asleep accidentally, and something wrong can happen with baby, A lot of infant's deaths due to suffocation during breastfeeding.
So, what else you want from this fabulous Bassinet, click on our link to buy this Bassinet from our verified seller with manufacture warranty.
Halo Bassinest Swivel Sleeper Review & its Features
Halo Bassinest Swivel Sleeper comes in series, but the essential thing in all the Bassinet remains the same, only the difference in its feature and design.
I will explain each of them in detail in this review and tell you which thing makes it different from each other to create a valuable decision.
So keep reading our Halo Bassinest Swivel Sleeper Review.
1.) Cleaver Design of Halo Bassinet
Unlike the typical baby sleepers that have no aesthetic appeal to them, Halo bassinet features a much more attractive design. It offers four different prints (Blue Ikat, Modern Lattice, Morning Mist, Nautical Net) that are both gender-neutral.
With the measurements of 18.3 x 11.6 x 34.5 inches", the volume of the sleeper is compact enough to fit into your medium-sized room easily.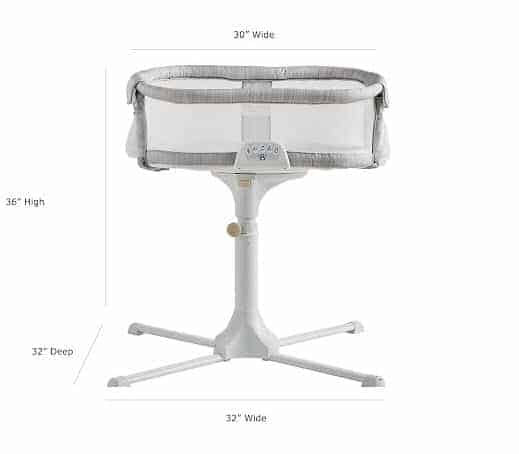 And, the lower part of the bassinet nest can be adjusted under the bed (Requires only 32 inches (81 centimeters) clearance),
Which makes it perfect for parents who don't have ample space in the room.
But, If you are looking for a small size Bassinet for a small room, then you should have to check the list of the best Bassinet for small space.
The construction of the infant co-sleeper is quite sturdy, and it is undoubtedly built to last for a long time without falling prey to wear and tear so easily.
Its 36 inches high (at lowest point) and can carry up to 20lbs of weight.
Halo bassinest swivel sleeper age limit is 5-6 months old or until they outgrow it as per the manufacturer. But you can use it more than 5-6, months because each baby grows on different scales, like a premature baby [Bassinet for preemies].
So in that case, you can use it near about 8-9 months. Check these two articles for more information
The side of the Bassinet is made up of transparent mesh/net sidings and gives you a clear view of the Bassinet.
This helps in keeping an eye on your baby for making sure they are doing fine, without disturbing their slumber.
Plus, they keep the fresh air passing through it.
2.) 360 Degree Rotation With Auto-return Sidewall
The feature you are going to love in this Bassinet is its 360-degree rotating feature. As we already told you above, you can use this Bassinet as a bedside bassinet and as a co-sleeper.
A vast majority of people support the idea of sleeping together with their newly born child.
But, they remain hesitant to do so due to the dangers that come with it. But co-sleeping with halo bassinet is 100% safe because in actuality you are not sharing our bed with the baby.
The Bassinet is just hove over your bed; the risk of SIDS is reduced.
Regardless, it is a great way to initiate and strengthen your bond with your child and to deal with the early restless nights quickly.
Check these two guides, if you need more information about co-sleeping.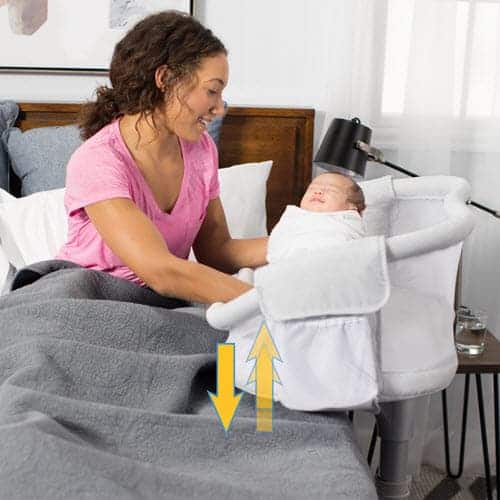 Its hover feature sets it apart from nearly all the other co-sleeper bassinets on the market.
Another great is its ability to lower down its edges or sidewalls. Usually, the borders of this bedside bassinet stay locked in their places.
However, Halo bassinet, keep your baby at arm's reach for increasing accessibility. For carrying and reaching your infant more conveniently, you can lower down the wall adjacent to your bedside.
This feature removes all the excess strain from your tummy and spine while lifting your baby and also increases the convenience of breastfeeding.
And it has back to bed reminder alarm, that I will explain in point #5 Calming Features Of Mobile Device.
3.) Adaptable Height With Convenient Storage:
Not every bed comes in the same height, some are tall, and some are lower, but you don't need to worry about altitude, because it comes with an adjustable leg.
Stable base adjusts to fit most beds 24 to 34 inches (56 to 86 centimeters) tall, and the excellent thing about halo bassinet is, you don't need to buy it separately like other bassinets.
Halo bassinest swivel sleeper bassinet has two storage compartments in pocket type shape on the side of the Bassinet.
This means you don't have to leave the bed to get the baby essential at the mid of the night.
The pockets are roomy enough to store many essentials of your baby—for example, pacifiers and diapers. You can also use them for storing some snacks for your possible nighttime duties.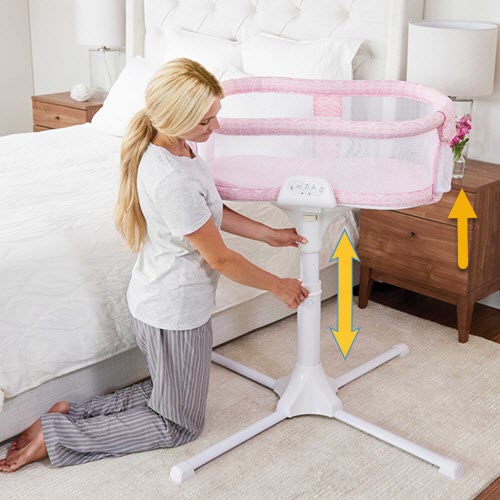 Since the compartments help in keeping all of these things nearby, this helps in keeping your side tables and dressers clean and free of any baby products.
4.) Super Strong For Safety:-
Another widely recognized and admired feature of this bedside sleeper is its sturdy construction with a super-strong base.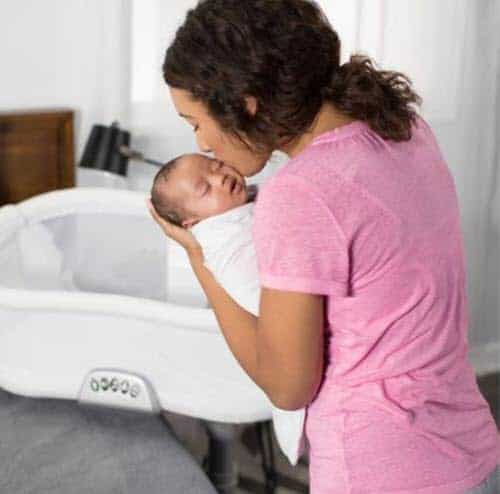 With a heft of almost fifty lbs, the Bassinet is solid enough to endure a powerful push without shaking or rocking.
This sturdiness also contributes to the safety of your child especially,
If you have pets or older children at your place who may keep nudging into the bassinet swivel sleeper unwillingly.
Moreover, the base doesn't feature any wheels either.
So, it can be securely placed anywhere you want unless you move it yourself.
5.) Claiming Features Of Mobile Device:-
One of my favorite features of the halo bassinet is the Mobile Device that you can use it for various purpose.
There are times when your little one begins crying for no particular reason and nothing you do seem to help.
Halo also has a solution to this problem in the form of a nightlight and two vibrating modes.
Nightlight is vert handy to check up the baby why he/she is crying without light the whole room and disturbing the other person's sleep.
If your baby starts crying at the mid of the night, and you don't want to leave your warm and cozy bed like me, then this feature is perfect for you is Vibration.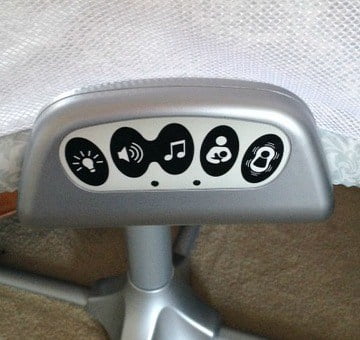 Baby love to sleep on Vibration because this thing soothes the baby. And varies study shows that baby loves to sleep on vibrating device and it's 100% safe.
But you have to take care of a few things before like, not to use Vibration for a too long period because the baby gets addicted to it and refuses to sleep.
But you don't need to worry about in the halo bassinet. It has a 30min auto shut off system, so you are tension free.
Check this excellent guide to understand a few essential things before using Vibration.
Another useful feature is, Halo bassinet is sounds and lullabies. It comes with three sounds and lullabies with volume control to set it according to your baby's need.
Now its time to explain, it back to bed reminder feature.
Halo bassinest swivel sleeper back to bed reminder is handy when you are tired and feeling lazy or especially if you are c section mom who needs good sleep for recovery.
Suppose you are feeding a baby, and your eyes get close, and you fall to sleep, just imagine how bad this can be and how risky it for your baby.
That why Halo bassinest swivel sleeper back to bed reminder is added in the basinet to remind you to put the baby back in the Bassinet. All of these get shut off on their own after 30 minutes.
These features also help your baby whenever they are having a hard time falling asleep. If all else is fine, you can use these features for entertaining your baby at the very least.
I hoped you like our Halo Bassinest Swivel Sleeper Review and found this information useful and help you in making a valuable decision.
How Halo Series Bassinest Look like
Before quality compares all the feature of the bassinet, I strongly recommend to check the look and feel of all the bassinet. It's very important because, at the end of the day, you are going to deal with it on a daily base.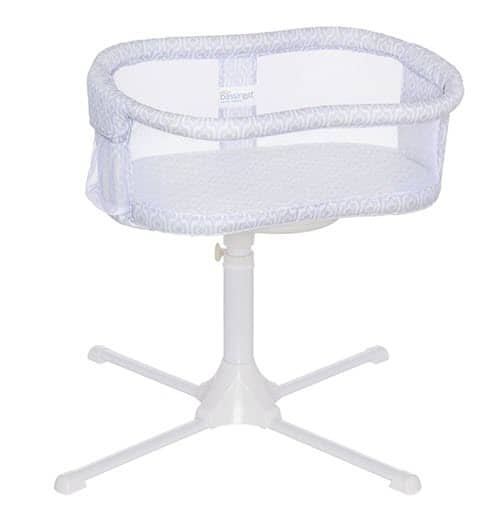 Halo Bassinest Swivel Sleeper Essentia Series available in 4 colors, Blue Ikat, Modern Lattice, Morning Mist, Nautical Net. And have all the feature expected vibration, Night light, and Sound.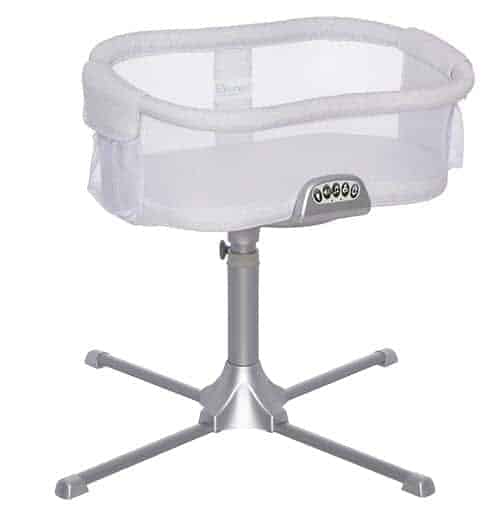 Halo Bassinest Swivel Sleeper Premiere Series available in 4 colors, Blue Ikat, Modern Lattice, Morning Mist, Nautical Net. And have all the feature like vibration, Night light, and Sound.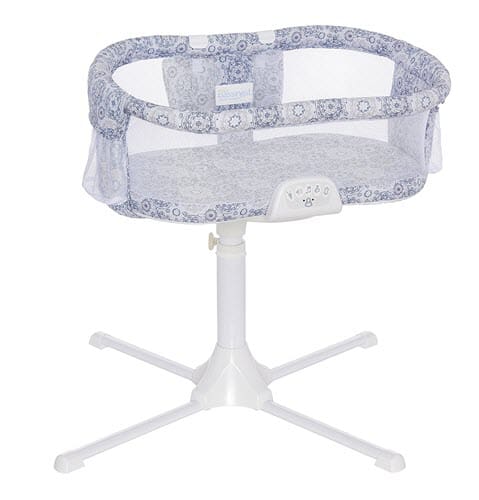 Halo Bassinest Swivel Sleeper Luxe Series Blue Medallion, Dove Gray Tweed And have all the features like vibration, Night light, and Sound.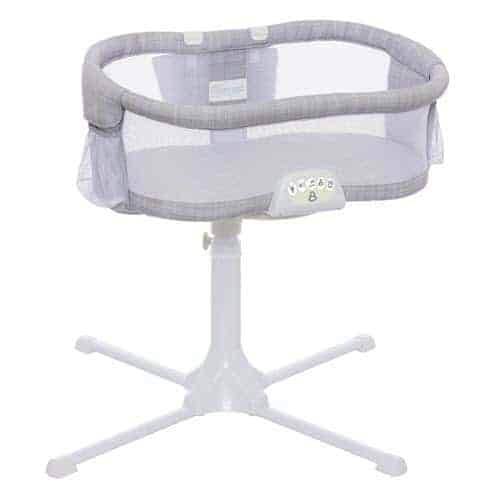 Halo Bassinest Swivel Sleeper Luxe Plus Series Grey Melange, Ivory Linen And have all the features like vibration, Night light, and Sound.
Quick Comparision of Halo Bassinest Series
Here you can quickly compare the Halo bassinest swivel sleeper essentia series review, Halo bassinest swivel sleeper premiere series review, Halo bassinest swivel sleeper luxe review, Halo bassinest swivel sleeper luxe plus review at one place.
| | | | | |
| --- | --- | --- | --- | --- |
| Feature | Essentia Series | Premiere Series | Luxe Series | Luxe Plus Series |
| 360 swivel | Yes | Yes | Yes | Yes |
| Lowering bedside wall | Yes | Yes | Yes | Yes |
| Storage pockets | 1 | 2 | 2 | 2 |
| Includes fitted sheet | Yes | Yes | Yes | Yes |
| Lullabies, Nature | NO | Yes | Yes | Yes |
| Vibration | NO | 2 Level | 2 Level | 2 Level |
| Nightlight | NO | Yes | Yes | Yes |
| "Back-to-Bed" reminder | NO | Yes | Yes | Yes |
| Requires Batteries | NO | Yes | Yes | Yes |
| Latest Price | Price | Price | Price | Price |
Halo Bassinet Swivel Sleeper Accessories Reviews
The Halo sleeper comes with easy to use accessories that can really augment your level of convenience if you decide to go for them. Moreover, they increase the overall value of your Bassinet.
Here, take a look at them.
1.) Halo Bassinest Swivel Sleeper Fitted Sheet:-
The Halo Bassinest Swivel Sleeper Fitted Sheet is made up of 100% combed cotton sateen which is Baby Friendly Fabric that makes it breathable and soft.
It comes in Envelope Design for easy to fit and remove.
And the good thing is machine washable, just through this into the machine and it's done.
Cleaning your bassinet time to time is also essential for good health and a clean environment.
You can read our Ultimate Guide, How to clean Bassinet that has all the information you need to clean any bassinet.
2.) Halo Bassinest Swivel Sleeper Replacement Mattress
The shape of the halo bassinest swivel sleeper replacement mattress is Hourglass (check it here), which fits with all the model of the Bassinet, So need to worry about to identify the bassinet model.
This Halo Bassinest Swivel Sleeper mattress is waterproof so need to was it frequently,
But if more cleanness then you can buy extra sheet for it like halo bassinest swivel sleeper fitted sheet 100 organic cotton white.
This sheet is a little costly, but it is made up of 100% organic cotton. Check its price here.
How To Assemble Halo Bassinest Swivel Sleeper
You might be thinking that the setup of such a highly functional sleeper is going to be complicated, but in actuality, it's the exact opposite of that.
You won't believe what an utter doddle the installation of Halo is. It comes with all the parts separately, like legs, Bassinet and more. All you have to do is assemble them together and voila!
I hope you like our Halo Bassinest Swivel Sleeper Review, if you have any question, just put it in the comment box, I love to listen to your query.
Halo bassinet comes with some really promising features that make it a lot better than many other bassinets on the market.
However, the features that give it a substantial edge over all the other baby bassinet include its rotating action and retractable walls along with its mobile device.
These features ensure to help you sleep right next to your baby without any safety issues and its a highly user-friendly and child-friendly sleeper
With its sturdy and durable construction, it can live on for many years. This means you can easily use it for your future babies as well.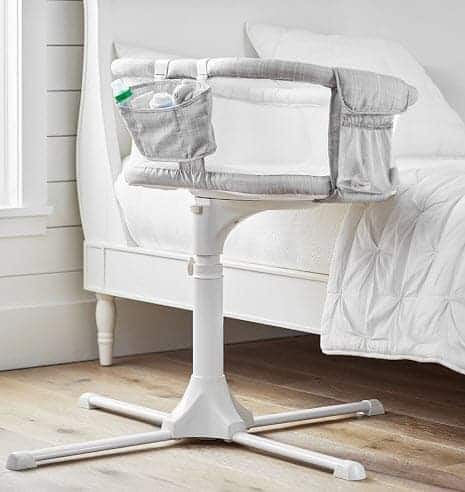 The practical design of the sleeper allows your infant to sleep peacefully while giving you full access to them.
So What are you waiting for click the below link to buy this multifunctional bassinet for your newborn baby.
Sakshi Patel
Senior Content Writer
Sakshi Patel is a busy Mom who enjoys spending most of her time with her cute daughter and a pet dog. She joins us as a senior content writer, and because of her creative writing style, has become our top-rated content writer