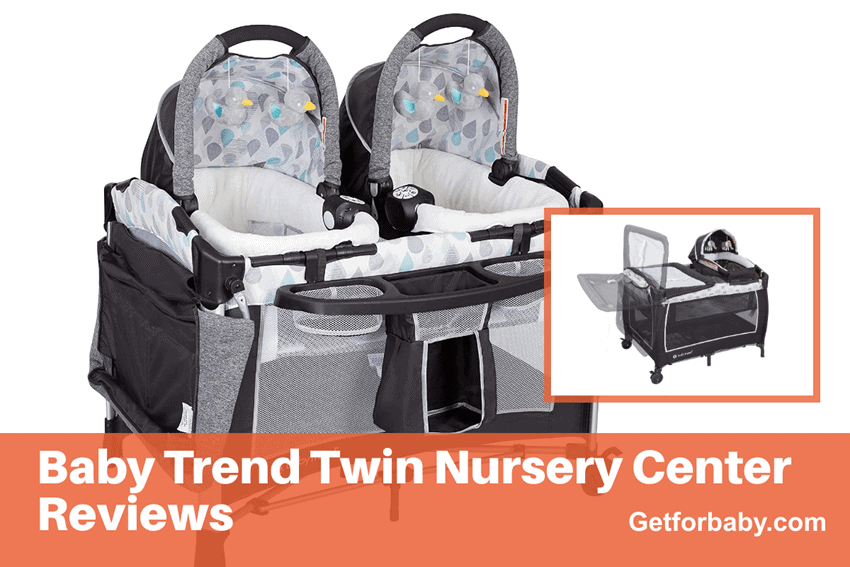 Breakdown: Baby Trend Twin Nursery Center Reviews
The Baby Trend Twin Nursery Center is a multifunctional and space-saving bassinet crafted especially for twins by taking care of the parent's needs in mind. The bassinet comes with a Twin Nursery which is fully removable, means you can take it anywhere by merely picking it from the handle on the top. The unique feature of the bassinet is its "removable rock-a-bye" feature that gives twins a stimulating experience. On the side of each bassinet, there is a beautiful, small-sized mobile attached that generates vibration and lullabies to soothe the baby and nightlight to keep watch on them. You can also convert this twin nursery center into a perfect changing station by just flipping the napper up.
Safety

92%

92%

Comfort

95%

95%

Easy of Use

96%

96%

Price and Longevity

95%

95%
Lightweight, portable & easy to fold
Easy to move because of wheels
The bassinet is fully removable
The bassinet can be converted into a rocker
Mobile device for vibration, music, and light
Flip changing storage and organizer
Can be used as a playard
Have to remove one bassinet to use changing table
Product Name
Baby Trend Twin Nursery Center
Brand
Baby Trend
UPC
090014019105
Basinet Duration
Up to 6 month
Playard Duration
As long as baby comfortable in it
Item Weight

41.3 

Pounds
Each Bassinet Weight limit
15 Pound
Playard Weight Limit
No Weight Limit
Dimension
49.2 x 46 x 30.3 inches
Rating
⭐⭐⭐⭐ ⭐    

 

4.7

 /5

Availability
In Stock
Price
$249.99
Latest Price
Do I Need Baby Trend Twin Nursery Center?
If you are looking for two separate beds for your twins but in the same place, then nothing can beat the Baby Trend Twin Nursery Center. This bassinet also gets #2 on our list of the best bassinet for twins.
The baby trend twin pack n play comes in two designs, Goodnight Forest and Drip Drop Blue.
If you ask me which one would I buy, then I'd recommend the Goodnight Forest.
It is slightly costlier than the Circle Tech (check the latest price). More on this later.
The feature that beats all other twin bassinets in the market is its detachable twin bassinet that you can remove from the playard and take with you anywhere you want.
Suppose, if you want to go to your mom's house, tall you have to do is just pick the bassinet and go.
Everything goes with you, like the mobile to soothe the baby along with the canopy to protect the baby's eyes.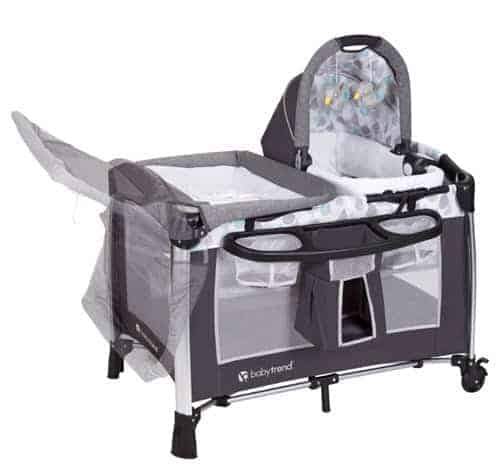 All the other bassinets in the market don't offer that much choice.
Your baby trend twin playard has two wheels attached to the front. This means that all you have to do is pick the bassinet from the other side to move it from room to room.
For the purpose of security, a side-lock is attached to the wheel to make sure they will not move on an inclined surface, or when someone pulls on it by mistake.
The feature you are going to love is the 'changing table'. You can attach it to the bassinet by just flipping it up, and it's easy to clean.
The bassinet is also easy to clean. You can read all about cleaning a bassinet here how to clean a bassinet?
In short, if you have twins on the way, then the Baby Trend Twins Nursery Center is the best place from them, and it also makes your life much simpler.
With twin babies, it is tough for setting up two individual mini cribs or bassinets, so choosing a spacious one which is spacious yet space saving, for your twins, is essential.
Well, after exploring the Baby Trend Twin Nursery Center Reviews, you will understand how your investment on this product is valuable.
If you want to save some bucks, then all you need to do is click below to make a purchase from our verified suppliers at an unbeatable price!
Baby Trend Twin Nursery Center Reviews & Features
This twin bassinet is ideal for parents who are soon going to deal with twins. It is multifunctional, which helps you to reduce your hard work and assists you in your everyday work.
Don't just take my word for it. Read our full Baby Trend Twin Nursery Center Reviews​ to get the complete information of each unique feature.
So, let's take a deep insight into the Baby Trend Twin Nursery Center
1. Smart design with a unique feature
Baby Trend Twin Nursery Center is designed for comfortable and safe sleep. The side of the baby trend twin playard is made of pure mesh that makes it fully ventilated and reduce the risk of suffocation.
Not only the nursery side but also the bassinet side is made with mesh.
Why are they using mesh instead of soft padding that can give more comfort to the baby?
It is because a bassinet is like a box in which a sleeping baby can suffocate due to breathing problems.
This bassinet is designed to take care of your baby sleeps. It ensures 100% safety.
The bassinet frame is made up of aluminium that gives it a sturdy and robust structure that is able to hold your baby's weight.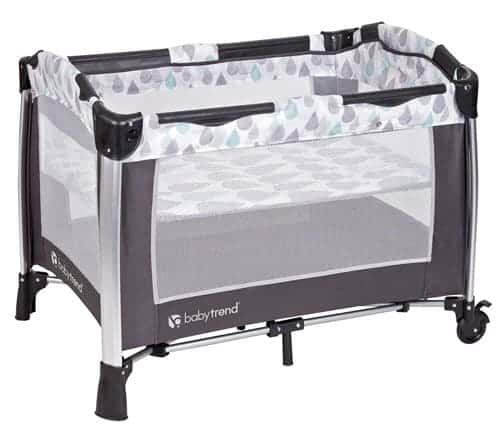 Each bassinet can hold up to 15lbs, which means that the overall weight the baby trend twin nursery centre can hold is 30lbs
The feature that increases its lifespan is the playard. Once your babies outgrow the bassinet so you can use it as a playard for them instead.
It is specially designed for high strength and strong support for long time usage.
2. Rock-A-Bye Bassinet & Standalone Rocker
A piece of plush fabric and mesh sides are used to craft the side of the bassinet for proper ventilation. Using this, bassinet offers first-class support to take care of every situation.
Both bassinets are fully removable that give you the freedom to move the bassinet room to room.
Not only is your bassinet portable, but also is the mobile device that latches onto the side of the bassinet.
More on the mobile device later.
You can also convert each bassinet into a standalone rocker just by switching the bottom plate on the bassinet from stationary to the rocker. Also, the handle is added for convenience.
But just giving the little push, it starts rocking, which is perfect for baby to soothe.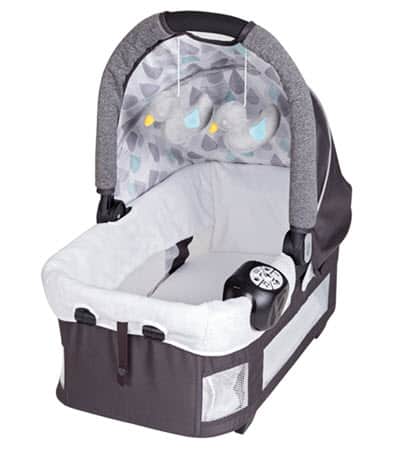 The handle over the canopy helps you to pick the bassinet, whereas a canopy protects your baby's eyes from bright light.
3. Removable sheep toys & mobile
Two beautiful detachable toys are located on top of the bassinet to grab your babies' attention and make sure they will not get bored in the bassinet. It keeps your little ones busy.
It is perfect for my babies who like to spend time playing with toys.
I especially like the fact that the toys can be changed to keep your babies interested all the time.
The mobile device is another striking feature of this bassinet, and the good news for parents is that it also has a vibration setting and nightlight facilities.
Numerous studies show that babies love a vibrating bassinet. That's the reason why vibrating bassinets is trendy nowadays.
You can even check out more information here vibrating bassinet with music.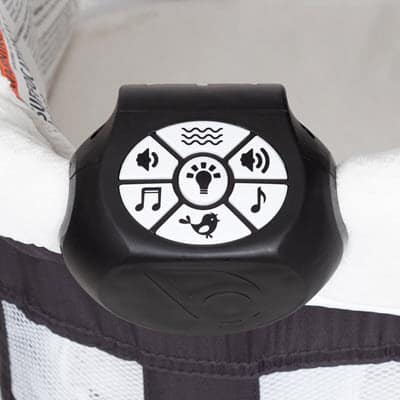 Each bassinet has its own device, and it is fully removable. You can also attach this module to the playard or even to other things.
The feature I love the most is the music. The module includes two styles of music and nature sounds to provide a peaceful environment for your babies.
I also love the tiny light over the module. It is truly a lifesaver; you can turn ON the soft glow light to check up on the babies without disturbing them.
4. Flip-able changing station with an organizer
The baby trend twins nursery center can be converted into a large-sized changing station by simply flipping it up.
To place this changing table, you have to remove one of the bassinets from the playard.
But, you don't need to remove both the bassinets from the nursery to convert it; you can leave one of your babies in it.
But if you want to get the full advantage of the nursery station, then you should have to remove both bassinets so that another side you can place the diaper storage bag for quick and easy cleaning of the baby.
The compartment organizer is an additional part of the nursery centre that you can attach on the front side for easy access.
The organizer can hold diapers, bottles, wipes, etc.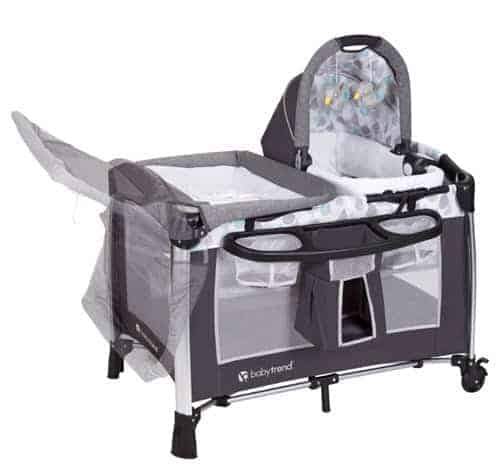 Most significantly, the changing table can withstand the weight of 15lbs.
We hope that you like our Baby Trend Twin Nursery Center reviews and hopefully, it helps you to make your decision in the future.
Without any doubt from the scenario as mentioned above, it is obvious that the Baby Trend Twins Nursery Center is one of the best multi-functioning bassinet and playard.
It is an all-in-one bassinet that helps you in a lot of ways.
It also saves you a lot of money because you don't need to buy a new an additional changing table for babies, a vibrating device to soothe the babies or a rocking bassinet.
This is truly a multifunctional and multi-feature bassinet that makes sure your babies feel safe inside it.
Plenty of bassinets are available online that are harmful to health as well as uncomfortable, but the Baby Trend Twin Nursery Center is our tested and verified bassinet.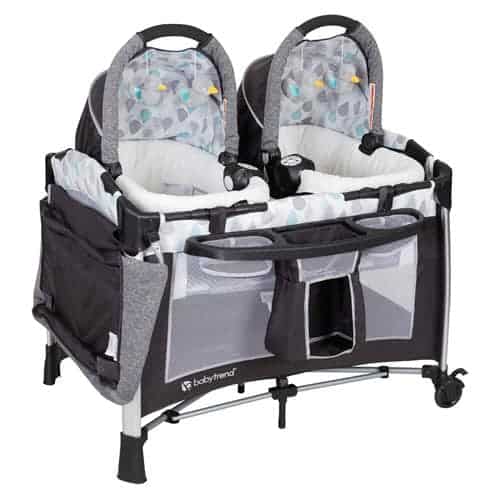 So, why are you still thinking? Simply click on our link below to keep your babies happy and calm as well as offer a peaceful sleeping environment.
Sakshi Patel
Senior Content Writer
Sakshi Patel is a busy Mom who enjoys spending most of her time with her cute daughter and a pet dog. She joins us as a senior content writer, and because of her creative writing style, has become our top-rated content writer