Bassinet and Crib are more or less the same things and design for the same purpose. Then what makes them really different from each other?
Is there any factor or reason that distinguishes Bassinet from Crib? On which basis I make my choice?
Can I use a bassinet instead of a crib, Or should I buy a crib? Well, If you are the mom who is also looking for the same answer, then you are in the right place.
This ultimate guide: Bassinet Vs Crib for Newborn, Will answer all your questions to make a valuable decision for your infant.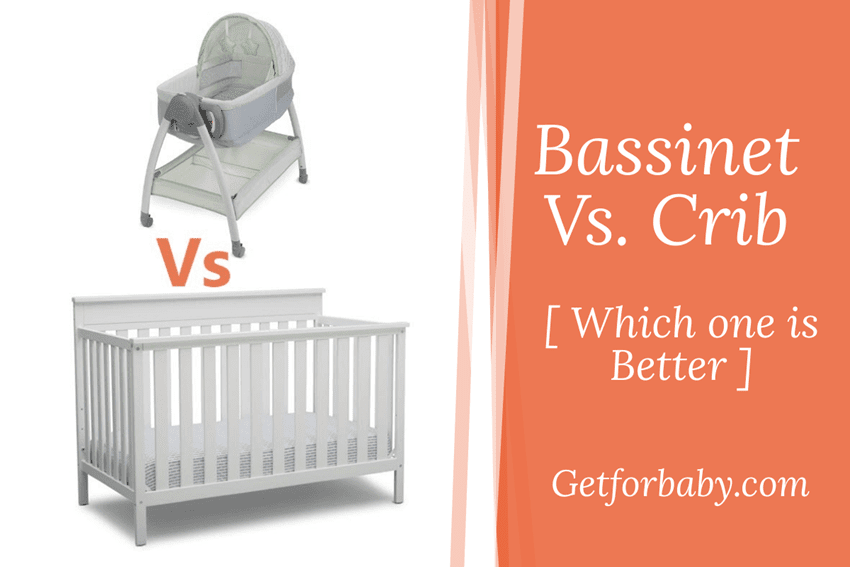 Well, In short, What truly makes the Bassinet and Crib different from each other is mainly their size and duration for you are going to use it.
For example:- A crib is longer & heavier than a bassinet because it's intended for long-term use. It makes them until your child is 2-3 years old.
However, A bassinet is small & lightweight and can only be used until your baby reaches 6 months of age.
But this thing depends upon a lot of another factor too. I know, now you ask, then why should I not go with Crib over Bassinet?
Well, don't make your decision so quickly, there is a lot of things to know. This is a significant investment, not just in monetary terms; your baby will spend much of its life in the Bassinet or Crib.
So, let's compare Bassinet Vs Crib to check who wins the battle.
Bassinet Vs Crib for Newborn: What's The Difference?
Both the Bassinet and Crib are safe & design for the same purpose. Still, the primary difference between Bassinet and Crib is size & longevity. The Crib can be used for a longer time due to its huge size, but it's not travel-friendly.
Whereas the Bassinet can use up to 5-6 months, but it travels friendly due to its size. So, Let break these things into a more meaningful way to understand them.
1.) Design That Really Makes Big Difference:
If you look at the Crib, they are basically beds for babies that are surrounded by a plastic Or wooden frame and rectangular in shape.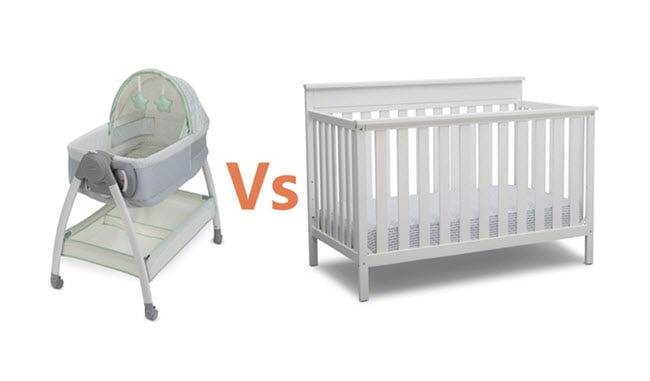 The frame ensures that the baby cannot get out by climbing on it & is high enough that even if an infant stands upright using the frame as a support, they're still unable to fall out of it.
However, on the other hand, the Bassinet has a small height frame along all sides, but its design in the way feels like someone always hugs him/her to provide more comfort & sound sleep.
There is no standard fixed dimension for a Bassinet Or Crib.
Still, in actuality, you always found a baby crib is large compared to the baby bassinets.
| | |
| --- | --- |
| Product Type | Size ( Measure in cm ) |
| Bassinet | Usually, come in 76 x 40 approx* |
| Crib | Usually, come in 132 x 71 approx* |
Watch this quick overview video to understand some basic differences.
The majority of the manufacturers recommend using a bassinet up to the age of 5-6 months. Until the baby does not start rolling in it.
But, there is no hard and fast rule; you can even use it more, for example, in the case of a Premature baby.
It's crucial to keep the focus on this can cause lead to the accidental death of the infant due to suffocation or SIDS.
But in the case of Crib, there is no need to worry about the age limit (3-4 years).
Today's market is huge; you can easily find the bassinet specially designed to use up to 6 to12 months, so size is not a big issue.
The Bassinet's weight limit is also the factor that affects the longevity of the Bassinet.
But in the case of the Crib, there is no weight limit, and there is no risk of collapse due to excess weight.
So, in Crib versus Bassinet's battle, in terms of longevity, Crib is our winner.
2.) Portability & Ease of Use:
I believe the three main things that are valuable to understand the difference between Bassinet and Crib are, Portability, Travelability & Ease To Store.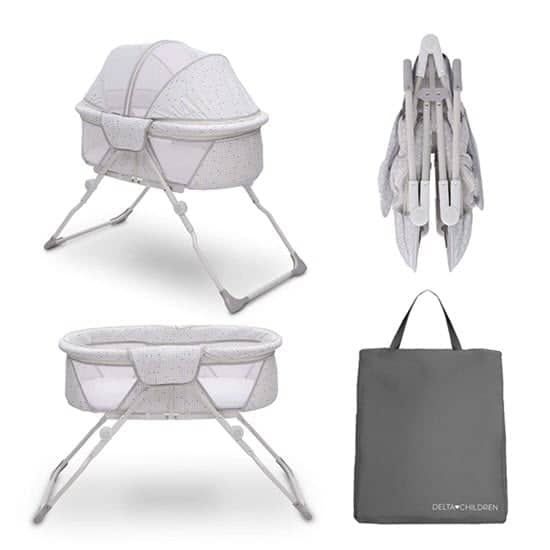 If you evaluate Bassinet Vs Crib in terms of Portability, Let me tell you that Bassinet will win the match.
Bassinets are lightweight in nature due to their size & the material used to craft. It makes it portable means easy to move from room to room.
Whereas the Crib is sturdy & made of metal Or hardwood, which makes them bulky and not very mobile.
Even with the wheel, it's a little challenging to move it from room to room. But on the other hand side, You can move the Bassinet wherever you want in the room.
Even you can place the Bassinet outside like a Garden or on the beach, and to protect your infant's eye from sunlight, you can use the bassinet canopy.
The Bassinet can be compactly reduced to a size that can be easily stored away or put in the trunk when it's not required.
And on the plus side, this folding feature gives you the flexibility to take your compact Bassinet where you want with your baby.
But on the other hand, in Crib, it's not possible. Once you install the Crib.
There is no way to fold it expected to uninstall the whole Crib, which is a complex and time-consuming task & required tools.
But still, in the market, you fill found some good travel crib.
From a maintenance point of view, the Crib is very easy to clean; you just have to pick the mattress, remove the fabric cover, and clean it.
Whereas, in the Bassinet, you have to disassemble few parts to get the fabric out to clean sometime.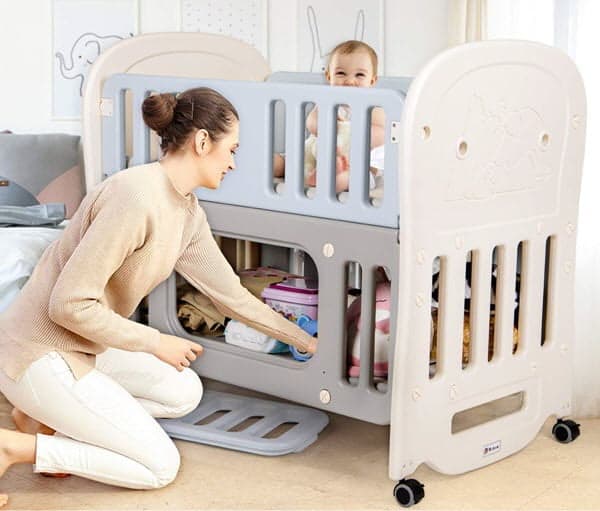 Note: Both the Bassinet and Crib are machine washable, but cleaning them in the wrong way can damage the Bassinet and Crib.
Here we write a handy guide for you: How to clean a bassinet?
In the battle of Bassinet Vs Crib, in terms of Portability & Ease of Use, Bassinet has a big win-win.
3.) Comfort is Important for Good Sleep:
We think the Bassinet wins the match in terms of comfort because it is small enough to provide for a snug bed for your little one. On the other hand, a crib is large, and the mattress can provide comfort to an extent.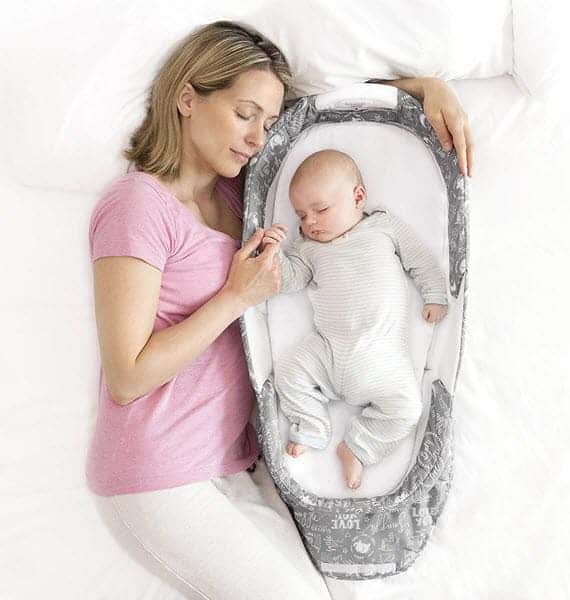 If you are co-sleeping with infants, you don't need to get out of the bed in the middle of the night to feed the baby, and at the same time, it builds a strong bond & good health.
Whereas, In the case of a Crib, you can just place it near your bed, but you still have to leave your bed to pick or place the baby back in the Crib.
For example, a bassinet like "Fisher-price soothing motion bassinet" has self claiming motion means; whenever the baby makes a motion in the Bassinet, it automatically converts that motion into rocking to rock the Bassinet. Just like a self rocking cradle.
Even some modern bassinet has the feature to auto-sense the baby cry & respond according to that. So, you don't need to wake up in the middle of the night to ON the soothing device.
This auto-sense feature is not available in the Crib. But, you can still buy some traditional de-attachable mobile to soothe your baby.
Now let's talk about the sleeping surface, which is Mattress & bassinet sheet.
In a baby bassinet, you will found 2" in the thick mattress, whereas, in a baby crib, it measures 5-6" inches. But both will provide great comfort to your newborn baby.
So, here in Co sleeper vs Crib, in terms of comfort & sound sleep for infants, the Co-sleeper bassinet has a big win.
4.) Which One is Cost-effective:-
In general, Crib is very expensive than a bassinet because of its size & longevity.
A good bassinet can cost up to $50 – $150. On the other hand, the average cost of a mid-range crib is up to $170 and $430. So Bassinet is an affordable option for patients who are on a tight budget.
Not just Crib is expensive, Accessories of the Crib are also expensive; for example, the Crib mattress cost is $30 – $150. Whereas a bassinet mattress can be buy-in under $30.
Also, the Bassinet comes with a soothing device, but in the Crib, you have to buy it separately if you need it.
So which one of more cost-effective in your point of view, Bassinet or Crib?
5.) Which One Is More Safer:-
According to the American Academy of Pediatrics (APP).
San Francisco, CA—Infants should sleep in the same bedroom as their parents–but on a different surface, such as a crib or Bassinet, and never on a couch, armchair, or a soft surface—to decrease the risks of sleep-related deaths, according to a new policy statement released by the American Academy of Pediatrics.
So, there are no doubts, Bassinet and Crib are both safe for newborn sleep. You just have to keep sure you don't place anything like soft toys and other cozy things that increase suffocation or SIDS risk.
Note: A lot of Bassinet and Crib models were recalled over time. The Consumer Product Safety Commission does research on baby products & if they found any kind of risk Or hazard to newborns, they ban the product & Manufacture have to recall it.
Sign up for our newsletter to stay updated with it. Will share you with step by step guide to easily return your product.
a.) Is a Bassinet Better Than a Crib?
Yes, In our opinion, the Bassinet is better than Crib; it will provide some extra care in the first few months of the infants and help you do the baby chores easily like diaper changing & breastfeeding. That thing only possible if you go with a bassinet.
Whereas in Crib, you have to make some effort to get or place baby back or soothe them at night.
b.) Should I Buy a Crib or Bassinet?
Well, we recommend buying a bassinet for the first few months of the baby to provide the comfort and care that your baby needs. After 5-6 months, transit your baby from Bassinet to Crib and let them sleep alone in his/her separate room.
So that he becomes comfortable sleeping alone at an early age.
c.) Do I Need Both a Bassinet And a Crib?
Yes, with time, you need both a bassinet and a crib for a newborn. For the first 5-6 months, you can use a bassinet to provide better comfort & safety, and after 5-6 months up to 2-3 years, you can use Crib.
It provides enough safe space for your growing baby up to 2-3 years. Here is a handy guide if you need help choosing a bassinet. How to choose a bassinet?
d.) Co Sleeper vs Crib for Newborn
A Co-sleeper is designed to safely share your bed with infants (you can safely place it over your bed), and it's best for those parents who love to sleep with their newborn baby.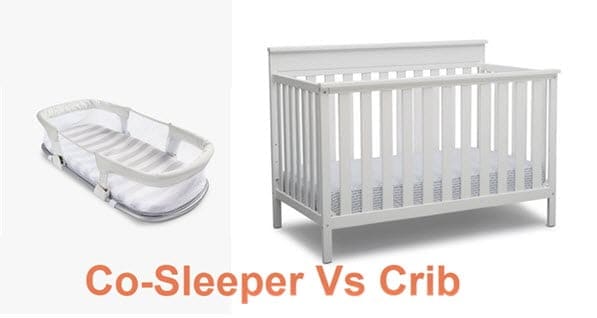 Whereas compared to the Crib, you can't do co-sleeping with it. He/she spend 9 months with you in your womb.
He can smell you and can feel your presence that why when a mom picks the baby, he/she stops crying.
This is a one-time opportunity. So if you ask me, yes, I love to go with a co-sleeper.
So in comparison of Co sleeper vs Crib for Newborn, Co-sleeper has a plus side.
I hope you like of "Difference between bassinet and crib" guide, which helps you make valuable decisions in the future.
Quick Comparison of Bassinet Vs Crib for Newborn:
Now, it's time to put a big picture on the small screen to make a quick choice. So let's summarize the above information.
Features
Bassinet
Crib
Cost & Longevity

Affordable
Up to 5-6 month*
Hold up to 30 lbs*
Easy to clean

Expensive
Up to 3-4 years*
Weight limit not required
Easy to clean

Size & Space

Compact & Medium
Occupy Less space
Foldable
Light in weight
Easy to Move

Large
Occupy Large space
Only Travel crib is foldable
Heavy in weight
Difficult to Move

Portability & Travelability

All Bassinets are Portable
Only a few are travel friendly
Place anywhere in the room

Only a few cribs are Portable
Only a few are travel friendly
Fixed Location

Come With & Accessories

Vibration, Music & Nightlight
Most of the bassinet has Canopy
Support wheel
Storage basket
Auto Soothing mobile box
Soft padding on the side
Can use Diaper Changer

Doesn't come with a Soothing kit
Doesn't support a canopy
Some Cribs has Wheels
Have to buy separately
Not come with Auto Soothing box
Cam use Crib Bumper
Difficult to access the baby

Can Use As

Only Bedside Sleeping

Type

Portable Bassinet
Rocking Bassinet

Traditional Crib
Convertible Crib
Standard Crib
Portable Crib
Mini Crib
Note: We don't encourage anybody to buy a Bassinet instead of Crib, Or Even a Crib instead of a Bassinet; it's a personal choice.
We just highlight the pros and cons and long and short-term benefits of having a baby bassinet or Crib so that you can make decisions base upon the information.
If you still need more information to make your decision more valuable, then explore our blog.
But in the end, the choice is yours; feel free to explore our top-rated baby bassinet or Crib for newborns.
Now, it's your turn. Let me know what you will buy & why; let help other moms like you make a valuable decision. Put your question in the comment box. I love to talk with you.
Don't forget to share the article because sharing is caring.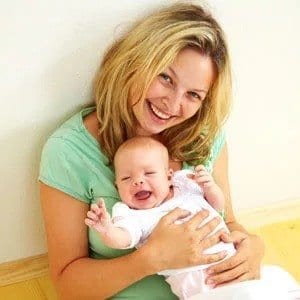 Sakshi Patel
Senior Content Writer
Sakshi Patel is a housewife who loves to spend most of her time with her Twin daughter. She loves to share her parenting journey with other new parents. She completed her Ph.D. from MP University in HDFS. Her hobbies are internet browsing, doing research on products, reading, and writing.