Bassinets and cribs are more or less the same things and are utilized for the same purpose. Then what makes them different from each other?
Well, what really makes them different from each other is mainly their length, size and how long we can use them.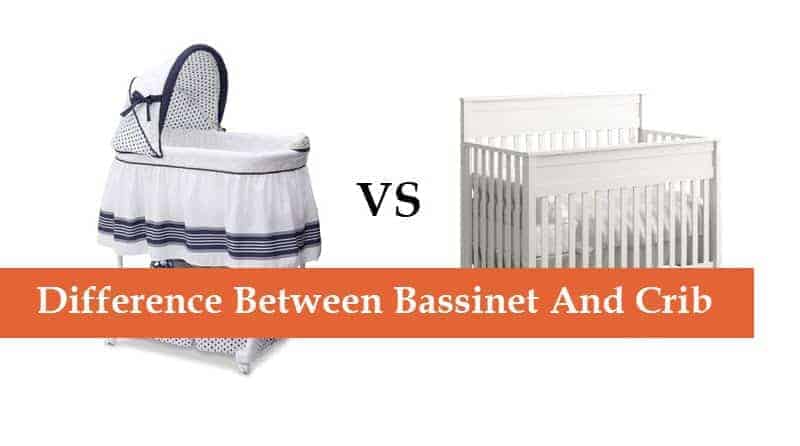 A crib is longer and heavier than a bassinet because it's intended for long-term use. At makes them til your child is 2-3 years old. A bassinet, however, is small and lightweight and can only be used until your child reaches six months of age.
Then, why shouldn't I choose a crib over a bassinet? If that's your question, too, then I think you should first read, "Do I really need a bassinet?"
More on this later,,,,,,
let's first take a look at the difference between bassinet and crib separately.
What Is a Baby Crib?  
Cribs are basically beds for babies that are surrounded on all four sides by a wooden or a plastic frame.
The frame ensures that the baby cannot get out and is high enough that even if an infant stands upright using the frame as a support, they're still not able to fall out.
Some cribs have wheels, which can be locked, making them easy to move around.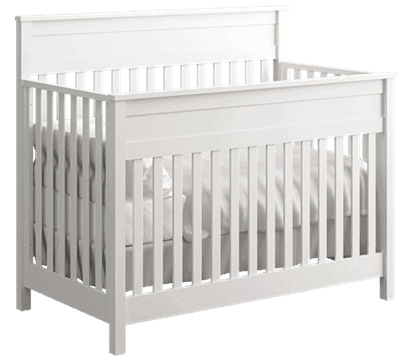 Benefits of Buying a Crib
Cribs can be used as a baby's bed for a longer period of time.
The high frame guarantees that your baby is safely contained within the crib.
A crib can be used as a baby's play area as it's strong and spacious enough to contain toys as well as your baby.
A crib has a higher maximum weight limit as compared to a bassinet.
Cons of a Crib
The high frame also means that you have to bend down to pick up the baby, which, from personal experience, I can say is not great on the back.
If you breastfeed, a crib isn't suitable, because you can't just reach over while lying down.
The large size means they require a larger area to fit in the room, and, if you have a tiny house like mine, it's a real hassle!
And the additional material needed to make a crib naturally means you're going to have to pay a higher price.
What Is a Bassinet?  
A bassinet, similar to a crib, is used as a bed for babies.
Unlike the crib, which has a frame along all side, a bassinet is more of a basket, made of wicker, plastic or cloth-like polyester.
The basket is fixed on top of an immobile frame that holds up the basket and provides height to it, so you don't need to bend down to check on or reach your baby.
If you are looking for a bassinet, then don't forget to check my verified and tested baby bassinet list for unbeatable prices.
Benefits of Buying a Bassinet
A bassinet is much more affordable than a crib.
It's extremely lightweight, portable and travel-friendly.
Most bassinets can be easily dismantled and stored in a compact space.
Bassinets may also have a vibration feature, which mimics the movement of rocking, enabling the baby to sleep soundly.
Some bassinets have a hood that can cover the top and prevent any insects from entering.
They're very for breastfeeding during the night as you can just easily reach over to lift your baby up to breastfeed her and then return her back into the bassinet just as easily.
Cons of a Bassinet
Bassinets are not very long lasting. It can be used only up to 6 months or until baby can move easily in it.
There is a weight limit for the bassinet and it is important to know when the bassinet is just too weak to hold up your baby's weight.
The Difference Between Bassinet And Crib
So, we've looked at the specs for both cribs and bassinets and analyzed their pros and cons. Our next step is to determine which is the better purchase.
This can be a tough decision, especially if you're a first-time parent. This is a big investment, not just in monetary terms. Your baby will spend much of their life for the first few months in a crib or a bassinet. So, you need to be careful when deciding between the two.
I'm going to compare the two choices simply and succinctly, so that, by reading this article, you'll be able to make a well thought out and informed decision.
Let's compare the two from different aspects:
1. Comfort
In terms of comfort, the bassinet wins hands down. The bassinet is small enough to provide for a snug bed for your little one. On the other hand, a crib is large and the mattress can provide comfort to an extent.
Compared to the bassinet, which can have padded sides, all around that are close enough to rep your baby warm and snug.
With a crib, extra padding means adding pillows which are not recommended by the pediatrician.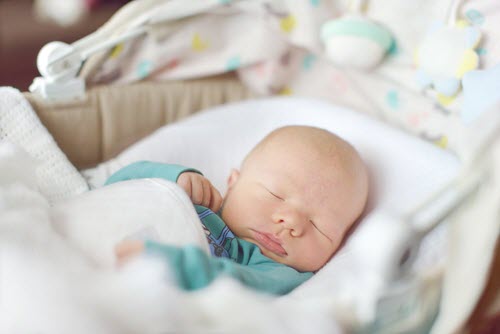 2. Safety
This is definitely the number-one priority with infants. Bassinets are much safer until your baby learns to turn over on their side.
Bassinets are cozy and safe. They keep your baby snug, and some even can be adjusted to your eye level or have mesh sides so you can always monitor your baby.
Cribs are generally just big and are not adjustable, which means they are not really that safe.
3. Size
Cribs are usually much bigger than bassinets. Now, you may feel that this makes cribs better. However, the large size can be a huge disadvantage.
Cribs are bulky, hard to fit in small places, nearly immovable and not travel-friendly. For the first few months, your baby needs an extreme amount of care and comfort no matter where you go.
So, a bassinet is the answer to that problem. You can take your baby anywhere without worrying about their comfort since bassinets are generally easy to carry and travel with.
4. Portability & Ease of Use
Bassinets are very portable. Most weigh between 8 to 19 pounds which is an OK weight to carry around. Cribs are sturdily built which makes them heavy and not very portable.
A lot of bassinets are also easily folded and can be compactly reduced to a size which can be easily stored away or put in the trunk so they can be carried anywhere.
A lot of bassinet companies are developing models that involve the bassinet being pulled into shape by using just one hand, which is a fantastic feature.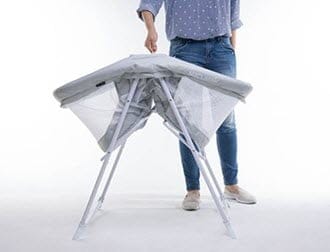 Bassinet assembly is becoming increasingly hassle-free, to the delight of parents and caretakers, especially when they are looking after the baby on their own.
5. Duration & Maintenance
Both cribs and bassinets are for long-term usage. Bassinets are more suitable for infants between the ages of 0 to 6 months, while cribs are for babies six months and above.
Basically, it's the size of the crib that determines for how long it will last. Some cribs last up to 3 to 4 years while some are just large enough for babies to fit in until they're a year old.
Both cribs and bassinets are easy to clean. Most have mattresses that have a fitted sheet over them that can be removed and machine washed.
Some bassinets come with a plastic frame covered with cloth, which is easy to remove and machine wash. This is important as the baby stays clean and sleeps in hygienic conditions.
I hope you liked my Difference Between a Bassinet and a Crib guide and that it helps you make your decision in the future.
Who Wins In This Battle?
Bassinets, medically speaking, are superior to cribs for children under 6 to 7 months of age. They are also inexpensive so replacing them with a crib after a few months is not such a bad deal.
The protection and comfort they offer definitely outweighs the fact that you will later have to spend money on buying a crib.
Cribs are expensive, bulky and present a possibility of injury if proper care isn't taken while bassinets are more comfortable, best for breastfeeding and actually safer than cribs.
Protection from bugs and mosquitoes can be achieved by getting a bassinet with a top closure feature.
So, who wins the battle?
The answer is clear; the bassinet is definitely superior when it comes to your baby's slumber. But make sure you check the bassinet weight limit before buying it.
Also, for any bassinet-related questions, you can drop me a message below. And, let me know what you think in the comment section.
Don't forget to share this information