Do you know, Bassinets and Cribs are more or less the same things & are also utilized for the same purpose.
Then what makes them different from each other.
Is there any factor or reason that makes both different from each other?
On which bases I make my choice, may I go with Bassinet or Crib for my newborn baby?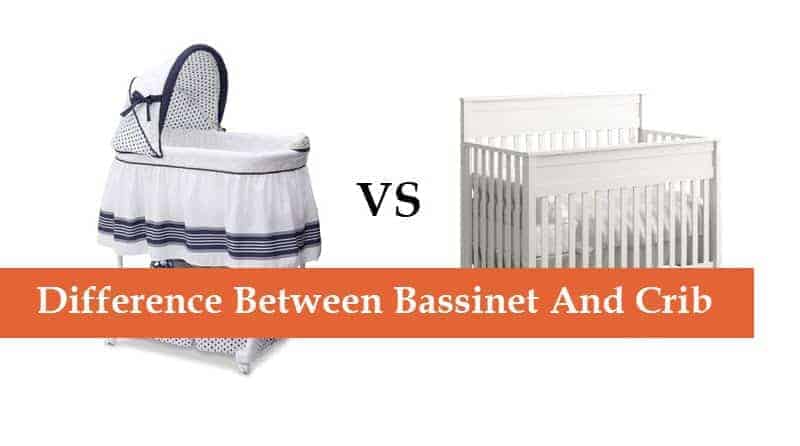 If you are seeking the answer to the above questions, then you are in the right place. This ultimate guide:- Bassinet Vs Crib, answer you're all the question to make a valuable decision.
Well, In short, What truly makes bassinet and crib different from each other is mainly their length, size, and the duration for you are going to use it for the infant.
For example:- A crib is longer and heavier than a bassinet because it's intended for long-term use. It makes them until your child is 2-3 years old. A bassinet, however, is small and lightweight and can only be used until your child reaches six months of age.
I know, now you ask, then why should I not go with crib over the bassinet?
Well, don't make your decision so quickly. This is a significant investment, not just in monetary terms; your baby will spend much of their life for the first few months in the crib or bassinet.
So, let's compare Bassinet Vs Crib.
Bassinet Vs Crib:- Difference Between Bassinet And Crib
Both Bassinet and Crib are safe and design for the same purpose to help newborn to sleep comfortably. But, the primary difference between bassinet and crib is size & longevity. The Crib can be used for a longer time due to its huge size, but not portable, whereas bassinet can use up to 6-8 months, but easy to move due to its size.
Let break these things in a more meaning full way to understand it.
1.) Design That Makes Big Difference:-
If you look at the crib, are basically beds for babies that are surrounded on all four sides by a wooden or a plastic frame, and the sleeping surface is made up of mattresses.
The frame ensures that the baby cannot get out and is high enough that even if an infant stands upright using the frame as a support, they're still not able to fall out.
A flat surface helps to reduce the risk of SIDS.
Whereas bassinet has a frame along all sides, and it more like a basket, made of wicker, plastic, or cloth-like polyester. Its design in the way feels like someone always hugs him/her.
Unlike the crib, Bassinet has a lot of features like vibrating, nightlight, music, etc, all these things are essential to sooth the baby at night.
For example, Fisher-price soothing motion bassinet has self claiming motion means; whenever the baby makes a motion in the bassinet, it automatically converts that motion into rocking to rock the bassinet.
You don't need to wake up in the middle of the night to ON the soothing device. But that kind of feature is not available in the bassinet.
Each bassinet is designed for a specific purpose, for example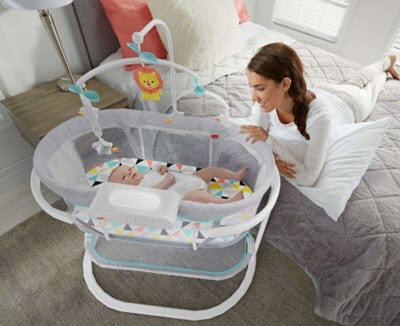 But, in the case of the crib, you will miss these features, Crib is just an ample space where your baby can sleep.
So these are the Difference Between Bassinet And Crib in terms of Design.
2.) Portability & Ease of Use:-
If you evaluate Bassinet Vs Crib in terms of portability, then let me tell you bassinet is going to win the match.
Bassinets are lightweight, which makes it portable, and its folding feature makes it super travel-friendly, whereas Crib is sturdily built, which makes them heavy and not very mobile.
Even with the wheel, it's a little challenging to move it from to room due to its large size and weight.
A lot of bassinets are easily folded. They can be compactly reduced to a size that can be easily stored away or put in the trunk so they can be carried anywhere. But in the case of Crib, it's not possible.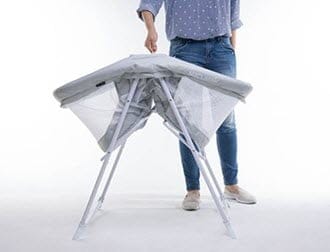 If we talk about the cleaning, then Crib is very easy to clean; you just have to pick the mattress, remove the cover and clean it, whereas, for the bassinet, you have to disassemble few parts to get the fabric out to clean sometime.
Different basinet needs different approaches, but you will get the manual to do this thing. If you are planning to buy a bassinet, then this how to clean a bassinet guide is going o help you a lot.
3.) Comfort is Important for Good Sleep:-
In terms of comfort, the bassinet wins hands down. The bassinet is small enough to provide for a snug bed for your little one.  Also, there is a lot of things that you can do to make the bassinet more comfortable.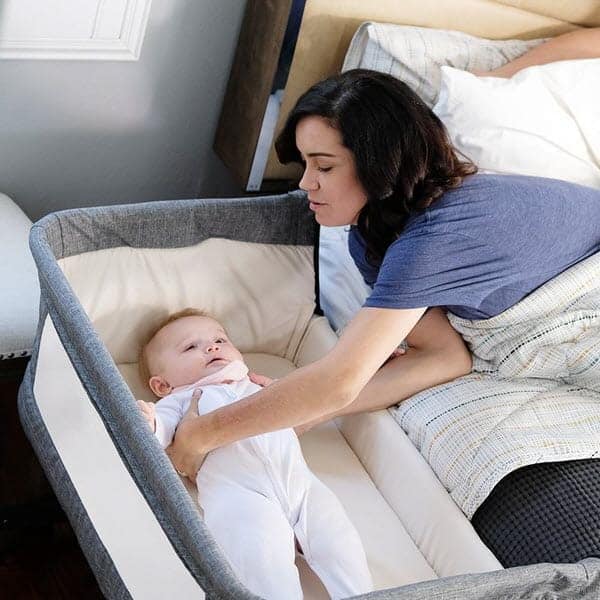 On the other hand, a crib is large, and the mattress can provide comfort to an extent.
The bassinet also helps you to do safe Co-sleeping with a baby. There is a lot of benefits of co-sleeping, and one of my favorites is, I don't need to get out of the bed in the middle of the night to feed the baby, and at the same time, it builds a strong bond between us.
My baby can safely sleep with me; this thing gives him the insurance that he is safe with me. It's perfect for healthy and sound sleep.
But in the case of Crib, you can just place bassinet near your bed, but you still have to leave your bed to pick the baby and do the same to put back in the crib.
Its become very difficult if you are a c section mom. 
Another feature that helps to win this match between Bassinet Vs Crib is its Mobile Device.
This mobile has the feature of vibration, a nightlight, and music that helps you to soothe and fall asleep faster.
Due to these features, bassinet getting a peak in the market.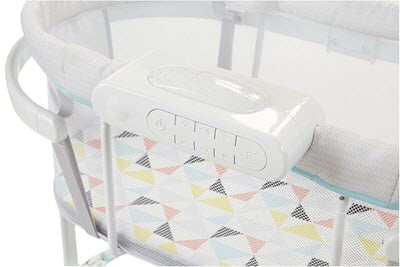 But in case of the crib, you have to buy a separate attachable vibrating device to get that feature. Means have to spend more money.
4.) Which One Is More Safer:-
According to the American Academy of Pediatrics (APP).
San Francisco, CA—Infants should sleep in the same bedroom as their parents–but on a separate surface, such as a crib or bassinet, and never on a couch, armchair or a soft surface—to decrease the risks of sleep-related deaths, according to a new policy statement released by the American Academy of Pediatrics.
So, there are no doubts, bassinet and crib are both safe for the newborn baby. But which one is right, and how?
A bassinet is small in size; you can place it near your bed or even can put it on the adult bed to keep an eye on your baby during the night.
A bassinet is small in size as compared to the crib, so it means your baby soon going to outgrowth bassinet.
The majority of the manufacturers recommend to use the bassinet for the first six months of the baby. Still, there is no hard and fast rule; you can even use it more.
For example, Premature baby grows very slowly, approximately takes near about 8 to 9 months, to outgrow the bassinet. So you can use your bassinet a little longer.
It's crucial to keep the focus on this can cause lead to the death of the infant due to suffocation or SIDS. But in the case of Crib, there is no need to worry about the age limit.
So, in terms of longevity, crib wins the match.
So, this is the Difference Between Bassinet and Crib, I hope you like our Bassinet Vs Crib Guide and help you to make a valuable decision in the future.
Quick Overview:- Difference Between Bassinet And Crib
Lets we summarise the above information to see a big picture on a small scale.
| | |
| --- | --- |
| Feature | Who Win in Bassinet Vs Crib Match |
| In term on Longevity | Crib |
| In term of Price | Bassinet |
| In term on Features | Bassinet |
| In Term space | Bassinet |
| In Term on Safety | Bassinet and Crib both |
Who Win In This Battel?
If you ask me which one is better for the baby, then I recommend to go with the bassinet for the first 6-7 months (why do I need a bassinet) and after that move your baby to the crib.
In the first few months, your body also needs the care to recover, and your baby is a week and also needs some extra attention too. That thing only possible if you go with a bassinet.
But in the end the choice is yours, if you want to go with a crib, then here is the best crib for the baby.
If you still need help to make a decision, then check this excellent guide, "Should Baby Sleep in Bassinet or Crib."
Now, it's your turn. Let me know what you are going to buy. Put your question about Bassinet Vs Crib in the comment box and let me know, I love to talk with you.
Don't forget to share the article, because sharing is caring.