Making a choice between bassinet and Pack n Play is difficult. This is because both are designed to provide a safe sleeping area to infants.
It also, offer various features that help you to soothe your baby.
But what's the actual difference between Bassinet and Pack n play? What makes them unique, and which one is best for you to buy and how?
It's worth taking time to decide where to place your newborn to sleep. This is because it is the place where your baby will spend the first few crucial months of his/her life.
So, In this ultimate guide: Bassinet Vs Pack n Play for Newborn, we will answer you're all your questions. So that you can make the best decision about whether you should buy a bassinet or pack n play for your newborn baby!
So, let's compare Bassinet Vs Pack n Play to check who wins the battle.
Bassinet Vs Pack n Play for Newborn
Both the Bassinet and pack n play are safe for infants to sleep & recommended by the APP and CDC for their safe sleep. But what makes them different from each other are the features & the purpose they fulfill.
So, Let break these things into a more meaningful way to understand them.
1.) Design That Makes Big Difference:
A bassinet provides you a small, cozy & comfortable sleeping area and gives the sense of a hug to a newborn. So that he feels like someone is always with him for sound sleep.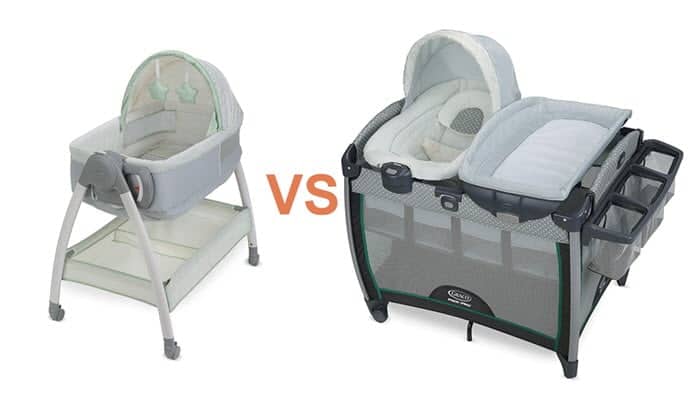 And, as from its name, Pack n Play provides a safe playing area for infants to play in safely. Plus, you can still use it for the baby to sleep.
It provides a huge space for newborns to sleep. But in short, the bassinet is preferable by mom as compare to pack n play.
Some pack n play also comes with a bassinet that you can place over the pack n play. 
This way, you get both the benefits, and it's a de-attachable bassinet.
There is no standard fixed dimension for a Bassinet Or Pack and Play. But, in actuality, you always found a Pack and Play is large compared to the baby bassinets.
| | |
| --- | --- |
| Product Type |  Size  ( Measure in cm ) |
| Bassinet | Usually, come in 76 x 40 approx* |
| Pack and Play | Usually, come in 100  x 70 approx* |
Watch this quick overview video to explore some of its basic features.
The bassinet is designed to provide comfort for the first 5-6 months of the newborn. In contrast, a pack n play can be used even after ( approximate one year) a baby outgrows it by converting it into a Playard.
Let me explain how?
You can use Pack n play as a sleeping area until your baby feels comfortable in it. But you can convert this into a playard by removing the flat mattress that is placed in it.
If you live in a small apartment, then using or moving this big-size pack n Play is a little difficult. So, again bassinet is a better option for you here.
In Bassinet Vs Pack N Play, in therm of design, both are the same; the thing that makes a difference in your choice and needs.
2.) Maintenance, Ease of Use & Portability:
A pack n play is a design to place in a big size room to provide a comfortable play area for infants. At the same time, the bassinet gives you more flexibility.
You can place the bassinet anywhere you want. You can place it on your bed to do co-sleeping or bedside to do bedside sleeping with infants.
And on the plus side, most of the bassinet has a wheel that makes the bassinet portable and easy to move.
Pack n play, also support wheel, for easy to move. Though it's heavy, it makes little difficult to move, especially on carpets.
The feature I like the most in both the product can fold & pack into the bag to take anywhere you want.
But due to the big size & heavy nature of pack n play, its little difficult to travel with it.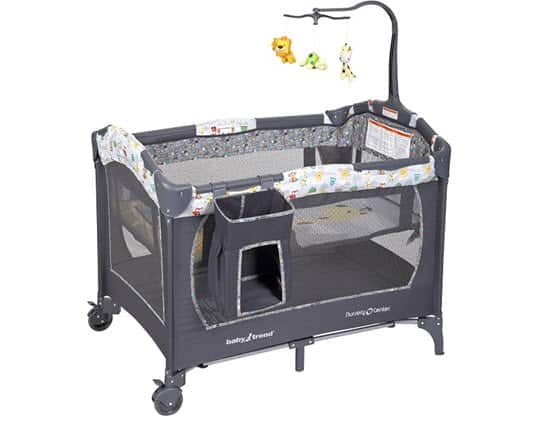 Note: Not all the Bassinet or Pack n play is travel-friendly, even if you can fold them. Some products are foldable, but its design to store after use, not travel, so check before buying.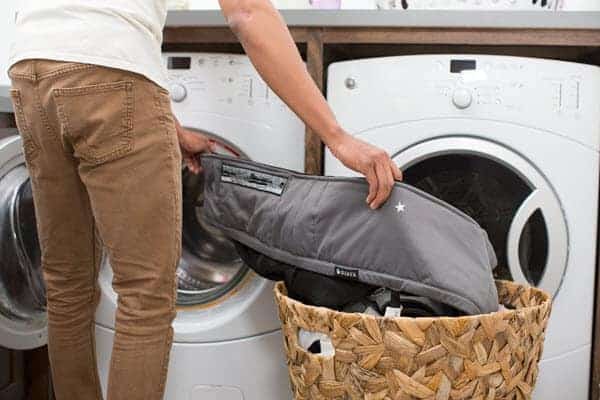 From the maintenance point of view, both are easy to clean.
All the fabric like mattress, mesh side, or parts is removed and washed in the washing machine.
The only problem you face during this task is how you will remove the fabric.
To make the process easy, you can follow the Manual guide that you get when you buy.
Note: To clean it and avoid damage, we recommend reading our below guide. Cleaning it improperly can damage the fabric and shad or even put your product out of warranty.
How to Clean Pack N Play?
Storage is another feature that forces you to think about which one you buy, bassinet or pack n play.
Well, pack n plays usually have storage on the side of its mesh wall. In the bassinet, however, sometimes its under the bassinet or even on the Bassinet side.
This increases ease of access from the bed, which is a good option for c section mom.
But if it under the bed, then you have to think, is it comfortable for you or not to each at that level.
Most of the Pack n plays offer napper changer. So you don't have to spend extra money to buy a separate charging station. This feature is missing in most of the bassinet.
So, in a match of Bassinet Vs Pack N Play, we think bassinet is just one stop away from pack and play.
3.) Comfort is Important for Good Sleep:
The bassinet is designed with just one thing in mind, to provide safety & comfort to infants & moms. That is the reason you will find any type of in the market that is specially designed for specific needs are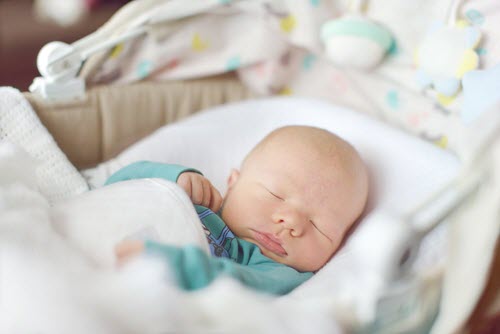 Some pack n play also supports that feature. But will not provide the coziness and mom's feel by placing it next to the bed for sound sleep.
Suppose you bed little height; means you can't place the pack n play at the level of your bed to keep an eye. But in the bassinet, you will found a height-adjustable feature that lets you lift the bassinet to your bed's height.
A Pack n play is multipurpose. It also offers many features that help you do baby chores, like Napper changer, Playing Area, Soothing kit. But keep in mind that not all the bassinet or pack N play has all these features.
Note:- Some bassinet support vibration and music, but some not, as in Pack n play. So before buying anyone read the product description box check its feature.
4.) Which One Is Safer Bassinet Or Pack N Play?
According to the American Academy of Pediatrics (APP).
San Francisco, CA—Infants should sleep in the same bedroom as their parents–but on a different surface, such as a crib or bassinet, and never on a couch, armchair, or a soft surface—to decrease the risks of sleep-related deaths, according to a new policy statement released by the American Academy of Pediatrics.
So, all the products like a bassinet, Crib, and pack n play are safe for the baby to use. But if you want to keep your baby near you, like next to your bed, the bassinet is much better than pack n play.
You can also read our guide: Bassinet vs Crib, To understand why people buy a bassinet over a crib.
Key Differences: Bassinet Vs Pack n Play
Now, its time to put a big picture on the small screen, So let's summarize the above information
Features
Bassinet
Pack N Play
Cost & Longevity

Affordable
Up to 5-6 month*
Hold up to 15lbs to 30 lbs*
Easy to clean

Expensive
Up to 1 years*
Bassinet hold up to 30lbs* & pack n play have no weight limit
Easy to clean

Size & Space

Compact & Medium
Occupy Less space
Foldable
Light in weight
Easy to Move

Medium & Large
Occupy Large space
Foldable
Heavy in weight
Difficult to Move

Portability & Travelability

All Bassinets are Portable
Only a few are travel friendly
Place anywhere in the room

Some Pack and Play are Portable
Only a few are travel friendly
Place anywhere in the room

Come With & Accessories

Vibration, Music & Nightlight
Most of the bassinet has Canopy
Support wheel
Storage basket
Auto Soothing mobile box
Soft padding on the side
Can use Diaper Changer
Easy Access the baby

Vibration, Music & Nightlight depends on the model
Only some Pack n play bassinet has a canopy
2 Wheel System
Storage basket
Not come with Auto Soothing box
Mesh on Pack n play sides & bassinet have soft padding 
Can use Diaper Changer
Easy Access the baby

Can Use As

Only Bedside Sleeping
Stand Alone sleeper

Type

Portable Bassinet
Foldable Bassinet
Rocking Bassinet

Portable Pack N Play
Travel Pack n Play
Foldable Pack and play
Note: We don't encourage anybody to buy a Bassinet instead of a Pack and play, Or Even a Pack and play instead of a Bassinet. Its a personal choice. We highlight the pros and cons and the long and short-term benefits so that you can make informed decisions.
If you still need more information to make your decision more valuable, then explore our blog Or you can read the below articles.
What next, feel free to explore our top rated bassinet 2021 or pack n play 2021
Now, it's your turn. Let me know what you will buy & why; let help other moms like you make a valuable decision. Put your question in the comment box. I love to talk with you.
Don't forget to share the article because sharing is caring.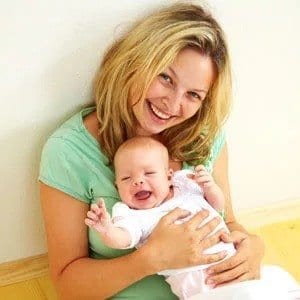 Dr. Sakshi Patel
Senior Content Writer
Dr. Sakshi Patel, an expert in Human Development and Family Studies, combines her academic knowledge with personal experience as a mother to twins. She provides comprehensive articles and meticulous reviews on baby essentials, offering accurate and up-to-date information to help parents make informed decisions. Read more.