Finding  Amazon baby registry is not a difficult task; it's just one right-click away from you. Click on this link to fill the necessary details, and it's done.
But the question is, how can you correctly set up this registry without making any mistake?
What's Inside it? How can you claim it? What about the shipping charges? How to create an amazon registry,  And so on.
This ultimate guide, "How To Find Baby Registry On Amazon?" will help you through this process and will explain all the essential information you will need to set up the account.
A lot of people in the USA are already reaping the advantage of having  Amazon Baby Registry.
If you are a new parent, then you can additionally sign up the newsletter too, to get the guide from Amazon (Expert in baby care) to help you take care of your little one.
The thing that I love about the Amazon registry is its "friend and family" feature means you can share your registry with your friends and family so that they can buy a gift for you that you need.
And a lot of other features too. So, let's start exploring this – by checking out – "What is Amazon Baby Registry Welcome Box?"
What is Amazon Baby Registry Welcome Box?
Amazon baby registry is a unique service from Amazon that helps you find everything you need for your baby at once place. Also, you get the feedback about the product from other mom's likes you and the expert are at Amazon's customer care desk to make a valuable decision.
After your signing up the registry for free, amazon sends you a 100% free gift set worth $35 for your baby before your baby arrives at home.
This gift set contains a sample of high-quality products that will help you to take care of your baby. Talk on this latter.
You will also get updates on things you will need for your baby, from time to time.
Check this valuable information
It's simple and good, isn't it?
Note: Amazon Offers 90 days return policy, Means if you order any product by mistake or things in excess, for example, diaper, then you can retune it to amazon.
Also, don't worry if your newborn baby is now at home or he/she is a month old; you can still get the benefit of this policy by entering the date of birth of your newborn baby in the Amazon Family program.
Well, now we know the worth of this box is $35. But what comes in the Amazon Baby RegistryBox?
Let's check the list of things you will get in this welcome box.
What Comes in the Amazon Baby Registry box?
I was excited to know what comes inside it when my Amazon Baby Registry welcome box reaches my home. I found a lot of high-quality baby care products in the box like diapers, wipes, swaddle blanket, lotion, etc.
These products helped me a lot for the first few days because I really don't have an idea about what to buy for my baby.
I want the best of best for my baby.
Here is the actual list of the items you will receive in the Amazon Baby Registry Welcome box:
Note: – You should note that this list will likely change with time, but as of March 2019, when I got mine, these are the items that I received.
If you want to see the current item in the box, then first create an Amazon baby registry account and then click on the link.
Only a Registered person can see this list.
All these are items that I am sure we'll most likely make use of at some point; I also feel they make the box more valuable.
I believe including samples from several different brands is an excellent thing that they did. Even if you are not a fan of any of these products, it is actually good having them, because they can come in handy someday.
Now, we know what amazon Baby Registry Welcome box is and what comes inside it. Now it's time to understand how it works?
How Does Amazon Baby Registry Work?
The Amazon baby registry works like other standard registries. You will get the list of the baby essential from diaper to feeding to sleeping arrangements. You just have to select the things that you need and add them to the cart.
Don't worry about the choice/selection, there is a lot of recommended, and the must-have product is at the top of the list.
Also, there is a lot of mom like you, Have already created the list of the essential that they used for their baby. You can check them from their list and add the thing in your Checklist. And the rest of the thing will be handled by the amazon customer expert.
You can also buy the thing from a local store and mark that item as purchased and Off from the list. In this way, you can keep the focus on the idea that only left in the cart.
Amazon is a big place, but you can't full fill the demand of everyone. That why Amazon offers the Univeral registry, which means you can select the items from other sites and add it to your cart with the help of amazon assistance chrome.
Just install the chrome extension in your browser, open any site and click on the Amazon assistant icon and then simply add the items from other sites into your baby registry. I will explain this in detail later.
That's the thing that makes the amazon baby registry different from other baby registries.
If you want to know the benefits of having an Amazon baby registry, then stay with me. There's a lot to know.
Amazon Baby Registry Benefits
Have a baby registry will help you to know what all things you have and what all more you need to buy for your little one. But the Amazon baby registry is more than a checklist; there are a lot of other benefits of having Amazon Baby Registry.
Welcome Box:- A free $35 worth welcome box that you will get after creating the baby registry account on Amazon. It includes items for baby (several, sample-sized), which you can use after the delivery of your baby.
Completion discount: – You will get a 10% discount on all your baby essentials when your checklist is ready. But if you are a prime member, then you will get a 15% discount. So having a prime membership is a plus point.
Everything in one place:- You don't need to move from store to store and stand in queues to purchase the products. If you like something else on other sites, just add the product to your baby checklist with Amazon assistance chrome extension.
Fund for Diaper: If you calculate the price of the diapers that baby needs are costing near about $500. If you buy this on Amazon, you will get a 20% discount. If you are the prime member of Amazon, then you can subscribe to it on a monthly basis.
Free 90-day returns:- If any of your gifts are not suitable for your baby, you have 90 days after the date it was delivered, to return it.
Free two-day shipping:- For every prime member, they automatically receive two-day free shipping on every order they make. But for non-prime members, you can benefit from this by making sure your orders for the registry are above $25.
Group Gifting:- If you have something on your baby registry checklist with a higher price, then you can ask multiple people to contribute to get that item like for Diaper fund. You will receive that amount in the form of a gift card.
Friend and family: As I already explained, you can share your list with your friends and family so they can help you to buy things. Once they purchase the item for you, amazon marks it as completed. So, you can easily keep an eye on this.
If you read all the above points carefully, you will understand that prime members get more benefits.
Then why not sign up for amazon prime membership to get (30 days free) 20% discount on your all baby essentials?
How to Find Baby Registry on Amazon?
Well, to be honest, is it a little challenging to find the baby registry button on Amazon site, if you exactly don't know where it is? 
The best way to find the baby registry on amazon site is to hover your mouse over the "Account & Lists" on the top of the Navigation bar, and after that, click on the "Baby Registry" from the drop-down menu. 
It will redirect you to the Amazon Baby registry page.
Note: To get access to your baby registry, you have to create the amazon baby registry the account first.
The process is straightforward. Click on this link and sign up the account, add the necessary information, like your delivery due date, registry gift, diaper fund, etc., and after that, click on "Create My Baby Registry".
But if you still need help, then check this step by step guide to create a baby registry to fill the information in the form.
How to Get Amazon Baby Registry Welcome Box?
Now it's time to answer one of my favourite questions – How to Get Amazon Baby Registry Welcome Box?
Signing up an account is not enough to get the welcome box, To keep spammers away from the baby registry, Amazon has set up a 3 step rule to evaluate that you are a genuine person and not a spammer.
Here is the 3-step process to get the Amazon baby registry welcome box free.
First, sign up amazon baby registry and join Amazon Prime for free.
Add items to your Baby Registry to complete it.
Purchase something from your registry (up to $10) or receive a gift worth $10.
So, these are the simple three steps to get amazon baby registry welcome box for free.
Note: Buy something from your baby registry is important to verify you are a genuine person, not a spammer. You can buy anything you want to just verify.
And sign up is prime amazon help you to get an additional 5% (overall 15%) discount on your all baby gear and 20% extra discount on Diaper and baby food.
Also, you can cancel your Amazon prime any time if you want.
How Do I Add Items to My Amazon Baby Registry?
Adding products to your Amazon baby registry is as simple as online shopping. You just have to follow a two-step process:
First, log in to your account and then click on "Baby Registry", it will redirect you to your baby registry page. Here you will see the "add items" option.
Click on "Add items," and it will redirect you to the page where you can add items to your baby Amazon baby registry. (Check the below image)
Note: Amazon shows you all the essential products that you need for your baby, but some of them may have already purchased, or some of your family is planning to gift them to you,
So you can remove that product from your list, you can tick the subcategory so that it will be marked as completed.
I hope you now have an idea of how do I add items to my Amazon baby registry?
How to Return Amazon Baby Registry?
Amazon offers 90 days return policy for the baby registry. So don't worry about wrong orders placed by mistake. And also, the returning process is as easy as it is buying.
You just have to go into your "Baby Registry"
Find the option "Thank You list & Returns" on the right-hand side.
Here you will see all the list of the items you purchased.
Select the product you want to return and then generate the request.
It's done.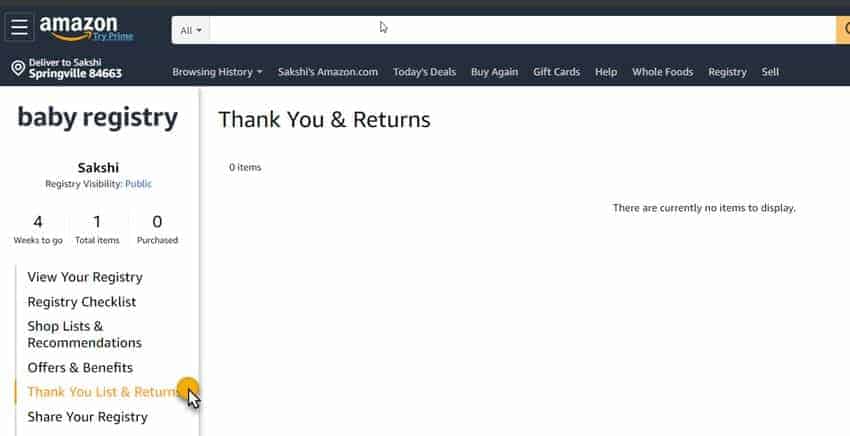 When I was adding items to my checklist, I ordered a few items in excess.
Later on, I returned them back to amazon after 65 days. So I can say its service is reliable.
How to Complete Checklist on Amazon Baby Registry?
Completing the checklist process is very easy. There are a total of 8 categories and a few subcategories (depending on the product) on the checklist.
Have a look at the below image; these are the main categories of the items that you need to take care of your baby.
You don't have to buy all the items on the checklist because some of them you may already have, or you don't want.
When you add the products to your cart, Amazon marks the list complete. But in case you don't want to buy the product, for example, strollers and carriers, then you can manually mark the category as completed.
Have a look at the image below, I added "car seat" to my cart, and on refreshing the page, Amazon automatically marks it as complete and rest of the two  "Stollers and carriers" I marked manually.
Amazon tracks the progress of your checklist that knows when you have completed.
When it's 100% done, you can click on your Claim option just above your "checklist" option, to get the free welcome box.
Initially, it can be a little bit overwhelming while on the checklist, particularly if you begin with the major purchases.
You will find several products you can pick from and a lot of categories you can cover.
Amazon Baby Registry Checklist:- Must-Have Items
When you log into your baby registry, you get puzzled what to buy and what not to buy, because there are a lot of products available on Amazon. So, to help you & to make everything simple, I have filtered out some must-have products base upon the feedback of other moms.
Here is the list of the must-have items on Amazon Baby Registry:
These are just some of the recommended items by me as well as on the Amazon registry. You can add more or discard items according to your choice. You can also check the list of all the product on the baby registry here.
How To Share Baby Registry On Amazon?
This is one of my favourite features of the amazon registry. In this way, I can share the registry list it with my friends and tell them what I have and what I don't have so that they can buy the item that I need as a gift for me.
Sharing baby registry with others is very easy; just hover over the "Account & Lists" on the top of the Navigation bar, and after that, click on the "Baby Registry" from the drop-down menu. It will redirect you to the Amazon Baby registry page.
Here you have to click on the "Share  Registry" option.
Note: By default, it is set as private. So, to share it with your friends, you have to make it public. You can do this under the "Baby Registry Settings."
Once you enable the option under "Baby Registry Settings," you will see the sharing link that you can share with the person you know.
Note: Several people may have the same name as your friend, or your friend's Amazon account could be under an alias. You may be able to identify your friend's wish list by their profile picture or their birth date.
Final Verdict
Having a checklist of baby essential is good but having it on amazon is superb.
Amazon is a large company & they definitely know what your baby needs and when?  The convenience and discounts make it a great thing to have the Amazon Baby Registry, mainly when you are already a member of Amazon Prime.
Almost all your family and friends are most likely comfortable purchasing on Amazon since they probably purchase from Amazon on their own.
If you know that you'll likely need some specific things from other websites, the option for the universal registry is an excellent bonus.
It is also fun to get the welcome box, although you won't get samples that will blow your mind.
Give this a try, and you'll be glad you did.
Now it's your turn, let me know what you think about the Amazon baby registry. If you have any questions then just let me know in the comment box.
And don't forget to share this article, because sharing is caring.