The presence of cats near the baby or inside the Bassinet or Crib is definitely not safe because infants are weak & vulnerable to diseases.
Their immune system is not well-developed, which means that even a house pet that is vaccinated & regularly groomed can be a source of danger for your baby.
For example, a cat's fur is very fine and pretty hard to detect on the baby's bedding, especially if it's almost the same color!
So the danger of the baby swallowing cat hair is genuine and can prove life-threatening.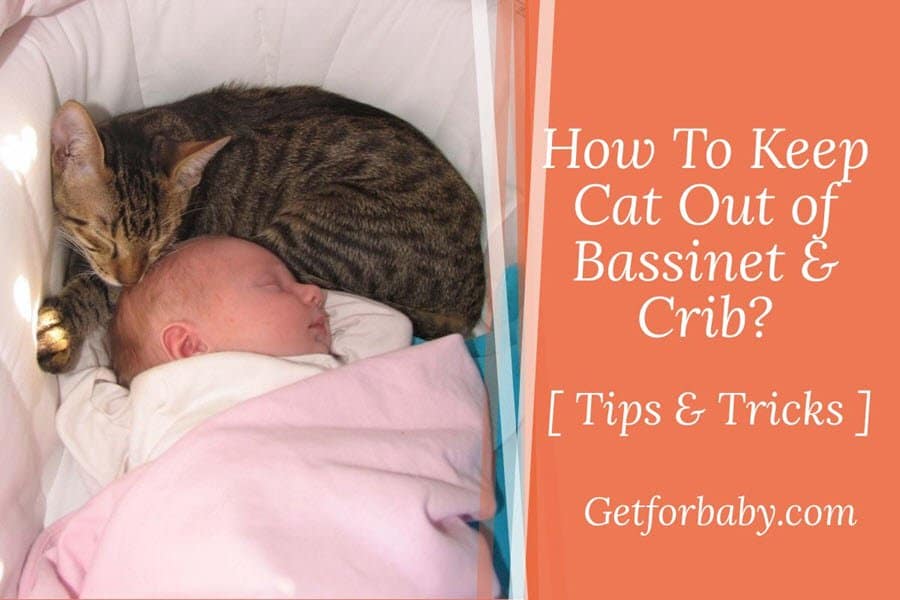 Also, bassinets are quite compact, sleek, and just large enough to hold the baby's weight up to 15-20 lbs. So, any additional weight of a pet present in the Bassinet increases the risk of the Bassinet collapsing under pressure.
Another risk is the Cat jumping onto the baby. If your cat tries to climb or jump onto the Bassinet, it may end up toppling it over, endangering your baby's life.
So, it's essential to keep the Cat out of the Bassinet, crib, and away from your baby's room for safety purposes.
So keep reading this guide; I'll share the tips and tricks that I used to keep my Cat out of my baby's crib and Bassinet.
How to Keep Cat Out of Bassinet & Crib?
The best way to keep your Cat out of a crib or a bassinet is to use a cat deterrent, Cat covers for cribs or bassinets, or by providing separate cat furniture for the Cat to sleep in. These are the top 3 methods that you can use to keep the Cat out of a crib or a bassinet or even from the baby's room.
Along with it, I will also explain some other tactics that will help you achieve your goal. So let's deep dive into it.
1.) Cat Deterrent Next to the Crib:
Cat deterrent is one of the easiest and hassle-free methods to keep the Cat out of a crib or a bassinet and help you stop the Cat from entering the baby's room.
It's the best solution if your baby's room doesn't have a door that can be closed.
However, it is a really affordable & significant investment, especially when you have more than one cat or dog around. Keeping all of them out is a challenge.
Let me explain how this cat repellent works.
Well, the MAGIC CAT Rodent Repellent is not like another pet repellent that flashes a light to sting pets or produce sound to scare them. It works silently.
This cat repellent detects the presence of cats and emits a silent electronic alarm that will not hurt your pet but drive them out of the way.
So your baby's sleep is not disturbed, and you can still keep your Cat away.
This ultrasonic repellent is small and can be placed easily near your child's crib to provide extra protection.
The downside of this Magic cat rodent is that you have to connect it with a power source to use it. But what if you don't have a power supply near the baby's crib or are traveling to your grandmother's home?
If that the case, then you can try the PetSafe, a small battery-operated cat deterrent that you can place anywhere you want.
Well, in my opinion, the best place to place it is near the baby's room door to keep the Cat out of the room.
2.) Train Your Pet to Don't Sit in the Bassinet:-
If you don't want to keep the Cat out of the baby's room, training your pet is another great way to stop a cat from entering the Bassinet. But you have to do this 1 – 2 weeks before the baby arrives home.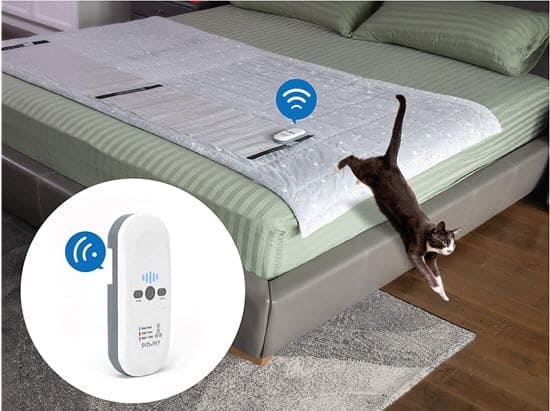 To train your cat to stay away from the Bassinet or even in the crib, you need a Pet Training Mat.
Just place this training mat in the crib and let the Cat enter the crib.
Once the Cat enters and puts pressure on the mat, it produces a harmless static pulse or a high-frequency beep to repel the Cat.
You can choose any model you want; beep mode or static pulse mode, or even both.
In this way, you can teach the Cat that this is not a safe place for you to sleep.
You can place this mat where you want to stop the Cat from sleeping in, for example, sofa, chair, kitchen, etc. You can even put the mat in between the door to prevent Cat from crossing the door.
This also helps you teach the cat not to jump on the table or on the dining table. Just place it a few days over the table, and your Cat will understand this is not the place for her.
But if you don't want to use this training mat, then you can cover your crib with foil paper; as your cat jumps on it, the sound will keep them at bay.
Try the same trick a few times, and your Cat will remember that this is not the safe place for him to sleep.
3.) Add Cat Furniture to Baby's Room:-
Cats like their personal space, so instead of kicking your Cat out of your baby's room, why not add new furniture in the room specifically for your Cat.
Cats like to laze about, and nothing is more inviting than a cozy bed.
This is the reason why cats love to sleep with a newborn baby because nothing is softer & cozier than a baby's skin.
Having their own bed will also keep them from attempting to get in your baby's bed.
This way, your Cat will share the room with the baby and remain at a safe distance as well.
Having its very own furniture will let the Cat know precisely where it can and cannot go.
There are also quite a few furniture items that can be added to keep your Cat occupied and happy.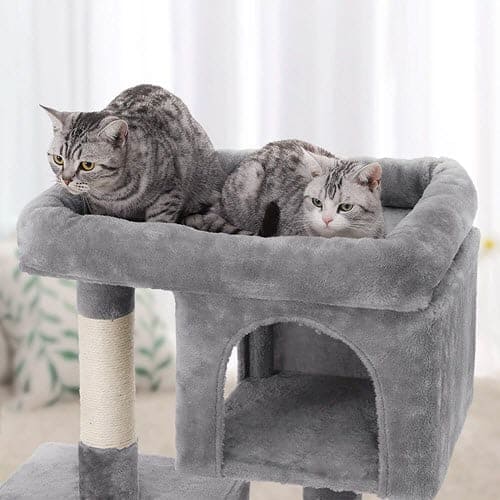 Not just cats like a cozy place; your infant also loves to sleep on the comfy surface for a good sleep. So, here is a guide for you infants: How to make crib and Bassinet more comfortable?
4.) Bassinet With Cover for Cats:-
Some cat-proof bassinets come with a top section that can be covered with mesh or lace, which won't hinder the baby's breathing but will keep pets like cats and dogs away from your baby.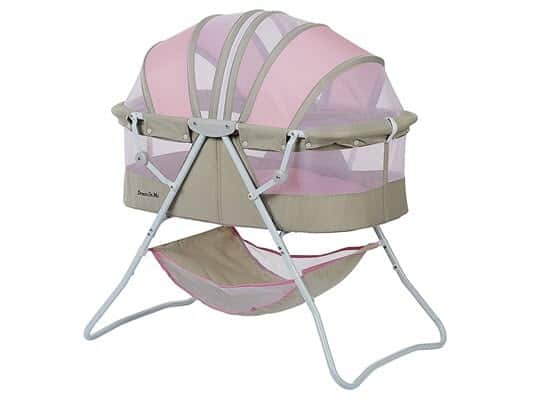 The DreamOnMe Karley Bassinet is a good option for looking for a bassinet with a cover for cats.
The canopy of the DreamOnMe Bassinet is flexible and soft.
It can be easily adjusted to either be pulled back entirely on both sides, be pulled up halfway from one side to cover the baby's face side or be pulled up from both sides to close off the top completely.
Here is a list of the top-rated bassinets with covers for cats:
| | | |
| --- | --- | --- |
| Product Name | Rating | Price |
| Bedside Sleeper Bedside Cat proof bassinet | 5 | Price |
| Dream On Me Lacy Portable 2-in-1 Bassinet | 4.8 | Price |
| Besrey Baby Bassinet With Cover for Cats | 4.5 | Price |
| Fisher-Price On-the-Go Dome With Cat Cover | 4.2 | Price |
Alternatively, you can explore our list of bassinets with a canopy to find more suitable options according to your needs.
But for those who already bought a bassinet can buy a different mosquito net for the crib and a Bassinet to cover the top.
5.) Cat Covers for Cribs and Bassinet:-
Cat covers for the crib are also a suitable and affordable option for parents. It not just let the Cat keep out of the crib but also doesn't let the mosquitos and another bug inside the crib.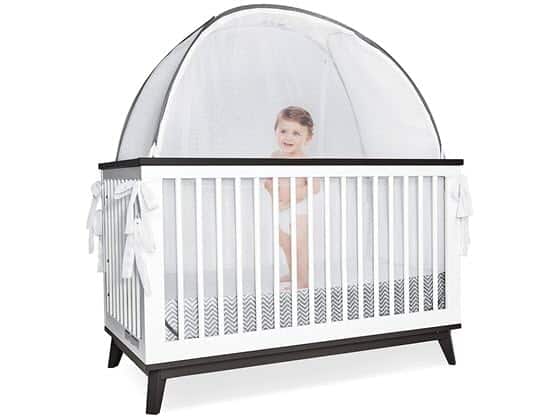 Some of the crib tents are designed in a way that even covers the side of the crib so that the baby's hands & feet don't get trapped in it.
And the best thing about cat covers is that they can also be placed on top of pack n plays to keep cats out.
The fabric used to craft this cat net is a mesh that lets the fresh air in and lowers the temperature inside the crib for safe sleeping.
Here is a list of the Cat covers for cribs & bassinets are;
| | |
| --- | --- |
| Product | Latest Price |
| Pro Baby Safety Grey Crib Canopy Cat Net Cover | Price |
| L RUNNZER Crib Pop Up Crib Tent Mesh Cover | Price |
| Baby Bed Portable Folding Bassinet Net Cover | Price |
| Beberoad Universal bassinet Net Cover for Cat | Price |
6.) Use a Baby Monitor to Keep Watch:-
Using a baby monitor is a great way to keep an eye on your baby, whether they are sleeping soundly or are fully awake and playing by themselves.
It doesn't matter if I'm in the kitchen, home office, or even just the room next to my child's room; I can monitor my little angel remotely.
My baby monitor shows me what my baby is doing and whether they are alone or not.
Cats, especially mine, are usually very quiet and sneak about the house quickly without being detected.
However, you can see if your Cat is in the baby's nursery by using a baby monitor.
If it is, you can determine if it's a reasonable distance away from the baby.
Suppose you witness a disturbance through the monitor and need to intervene. In that case, you'll be able to rush into the baby's room quickly.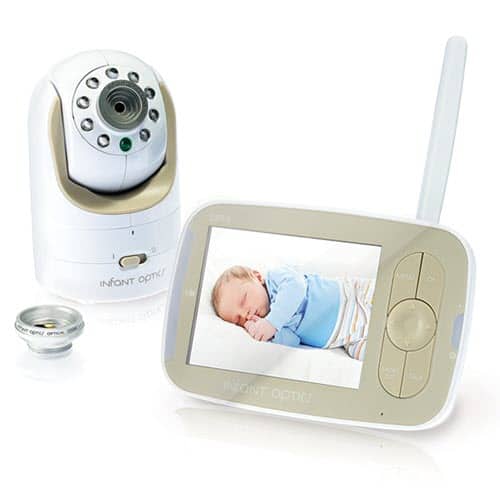 The Infant Optics Baby monitor is a good option. It has a changeable lens on the camera which means you can adjust the view according to your requirements.
The screen is also portable and can be placed on a table or be handheld easily.
7.) Keep Your Cat Active during the Day:-
Cats can be moody and difficult to handle. Unlike dogs, cats may not always listen to you. So when you try to teach them to stay out of the baby's room, things may not work out as planned.
Cats are curious by nature, and they may end up doing quite the opposite. You think of your Cat as a member of your family.
So you may find it hard to force it to stay away or lock it up.
One way to keep your Cat out of the way is by keeping it busy throughout the day.
Giving your Cat a new Toy to play with in another room will keep it busy and prevent it from getting too curious about your newborn.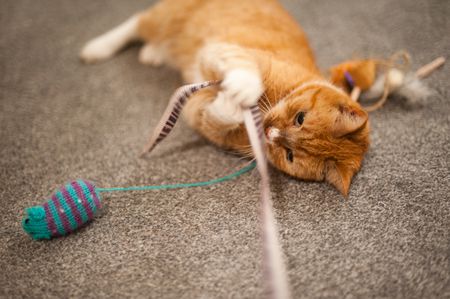 A few simple steps and a little bit of precaution can achieve the perfect balance between your baby and your Cat.
Winding Up:-
While it's essential to make sure your Cat does not get in your baby's Bassinet, you don't have to get rid of your Cat entirely.
Cats can be challenging to handle and may not always listen to you, but this means that cats and babies cannot co-exist.
Follow the safety measures mentioned above. You can keep your Cat out of your baby's crib at a safe distance, which is ideal if you wish to enjoy life with your newborn and your pet.
Now, let's check some other questions that parents frequently ask.
Are Cats Dangerous for Babies?
According to the American Academy of Pediatrics, it is not safe to let the Cat in a crib or sleep with the baby because cats can accidentally sit on the baby's face and cover their face. That can lead to infants dying due to suffocation.
Cats, unlike dogs, evince a partiality for lying on the children's chests near their faces. When that is the case, there is a real danger of a fatal termination by suffocation. An inquiry was recently held at Battersea into the circumstances of the death of a 1-month-old infant.
Do Cats Suffocate Babies?
Yes, a cat can suffocate a baby and lead to fatal results. Cats love to sleep on a comfortable and soft surface, and your newborn baby's skin is cozier than your Cat's furniture. So cats may sleep on your baby's chest, face and increase the risk of suffocation.
So, it's highly recommended to don't let the cat sleep with a newborn.
Why I Keep Pets Away from My Baby?
Here are some of the reasons why cats and dogs must be kept away from a newborn:
They can transfer germs by licking your baby's face.
A cat may even try to sit on your baby while asleep in their crib, which might restrict their breathing.
Pets, especially cats, may be unpredictable and may scratch or turn violent.
Cats may carry allergens and germs that may not affect adults. Still, they may prove problematic or even fatal for babies.
When Can My Cat Sleep with My Baby?
There is no fixed age recommended by pediatricians to let you know when a cat can sleep with infants. Generally, it's not safe to let a pet sleep with a newborn, especially a cat. But you can let the baby enjoy the company of the Cat under the parent's supervision.
I hope you liked our guide: "How to keep the Cat out of the Crib and Bassinet?" Hopefully, it will help you.
Now, it's your turn; let me know which step you took to keep the Cat out of your crib. Let's help other parents to make their decision quickly. Put your valuable feedback in the comment section.
And don't forget to share the article because sharing is caring.