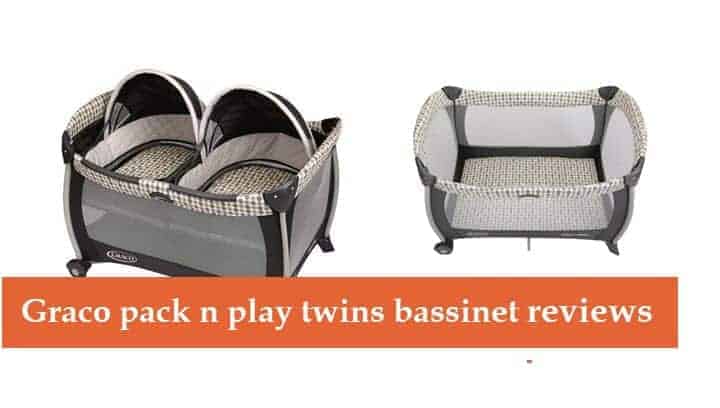 Graco Pack n Play Twins Bassinet Reviews
The Graco Pack n Play Twins Bassinet is among dual feature bassinets in the market. It is wonderfully designed for twins to provide a comfortable sleeping area and also helps the parent easily carry out their daily tasks. The bassinet's side is covered with soft cotton that makes it an extra cozy place for a peaceful sleep. Both of the bassinets are fully removable so you can convert your bassinet into Playard to let the baby play inside it safely. This twin bassinet comes with two handy sheets and mattress pads and a fitted carrying bag to give parents hassle-free storage and travel experience. A lot more features to know, So keep reading our Graco Pack n Play Twins Bassinet Reviews.
Safety

92%

92%

Comfort

95%

95%

Easy of Use

96%

96%

Price and Longevity

90%

90%
Easy to fold & carry for travel
Space-saving, compact design for airflow
can be converted into a Playard
Lightweight and has wheels to move
Easy to lift your twins out and in
Bassinet sheet little difficult to remove and place
It takes little time to set up but easy to fold
Product Name
Graco Pack n Play Twin Bassinet
Brand
Graco
UPC
832631009714
Duration
Up to 6 month
Item Weight
29 Pounds
Weight Limit
For Bassinet is 15 Pound
Playard Weight Limit
No Weight Limit
Dimension
46 x 35 x 34 inches
Rating
⭐⭐⭐⭐ ☆ 

 

4.5

 /5

Availability
In Stock
Price
$189.99
Latest Price
Do I Need Graco Double Pack N Play Twin Bassinet?
Graco is a well-known brand and has been designing beautiful bassinets for a long time in the market. This bassinet also gets #3 on our list of the best bassinet for twins too.
The Graco twin pack n Play is a thoughtfully designed twin bassinet that was crafted while keeping your needs in mind. And believe me, it'll look like the perfect piece of furniture in your nursery.
It comes with two different shades, "Vance" and "Mason ". (Just $10 difference in price). If you ask me which one looks more beautiful than I recommend to go with Mason.
The feature, you'll really love about Graco is the wheel, which you are going to use daily to move the bassinet around when you clean the room.
It is not like other large and bulky bassinets that you can't fold after assembling them. It is an easy to fold bassinet, and if it is not in use, you can pack it in the bag that comes with it and place it where ever you want.
That makes Graco twin bassinet is a space-saving bassinet.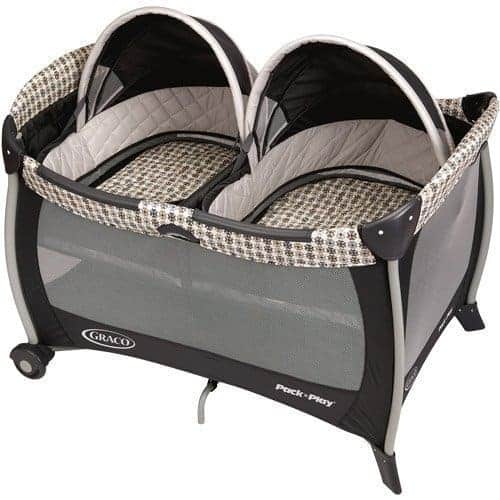 It allows you to have your twins close to your bed (Good for bedside co-sleeping ) and helps you form a strong bond with them. Check the benefit of co-sleeping
If you purely want to enjoy the co-sleeping with twins, then I recommend to go with Halo Bassinest Twin Sleeper.
Also, this bassinet has enough height, which means you don't have to leave your bed to pick your baby, which is an outstanding feature for a recovering mother!
After exploring all of its features and reading our Graco Pack n Play Twins Bassinet reviews, I'm sure you'll agree with me that the Graco Twin Bassinet is an excellent investment for your babies.
If you have been searching for the best value product, click below link to make a purchase from our verified suppliers for an unbeatable rate!
Graco pack n play Twins Bassinet Reviews & Features
This Graco Pack n Play Twins Bassinet is a good looking piece of furniture. It not only provides unsurpassed comfort to your twins but also lets you enjoy the uplevel style and unparalleled convenience.
So, Let's take a deep insight into Graco Pack n Play Twins Bassinet Reviews.
1.) Clever Design With Future Planning:
The uniquely crafted twin bassinet has a curved and sleek frame which gives it a contemporary and modern look. Its aluminium frame is really high-end and ensures a durable frame while minimizing the weight of the bassinet.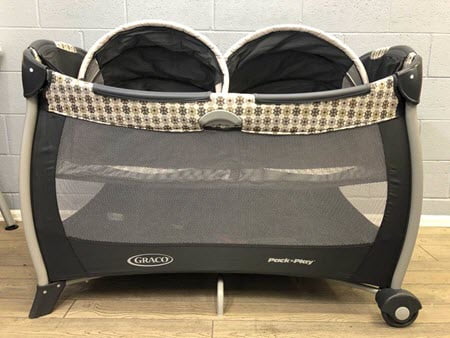 Also, the plastic detailing is both practical and adds an aesthetic appeal to the bassinet by contrasting the silver of the aluminium with black accents.
The rest of the bassinet matches the theme, the mesh, the canopy, the padding, and the mattresses inside are all black, white or grey.
The whole bassinet looks very chic and sophisticated and is suited regardless of whether your twins are either boys, girls, or one of each.
It also makes the perfect gift to loved ones expecting twins as it looks incredible and is very useful.
Another feature that saves my money is its Playard. The pack n play can be used as a spacious Playard after for twins outgrow the bassinet.
What is more, you can keep an eye on the little ones from afar as the mesh fabric means the inside of the Playard is completely visible.
The Graco twin pack n play side wall is made up of mesh, which makes it fully ventilated to increase the airflow in the Playard for baby's comfort
And babies do not feel trapped as is the case with a rigid material.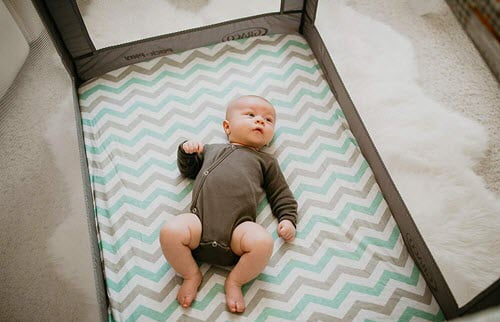 Most pediatricians recommend mesh not only for the comfort it provides but most importantly, for its ability to let in the fresh air. This thing prevents suffocation or asphyxiation, which is one of the leading causes of death among perfectly healthy infants.
2.) Detachable Twin Bassinets:
It's a big responsibility for parents to ensure that their twins get enough rest at home. This Graco twin pack n Play will fit your needs because it comes with two cozy bassinets ideal for twins.
The feature you are going to love is its detachable function. Both the bassinet can be entirely removed and can be converted into Playard.
But the negative side of the bassinet is, After removing the bassinet from Pack n Play, you can't use the bassinet as a stand-alone bassinet.
Parents expecting twins can have a hard time getting a bassinet as most come for individual babies. And getting two separate ones is not the most practical idea.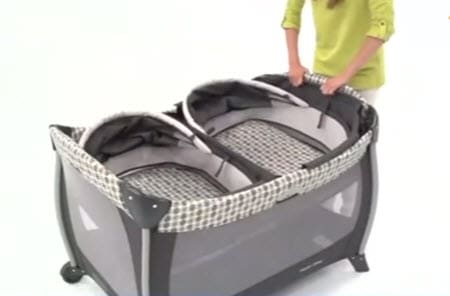 Both in terms of the space they would occupy and the expense of buying two of them.
But, there is a solution for that too, You can buy Baby Tend bassinet which has a stand-alone bassinet come with inbuilt Soothing kit for each bassinet. Check our full Baby Trend Twin Nursery Center Reviews, Written by a mom like you.
The Graco twin bassinet has twin beds that provide comfortable, personalized spaces for both of your little ones. Each baby is safe in its own bed.
No need to worry about one of them rolling on top of the other or any such accident is taking place.
3.) Squeeze Latch Ideal for Handy Fold:
The innovative and easy-to-use squeeze latch is another essential feature of this thoughtfully crafted bassinet. It's ideal for an easy and quick fold.
As a parent, you're always in a hurry. Using the squeeze latch will allow you to fold up the Playard in just a few seconds.
Hassle-free and requiring zero tools, the latch mechanism is truly handy.
And explicitly designed for parents who do not have a lot of time at their disposal, nor the energy to deal with difficult assembling or disassembling.
Note: If Playard gets sandy, carefully remove sand from all surfaces before packing into bag as sand can damage top rail lock.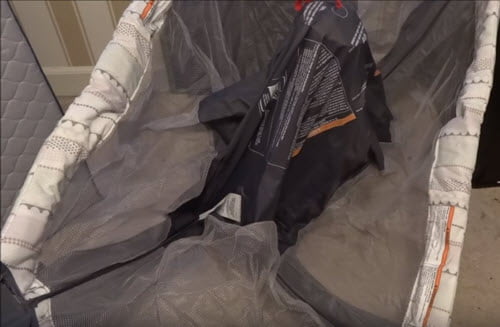 Simply squeezing the latch means your bassinet is compactly packed and ready to be placed in the boot of the car.
It is lightweight and compact, which makes it portable and travel friendly as well. Your babies can enjoy the comfort of their usual bed anywhere, anytime.
4.) Soft & Cozy Environment
Well, we all want to make our babies comfy and cozy. I'm pleased to say that the Graco twin bassinets are fitted with a quilted mattress pad.
The fabric is soft, and the side and the mattress have just the right amount of padding that maximizes the comfort of the bassinet, not over warming it.
My twins sleep soundly every time they are in their bassinet.
If I ever have to put them to sleep in something other than the Graco Twins Bassinet, the results are not the same.
I especially like the mesh sides, which are strong enough to ensure safety but are also flexible so that even if the babies move about, they are not hampered.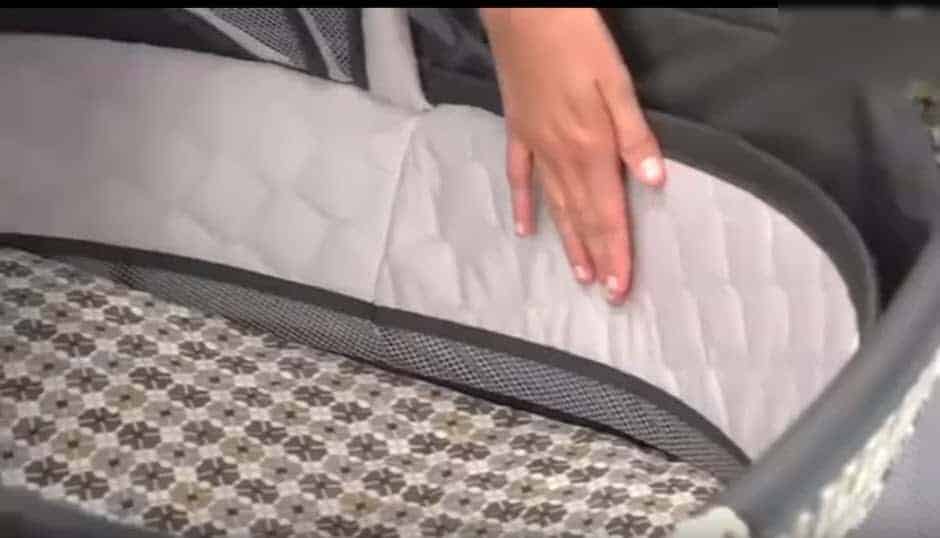 Even the playpen portion of the pack n play is pretty soft and needs no extra padding, which is excellent as doctors strictly advise against the practice of adding extra pillows or mattresses.
My babies enjoy being in their bassinets, and I appreciate the fact that they are resting and sleeping soundly.
5.) Built-in Wheels for Easy Transport
The handy wheels are another convenient feature on the Graco Twin bassinet.
The wheels are also high-quality and once wheeled to the place where you want the bassinet; they can be locked in place to ensure that the bassinet does not budge.
It's sometimes difficult to be a parent to twins. It takes me twice as long to do things.
And if looking after the twins weren't enough, I have to do chores around the house as well. This is where the portability factor really comes in handy.
In the morning, I simply wheel out the twin's bassinet from their nursery to the living room, and I can keep an eye on them while I go about my daily tasks in the kitchen.
The bassinet, despite its size, is surprisingly lightweight and can be easily wheeled anywhere.
6.) Light Shield & Carry Along
The canopies on this twin sleeper bassinet are very effective in protecting my babies from bright lights. This feature ensures that my twins can relax and enjoy their bassinet without unwanted stress.
Also, no need to turn down the light around the house, simply pull up the canopies and let your kid rest.
Once they are done, the canopy can be pulled back down.
The carry-on bag it comes with is an added advantage, simply fold away the bassinet and place it in the carry-on bag, ready to be transported.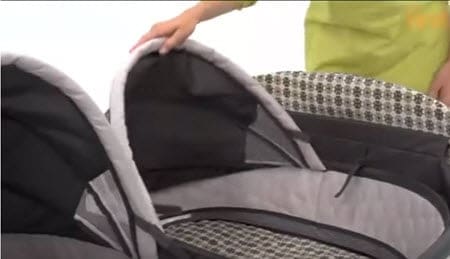 This means that your precious little ones are never far from their comfortable bed they are so accustomed too.
I hope that you found our Graco Pack n Play Twins Bassinet Reviews as an informative and useful article that helps you to make a valuable decision in the future.
Few Important Things To Know
It is always a good thing to explore the vital information about the bassinet because this thing is going to affect your baby's next six months or even more.
1.) Graco Twin Pack n play Weight limit :
The weight limit of the Graco twin pack n play bassinet is 15lbs, and its changing station is up to 30lbs. But there is no weight limit set for the Graco pack n play Playard because its surface touches the ground. So, feel free to use it as long as you want.
But keep in mind if your baby is 35″ tall then stop using the bassinet (Recommended by manufacturer)
Also, the bassinet weight limit is the primary factor that defines how long you can use the bassinet.
If you don't have an idea of how long you can use it, then read it here. At What Age Should a Baby Stop Sleeping In a Bassinet?
2.) Graco Pack and Play Twin Bassinet Sheet
The Graco pack n play Playard with twin bassinets do not come with an extra sheet. So it's good to buy a separate sheet for baby because soon you are going to deal with two babies.
Your bassinet should be neat and clean to protect your baby from virus, allergy, and so many fatal diseases caused by poor hygiene.
People do a lot of things to make bassinet more comfortable but keeping the bassinet is also important.
As from my own experience, I recommend buying two Graco Twin Pack n play Sheets as spare to use.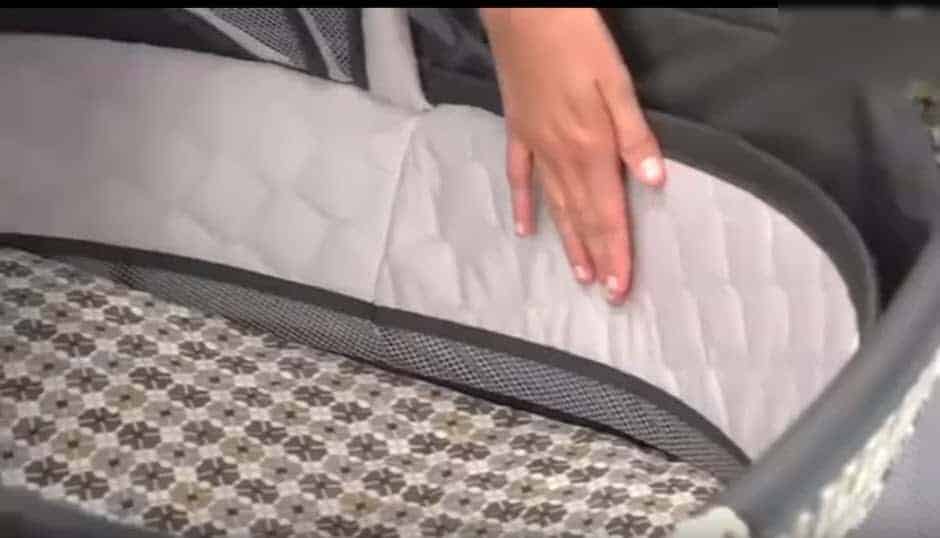 When you clean one, you should have another one to replace it with and one in the backup because you are dealing with twins.
3.) Graco Twin Pack n play mattress
The Graco Twin Pack n play mattress is waterproof and made of high-quality fabric, but it's always good to buy fitted sheet for the mattress to protect it from external wear and tear.
You are going to use this Playard for a long time even after the baby outgrows from the bassinet. So, Buying an extra mattress is a good option.
Note: Both the sheet and mattress can be washed with household soap and warm water/drip dry but don't do bleach.
If you don't have an idea how to clean it, then read this Ultime Guide: How to clean the bassinet Properly?.
It will help you understand the necessary step that you should have to take to clean the bassinet.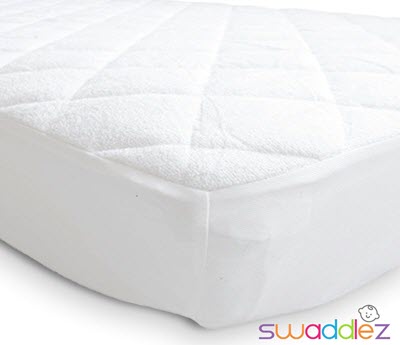 Hopefully, our Graco Pack n Play Twin Bassinet Reviews answers all your queries. Let me know if you still have any questions, any suggestion for this article, we love to hear from you.
Graco Twin is one of the best twin bassinets in the market. It's stunning features make this twin bassinet the ideal spot for your twins to rest and sleep thanks to its cozy and quilted twin bassinets.
This uniquely crafted twin bassinet helps you get your work done quickly as it acts as an additional set of hands.
It is safe, comfortable, and Dual-functional, basically, everything you want in a suitable bassinet.
Overall, I genuinely think the Pack 'n Play is helpful for parents because you can convert it into a spacious playard.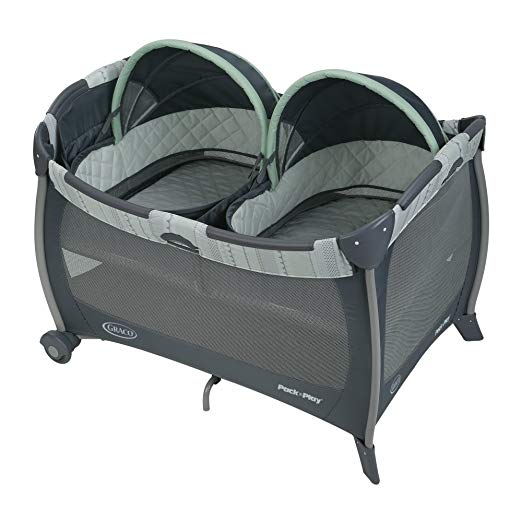 Obviously, this is an important feature when your twins outgrow their bassinets.
If you want a twin bassinet with a lightweight and innovative design, click the link below to buy from our verified seller.