There is a lot of a different kind of pack n play bassinets available in today's market, but the question to ask is if a pack n play bassinet is safe for sleeping?
That was the first question that I asked myself when I was planning to buy pack n play bassinet.
There are lots of other questions too that come to mind when looking to buy a pack n play.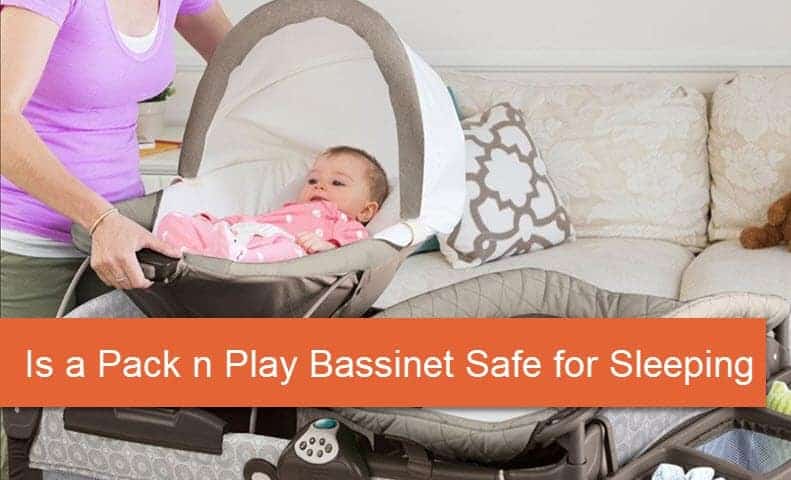 Such questions like, is the big-size sleeping area safe for my baby, what about the air circulation and temperature in it, can my baby easily breathe in it? Etc.
All these questions are very important to ask yourself before going on because every year, a lot of infants die due to Suffocation and SIDS (SIDS by APP pdf).
We've already talked a lot about the bassinet, like do I really need a bassinet,  and Can pack and play be Used as a Bassinet, but now it's time to talk about Is a pack n play bassinet safe for sleeping or not?
First, let's dive into the pros and cons of the pack n play bassinets.
Is a Pack n Play Bassinet Safe for Sleeping
According to the pediatric, Newborn babies should sleep in a separate flat surface like in a bassinet, crib, pack n play but in the same room to reduce the risk of SIDS in an infant.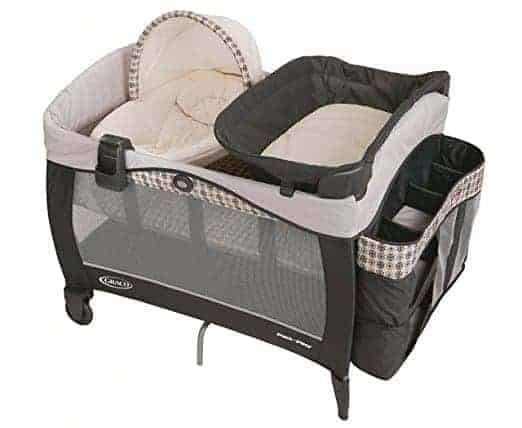 So, there is nothing bad or wrong about pack n play. A lot of people have been using this for over a decade.
However, there is a difference between pack n play and pack n play bassinet that you should know.
Technically, these are two different questions: "Is a Pack n Play Bassinet Safe for Sleeping" and "Is a Pack n Play Safe for Sleeping."
Is a Pack n Play Bassinet Safe for Sleeping? Yes, pack Pack n Play Bassinet is totally safe for Sleeping. It acts like a regular bassinet, has a flat surface, and all the other necessary feature that babies need in them for healthy and sound sleep.
Is a Pack n Play Safe for Sleeping? Yes, but Up to some extent. From the name of pack n play, you can tell that it means a pack environment for baby to play, not to sleep. You can read the safety stander guideline here.
Now, maybe you are thinking about to use pack n play as a bassinet, Well, Before doing it, I recommend to read Can pack n play used as a bassinet?
Aside from that, the pack n play-acts as a wall, so that the baby won't go out of it, but it is made up of a Mesh fabric for good air circulation but not good as much as a bassinet.
If we think in term of cost, then bassinet is much cheaper then pack n play, you can purchase a bassinet even for just $50, whereas pack n play bassinet cost you more than $100.
Also, a bassinet comes with a vibrating device that helps babies sleep faster, but pack n play does not support this feature.
Only a few pack n play have this vibrating feature, but again the vibrating device of the pack n play is attached with the bassinet, not with the pack n play.
Pack n play on has the feature of napper changer and offers much larger storage when compared to the bassinet, but due to its large size, they occupy large space in the room.
Parents who are living in a small apartment will face a problem when trying to manage pack n play, so there is some special design of bassinet available for small space, which may be the best option if you are living in a small space.
What Do We Recommend?
If you ask me, then I recommend that you go with bassinet over pack n play, but it totally depends upon your pocket size and your need.
But why then am I adding more weight to bassinet?
Well, there is a reason: if you have your baby earlier then the expected date, then most doctors will recommend to use preemies bassinet, not pack n play because bassinet is much better then pack n play to take care of preemies.
There are no doubts, pack n play offers a lot of features and much better look than a bassinet, but in term of safety and good health development bassinet play an important role.
In the end, the choice is yours. You can check our best bassinet for a newborn baby and best pack n play for newborn baby
Now, let me know what you think "Is a pack n play bassinet safe for sleeping or not," What will you buy and why?
And don't forget to share the article, because sharing is caring.