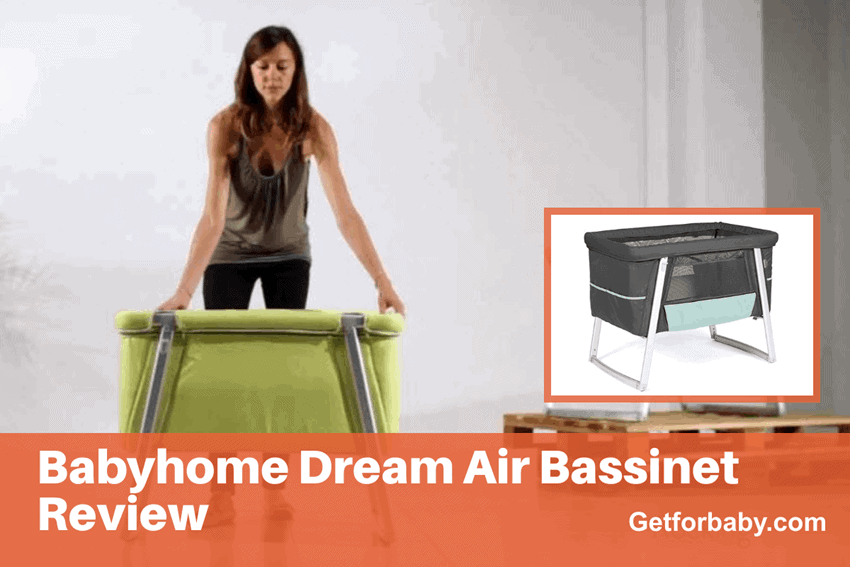 Babyhome Dream Air Bassinet Review
The Babyhome Dream Air Bassinet is one of the lightest, most convenient, and most stylish bassinets on the market. It's just over 13.2lbs and has a wheel that makes it easy to move from room to room. Its folding feature makes it travel-friendly and ideal for parents who are always on the go. It also comes with a travel bag and side pockets to keep the baby's essentials near the bassinet. This bassinet is easily convertible into a diaper changing station simply by attaching the changing pad over the bassinet So, no need to buy a separate one. Babyhome bassinets are made of high-quality materials and fabric, which allows them to be robust and stable to keep your baby safe and secure. There are still many things to learn, so keep reading Babyhome Dream Air Bassinet Review.
Safety

95%

95%

Comfort

96%

96%

Easy of Use

92%

92%

Price and Longevity

60%

60%
Innovative design for ventilation
Lightweight & Easy to fold system
Travel-friendly.
Side Mesh windows
Adjustable leg positions
Rocking bassinet.
Easily attachable changing pad & side pockets
Soft and durable fabric
Easy to Clean
Doesn't have a net covering over the top
Take time to assemble
Table Of Content
Product Specifications
Official Video Tour
Babyhome Dream Air Bassinet Reviews & Features
Cleaver Design With Safety First:
Material & Doubles Up As a Changer:
Especially Made Mesh Sides:
Adjustable Frame For Moving & Rocking:
Easy to Fold, Assemble, and Travel Friendly
Easy to care Dream Cot
BabyHome Air Bassinet Sheets and Mattress:
The Bottom Line
| | |
| --- | --- |
| Product Name | Babyhome Dream Air Bassinet |
| Brand | Babyhome |
| UPC | B00NX5JH5S |
| Age limit | Up to 6 month |
| Item Weight | 13.2 Pounds |
| Weight Limit | 50 Pounds |
| Dimension | 32 x 21 x 28 Inches |
| Mattress Size | 31 x 20 x 2 Inches |
| Sheet Size | 31 x 18 Inches |
| Batteries Required | No |
| Availability | In Stock |
| Rating | ⭐⭐⭐⭐ ☆ 4.5 / 5 |
| Price | $149.99 |
| Buying Options | |
| Registry Options | |
Babyhome Dream Air Bassinet Reviews & Features
I've been pretty amazed at how functional and useful this bassinet is. Yep, it set us back a teensy bit, but that's been more than made up by its features.
Don't just take my word for it. A quick look at the Babyhome Dream Air Bassinet reviews written by customers (mom like you) who bought (as well as my own experience with it) and used the bassinet is further evidence of the top-notch quality you get.
So, Let's take a deep insight into BabyHome Air Bassinet Review.
1. Cleaver Design With Safety First:
Babyhome dream air bassinet sand amazed you with its "Push-Button" feature. You can easily choose between three settings for its adjustable legs. That can convert the bassinet from "Stationary" to "Rocking" to "Wheeled."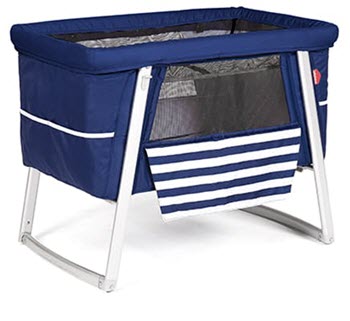 The dimension of this bassinet is 32.8L x 21.11W x 28.11H inches. Like me, you will love the babyhome dream cot because it is spacious to provide a comfortable sleep to your baby.
You will love the bassinet's roominess and high-density foam padding, giving your baby a snug and comfortable sleeping space for up to the age of 6 months.
But from my experience, you can use it for up to 8 – 9 months because it is large enough to take care of your baby for a few more months.
There is no hard and fast rule; you should have to use the bassinet for up to 6 months only.
It's just a manufacturer's recommendation for baby safety. You can use it even more or less depending upon your current situation. But try to avoid it once your newborn rolls to the side in a bassinet.
Although the manufacturers set a 50 lbs weight limit for this product, I have used it until my baby has weighed 40 lbs, and after that, she has started rolling, so I have to quit this amazing cot.
2. Material & Doubles Up As a Changer:
Are you looking for a bassinet that fulfills all your newborn baby's needs? Then the Babyhome Air Bassinet is a fantastic choice.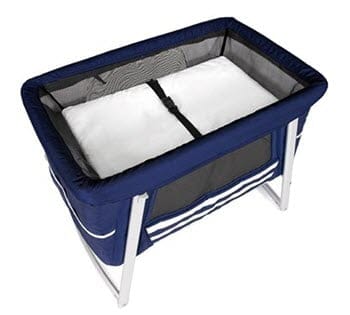 It is made up of aluminum which gives its durability and makes it a safe bassinet to hold the heavier baby.
Also, its lightweight frame makes it helpful when I have to move it.
Apart from that, the mattress is airtight, which will prevent your baby from getting caught between the edge of the mattress and the side of the bassinet.
It reduces the risk of SIDS, which can be deadly for your little one.
It was quite tricky for me to make my newborn familiar with the bassinet. So, I tried everything to make her comfortable in the bassinet.
Its soft and durable fabric on all sides makes it a cozy and perfect spot for your baby.
I've been using Dream Air Bassinet for a couple of months, and it keeps my baby warm and cozy all day. She sleeps for hours without waking up and is not cranky at all.
This way, I can tell she is fully comfortable in the bassinet
Moreover, the Babyhome Dream Air Bassinet can be converted into a diaper changing station that attaches to the bassinet with a zipper to allow parents to easily dress and undress their baby clothes, another great feature.
After using the changing pad, you can remove the changing station with just one hand.
I like that I didn't need to spend money on a separate changing table.
It saved my money and space. Plus, it made the whole diaper changing process—like, getting my baby's clothes on and off—a lot easier and more efficient.
You can genuinely call it a 2-in-1 bassinet.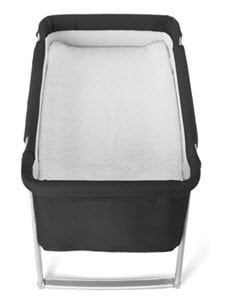 While shopping for baby furniture, I was stunned at how expensive normal changing tables are.
Plus, they are large and bulky. This bassinet, however, takes care of that.
Moreover, it has easy-to-reach side pockets that make it super convenient for me to store my baby's essential items. This feature helped me when I was alone because my baby started crying whenever I got out of her sight to pick up her belongings.
It is a great bassinet with storage and I love being able to carry all her necessities in one place.
3. Especially Made Mesh Sides:
One innovative feature you would really like in the Dream Air is its "Mesh Sides." Just unzip the bassinet's outer fabric to reveal the mesh sides.
The mesh windows located on either side of the bassinet are very practical.
They allow me to make sure the bassinet is well ventilated. And the great thing is that it allows you to always stay in visual contact with your baby.
So you can keep an eye on them from a distance, whether they are sleeping or playing on the bassinet.
I always unzip the side mesh so my baby feels secure because, with zipped sidewalls, she feels irritated if she can't see me.
A newborn refuses to sleep in a bassinet with no mesh due to breathability and visibility issues.
The bassinet's sidewall also has some height to ensure that the baby can't pull himself/herself out. It allows you to get some work done without worrying about your baby while they are in the bassinet.
A small innovative feature that is liked by the majority of the moms is "Magnetic Closure."
In most bassinets, this feature comes with Velcro closures which are irritating and loud and can disturb the baby's sleep.
But the magnetic closures allow you to peek without disturbing your baby's sleep.
4. Adjustable Frame For Moving & Rocking:
Along with its amazing comfort and ventilation feature, the DreamAir bassinet comes with an adjustable leg that can be adjusted to be "Stationary" to "Rock" and to be "Wheeled," as I mentioned at the beginning of the article.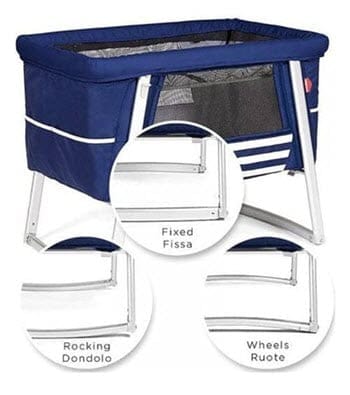 So, if you want to soothe your baby in the bassinet, you can switch the leg from stationary to rocking mode.
So, to use it as a Self Rocking Bassinet.
And if you may want to move the bassinet into another room, well, again, you can easily adjust the legs to make them wheeled and then push the bassinet from room to room.
I like to roll the bassinet right up to the bed at night. Just like a bedside bassinet.
Then I adjust the legs to stationary and go to sleep. Knowing my baby is safe right next to me.
5. Easy to Fold, Assemble, and Travel Friendly
This is easy to fold bassinet and a travel-friendly bassinet. As I already mentioned, you can stabilize the cot and change its legs position to make it rock like a cradle to offer a sweet, quiet, and calm sleeping environment.
Moreover, its wheel helps you to move it from room to room. The Dream cot legs are simply detachable, allowing the cot frame to compact flat.
When you buy this product, it comes with a travel bag with strips. You will not find any hurdle like me to fit it into the provided travel bag.
So, to move it from room to room or take it on the go, you will be easy with this lightweight cot.
When it comes to assembling this dream air cot, you will find no issue.
When I first used it, it took time because I also had to read the instructions manual, but every next time, it takes 2-3 minutes to assemble fully.
6. Easy to care Dream Cot
The washable 100 percent nylon fabric is readily removed from the frame and is easy to wash. You can clean the frame with a damp cloth, but don't use bleach or hot water; both can adversely affect your cot.
Don't worry if your baby has an accident. The Dream Air mattress comes with an easy-to-wash fitted sheet. You remove the sheet and throw it in the wash. It cleans up great, ready to use again and again.
Note: If you don't know how to clean it, check our ultimate guide on how to wash a bassinet? It will help you to clean the bassinet without damaging its fabrics.
7. BabyHome Air Bassinet Sheets and Mattress:
By default, the Babyhome dream bassinet comes with a 1-inch padded mattress, but having an extra sheet and mattress for a bassinet is nothing but a good idea.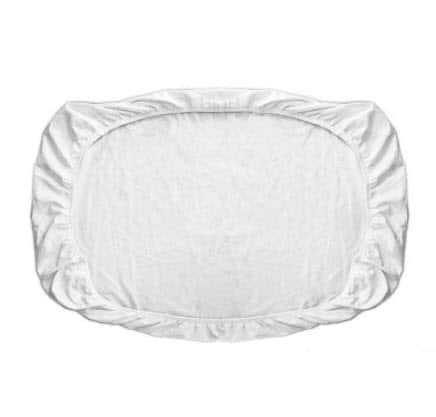 Babies are so unpredictable that you have to be extra careful with them. When I used this crib, I had to change the sheet every other day.
My mattress was safe because of the sheet. But still, I had an extra mattress ( Do I need an extra mattress and sheet ) so that it could come in handy when needed.
So, the next question is what size mattress/sheet is best, and from where can I buy it?
The mattress you need should be smaller in size from the actual dimension of the bassine so that it can easily fit into it.
You can also buy a sheet/mattress from your local store for a better selection. But if you want some online options, then there are the options.
| | | |
| --- | --- | --- |
| Product Name | Dimension | Latest Price |
| babyhome dream bassinet sheets | 31 x 18 Inches | Price |
| babyhome dream bassinet mattress | 31 x 20 x 2 inches | Price |
| babyhome dream bassinet mattress pad cover | 31 x 20 inches | Price |
I hope that you like my BabyHome bassinet review, and hopefully, it will help you make your decision in the future.
The Bottom Line
Your little angel is so precious, and, as a parent, all you want to do is give her the best.
So, when it comes to sleep, safety, and comfort, the BabyHome Dream Air bassinet takes a front seat to the competition.
It's a uniquely designed bassinet, and the fact that it can multitask as a diaper changer saves you money.
The built-in technology that converts it into a rocker provides your precious little one with constant soothing movements.
But there's still more; you can wheel the bassinet around the house and go about your daily chores while keeping a constant eye on your baby.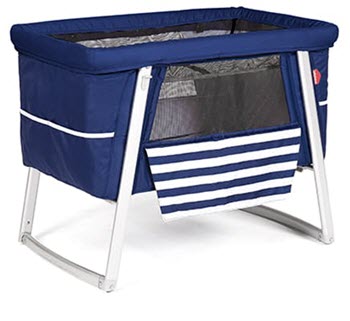 So, why are you still waiting? Purchase this bassinet by clicking on our link NOW and getting this from our tested and verified bassinet to give your baby the comfort your baby deserves.