Ingenuity Dream And Grow Bedside Bassinet Reviews
Ingenuity Dream and Grow Bassinet is the only multi-purpose bassinet you can use for up to 12 months. Its unique design not only lets you adjust the height but also helps you adjust its depth. By increasing the depth, you can convert this bedside bassinet into a crib. All 4 sides are made out of mesh that increases the breathability & lowers the temperature inside the Bassinet. To keep everything within your arm's reach, a large storage rack is installed on the side of the Ingenuity bassinet. A four-wheel locking system is also installed to move bassinet room to room. But the feature does not end here. Keep reading our Ingenuity Dream and Grow Bedside Bassinet reviews to explore its complete features.
Safety

94%

94%

Comfort

97%

97%

Easy of Use

89%

89%

Price and Longevity

85%

85%
Unique & elegant design
Adjustable height and depth
Easy to convert into a crib
4-wheel locking system
Side storage rack
Soothing kit & a soft nightlight
Needs a large area
Battery required
| | |
| --- | --- |
| Product Name | Ingenuity dream and grow bedside bassinet |
| Brand | Ingenuity |
| UPC | 10197-1 |
| Age limit | Up to 12 month |
| Item Weight | 27 Pounds |
| Weight Limit | 25 Pounds |
| Dimension | 27 x 41 x 34.42 inches |
| Mattress Size | 16″ x 31″ |
| Sheet Size | 16″ x 32″ |
| Batteries Required | Yes – 3 AA Batteries |
| Availability | In Stock |
| Rating | ⭐⭐⭐⭐ ☆     4.6 /5 |
| Price | $129.00 |
| Buying Options | |
| Registry Options | Add To Amazon Registry |
Ingenuity Dream and Grow Bedside Bassinet Reviews & Features
Ingenuity Dream and Grow Bassinet is an elegant-looking bassinet that comes with several different features & benefits. Its design provides easy access to you so you can comfort your newborn baby, but how?
Well, that's the thing that I'm going to explain in our Ingenuity Dream and Grow Bedside Bassinet review. So keep reading
1.) Unique & Elegant Design: –
The Ingenuity Dream and Grow Bassinet have a unique & flexible design. It lets you change the depth of the Bassinet so you can convert it into a crib.
To do this, you just have to press the button attached to the side and squeeze it to increase its depth.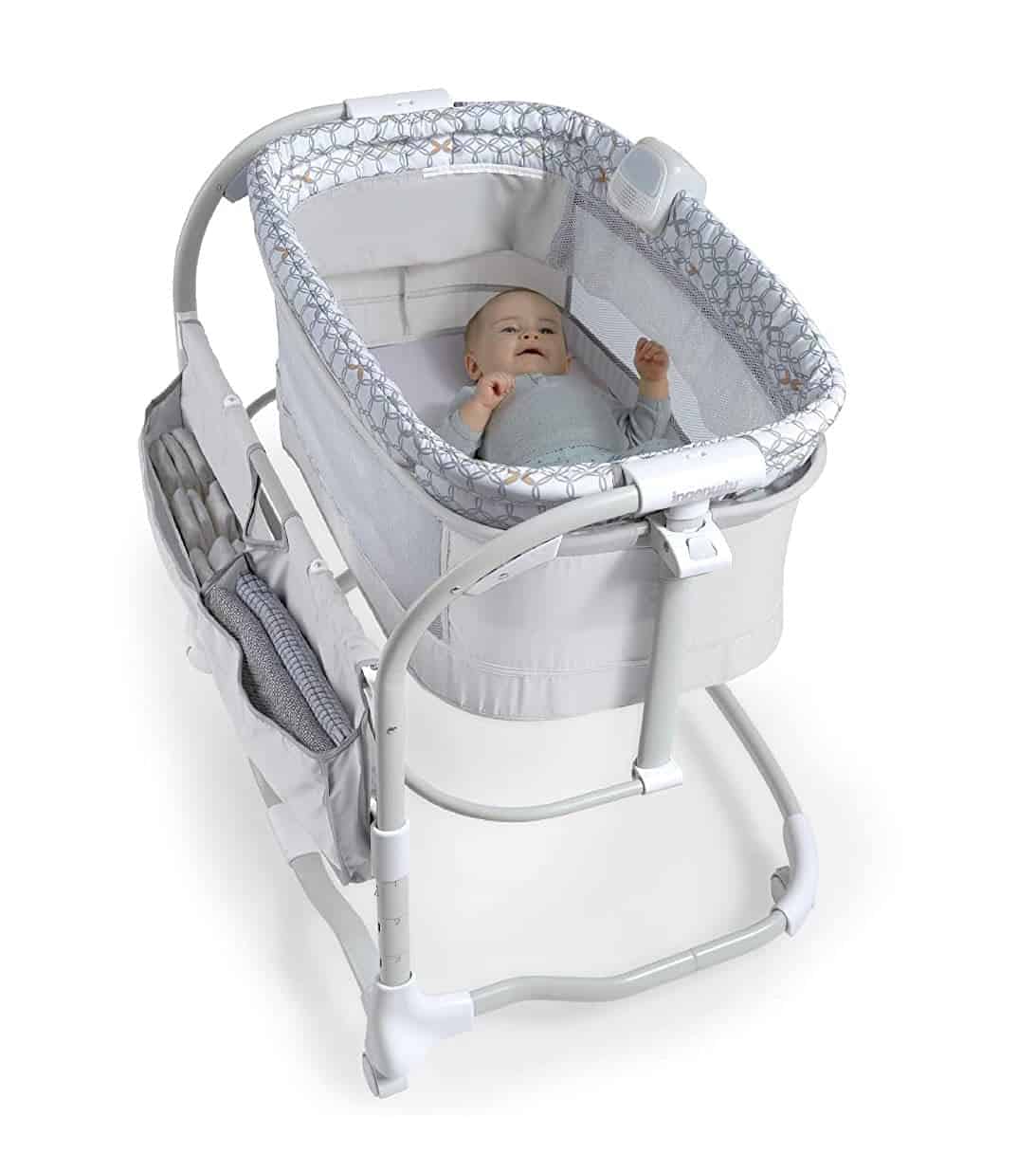 But that's not the only feature; you can also adjust the height to match the height of your adult bed, just like a height-adjustable bassinet.
That height lets you easily reach the baby during the night & keep an eye on them when you are using it as a bedside sleeper baby bassinet.
The size of the Ingenuity Dream and Grow Bassinet is 27.0″ x 35.25″ x 34.25″.
Like any other standard bassinet, you can use up to 6 to 7 months, but you can use it up to 12 months due to the flexible design.
The material used to craft this Bassinet is steel that gives it sturdiness & a durable structure.
And its weight is just 27 pounds, but the weight limit of the Ingenuity Dream and Grow Bassinet is 25 lbs.
Also, the assembly and disassembly of the Bassinet are straightforward, and it's a tool-free process with the exception of the bassinet mobile that requires a screwdriver to replace the battery.
Overall, it just takes 5-8 minutes to install the Ingenuity Dream and Grow Bassinet.
I recommend reading the Ingenuity Dream and Grow Bassinet instructions before starting the assembly process.
You can download the bassinet manual Or Watch this video to understand how you can assemble the Ingenuity Dream and Grow Bedside Bassinet.
2.) Essential features for comfort: –
Most bassinets in the market come with a storage box under the Bassinet. This makes it a little difficult to access the storage space, especially for C-section moms.
But the Ingenuity Dream Bassinet provides a side storage space. So your back will remain stress-free.
This feature will be a huge lifesaver. It keeps all the baby essentials like diapers, milk bottles, wipes, etc., within an arm's reach.
So no need to rush to bring the milk bottles or wipes anymore.
Another great feature of this Bassinet is its soothing device that produces vibrations and music to soothe your baby when they decide to throw a tantrum.
And to keep watch on the baby at night without lighting the whole room, this soothing device also offers a soft nightlight.
It only needs 3 AAA batteries to operate, and one of the best things is that it is detachable. This means, later on, you can even attach it to your crib.
Apart from that, the side of the Bassinet is made with a mesh fabric which helps you in more than one way.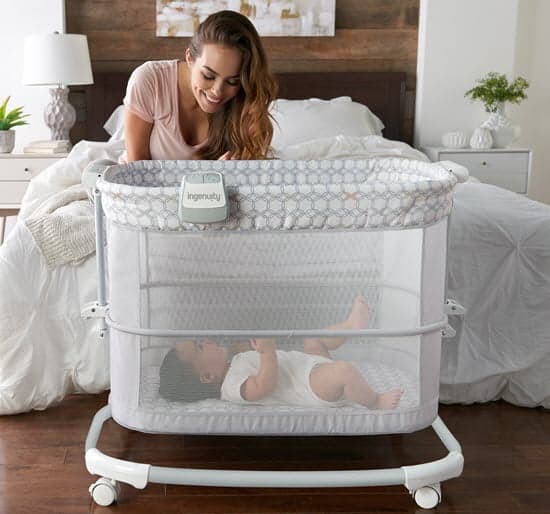 First, it lowers the temperature inside and reduces the risk of SDIS. And the second is that it provides visibility so you can keep an eye on the baby from a far away.
Another great thing about the mesh sides is that they provide good airflow, leading to excellent breathability.
Don't forget to explore its canopy that you can attach either on the left or right side, depending upon which side you place the Bassinet. So that you can always see the baby from your bed.
And the best thing is that this bassinet canopy is fully removable. So use it as per your needs to protect your baby.
3.) Easy to Maintain & Use:-
From a maintenance point of view, all the Ingenuity Dream and Grow Bassinet parts are easy to clean.
Its fabric, mattress, and sheets are easily removable and can be washed in the machine regularly. You can even clean the mesh & its frame using lukewarm water and soap.
Note: Keep in mind, cleaning is easy, but cleaning it the wrong way can damage the fabric.
So always check the instruction manual before cleaning. Understand what & what not to do while washing it. Here is a handy guide for you that helps you to wash the Bassinet.
The feature that makes Ingenuity Dream and Grow Bedside Bassinet more comfortable is its lockable wheels, making this bassinet portable and easy to move from room to room.
But keep in mind, you can fold it & take it with you, but it's not a travel-friendly bassinet.
Why? Because it does not come with a travel bag, it's bulk and comes in large size. These are not the feature that you want in a travel bassinet.
Explore our list of the best travel bassinet for the baby if you are looking for an actual travel bassinet.
4.) Easy to Replace Sheets & Mattress:
The Ingenuity Dream and Grow Bassinet have a soft mattress that is 1 inch thick and provides a perfect flat sleeping surface to sleep as per the recommendation of the APP standard.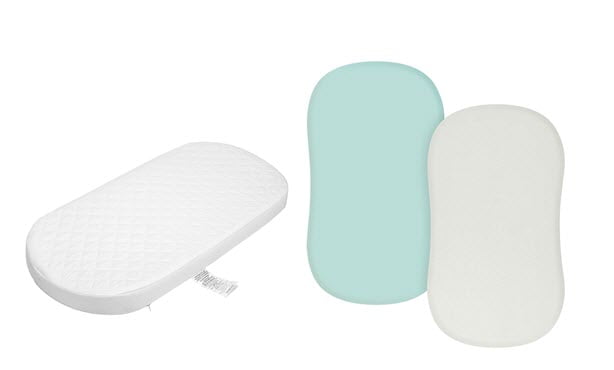 The size of the Ingenuity bassinet mattress is 16″ x 31″, which is very common and readily available in the market.
Along with a waterproof mattress, it comes with a waterproof sheet that increases the mattress's longevity.
Just remove the bassinet sheet and throw it in the washing machine.
I don't recommend cleaning mattresses frequently if it is not required to clean. Because the mattress loses its shape after some washes.
So, I recommend buying an extra set of Ingenuity Dream and Grow Bassinet fitted sheets to increase the life of the mattress because you will use it for more than 1 year.
Read our guide: Do You Need Sheets for a Bassinet, Crib & Pack n Play? to understand why moms recommend having more than one sheet & mattress for the Bassinet.
| | | |
| --- | --- | --- |
| Name | Size | Latest Price |
| Ingenuity dream and grow bassinet mattress | 16″ x 31″ | Price |
| Ingenuity dream and grow bassinet sheets | 16″ x 32″ | Price |
| Ingenuity dream and grow bassinet fitted sheets | 16″ x 31″ | Price |
I hope you like our Ingenuity Dream and Grow Bedside Bassinet Review and found it helpful & informative that help you to make a valuable decision.
Ingenuity Dream and Grow Bedside Bassinet is an excellent piece of the future for your baby.
It provides comfort to the baby and helps the mom take care of her baby.
Its soothing device gives you an extra hand to soothe the baby, and its lockable wheels give you the flexibility to move the Bassinet from room to room.
Its steel frame gives its strength to hold the heavy baby, and its big size provides enough room for comfortable sleep that you can use for up to 1 year.
Removable fabric, mattress, and sheets are easy to clean so that your baby always sleeps in a clean and hygienic environment.
Its adjustable height and wheels give you the flexibility to adjust the height and place it anywhere you want, like near the sofa, bed, etc.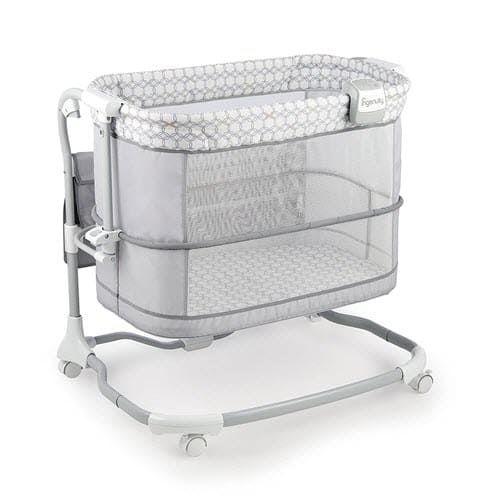 So, what else you want in such a fantastic bassinet? Click the link to buy it from our verified seller and to get a one-year warranty, securing it from any damage caused.
Here are some of the important pieces of information that you need.
Getforbaby editorial team is committed to providing the most helpful, updated & trustworthy parenting information. When creating or updating the existing content, we rely on credible sources, respected health organizations, professional groups of doctors, & only high-quality sources, including peer-reviewed studies, to support the facts within our articles. Learn more about how we write Getforbaby content.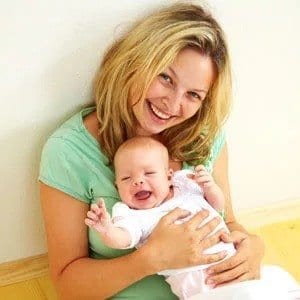 Dr. Sakshi Patel
Senior Content Writer
Dr. Sakshi Patel, an expert in Human Development and Family Studies, combines her academic knowledge with personal experience as a mother to twins. She provides comprehensive articles and meticulous reviews on baby essentials, offering accurate and up-to-date information to help parents make informed decisions. Read more.