Fisher Price Stow N Go Bassinet Review
The Fisher Price Stow N Go Bassinet is a safe and smartly designed bassinet with a sturdy structure. It is made up of 100% wash-friendly material, especially the mattress cover, which you will appreciate for the ease with which it can be removed and thrown in the washer. The entire setup is lightweight, and you can carry it from one place to another around the house super easily. The mesh walls allow good airflow and increase breathability, thus reducing any risks of SIDS. In addition to that, it comes with soothing vibrations that remind your baby of being rocked to sleep; therefore, they remain calm and relaxed while sleeping. And many additional features. So keep reading our Fisher Price Stow N Go Bassinet Review to explore more features.
Safety

92%

92%

Comfort

97%

97%

Easy of Use

91%

91%

Price and Longevity

70%

70%
Lightweight & portable

Easy to dismantle and store

It comes with a travel bag

Soothing vibration to relax the baby

High mesh walls & wash friendly
It doesn't have wheels

Storing it may be inconvenient
| | |
| --- | --- |
| Product Name | FisherPrice Stow 'n Go Bassinet |
| Brand | FisherPric |
| UPC | B01N8TURNC |
| Age limit | Up to 5 month |
| Item Weight | 11.48 Pounds |
| Weight Limit | 25 Pounds |
| Dimension | 33 x 18 x 26.5 inches |
| Mattress Size | 32 x 16 x 2 inches |
| Sheet Size | 31 x 14.96 x 0.79 inches |
| Batteries Required | C batteries |
| Availability | In Stock |
| Rating | ⭐⭐⭐⭐ ☆  4.6 / 5 |
| Price | 99.99 |
| Buying Options | |
| Registry Options | |
Fisher Price Stow N Go Bassinet Review & Features
The Fisher Price Stow N Go Bassinet is a smart, lightweight, and easy to assemble and dismantle portable bassinet that happens to be travel-friendly.
It is cost-effective and an excellent option for people on a budget looking for space saving baby bassinet. We have given you a general overview of what this bassinet offers.
However, if you're interested in knowing more about the features you feel are necessary to decide to invest, read our complete fisher price stow n go bassinet review.
1.) Unique Design:-
Fisher Price Stow N Go Bassinet has a unique design that offers your baby a calm, soothing, safe sleep without creating any inconvenience.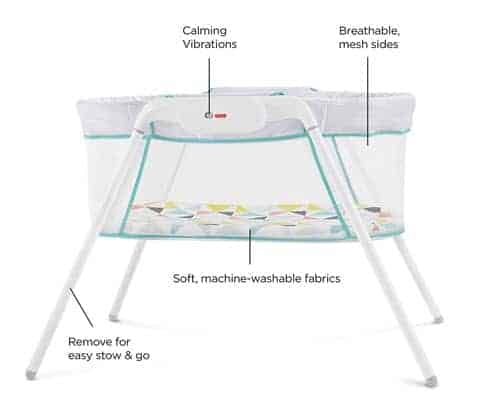 It offers a flat surface without any bumps and its dimensions are 33 x 18 x 26.5 inches; it is pretty spacious to accommodate your child without irritating him or her during sleep.
Moreover, like every bassinet, manufacturer recommended using this product for up to 5 months but its depends upon other factors like age Or weight limit, Or until unable to push up on hands and knees.
However, the fisher price stow n go bassinet weight limit is 25 pounds but keep in mind that sometimes a child's weight increases faster than age.
Whether the baby turns sideways in the bassinet or crosses the weight limit, or up to 5 to 6 months, then stop using the bassinet for your infant's safety.
In short, the cozy, flat sleeping surface offers a comfortable setup for your little one, and it comes propped up with a safe, sturdy frame.
2.) Material and Mesh Sides
Fisher Price is world-famous for specializing in making baby products. The brand maintains strict quality assurance for all its products.  The mattresses and base of this bassinet are pleasant, safe, and firm.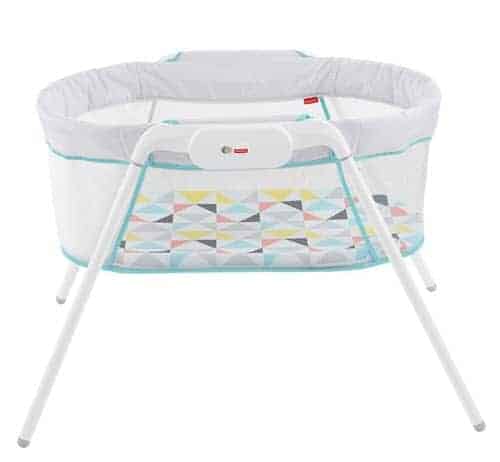 I don't like bassinets with foldable mattresses because they induce unpleasant ripples in the pad, which can keep the infant awake.
This bassinet comes with a straight unfoldable mattress one inch thick, with a beautiful printed waterproof mattress cover.
A transparent mesh on the side allows maximum breathability and airflow, which prevents the risk of SIDs.
The transparent sides and ends of the device also let you keep an eye on your little one and engage with them even from a distance.
The design also integrates high risen surrounding walls that prevent your infant from rolling off and give you a sense of security. As your child grows and starts to move about, this feature will come in more handy.
3.) Soothing Device for Baby:-
The Fisher Price Stow N Go Bassinet comes with a vibrating soother to help your newborn fall asleep faster.
This safe and cozy bassinet with a soothing device will help your baby feel at home while being at any other place.
But the downside of this device is that it's very primary and doesn't have features like the nightlight, music, and lullabies that play an essential role in brain development.
If you are ready to pay a little more, I recommend going with Fisher Price Soothing Motions Bassinet.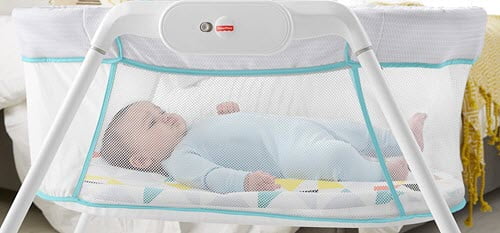 Both the bassinets are similar in design. The only difference is that the latter has a detachable mobile device and auto soothing function.
It merely means you don't have to wake up; the bassinet's design converts the baby's movements to rock the bassinet just like auto rocking bassinet.
Note:- Keep in mind that babies can easily get addicted to the vibration, but it's 100% safe, so it is trending nowadays. You can read here: Is vibrating bassinet safe?
On the other hand, if you are on a tight budget, you should choose a affordable bassinet for your baby's sleep time that will not pressure your pocket.
This vibrating soothing device requires a battery for operation and the downside is it doesn't have any sensor or automatic on/off option. Thus, negligence causes batteries to run off quickly.
4.) Ease of Use & Travel-friendly:-
The Fisher Price Stow N Go bassinet is easy to set up, use, lightweight, and perfect to put in your car for traveling.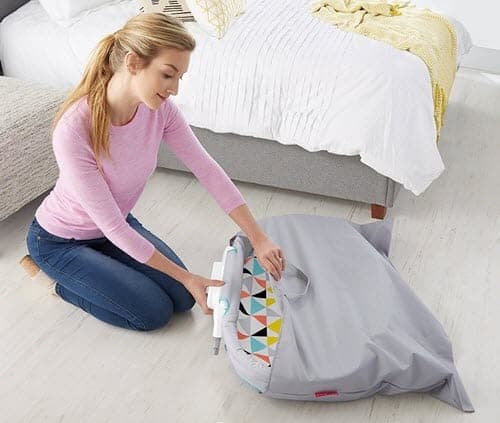 It comes with four sturdy, foldable legs ( like a foldable bassinets ) and its entire frame is lightweight at just 11.48 lbs, and 33 x 18 x 26.5 inches in dimensions when put together.
This Fisher Price bassinet assembly comprises the bodywork frame, four legs, storage bag, sheet, and sleeping pad. 
Put together, it is a compact and lightweight setup.
You can take it apart and put it back with little hassle, and its space-saving footprint makes it discreet.
When folding or setting it up, a button on the frame tube lets you tuck a leg and the pipe together by merely snapping it into place or out of it.
It is effortless to assemble and dismantle and one of the best thing about this travel bassinet is it comes with a travel bag for easy storing even on the move.
5.) Care & Maintenance: –
Stow N Go's resilient mattress material is high quality and retains full elasticity even after frequent washings. The plush, breathable sheets keep the soft pad in mint condition.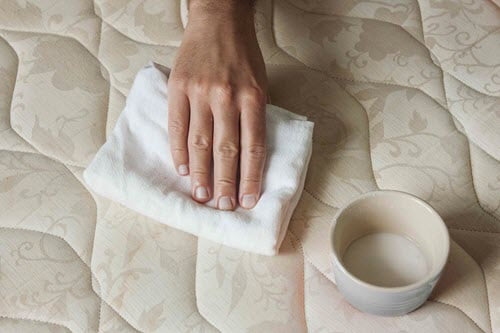 Little ones are bound to create a mess, throwing up milk or a leaking diaper, which can come into contact with your baby's skin.
This Bassinet lets you strip the bassinet down and machine-wash separately in cold water on a gentle cycle.
You can tumble dry the items separately on low heat. You can also clean the framework, legs, and pad with warm water and mild soap.
Note: You can read our ultimate guide; how to clean a bassinet? to clean it properly without damaging it.
6.) Bassinet Mattress & Sheet:-
The Fisher price stow n go bassinet Mattress is made up of high-quality material, and It stays flat and wrinkle-proof to maintain a shapely appearance.
The pad enclosed in the fisher price bassinet stow and go sheets is relatively thin but comfortable.
However, babies are bound to cause a mess. The curdled milk, leaked diapers, or positively drooling can cause any white bassinet sheet to become dirty quickly. Once you throw the mattress in the washer, you'll have to wait for it to dry.
We think it is smart and practical to stock up on a few extra mattresses and sheets to keep your baby accommodated and the bassinet tidy. If you have any doubts, then read; Do I need a sheet for bassinet?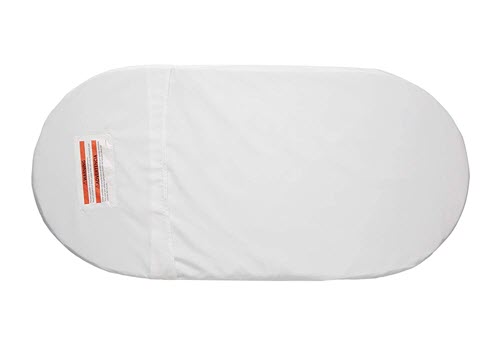 | | | |
| --- | --- | --- |
| Product | Dimension | Latest Price |
| Fisher price stow n go bassinet mattress | 32 x 16 x 2 inches | Price |
| Fisher price stow n go bassinet mattress pad cover | 32 x 16 inches | Price |
| Fisher price bassinet stow and go sheets | 31 x 14.96 x 0.79 inches | Price |
I hope you find our Fisher Price Stow N Go Bassinet Review valuable and informative. It will help you make a worthwhile decision.
The Bottom Line
Traveling abroad or going to your mother's home, the Fisher Price Stow N Go Bassinet is always with you so that your baby can sleep in their favorite bed.
The deep-set, unfoldable mattress, sung and cozy space, and better airflow offers your little one a comfortable sleeping experience.
The height is perfect for putting it near your bed, so you never feel uncomfortable sitting or lying on your bed; you can easily watch and play with your baby.
From the maintenance point of view, it is easy to clean, and the materials are durable, which means it never loses its shape.
It merely takes a few minutes to set up quickly; no tools required make it possible for new moms to do this task independently.
Its removable legs, compact folding ability, less weight, and carry bag make it a perfect choice to take with you irrespective of the place where you are going.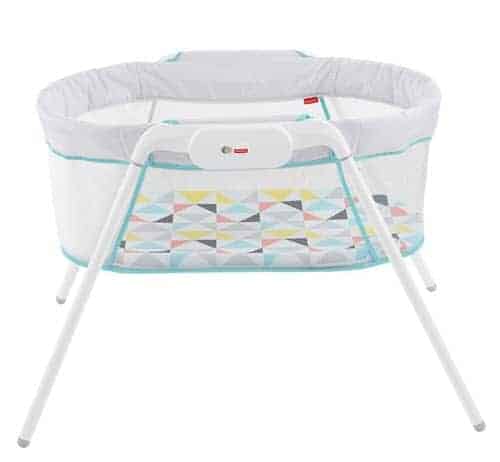 So, why are you still thinking? Click on our link below to keep your baby happy and calm and offer a peaceful sleeping environment.
Here are some of the important pieces of information that you need.
Getforbaby editorial team is committed to providing the most helpful, updated & trustworthy parenting information. When creating or updating the existing content, we rely on credible sources, respected health organizations, professional groups of doctors, & only high-quality sources, including peer-reviewed studies, to support the facts within our articles. Learn more about how we write Getforbaby content.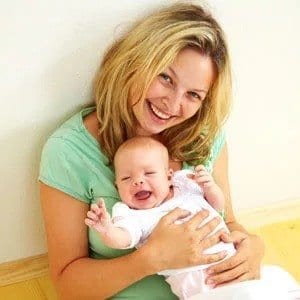 Dr. Sakshi Patel
Senior Content Writer
Dr. Sakshi Patel, an expert in Human Development and Family Studies, combines her academic knowledge with personal experience as a mother to twins. She provides comprehensive articles and meticulous reviews on baby essentials, offering accurate and up-to-date information to help parents make informed decisions. Read more.