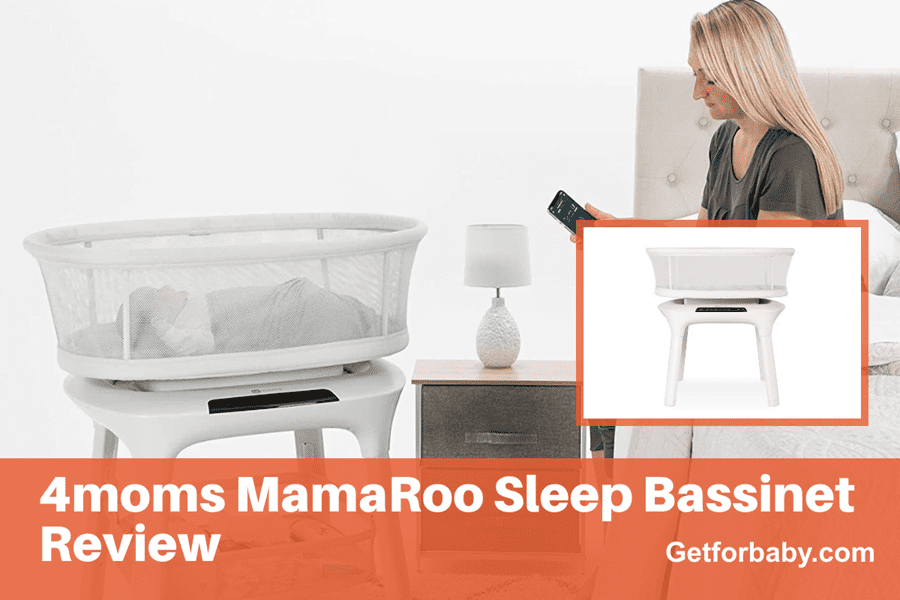 4moms MamaRoo Sleep Bassinet Review
4moms mamaRoo Sleep Bassinet provides a flat and firm sleep surface for your baby. It has five unique motions and 4 sound systems, including rain, shh, ocean, and fan. This sleep bassinet is built in a way to provide complete comfort and ease to your infant. It has natural bounce and sway motions. Another essential feature of this baby bassinet is Bluetooth functionality – which the 4moms app can control. You can have the app installed on any suitable smart device and control the sleep bassinet of your baby from a distance. You can adjust the height of the bassinet for better visibility. To read more about this product, keep scrolling and read our detailed 4moms mamaRoo Sleep Bassinet review.
Safety

92%

92%

Comfort

97%

97%

Easy of Use

91%

91%

Price and Longevity

60%

60%
Adjustable height & Mesh sides
Firm & flat sleep surface
4 Brilliant sounds
5 Unique motion
Storage Box
Bluetooth to control
Tool-less assembly
Does not run on batteries
Does not have Wheel
| | |
| --- | --- |
| Product Name | 4moms mamaRoo Sleep Bassinet |
| Brand | 4moms |
| UPC | 2000754 |
| Age limit | Up to 5-6 month |
| Item Weight | 30.5 Pounds |
| Weight Limit | 25 Pounds |
| Dimension | 24 x 29 x 39 inches |
| Batteries Required | No – Direct plug |
| Availability | In Stock |
| Rating | ⭐⭐⭐⭐ ☆     4.6 /5 |
| Price | $349.99 |
| Latest Price & Deal | |
| Registry Options | |
4moms mamaRoo Sleep Bassinet Review & Features
In the first section of this article, I provided an overview of 4moms mamaRoo sleep bassinet. I also mentioned the pros and cons of this bassinet, so you know the best qualities and the drawbacks of this product.
However, in the following section, I will write a 4moms mamaRoo Sleep Bassinet review in detail. If you are interested in this bassinet, keep reading this article to learn more.
1.) Unique Design for Comfort:
The 4moms mamaRoo sleep bassinet has a unique design that looks great wherever placed. It has leg extenders that are separable. I personally found this feature to be very helpful.
It helped me adjust the height of the bassinet to match my bed, perfect for safe co-sleeping.
The 4moms bassinet is 34″ long, has a 24″ width, and is 39″ in height with leg extenders. Without leg extenders, the dimensions of this bassinet are 34″ L x 24″ W x 34.5″ H.
And the 4moms mamaRoo weight limit is 25 pounds, which is quite adequate for an infant.
There is no specific age limit for the 4moms bassinet, but  approximately you can use it up to 5-7 month.
However, you can use it until your infant weighs 25 pounds or starts pushing their hands and feet, whatever some first. Read: When to move the baby out of the bassinet?
The best thing about 4moms bassinet is its assembly & disassembly. It just takes 2 minutes to install the whole bassinet. Watch this quick video to understand how it goes.
The best thing about the bassinet is that its fabric is machine washable. All you need to use is lukewarm water and soap.
Cleaning the bassinet's frames and mesh sides will require spot cleaning with a damp cloth and some soapy water.
The cleaning process is straightforward, but doing it in an unmanaged way can damage the product. We have also written a guide that helps you to clean your bassinet without damaging it.
2.) Unique Motions for Soothing:
The mamaRoo sleep bassinet has 5 unique built-in motions. These movements are so natural that they mimic the motions as they move the bassinet to soothe the baby.
The options for the motions include; wave, kangaroo, tree swing, car ride, and rock-a-bye.
The sway motions & bounce of the bassinet are comfortable and soothing for the infant.
You can choose any motion, and the kid will fall asleep.
It works great; even if the baby is crying, you can try wave motion, which proved to be very helpful for my baby.
The motion feature also has 5 different speeds, so you can choose any speed and motion combination that works excellent for your baby's needs and brings them comfort.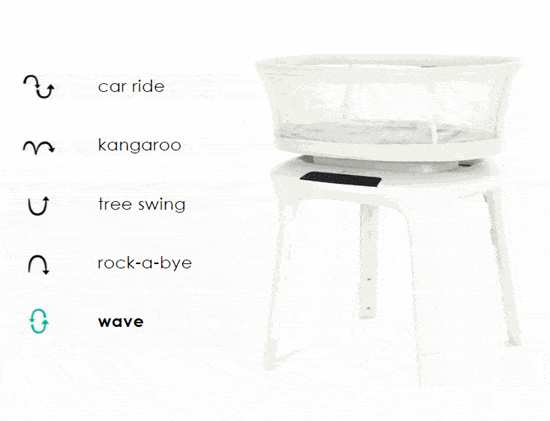 And the best part of the bassinet is that it does not require batteries. You do have to plug it into the outlet directly. So, no need to buy batter again and again.
3.) Bluetooth and 4 Unique Sounds:
To keep everything easy to use, the 4moms mamaRoo bassinet also comes with Bluetooth capability.
The best part about this feature is that you can easily control your baby's bassinet speed and motion category remotely.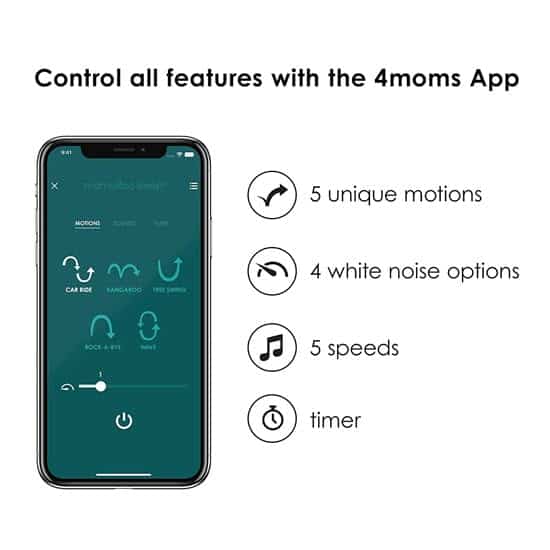 It becomes difficult for new parents to manage the time of their infants in today's busy world. So, they look for ways to take care of the kid and complete their assigned work.
And this sleep bassinet caters to their needs perfectly.
4moms sleep bassinet also comes with 4 types of sounds (rain, shh, fan, and ocean) that help the baby fall asleep quickly.
These sounds are also helpful in calming down the newborn when they are crying.
Along with Bluetooth and different sounds, an in-built timer helps the baby establish a bedtime routine.
This also saves your time trying to put your baby to sleep every day.
4.) Height & Mesh Sides:
Now, it's time to talk about its adjustable legs that let you increase or decrease the height of the bassinet according to your requirement.
By adjusting the height of the bassinet, you can control the optimal visibility of your baby.
Moreover, accessibility can also be managed by this feature.
But keep in mind that you can adjust it up to 4.5″. If you are looking for an even higher bassinet, try other tall bassinets. 
The mesh sides of the bassinet allow free flow of light and airflow.
It also keeps the atmosphere of the bassinet comfortable & decreases the temperature inside the bassinet to lower the risk of SIDS.
But don't forget to keep your baby bassinet warm in winter.
All the mamaRoo sleep bassinet features have been designed for the ease and comfort of the baby.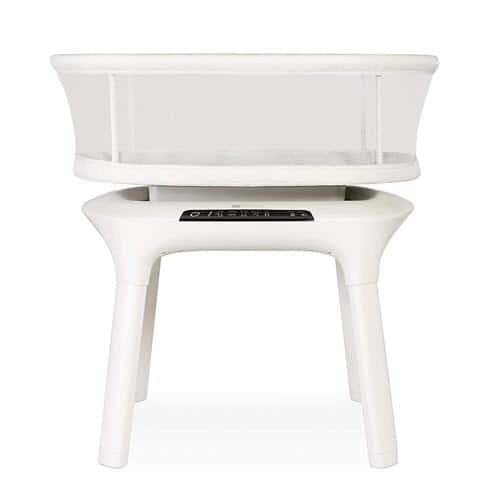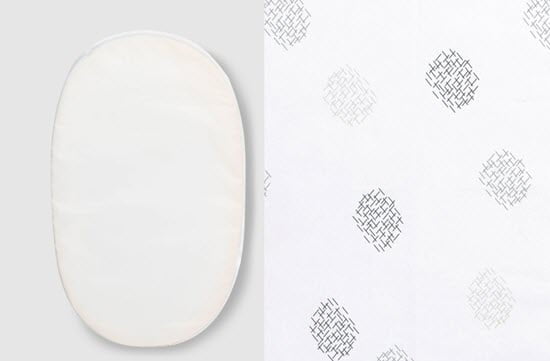 The size of the 4moms bassinet mattress is pretty standard, so you can easily find a mattress replacement when required.
To increase the life of a 4moms mattress, you can cover it in the waterproof mattress pad cover.
Well, apart from that, the 4moms mamaRoo bassinet sheet also comes with machine washable bed sets to keep your baby's sleep area clean.
We recommend buying an extra sheet to ensure that your baby always sleeps on a clean and dry surface for good health and growth.
I'm 100% sure it gives value to your money. Read what other moms are saying in this regard: Do you need a sheet for a bassinet?
The 4moms mamaRoo bassinet sheets and mattresses are both machines washable. You have to remove them from the bassinet and throw them in the washing machine for a quick clean-up session.
Here are some replacement options for 4moms Mamaroo bassinet sheet & Mattress
| | | |
| --- | --- | --- |
| Product | Dimension | Latest Price |
| 4moms Mamaroo bassinet sheet |  29.60″ x 17.50″ x .7″ | Price |
| 4moms Mamaroo bassinet Mattress Pad Cover |  29.60″ x 17.50″ x .7″ | Price |
I hope you like our 4moms mamaRoo sleep bassinet review and find this article informative and valuable so you can make a valuable decision.
The 4moms bassinet is all about your comfort and ease as a parent. At the same time, it soothes your baby and protects them.
All the features make it a brilliant product that you must not miss. It can be placed anywhere in the house, and it will look amazing because of its pretty oval shape.
Its lightweight enough to quickly move the bassinet from room to room without any effort. From a maintenance point of view, it's straightforward to maintain.
A huge plus is that it has a one-year warranty, so you do not have to worry about damage or any hardware failure.
Just contact the support team and get the issue sorted out.
The best thing is that all the features can be controlled remotely via Bluetooth, so you don't need to leave your warm and cozy bed in the middle tonight.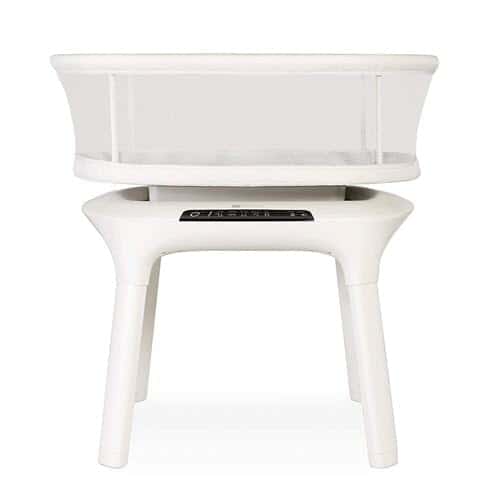 What else can you want in a bassinet when you can get such a modern bassinet which is designed for safe and sound sleep and has multiple features.
Here are some of the important pieces of information that you need.
Getforbaby editorial team is committed to providing the most helpful, updated & trustworthy parenting information. When creating or updating the existing content, we rely on credible sources, respected health organizations, professional groups of doctors, & only high-quality sources, including peer-reviewed studies, to support the facts within our articles. Learn more about how we write Getforbaby content.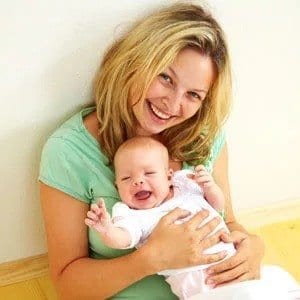 Dr. Sakshi Patel
Senior Content Writer
Dr. Sakshi Patel, an expert in Human Development and Family Studies, combines her academic knowledge with personal experience as a mother to twins. She provides comprehensive articles and meticulous reviews on baby essentials, offering accurate and up-to-date information to help parents make informed decisions. Read more.