Tadpoles Moses Basket Review
The Tadpoles Moses Basket is an oval-shaped Moses basket crafted with natural, pesticide-free, 100% woven palm leaf. Thats why we also call it "Tadpoles Organic Palm Leaf Moses Basket." It is lightweight, 6.5lbs, and comes with a handle on both sides that makes it portable. Moreover, a 100% cotton knit bedding set of the padded bumper craft is a perfect place for an infant to sleep. And the best part is that the Bedding is machine washable because it comes with a removable cotton cover. What's great is the ergonomic design. We admire how comfortably you can swaddle your infant into this beautiful cozy basket. There are still many things to check, So keep reading our Tadpoles Moses Basket reviews.
Safety

90%

90%

Comfort

97%

97%

Easy of Use

93%

93%

Price and Longevity

80%

80%
Constructed from real Moroccan palm leaves

Great ergonomic design

Practical alternative to cradles and bassinets

Come with bedding and cotton cover

It can be used as a basket after the baby stops sleeping in it.
Not come with soothing kit
| | |
| --- | --- |
| Product Name | Tadpoles Moses Basket |
| Brand | Tadpoles |
| UPC | B07849LW3M |
| Age limit | Up to 3-4 month |
| Item Weight | 16.9 Pounds |
| Weight Limit | 15 Pounds |
| Dimension | 32 x 12 x 9 inches |
| Mattress Size | 27 x 11 x 1 inches |
| Sheet Size | 27 x 11 inches |
| Batteries Required | No |
| Availability | In Stock |
| Rating | ⭐⭐⭐⭐ ☆  4.8 / 5 |
| Price | $114.13 |
| Buying Options | |
| Registry Options | Add To Amazon Registry |
Tadpoles Moses Basket Reviews & Features
Imagine just how tight of space your womb was for your baby after spending nine months inside with limited positions to turn to. That is why infants feel secure and at home in small, confined spaces.
Its specially designed to cater to this specific need of the infant, the small, snug space.
The snug, comfy fit inside lets your little one feel secure and held from all sides, allowing them to sleep more peacefully and have lesser feelings of not being 'held' by someone.
We have given you a general overview of this basket by listing the pros and cons.
However, if you're interested in knowing more about the features you feel are necessary to make the valuable decision or choice to invest, read our baby Moses basket reviews to explore more.
1.) Unique and Safe Design:
Tadpoles palm woven Moses basket has a unique design. It is perfectly safe and secure for your baby without any inconvenience.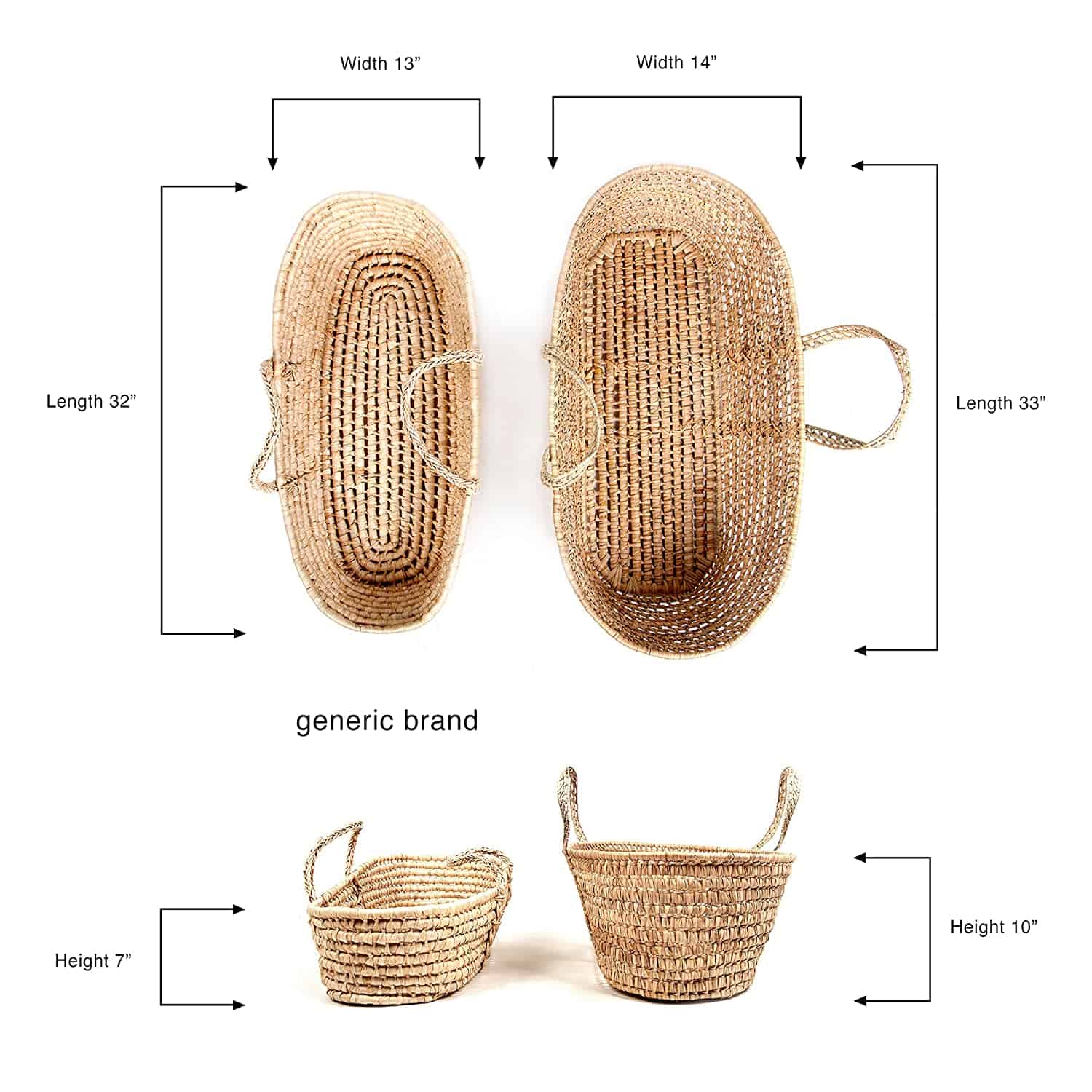 The dimension of this basket is 33 x 10 x 14 inches. That means the length of Moses basket is 33″ which is pretty good. But due to its handmade nature, size may vary slightly.
We were impressed by how tadpoles Moses baskets use palm leaves as the construction material.
It is woven from organic leaves that are free of allergens or irritants. These leaves are sturdy and double woven into a firmly knit pattern capable of carrying weight up to 20 lbs.
But the manufacturer advises you to stop using this bassinet once your baby crosses 15 pounds.
The design concept is straightforward and minimalistic. You can use it anywhere on the bed, floor, or outside. It's an oval-shaped basket that has woven side handles to carry it.
Very handy when you have to move from room to room. But keep in mind, While moving from here and there, never put your baby inside for your child's safety.
2.) Comfort it Offer & Its Flexibility
Tadpoles organic palm leaf Moses basket for infants is crafted to provide maximum benefit and comfort to the babies.
The basket is adequate in size; however, the internal lining is thick and plush to keep your infant snuggled in tight and cozy.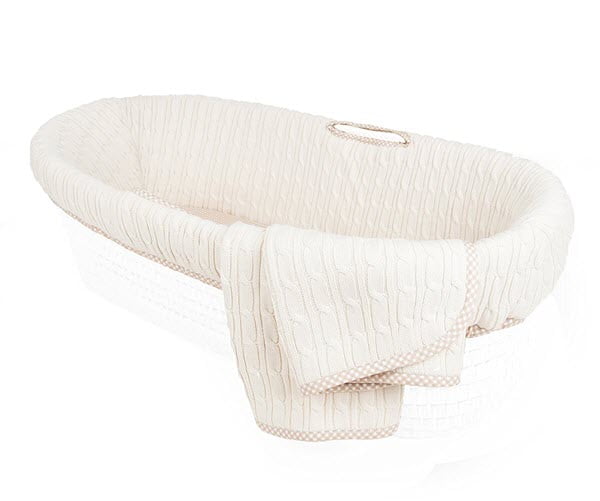 Note: Never put any soft toy or blanket in this basket instead of the one that comes with it.
Any other comforter can pose the threat of SIDs. If you want to warm the baby: Check this: How to warm the basket in winter?
Tadpoles Moses Basket will help you maintain a limited space while giving as much functionality as any high-end bassinet or crib.
If you want to transfer your baby from the basket to the spacious crib, this basket will also help you in this matter. By placing the basket in your crib, remove the basket once your baby is habitual to the crib environment.
3.) Ease of Use & Maintenance
You can easily carry the Tadpoles Moses Basket around the house to keep an eye on the baby or travel like a compact travel bassinet because it is lightweight and has a handle.
Removing and adding the mose basket bedding set is very easy.
All the basket parts are machine washable, which makes everything easy.
For example, removing the Bedding from the basket and the Foam Pad for the cleaning process is easy.
Note: Check out our guide: How to clean a basket properly? That gives you an idea of how to clean the baskets without damaging material and fabric.
Apart from that, one of the most common items to get discarded is the crib or bassinet as children grow up, but not in this case.
You can use it as a laundry basket, a toy hamper, a picnic basket, or even hold supplies.
Another thing that I want to highlight about this organic and nontoxic bassinet is you can convert it into a rocker.
Yes, you heard it, right. You need to Moses basket stand for it, and you can convert your basket into a bedside rocking bassinet.
This stand serves two purposes: first, to convert your basket into a rocking basket,
And second, you don't have to bend down to check or pick up the baby—the best option for a mom recovering from C Section.
4.)  Tadpoles Basket Sheets & Mattresses:
Infant-only does two tasks: Eat and poop, so having an additional mattress is life-saving. Moreover, diaper leakage or throwing out are some common incidents.
To overcome these situations, mothers always seek comfort as washing basket accessories will not allow you to use them immediately.
It would help if you needed a backup plan; that's a mother like you recommend having an extra sheet and mattress.
Well, Tadpoles win your hearts because they provide perfectly fitted tadpoles Moses basket pad made up of Polyurethane Foam (Foam Pad) with two cotton covers.
Moreover, you can also buy removable Moses basket cotton fitted sheets with a foam pad.
Both bassinet sheets and mattresses are compatible with the basket without leaving any space to prevent hand and leg trapping.
Here are some replacement options.
| | | |
| --- | --- | --- |
| Product | Dimension | Latest Price |
| Tadpoles Moses basket sheets | 32 x 11 inches | Price |
| Tadpoles moses basket mattress | 27 x 11 x 1 inches | Price |
I hope you like our Tadpoles Moses Basket Reviews and found this informative and helpful that help you make a valuable decision.
The Bottom Line
A snug fit and a comfortable basket such as the Tadpoles baby Moses baskets for infants are the best among its competitors.
This basket is composed of genuine, hand-woven palm leaves. Its oval-shaped design and lightweight feature offer incredible comfort with handles on each side.
And it comes with a bedding set that includes a removable padded bumper, foam pad with removable cotton cover, and coordinating blanket.
Moreover, you can also convert this Mose basket into a Rocking More basket by adding Mose Basket Stand to your checklist.
It is organic and never does any harm to your baby. Everything you need is just in one package.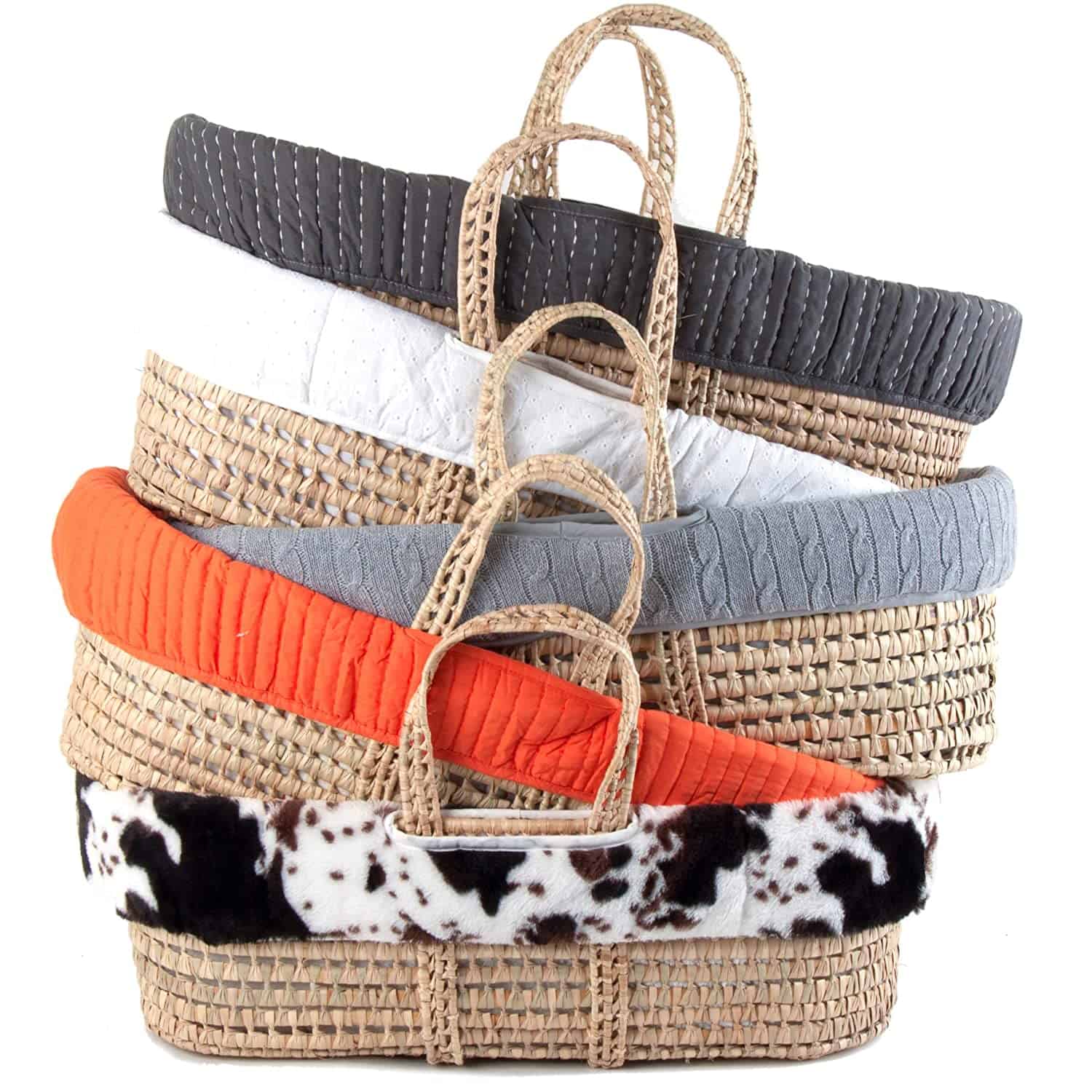 So, why are you still thinking? Click on our link below to keep your baby happy and calm and offer a peaceful sleeping environment.
Here are some of the important pieces of information that you need.
Getforbaby editorial team is committed to providing the most helpful, updated & trustworthy parenting information. When creating or updating the existing content, we rely on credible sources, respected health organizations, professional groups of doctors, & only high-quality sources, including peer-reviewed studies, to support the facts within our articles. Learn more about how we write Getforbaby content.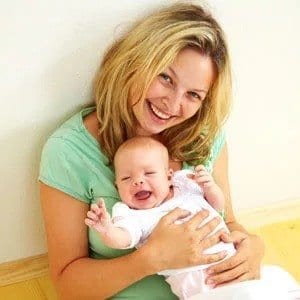 Dr. Sakshi Patel
Senior Content Writer
Dr. Sakshi Patel, an expert in Human Development and Family Studies, combines her academic knowledge with personal experience as a mother to twins. She provides comprehensive articles and meticulous reviews on baby essentials, offering accurate and up-to-date information to help parents make informed decisions. Read more.