Every newborn should need a warm, safe sleep space that is not too far from the parents as per the American Association Of Pediatrics (APP) guidelines, but where should your newborn sleep?
Some pediatrics recommend co-sleeping with infants, whereas some bedside sleeping to reduce the risk of SIDS, but which baby sleeping product should you use?
Do you need a Moses Basket, Or a simple Bassinet, Crib, Pack-N-Play, or something else?
If you want to use the Moses basket bassinet, it's important to know how long you can use it, where you should place it and when you should stop using it for infant safety.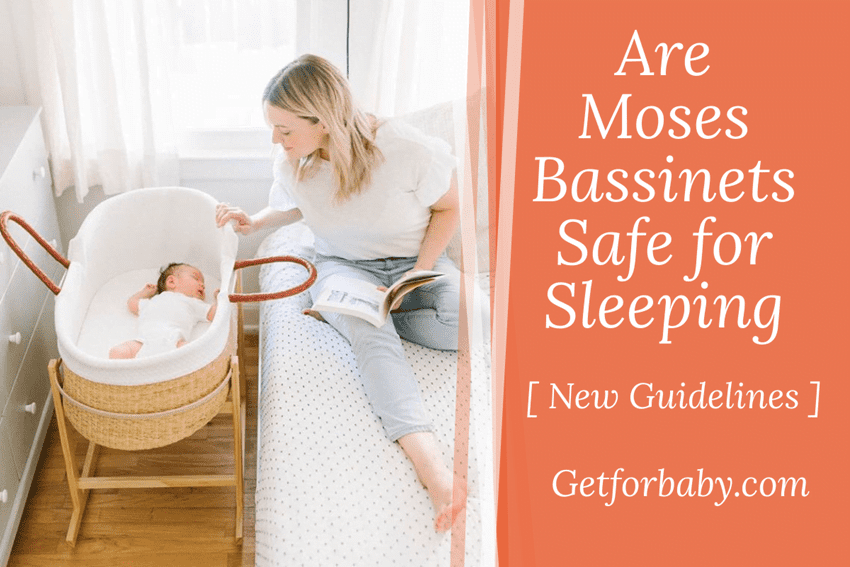 Are Moses basket bassinet safe for overnight sleep, or may I just use it for a nap? Are moses baskets SIDS Safe?
Well, I will explain everything you need to know & show some strong evidence to help you make a valuable decision for your newborn baby.
So let's start by checking what Moses basket bassinet is and how long you can use it.
What Is A Moses Basket?
According to Wikipedia [1], A Moses basket is a type of bassinet[2] often used for infants and is mainly crafted with wicker, plants, or other natural materials. It is designed to place it on the rocking stand and mostly comes with a handle on both sides to carry it from one place to another.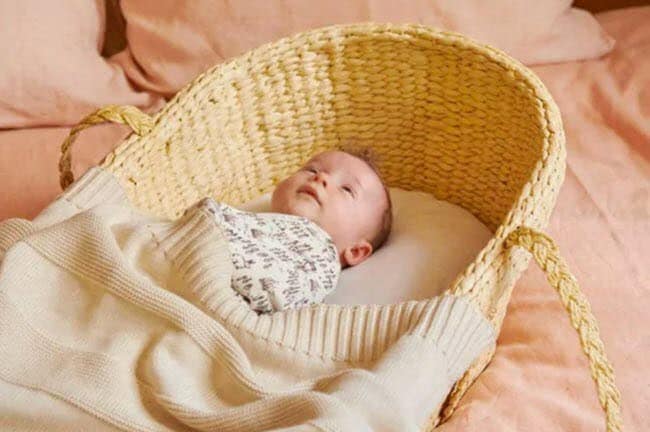 Most parents prefer it because they are more compact and portable than traditional bassinets.
For e.g., a standard bassinet is large in size, heavy in nature, and difficult to carry,
Whereas a Moses basket bassinet is compact, lightweight, and easy to carry, like a travel bassinet.
Weight & Size Of Moses Basket?
Are Moses baskets all the same size? The answer is No because Moses basket is a handmade basket, so the size of the Moses basket & weight will always differ.
But for general purposes, the standard size of the Moses basket is 80cm to 90cm long and 40 to 50cm wide.
Whereas Its weight (approximately 1.2 lbs to 2.2 lbs ) depends on the material ( seagrass, corn husk, palm, and maize) they use.
What Is A Moses Basket Used For?
The Moses basket can be used in many ways; for example, it can be used as an infant bed for safe sleeping, as a co-sleeper, as a laundry basket, or as a sleeping area for a pet such as a cat or a dog, once infants outgrow the bassinet.
Along with that, it provides a lot of benefits too are;
Can you as a Travel bed for infants & it is effortless to maintain.
Can keep your baby close to you all the time by using it as a bed-sharing bassinet.
Can use as a diaper changer when the baby outgrows it because it has no weight limit.
Small & cozy areas provide more comfort to premature babies.
Its compact size can easily fit your bedroom even if you have a small space.
Safe for infant's sensitive skin because it's Organic and chemical-free.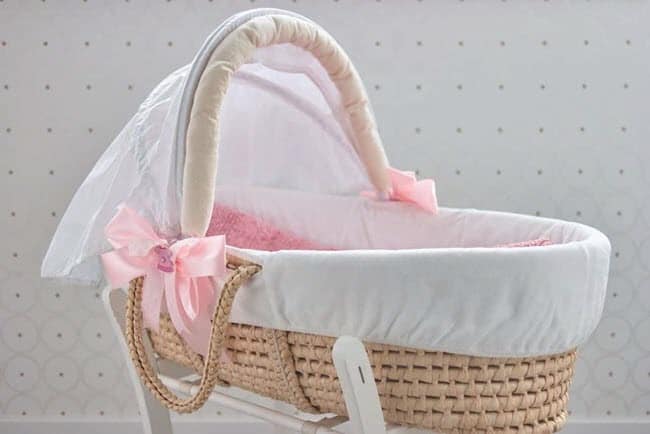 On the downsides;
Can use only up to 4-5 months.
Expensive because it is a handmade basket
Are Moses Basket Safe For Sleeping?
Yes, Moses basket is safe for sleeping if you follow the American Association Of Pediatrics safe sleep guidelines [3]. The only thing that makes Moses basket unface is its loose fabric [4] inside the basket and uneven sleeping surface, which raises the risk of suffocation if the infant rolls in the basket.
Watch this lab experiment to understand how the baby can suffocate if the fabric is loose or infants roll in the bassinet.
The base of the Moses basket is not 100% flat because it is crafted with plants; provides a little uneven surface.
As per the Rednose.org[5]
 Knowing this, it is very important that we don't introduce further vulnerability to our babies by using items for sleep that are too soft or not flat, as this can increase the risk of sudden unexpected infant death.
So to overcome this problem, consumerproduct.org [6] always uses a 1 or 1½-inch thick flat hard mattress to provide infants with a perfectly flat sleep surface.
Besides a thin mattress or pad (which should be no thicker than 1½ inches) and a fitted sheet, most bassinets also have a fabric lining.
If you are following the manufacturer & safety guidelines set by Consumer Product Safety Commission (CPSC), then a Moses basket is a very safe, cozy, and the best place for your baby to sleep.
Are Moses Baskets Safe For Overnight Sleeping Or Just For Nap?
Yes, you can use it for overnight sleep until your baby cannot move or turn by himself. Once they can move, stop using mose baskets for overnight sleep as per the recommendation of APP and CPCS. And only use it during nap time or as a changer.
Where should you place Moses Basket?
The Moses basket should always be placed on flat & firm surfaces or use a Moses basket stand. Never put it on elevated or uneven surfaces because it increases the risk of SIDS.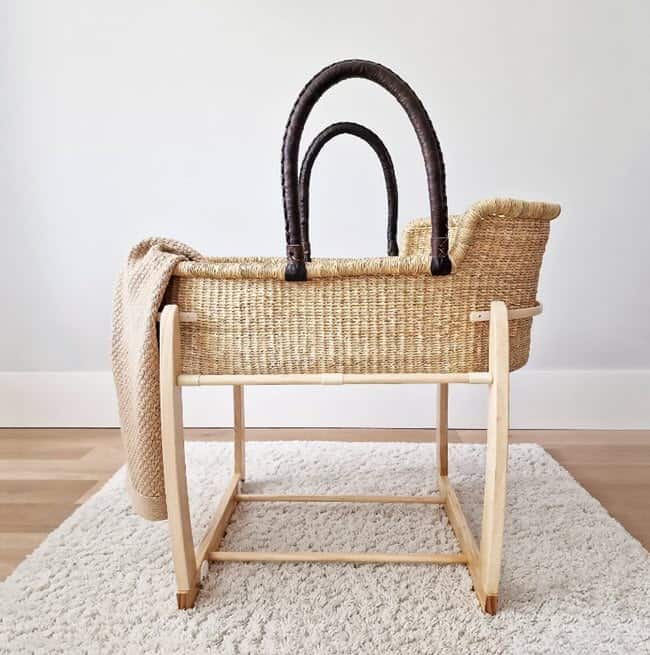 In 2015, Tadpoles Baby and Kids Moses Basket and Stand were recalled (bassinet recalled listhttps://getforbaby.com/bassinet-recall/) because they failed to match the standard guidelines [7]. And the reason to call this is I get slip when you place on the stand.
The basket can slide off an inclined surface and the stand can tip, posing a fall hazard for infants.
So avoid placing the basket in an inclined plane and always buy the safe and tested product. Here is a list of the best Moses basket bassinet 2022.
So let me know what you think; Are Moses Basket Safe For Sleeping?
Now the next thing to know is how long infants can sleep in it and when it's the best time to stop using it.
When To Stop Using Moses Basket?
There is no fixed number set by the American Association Of Pediatrics Or by the Consumer Product Safety Commission. But the thumb rule is that you must stop using the Moses basket bassinet if your baby starts rolling in it or feeling uncomfortable.
All the manufacturers also mention/set age limits (approximate 4-5 months) that define how long an infant can sleep in Moses basket, but there is no weight limit for it.
This is because it surface touches the floor.
Note: Babies grow at a different scale; some grow faster & outgrow the bassinet faster than other babies. To make a value decision, read this handy guide: how long can baby sleep in a bassinet?
But, on the other hand, if you are using it with Moses basket's stand, then make sure you stop using it as your baby's weight reaches 15-20 lbs (or as per the manufacturing limit).
Age Limit & Weight Limit Of Moses Basket?
| | |
| --- | --- |
| Moses Basket Age limit | 4-5 months |
| Moses Basket Weight Limit | No Weight Limit because the base touches the floor |
| Moses Basket Bassinet With Stand | 15-20 lbs |
Moses Basket Bassinet Safety
According to the American Academy of Pediatrics (APP), the Moses basket is safe for newborns as long as it fulfills all the safety standards and general performance requirements set by the consumer product safety commission (CPSC). It also protects the baby against Sudden Infant Death Syndrome (SIDS).
Here are a few things that you need to make sure;
Must be sturdy enough to hold the baby
Must have enclosed opening to prevent any entrapment
Should be stable
Sides should be high to prevent fall
It should not contain small parts.
Along with these safety requirements set by the CPSC, here are a few other safety requirements that you can follow to ensure that your baby is safe in the Moses basket.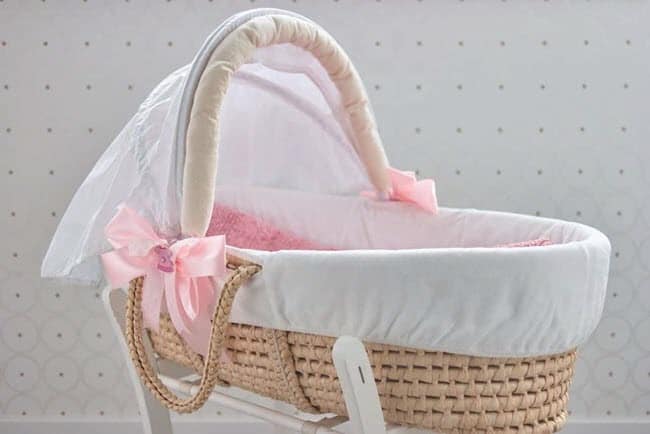 Do not attach toys around the basket to avoid choking
Never use a plastic bag inside the basket
Don't move the basket with your baby inside. It is a best practice first to remove the baby and then move the basket
Don't allow other babies or pets to climb with the basket when your baby is inside.
Now lets check some FAQ,
FAQ
——————
Q1: Can You Use A Moses Basket As A Bassinet?
Yes, you can use the Moses basket as a bassinet for newborn babies. Because it is just another form of the bassinet. And according to the APP, bassinets are safe for babies as long as they fulfill all the requirements set by the CPSC.
Want to know the difference? Check this; Bassinet Vs Moses basket.
Q2: Are Moses Baskets Sids Safe?
Moses basket is partially SIDS-free. There are a few things that you must need to ensure to make newborns sleeping area SIDS safe, such as
Don't insert pillows, blankets, and bumpers inside the basket with the baby,
Make use of the firm mattress and its flat,
Always put baby to sleep/nap on their back
Only use until baby is comfortable in it
Q3: Are Moses Basket Liners Safe?
Yes, the Moses basket liner is safe because it covers the internal side walls like a cot bumper to protect the baby's finger & hand from getting stuck in rattan or hurt by the sharp edges of the basket.
However, one other thing you should remember is always to use the high-quality liners in your Moses basket because the loose liner and bedding can cause serious suffocation.
Q4: Do You Need Bedding For Moses Basket?
Definitely yes, by adding bedding into the Moses basket, you can make infants sleeping areas more comfortable. This thing will help newborns to sleep longer. But make sure you don't place a pillow or anything else that leads to SIDS.
Q5: Do I Need A Waterproof Mattress Protector For Moses Basket?
In my opinion, a waterproof mattress protector is something you must need. Because it prevents the sweat from being absorbed by the mattress, ultimately preventing the infant from allergies and increasing the mattress longevity too.
Q6: How Many Moses Basket Sheets Do I Need?
There are thumb rules for that, which said, you need 3 sheets for Moses basket, The first in use and the second one you can wash. The third one is in backup in case of emergency (vomit, loose motions, leak nappies) to keep your infants always clean and dry.
Want to know why three sheets: check this; How Many Bassinet Sheets Do You Need?
Q7: Do I Need A Stand For Moses Basket?
It totally depends on your preference. If you want to get the advantage of a rocking bassinet and want to move the baby from room to room easily, then you must need a moses basket stand.
Some Moses baskets come with a stand attached, but most are sold separately. So, here is the list of the Moses basket stand for you.
Q8: Are Moses Basket Stands Universal?
No, not all the Moses basket stand is the same in size & style. However, most of these are compatible with the standard Moses basket, i.e., 80cm to 90cm long and 40 to 50cm wide. This ultimately means you are free to choose the stand you think is best, along with the basket of your choice, without worrying that the basket will not fit on the stand.
Q9: How To Get Newborn To Settle In Moses Basket?
The best way to settle your infant in the Moses basket is by making their sleeping area comfortable & let them feel they are safe in it. These two things let the baby sleep instantly in any sleeping environment.
To do this, you can swaddle the baby, lay down with them for a while, have a reassuring hand on the baby's chest, give them a warm bath, make a bedtime routine, etc.
Here is a handy guide; How To Get Newborn To Sleep in Bassinet? To understand how all these things actually work.
Q10: Where To Buy Moses Basket?
There are many places where you can buy Moses baskets, such as shops, online stores, or even furniture showrooms, where you can physically check them. You can also buy it from Amazon, Walmart, buybuybaby, bedbathandbeyond, etc., to check and compare the feature.
Q11: Is It Worth Buying A Moses Basket?
Some people don't think it's worth investing in a Moses basket as you can use it for a short period. But it is worth investing in Moses basket because it offers you many things, such as co-sleeping with infants, travel features, lightweight, portable, easy to maintain, and clean. One of the best things is a chemical-free bassinet for your newborn sleep.
They provide a confined, cozy space for your newborn. So, why not give your babies the safest place to sleep?
What next? Well, here are a few important guides for you are;
I hope you like our "Are Moses Basket Safe For Sleeping?" guide and found the information help full. Drop your valuable comment in the comment section,
And don't forget to share the guide because sharing is carrying.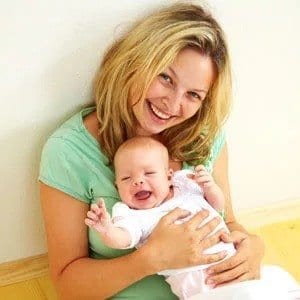 Dr. Sakshi Patel
Senior Content Writer
Dr. Sakshi Patel, an expert in Human Development and Family Studies, combines her academic knowledge with personal experience as a mother to twins. She provides comprehensive articles and meticulous reviews on baby essentials, offering accurate and up-to-date information to help parents make informed decisions. Read more.
Getforbaby editorial team is committed to providing the most helpful, updated & trustworthy parenting information. When creating or updating the existing content, we rely on credible sources, respected health organizations, professional groups of doctors, & only high-quality sources, including peer-reviewed studies, to support the facts within our articles. Learn more about how we write Getforbaby content.
We believe you should always know the source of the information you're seeing.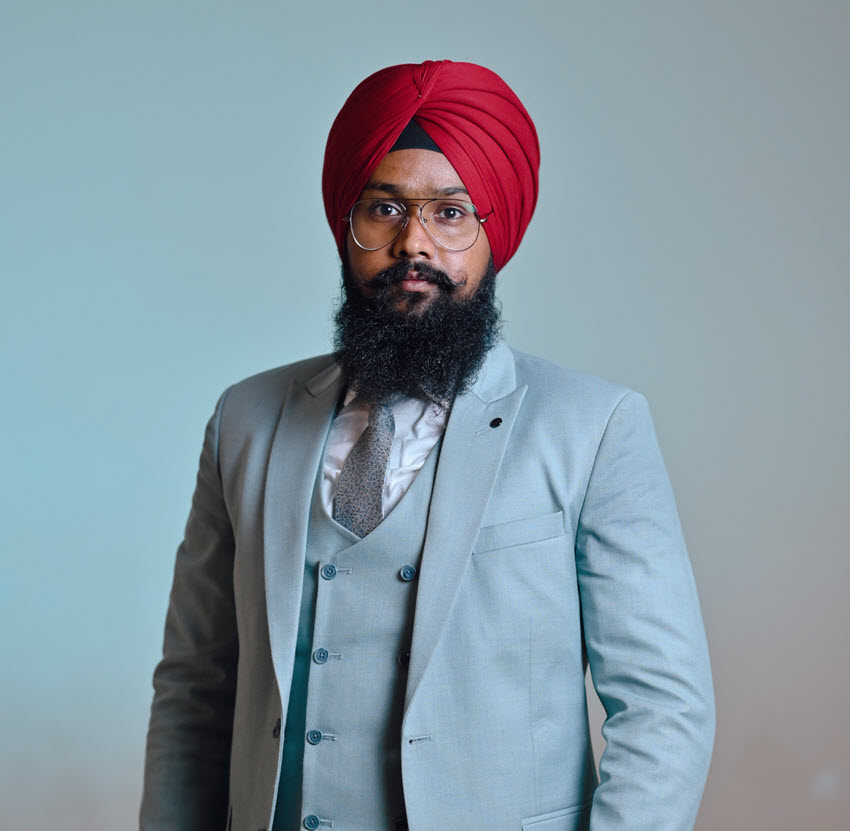 Harvinder Singh is a founder of Getforbaby and an electrical engineer by profession. He is an expert in evaluating facts, doing in-depth research, and handling technical stuff. He completes his Bachelor in Electrical from Jammu university. Full Harvinder Singh Profile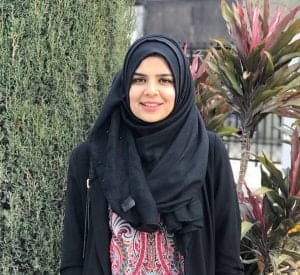 Areesha Ijaz is a computer science student who loves writing content, blog posts, product reviews, books, and research papers. She always loves to explore and learn new things. She has a master's in computer science from COMSATS University, Islamabad.  Full Areesha Ijaz profile