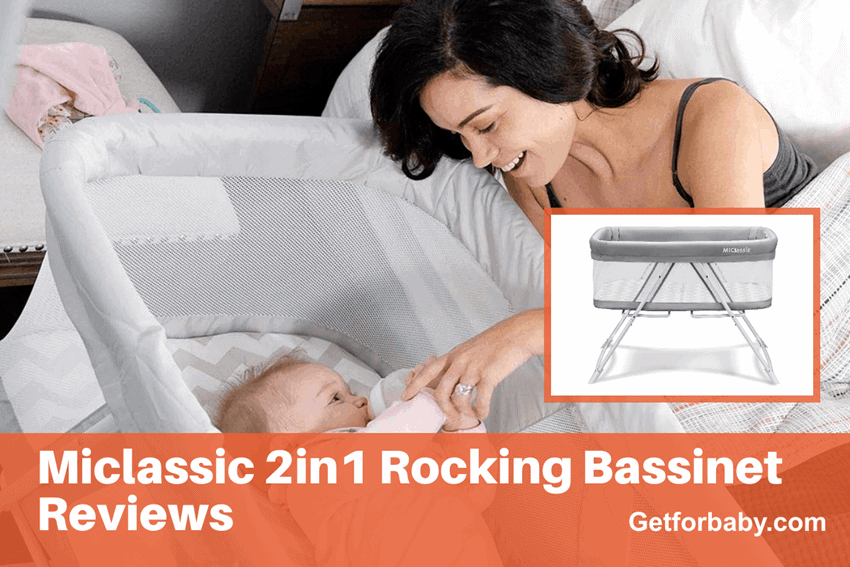 Miclassic 2in1 Rocking Bassinet Review
The MiClassic 2in1 rocking bassinet is one of the best traveling bassinets. Its "one-second-open-and-fold" system makes this bassinet easy to assemble and dis-assemble to store in a small space. It also comes with a carry bag which makes it travel-friendly. Just fold it, put it in the bag, and you can be on your way. The bassinet has many other features that make it perfect for newborns up to 6-8 months of age, like its breathable mesh, which helps the baby take fresh air and reduces the risk of death due to suffocation. The legs of the bassinet can be made stationary or turned into a rocking position to enable a rocking mode that makes it swing back and forth, which helps your baby fall asleep fast. Still, there is much to discuss, so keep reading Miclassic 2in1 Rocking Bassinet Review.
Safety

92%

92%

Comfort

97%

97%

Easy of Use

91%

91%

Price and Longevity

80%

80%
East to open and fold­­—it takes just one second
Easy to wrap in a carry-on bag
The lightweight frame makes it easy to move
Mesh sides to allow for ventilation & easy monitoring
Comfortable and waterproof mattress.
A stationary and rocking mode that helps soothe your baby.
Does not have features like music or nightlight
Not a lot of variety in terms of colors or designs
No extra space for keeping baby's things
| | |
| --- | --- |
| Product Name | Miclassic 2in1 rocking bassinet |
| Brand | MiClassic |
| UPC | B06ZZP4TCP |
| Age limit | Up to 6 month |
| Item Weight | 15.63 Pounds |
| Weight Limit | 33 Pounds |
| Dimension | 37.4 x 23.8 x 28 inches |
| Mattress Size | 9.6 x 7.5 x 3.4 inches |
| Sheet Size | 7.83 x 5.79 x 1.22 inches |
| Batteries Required | No |
| Availability | In Stock |
| Rating | ⭐⭐⭐⭐ ☆   4.8 / 5 |
| Price | $79.99 |
| Buying Options | |
| Registry Options | |
MiClassic 2in1 Rocking Bassinet Reviews
MiClassic 2 in 1 Rocking Bassinet is lightweight and safe with two modes of operation, making it best for both home usage and on the go.
We have already listed down the pros and cons of the bassinet, but a more detailed description of each feature is necessary to make a well-informed decision.
So, Let's take a deep insight into MiClassic 2in1 Rocking Bassinet Reviews.
1. Miclassic Rocking Bassinet Design
The MiClassic Bassinet is light yet extremely sturdy, and it is designed to maximize the sleeping space without making the bassinet too bulky near your bed.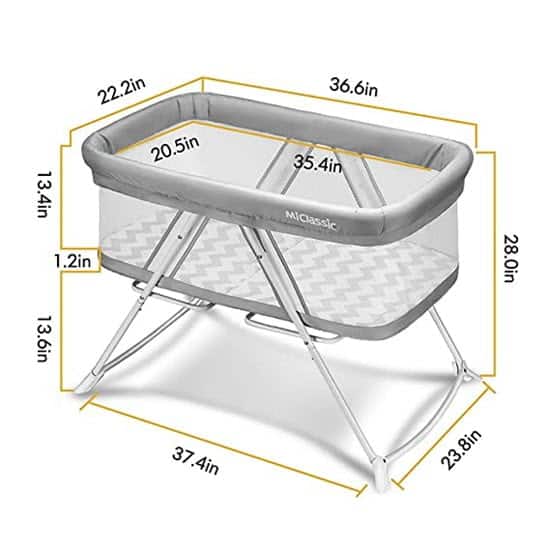 It is only possible due to its sleek, minimalistic design.
The dimensions for the bassinet are 37.4" by 23.8" by 28", which is a very decent size with 16 pounds weight!
The bed portion of the bassinet is quite large, so your baby can fit in comfortably even when they have grown after a few months.
It means it is a suitable bassinet for big babies (bigger or healthier than the average baby) and needs more space for comfortable sleeping.
Miclassic 2in1 rocking bassinet age limit is 6 months (by experience, you can use it up to 8 months), but small enough to ensure that the bed is comfortable and cozy.
Note: Some people use the bassinet above the recommended age limit. But it is preferable to check when to stop using the bassinet. 
Remember, "space" is the second factor that defines how long you can use your bassinet for your baby.
The ample space also means that whoever is taking care of the baby can change the diaper inside the bassinet.
There is no need to remove the baby to a separate changer; there is plenty of space for the bassinet to double up as a changing surface.
But if you still want to buy an extra diaper changer, you can go with "Munchkin Secure Grip Waterproof Diaper Changing," a great diaper changer that doesn't break the bank.
2. Safety and Sturdy Material
The best thing about this product is that it is certified by the CPSC (Consumer Product Safety Commission). So, you don't need to worry about the material they use to make it and the baby's safety and health.
What truly makes the MiClassic Bassinet so good is its construction which relies on a simple design made out of the best and safe materials.
The frame is aluminum which is quite sturdy but very light at the same time.
The frame is strong enough to support a child's weight up to 35 pounds (no other bassinet can hold that weight) which is great for a bassinet that is 16 pounds in weight itself.
But according to manufacturers, the MiClassic bassinet's weight limit is 33 pounds, so it is highly recommended not to use it above 33-35 pounds.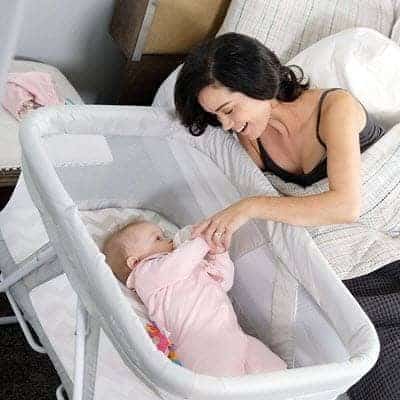 Apart from that, the side of the bassinet is high, so your baby can never roll out of the bassinet. It ensures that you can sleep without worrying about your baby.
The second benefit of the sidewall is that the baby can sit in the bassinet for a while.
For example, other bassinets in the market don't have a high sidewall, so babies can roll out of the bassinet (when they can sit), and you can't leave the baby alone, but with MiClassic, there is no need to stress.
It also means that you can use the bassinet for a more extended period than other standard bassinets available on the market.
Since the bassinet is made up of strong materials, this automatically makes the bassinet very safe and sound.
No need to worry about it collapsing beneath with the growing weight of your baby.
3. All Mesh Bassinet for Additional Safety
Miclassic all mesh bassinet has all four sides made of mesh, making the sides very soft for your baby.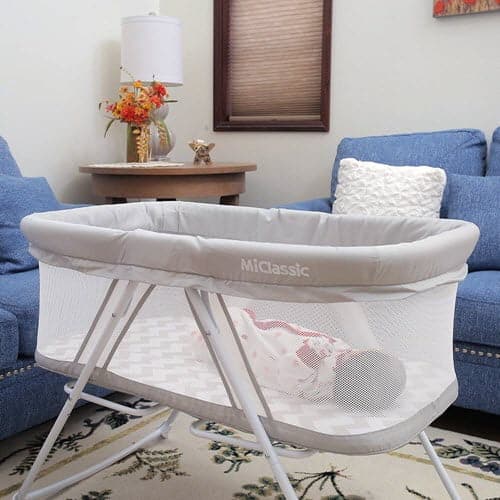 Mesh sides make the bassinets well-ventilated and airy.
Thus, the probability of infant death due to suffocation and lack of oxygen is significantly reduced.
The see-through mesh sides also allow you to monitor your baby from far away and ensure that they are safely sleeping in their bassinet or playing happily in it.
Having visual contact while your baby is in bed is a considerable advantage, especially for busy parents who are doing household chores or working from home while looking after their babies.
So even if they can touch and reach them, their hand will not contact any rough materials.
4. Two Modes for Easy Sleep
One of our favorite features is the rocking feature. Usually, these bassinets do not come with a rocking feature, but the miclassic rocking bassinet does.
It is not a rocking bassinet, but you can convert it into a rocking bassinet by changing its leg from stationary to rocking.
And with a bit of push, it starts moving forward and backward motions to simulate rocking.
Rocking and vibrating bassinets are almost the same; both help to soothe the baby so that the baby can sleep fast. But nowadays, vibrating bassinets seem to be trending because it helps babies to sleep faster.
You can explore some of our best vibrating bassinets.
This list of bassinets also comes with in-built music and nightlight functions, along with a vibration that makes sure your baby falls asleep faster.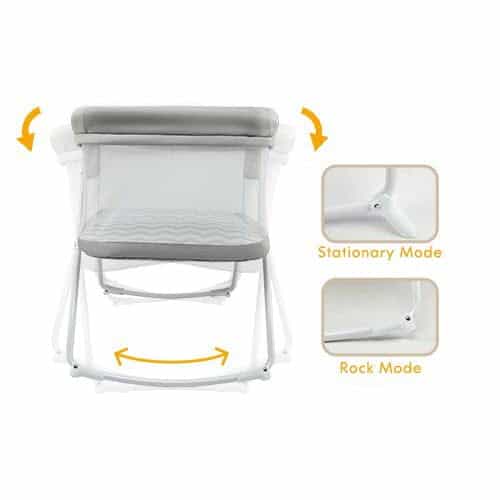 5. Easy Assembly & Travel-Friendly
The "QUICK PULL UP" is a remarkable feature of the MiClassic Portable Bassinet. I have already talked a lot about this feature above. So now it's time to explain how to fold the MiClassic bassinet.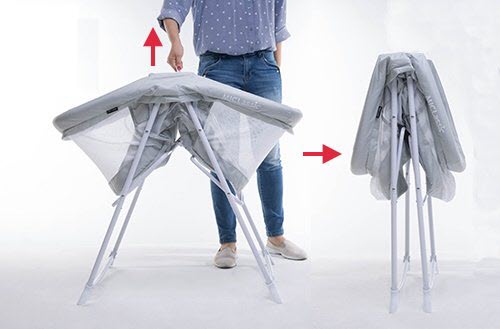 The bassinet has "one-second-open-and-fold," which means that the bassinet can be opened in an instant using a single hand and then folded back just as quickly. If you still need help then here is the bassinet instructions manual.
It is hassle-free and requires no tools for assembly, which means you can open or close it without any device.
You don't need another person or have to put the baby down to assemble the bassinet.
I travel a lot alone, and this easy folding feature helps out a lot.
Let me explain how. It's challenging to assemble other bassinets that take 10-15 minutes and a lot of hard work.
After traveling, you are tired and feel lazy by the end of the day, and if your baby starts crying, it can become impossible to assemble the bassinet alone.
But, I can open my MiClassic bassinet with just one pull. MiClassic bassinet folding is bliss for you.
7. Miclassic Bassinet Sheet and Mattress Size
Although the manufacturers never recommended buying new sheets or mattresses for safety reasons, a question still comes to mind: do you need sheets for a bassinet?
6. Easy to Care and Maintenance
All the fabric or the bassinet is detachable. You merely need to remove and throw it in the washing machine with child-friendly detergent, and all done. Your baby is ready to sleep in a clean and sanitary environment for more significant growth.
Although for the whole bassinet cleaning, you have to check out how to clean a bassinet.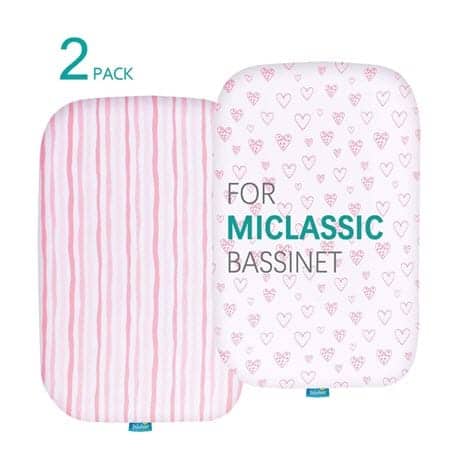 One of the biggest reasons to buy a MiClassic bassinet mattress or MiClassic bassinet sheet is the leaky diaper.
What if you have to remove the sheet or mattress due to leakage? So how can you put your baby to sleep on it?
This bassinet comes with a waterproof mattress pad that you may clean with damp wipes.
However, if you want to extend the life of your mattress pad, you may buy a MiClassic bassinet fitted sheet.
Make sure you have an additional set of best bassinet sheets and mattresses on hand if your baby messes up in the middle of the night.
The Bottom Line
MiClassic 2in1 Rocking Bassinet is one of the best traveling bassinets in the market. Moreover, its lightweight design and ability to hold up to 35 lbs make it the perfect bassinet that you can use for up to 8 months.
No other bassinet is available on the market that you can use for so long.
Another awesome thing about the MiClassic bassinet is that you don't need to buy a separate diaper changer because it is pretty spacious.
The above features make it the perfect option with an affordable price tag that will not disappoint.
Apart from that, MiClassic Bassinet is our tested and verified bassinet. So, feel free to buy this bassinet online from our verified seller.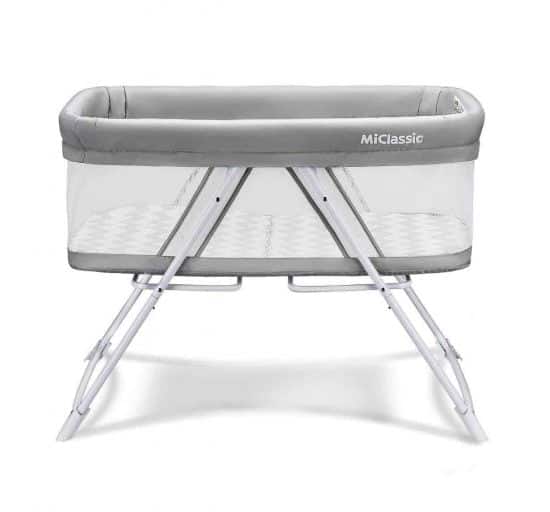 What are you waiting for? Simply click on the below link to keep your baby happy and calm and offer a peaceful sleeping environment.
Here are some of the important pieces of information that you need.
Getforbaby editorial team is committed to providing the most helpful, updated & trustworthy parenting information. When creating or updating the existing content, we rely on credible sources, respected health organizations, professional groups of doctors, & only high-quality sources, including peer-reviewed studies, to support the facts within our articles. Learn more about how we write Getforbaby content.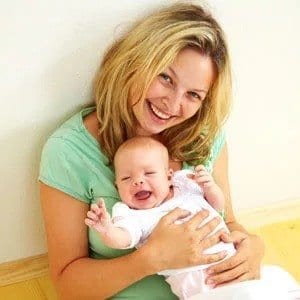 Dr. Sakshi Patel
Senior Content Writer
Dr. Sakshi Patel, an expert in Human Development and Family Studies, combines her academic knowledge with personal experience as a mother to twins. She provides comprehensive articles and meticulous reviews on baby essentials, offering accurate and up-to-date information to help parents make informed decisions. Read more.