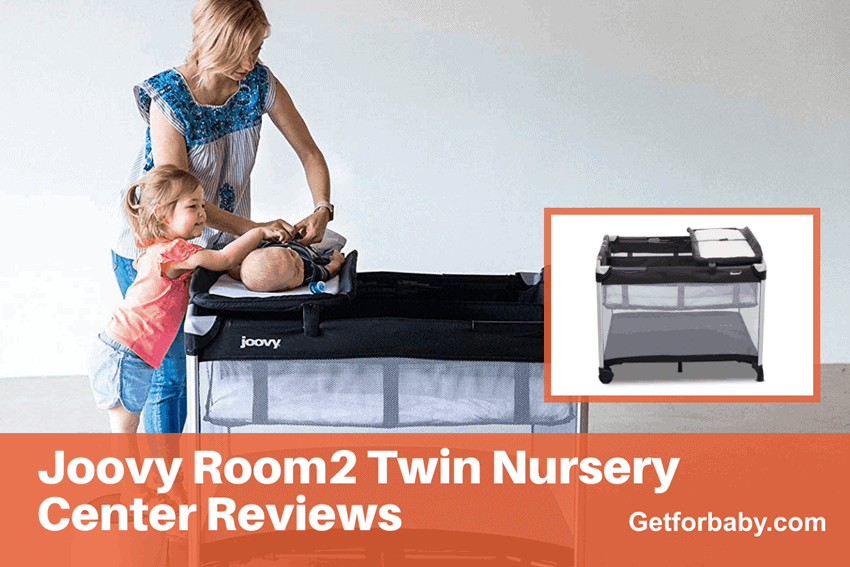 Joovy Room2 Twin Nursery Center Reviews
The JOOVY Room2 Twin Nursery Center is one of the lightweight, multifunctional and unique bassinet especially designed for the twin baby. Weighing a mere 9.5 pounds, it's easy to fold feature makes it travel-friendly. Don't worry, it also comes with a carry bag that makes your traveling hassle-free. Joovy Room2 can hold up to 30lbs. It means twins weighing up to 15 pounds each can easily be laid inside. The center divider is removable and can be zipped open whenever the need may arise. The changing table comes along with the bassinet and can hold a maximum of 25 pounds of weight. Simply, place the table on top of the bassinet, and you can easily change your little one's diaper and/or clothes without much hassle. So, Keep reading our Joovy Room2 Twin Nursery Center Reviews
Safety

89%

89%

Comfort

90%

90%

Easy of Use

96%

96%

Price and Longevity

95%

95%
Lightweight & easy to fold making it travel-friendly
Can support up to 30lbs where itself just 9.5lbs
Center divider is removable, to make a sizeable single bassinet
Has an in-built changing table, can hold 25lbs
Front wheels make it easy to move
Center divider is not made of mesh material
Have to pick from one side to move Nursery
| | |
| --- | --- |
| Product Name | Joovy Room2 Twin Nursery |
| Brand | Joovy |
| UPC | 849285090517 |
| Duration | Up to 6 months |
| Playard Duration | Until Baby safe in it |
| Item Weight | Not Mention |
| Weight Limit | For Bassinet is 15 lbs |
| Playard Weight Limit | No Weight Limit |
| Changing Table |  25 lbs |
| Dimension | 16.5 x 38 x 3 Inches |
| Rating | ⭐⭐⭐⭐ ☆     4.3 /5 |
| Availability | In Stock |
| Price | $99.99 |
| Latest Price | |
Do I Need Joovy Room2 Twin Nursery Center?
If you are looking for low-budget yet a multifunctional bassinet, then Joovy 2 twin nursery is one the best available. This bassinet also gets #4 on our list of the best bassinet for twins.
It's aluminum framed body makes it extremely light in weight and easy to move.
This is a handy feature for mothers because for a recovering mother it's challenging to move the bulky bassinet.
Its diaper changer has sufficient height to change the diaper of the baby without bending over.
This thing makes the whole cleaning process very easy and reduces a lot of hard work.
The Nursery room is spacious enough to accommodate multiple babies at the same time comfortably.
By just adding the center divider you can divide this space into two equal space and it can be zipped open whenever the need may arise.
This means you have the option to remove the obstruction in between your twins so they can be placed together.
Well, after exploring the Joovy Room2 Twin Nursery Center Reviews, you will understand how your investment on this product is worth it.
If you have been searching for the best value product, click here to make a purchase from our verified suppliers for an unbeatable rate!
Joovy Room2 Twin Nursery Center Reviews & Features
It is critical to making the right choice when it comes to selecting a bassinet for your twins. It is a must to look at all the features and read up reviews by customers who have already purchased the bassinet. This way you can weigh the pros and cons and decide whether a particular bassinet meets your needs or not.
So, Let's take a deep insight into Joovy Room2 Twin Nursery Center Reviews and explore it's each feature
1. Cleaver Design for Spacious
The Joovy Room2 bassinet is specially designed to provide maximum space. The bassinet has to contain at least two babies at the same time which means the bed portion has to be huge.
Despite the large sleeping portion, the bassinet is made with a minimalistic style, and the sturdy aluminum frame is covered in mesh.
This sleek design means that the bassinet is incredibly lightweight.
It also minimizes the space it occupies since it lacks any bulky parts.
The bassinet looks absolutely lovely, but the best part is that it is very practical.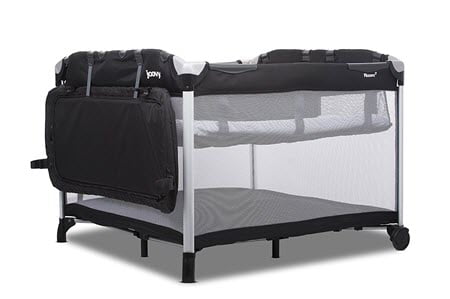 My boys love sleeping in the comfort of their bassinet, and if we have to travel somewhere, sleeping is always an issue as they have become so accustomed to the JOOVY.
2. Safe Environment
Generally speaking, bassinets are the safest choice of bed for your baby. The material used to make bassinet is chemical free, and there is no sharp pointed material or even hard material that can possibly hurt you or the baby inside the nursery.
Cribs are far too big, while bassinets are snug and cozy. The Joovy Twin Nursery Center ensures that both your babies sleep or lay in their own spaces safely.
Parents do not need to worry about one kid rolling on top of the other as the divider in the middle prevents such a possibility.
Parents can really relax and be free of fear when their babies are on their side of the bassinet.
The mesh sides also mean that air ventilation is not hampered and you can even keep an eye on your precious little ones from afar.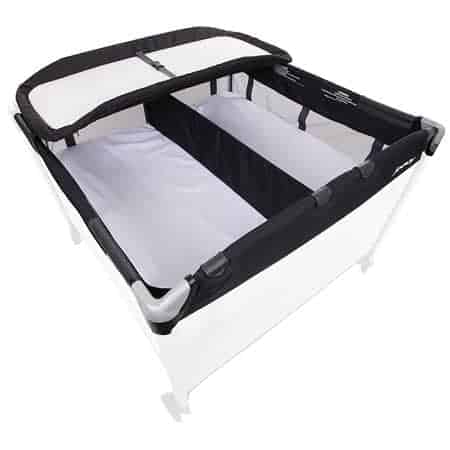 All these safety features spell peace of mind for the parents. I find that the material is perfect for babies as it is durable and sturdy but very flexible at the same time.
3. Easy To Assemble
The JOOVY Room2 Twin Nursery Center looks quite elaborate, but I found it surprisingly easy to assemble.
It requires zero tools or hassle, and the bassinet can be constructed by merely clipping in place the bed portion which has the mattress in place.
Disassembling, similarly, is easy as well.
This is an essential feature as we, as parents are already quite occupied with attending to our twin new-borns than to bother with assembling a bassinet as well.
4. Multi-functional Nursery
The Nursery comes with a changing table which can hold a weight of up to 25 pounds and comes with belts, so there is no risk of your baby falling or slipping.
Aside from having a functional changing table, the bassinet can actually be converted into a playpen by simply removing the mattress.
The bassinet itself is quite deep.
Once the mattress, which is clipped to the side and reaches about halfway down the actual depth of the entire bassinet, is removed the bassinet becomes a playpen instead.
The playpen is fully functional. It is spacious and has mesh sides to allow for visual contact.
You can place an extra mattress at the bottom to provide for extra padding and just leave the kids to play inside freely.
It is secure, well-aerated, and enables you to watch the kids from a distance.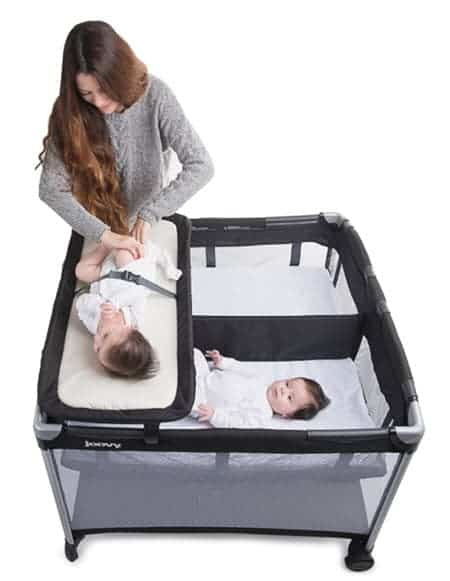 We hope that you like our Joovy Room2 Twin Nursery Center Reviews and hopefully, it helps you to make your decision in the future.
The Joovy Twin Nursery Center is one such product that caters to the needs of parents with twins on the way easily.
Incredibly spacious but compact at the same time, the bassinet is custom built to house twins.
The divider is the perfect way to give each baby its own space, without the hassle of getting two separate bassinets
My boys really enjoy their personal space.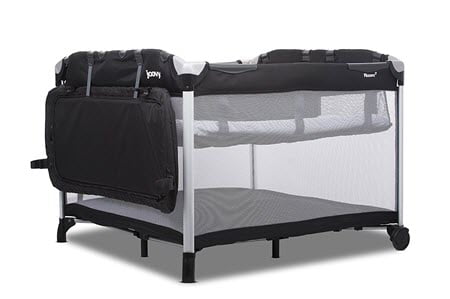 Overall, it's a safe, affordable and multi-functional bassinet which promises comfort to your babies along with a safe environment to sleep in.
So, what are you waiting for? Simply click on our link to keep your baby happy and calm as well as offer a peaceful sleeping environment
Here are some of the important pieces of information that you need.
Getforbaby editorial team is committed to providing the most helpful, updated & trustworthy parenting information. When creating or updating the existing content, we rely on credible sources, respected health organizations, professional groups of doctors, & only high-quality sources, including peer-reviewed studies, to support the facts within our articles. Learn more about how we write Getforbaby content.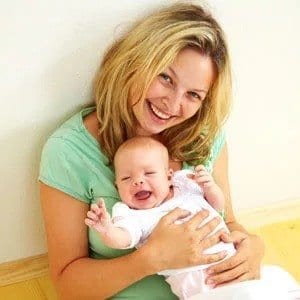 Dr. Sakshi Patel
Senior Content Writer
Dr. Sakshi Patel, an expert in Human Development and Family Studies, combines her academic knowledge with personal experience as a mother to twins. She provides comprehensive articles and meticulous reviews on baby essentials, offering accurate and up-to-date information to help parents make informed decisions. Read more.