BREAKDOWN | Dream On Me Karley Bassinet Review
The Dream On Me Karley Bassinet is one of the most lightweight and versatile bassinets on the market. It's designed for the baby weighing up to 15 lbs. and aged six months. Its lightweight functionality makes it easy to move from room to room. And, its folding feature makes it travel-friendly and it's ideal for parents who are always on the go. Apart from this, Dream On Me come with a 1-inch-thick sleeping pad and an adjustable canopy to protect your baby from insects and direct sunlight. It offers robust construction and stability to keep your baby safe and secure. And, if that's not enough, it has a storage area underneath for keeping baby essentials.
Safety

90%

90%

Comfort

95%

95%

Easy of Use

92%

92%

Price and Longevity

80%

80%
Lightweight, Flexible and easy to move.
Quick folding mechanism
Highly Portable
Easy to carry without any hassle
Comes with underneath storage and double canopy
Small parts make it hard to clean and wash.
Product Name
Dream On Me Karley Bassinet
Brand
Dream On Me
UPC
832631009714
Duration
Up to 6 month
Item Weight
14 Pounds
Weight Limit
16 Pounds
Dimension
35.5L x 18.3W x 47H inches
Color
Available in 6 color
Availability
In Stock
Rating
⭐⭐⭐⭐ ☆ 

 

4.5

 /5

Price
$60.00
Latest Price
Do I Need The Dream On Me Karley Bassinet?
When I was looking for a bassinet for my baby, top on my list was versatility, modern design and the ability to fit into small spaces.
If you're like me, I bet these are the same characteristics you're looking for. Well, you're in luck.  We've researched and tested a ton of bassinets and nothing can beat the Dream On Me Karley bassinet.
This bassinet is cozy with great features and functionalities.
I bought the Dream On Me Karley when my son was born, and wow, does it have some great features and functions. I truly believe it meets the needs of both the baby and me.
My son can look out to see his surroundings and know that I'm still in the room.
And, it comes with a cover that you can drape over one side to prevent the light/sunlight without restricting air circulation.
Due to it's lightweight and portability, this bassinet has become very popular among parents.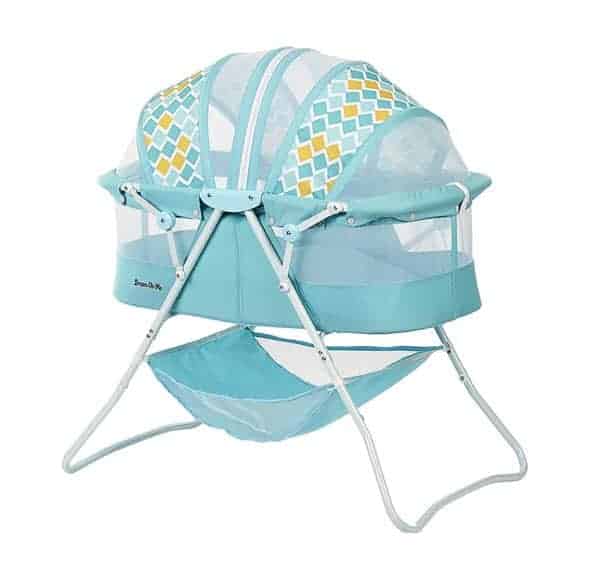 It's Right now, it's getting rave reviews on the internet and is in top 10 of baby bassinets on the market.
After exploring our Dream On Me Karley Bassinet review, you'll understand how your investment in this product will be worthwhile.
If you have been searching for the best value product, click here to make a purchase from our verified suppliers for an unbeatable rate!
Dream On Me Karley Bassinet Review and Its Features
Dream On Me is one of the most renowned and trusted baby brands in the U.S. They make top-notch bassinets that will totally make your life less challenging as a new parent.
So, let's take a deep dive into our Dream On Me Karley Bassinet Review.
1. Safe and Clever Design:-
The bassinet is designed perfectly. It gives my son peaceful sleep throughout the night, which in turn, allows me to sleep well!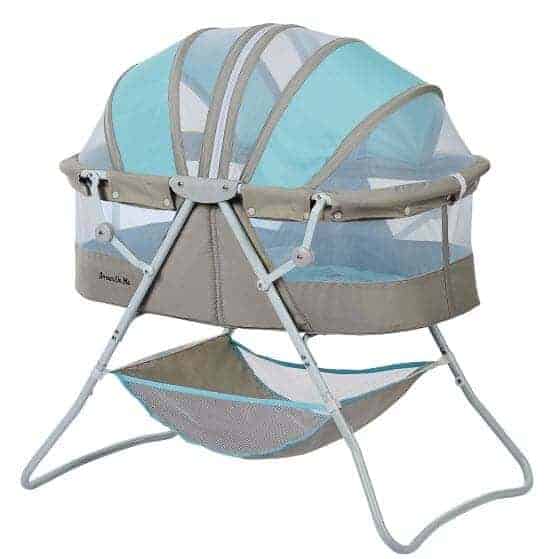 And, you don't have to worry about safety because it's designed so it won't tip over.
Even though the Dream On Me Karley Bassinet looks small, it's packed with a lot of extras in its compact frame.
This bassinet also get #8 on our list of the best bassinet for samll space
So, you'll get access to all the important features to take care of your baby in a single bassinet and you'll save money as well.
It is perfect for babies up to 6months to sleep well as it renders enough space for them to enjoy comfort.
The larger model of bassinets is pretty too, but they need minimum assembly and maintenance.
One of the significant highlight design aspects that I like the most is a quick folding mechanism, which enables me to move the bassinet from one place to another easily
As it is available in several colors such as purple, aqua, grey, (Click for more colour), etc. you can choose the one as you wish. I have a purple color bassinet because it adds more value to my room design.
2. Lightweight & Portability
This Dream On Me Karley Bassinet is extremely lightweight and portable compared to other bassinets on the market.
The weight of the product is just 14 lbs. and can hold a baby up to 25 lbs.
However, after testing the bassinet, I know first-hand that you can use it for a little longer just as long as your baby is comfortable.
As this bassinet has easy-folding legs, I never worry when I have to move it to another room quickly.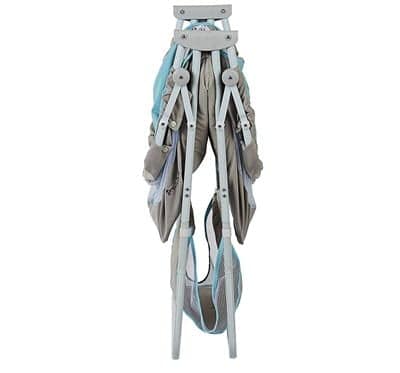 Additionally, it includes a full safety lock to safeguard your baby.
If your house is small and your storage space is minimum, like mine, the folding legs are helpful and frankly, necessary.
The bassinet folds practically flat, which allows it to fit into almost any closet, truck, and nook.
3. Storage Underneath
This bassinet has a bottom storage device for storing diapers, toys, wipes, and baby fabrics.
This enables me; I hope you too, to save more space in your small home and accommodate them to other purposes.
Additionally, this storage also eliminates the need of buying a storage container for keeping your baby essentials safe and secure.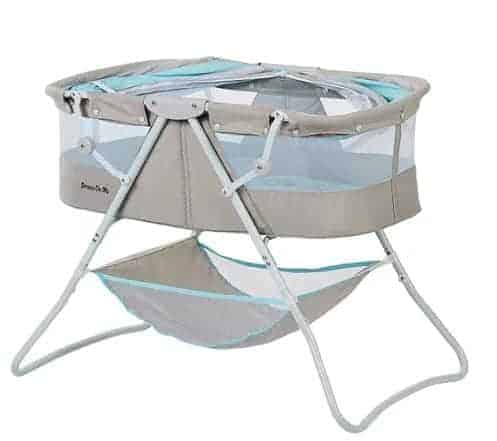 Another interesting thing about this bassinet is that the storage area hangs on the stand and not on the main base.
Therefore, it does not affect your baby sleep in any situation.
Obviously, babies love toys and therefore bassinet comes with the attractive and colorful toys hanging on the top assist your baby to enjoy their day.
In this bassinet, you can also include butterflies, creatures, fun characters, etc
4. Canopy & Thick Sleeping Pad
This Dream On Me Karley Bassinet comes with a sleeping pad, which is designed to protect your baby from the risks of sleeping on their side and it keeps them snug and comfy.
The bassinet fabric is made of the polyester foam and is very comfortable for my baby.
I'm pretty adamant about having only the softest fabrics touch his skin!
The bassinet is large enough that my baby can easily stretch his legs and arms. You can even swing the base gently to make your newborn relax and fall asleep at night.
Additionally, it has a double canopy, which you can zip close, to make an ideal hideaway for your little one to sleep soundly in, without any outside disturbance.
On sunny days, I love that I can adjust the canopy to shade my baby's face.
Due to its standard dimensions, you can won't have any problem replacing the sheet or canopy.
I hope you got some good information out of our Dream On Me Karley Bassinet review and that it'll help you make your decision on which bassinet to buy.
Dream On Me Karley Bassinet Accessory Review
Obviously, you're going to want to buy a bassinet that offers a good selection of accessories because it will make outfitting your nursery a lot easier.
And, thankfully, the Dream On Me Karley Bassinet has some great additional accessories, like:
1. Dream On Me Karley Bassinet Sheets
The Dream On Me Karley bassinet  sheets  is made up of high-quality material.
I bought a few extra fitted knit sheets and I thought their quality and style were fantastic considering the low price I paid.
To keep those sheets cozy and long-lasting, you'll need to set your washer to gentle. And I found that tumble drying them on low really kept them looking new.
You'll be happy that the sheets come in multiple colors to coordinate with the bassinet. And, the ultra-soft knit material feels nice and soothing on my baby's delicate skin.
2. Dream On Me Karley Bassinet Mattress
The Dream On Me Karley's mattress felt nice and soft and I really believe it gives my son a great night's sleep.
The mattress cover is 100% cotton backed by a waterproof material. So, it's soft and comfy for your baby but protects the mattress.
When the baby has the occasional nighttime accident, I simply pull off the cover and throw it in the wash. It has a deep pocket and elastic trim to render a snug fit. And it's durable for multiple trips through the washer and dryer.
The bassinet's mattress is 15 x 33 x 4 inches and made from extra soft materials to eliminate noisy crinkling sounds. Obviously, you don't want any sounds if you want your baby to sleep soundly
This top-notch bassinet will surely make your new-parent phase more comfortable and hassle-free.
It's extremely reliable and useful so you and your partner will be able to rest when your little one sleeps.
This safe and cozy bassinet is suitable for all babies under six months.
Dream On Me Karley Bassinet is tested and verified bassinet to give you peace of mind when you buy this bassinet online from our verified seller.
So, what are you waiting for? Purchase this bassinet by clicking on our link now and give your newborn comfort and better sleep all night long!