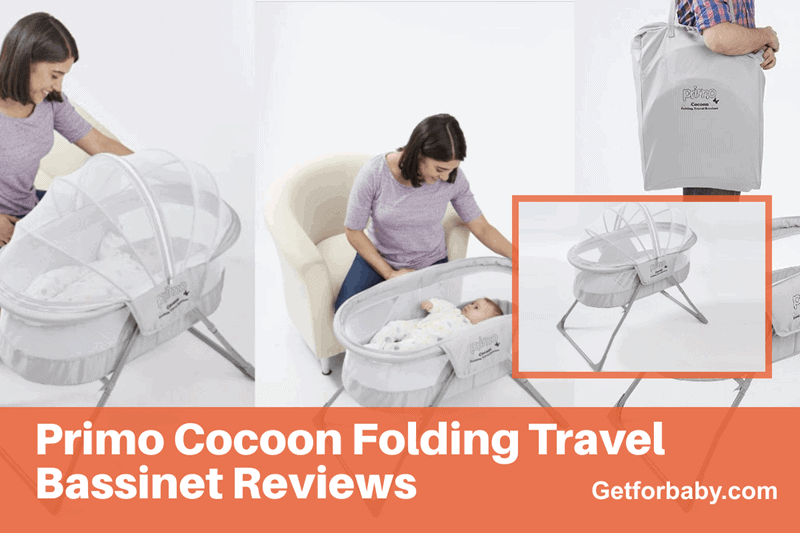 Primo Cocoon Folding Travel Bassinet Reviews
The Primo Cocoon folding indoor and outdoor travel bassinet is a beautiful, smart and practical piece to add to your nursery. It is made from durable materials, which are very light in weight, making it easy to move. Also, it has a travel bag with a handle to carry. The snug, comfy fit inside lets your little one feel completely secure. The mesh sides provide better airflow for comfortable breathability. What's great is the ergonomic design that makes you appreciate how easy it is to set up and pack. Apart from all these things, a full-sized, detachable canopy is available to protect the baby from bugs, pets, or light. To find out what this travel-friendly bassinet for infants has to offer, keep reading our Primo Cocoon Folding Travel Bassinet Reviews below.
Safety

92%

92%

Comfort

97%

97%

Easy of Use

91%

91%

Price and Longevity

50%

50%
Designed to be made easily portable

Double canopy to protect from sunlight, dust & insects

Easy to fold & comes with a travel bag

Practical alternative to large cradles and cribs

Suitable for use indoors and outdoors
The bassinet may be fragile
| | |
| --- | --- |
| Product Name | Primo Cocoon Folding Travel Bassinet |
| Brand | Primo Cocoon |
| UPC | B01MQYWJD8 |
| Age limit | Up to 5-6 month |
| Item Weight | 8.6 Pounds |
| Weight Limit | 20 Pounds |
| Dimension | 34 x 17 x 35 inches |
| Mattress Size | 32 x 16 x 1 inches |
| Sheet Size | 32 x 16 inches |
| Batteries Required | No |
| Availability | In Stock |
| Rating | ⭐⭐⭐⭐ ☆  4.7 / 5 |
| Price | $64.99 |
| Buying Options | |
| Registry Options | Add To Amazon Registry |
Primo Cocoon Folding Travel Bassinet Reviews
The Primo Cocoon folding travel bassinet is a simple, minimalistic and functional bassinet. We have given you a general overview of what this bassinet offers by listing the pros and cons.
However, if you're interested in knowing more about the features that you feel are necessary to decide whether to invest or not, read our Primo Cocoon bassinet reviews.
1.) Sleek & Modern Design
The Primo Cocoon bassinet has a small footprint, is lightweight, and gives a comfy space for newborns' sleep with protection from insects and sunlight radiations.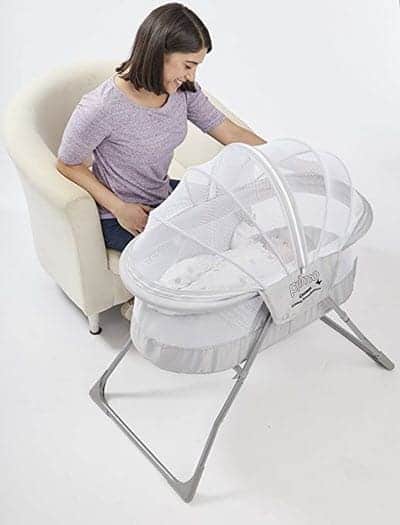 The dimension of this product is 34 x 17 x 35 inches, which is less than the fellow bassinet but keep in mind that the manufacturers built this bassinet to offer a comfortable sleep to specifically newborn babies.
There's a reason why we insist that it's essential for your infant to feel secure, snug, and comfortable.
As soon as they are born, too much space makes them feel insecure and uncomfortable. That is why even the nurses prefer that you snuggly wrap the baby in a blanket as they sleep.
Babies crave human touch and while sleeping with your baby skin to skin sounds amazing ( like Co-sleeping with a newborn), you can't do it all the time.
Therefore, the next best thing is a bassinet that does the job.
Many people complain about how cribs and cradles are too spacious and the baby tires quickly from abrupt movements.
The Primo Cocoon bassinet is created to provide maximum benefit to babies by preventing unnecessary activities.
The bassinet itself is adequate to keep your baby feeling enclosed. However, you will have to wrap your baby in a bassinet blanket or a wrapping sheet.
The internal lining is thick and plush to keep your infant warm, tight, and cozy.
The manufacturer does not mention how long can a baby stay in a bassinet, but you can use it for 5-6 months.
As the weight limit of this product is 20 pounds, it is highly recommended that if your baby is 4 months old but weighs near 20 lbs, you should try to move to something more comfortable and secure, like a crib.
2.) Canopy to Protect
This bassinet is structured like a regular sleeping bed. But it has the added advantage of having a double screen canopy on top that slides up to form a cocoon shape, which explains the creative name of the bassinet.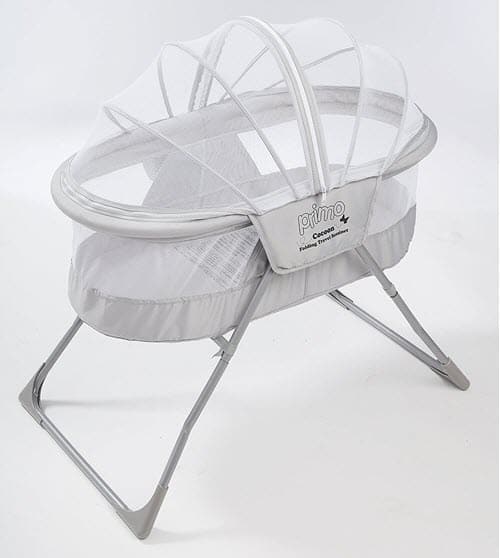 It protects your baby from direct sunlight, wind, dust, insects, and other outdoor elements.
The canopies are removable, so you have easy access to the baby if you are inside. It takes a few seconds to set it up and completely fold it.
It is a very lightweight bassinet, weighing just 9 lbs; thus, even with your postpartum body healing, you can set it up or move it around with absolute ease.
It also stands up to 35 inches, making it a great option as a regular side bed bassinet.
You can also make the bassinet more comfortable and warm during winters so that the baby can sleep soundly.
Read two guides on how to make your baby's bassinet ready for winters:
3.) Convenient & Travel Friendly:-
As mothers, we appreciate even the little comforts when it comes to things associated with babies.
It is very lightweight, which means you can easily carry it around, pack it, set it up anywhere, and keep an eye on your baby as you get your daily chores done.
The ease is commendable, and you will be just as grateful for it when packing.
However, the main feature that makes it stand out is an excellent travel bassinet. It is constructed and ergonomically to assist portability and mobility.
It folds flat and can easily fit in the boot of your car or your luggage.
The bassinet bed is placed upon a stand with spread-out joint legs in a criss-cross for maximum support.
This setup comes undone easily to fold and comes with a travel bag with handles, making the bassinet easy to take wherever you need to go or stow away.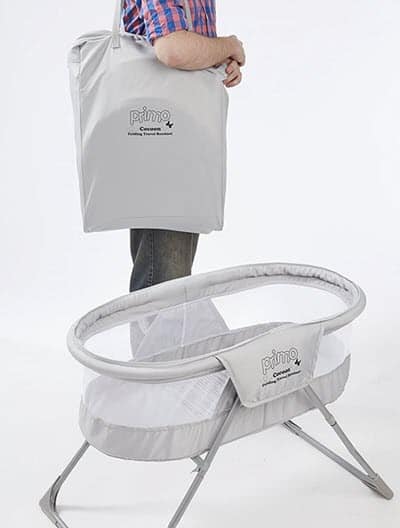 Even if you don't specifically plan to travel or move around much with this bassinet, it is always nice to have a multi-functional bassinet. It is because you never know when you might need the portable feature.
4.) Durability and Reusability:-
The concept behind the Primo Cocoon bassinet is simple. It is functional, and it suits a vast majority's minimalist lifestyle.
You may have limited living space. We understand how growing and sustaining a family in this economy can be difficult.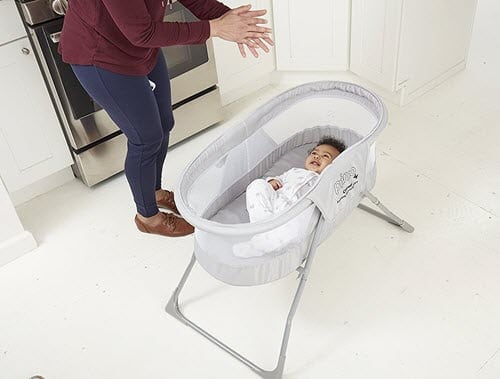 The longevity of this bassinet is excellent because of the high-quality materials used. You can pass it along to someone who badly needs it once your baby has outgrown it. It makes the bassinet environmentally friendly.
You can even use it for other purposes around the house. For example, you can put away the holding stand and use the bassinet later on as a laundry basket, toy hamper, picnic basket, or supplies.
It can even be reused as a bed for your furry little friends. Countless people claim that their dogs or cats love sleeping in these bassinets for newborns.
One of the most common items to get discarded is the crib or the bassinet as children grow up. So once your baby outgrows this bassinet, you can easily stow it away if you plan to have more children.
5.) Easy to Care and Maintenance
Let's start from the cleaning point of view.
Remove the attachments and the mattress from the bassinet before cleaning it. You can easily remove the bassinet mattress, hand clean it, and hang it to dry.
Using a mild soap or upholstery shampoo, wash the fabric by hand with cold water and lay it out to dry.
Don't use bleach, and never use a dry-cleaning service. In contrast, you must use a moist towel to clean the mattress/bassinet pad.
If you need help understanding how you can clean it, here is an excellent guide: How to Clean a Bassinet & Its Accessories step by step.
Note: For all the new caring moms like you can also check the manual instruction guide of the bassinet for a better understanding of the whole bassinet.
6.) Bassinet Sheet and Mattress Size
The primo cocoon folding travel bassinet mattress is made of polyester microfleece. It is a fitted oval mattress.
The mattress is soft and made of high-quality foam, ensuring your baby sleeps comfortably and snugly all night long. And the mesh sidewalls allow a healthy airflow to keep your baby cool in warm weather and ensure proper ventilation.
You can also buy extra bassinet beddings to replace the dirty bedding in the washer. Moreover, to prevent the mattress from getting dirty due to leakage, you can also buy the best bassinet sheets for extra softness.
| | | |
| --- | --- | --- |
| Product | Dimension | Latest Price |
| Primo Cocoon Folding Travel bassinet sheets | 32 x 16 inches | Price |
| Primo Cocoon Folding Travel bassinet Fitted sheets | 32 x 16 inches | Price |
| Primo Cocoon Folding Travel bassinet mattress pad | 32 x 15 x .75 inches | Price |
| Primo Cocoon Folding Travel bassinet mattress pad cover | 32 x 15 x 1 inches | Price |
I hope you like our Primo Cocoon Folding Travel Bassinet Reviews and found them useful to help you make a valuable decision.
The Bottom Line
Primo Cocoon Folding Travel Bassinet in grey is a simple bassinet with multiple features you need when traveling with newborns.
For example, Snap-on feet require a few seconds to complete the setup, carry a bag that can fit the bassinet, and have sturdy handles to make mobility and storage convenient.
Its lightweight frame makes it easy for you to pick the bassinet and baby to move from room to room. Moreover, its mesh sides make it easy to keep an eye on your little one.
What's more, they use a bit of tension to help maintain the frame's stability. Thanks to the slightly curved design, it means maximum security as your baby plays or sleeps.
Plus, a padded oval mattress improves comfort, and it's easy to clean; so, what else do you want when traveling with your little one.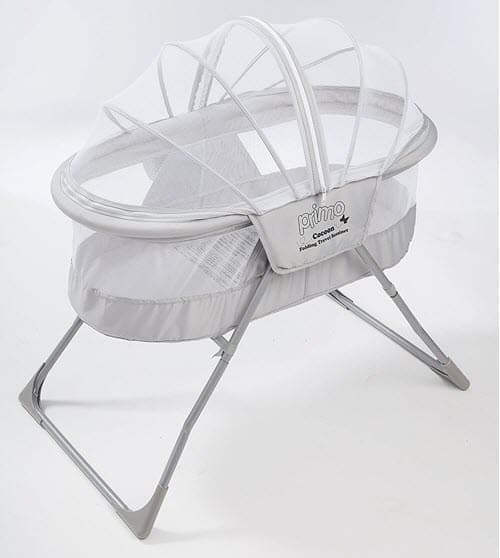 Primo Cocoon Folding Travel Bassinet is a great option in this price range. Therefore, if you're on a budget with limited space and want something multipurpose and cost-effective, the Primo Cocoon Folding Travel Bassinet is excellent.
Here are some of the important pieces of information that you need.
Getforbaby editorial team is committed to providing the most helpful, updated & trustworthy parenting information. When creating or updating the existing content, we rely on credible sources, respected health organizations, professional groups of doctors, & only high-quality sources, including peer-reviewed studies, to support the facts within our articles. Learn more about how we write Getforbaby content.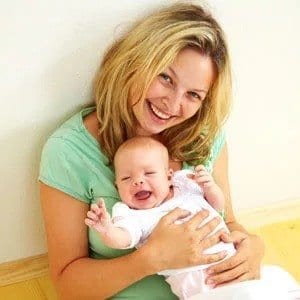 Dr. Sakshi Patel
Senior Content Writer
Dr. Sakshi Patel, an expert in Human Development and Family Studies, combines her academic knowledge with personal experience as a mother to twins. She provides comprehensive articles and meticulous reviews on baby essentials, offering accurate and up-to-date information to help parents make informed decisions. Read more.