BREAKDOWN | Pottery Barn Wicker Bassinet Reviews
Pottery barn wicker bassinet is a simple & sober bassinet that would look awesome in your nursery. It is a well-constructed piece of bedding meant for newborns up to the age of 4-6 months. It's made up of tightly woven of rattan that has been sealed, with wood detailing that gives it a robust structure as well as stability that keeps your baby safe. The bassinet is quite lightweight and Rolled on locking casters that make it easy to move from one place to another. Apart from that, you can just pick the bassinet and leave the base at home and can go anywhere you want with your baby & bassinet.
Safety

90%

90%

Comfort

92%

92%

Easy of Use

89%

89%

Price and Longevity

88%

88%
They are made to carry the weight of the baby with ease
Easy to move because of their wheel
Its lightweight makes it easy to lift & remove
Large Storage space, keeping baby essentials easy.
The pad on the mattress is not just safe & comfortable but waterproof as well.
The pretty colors are prone to catch dirt easily and lose their innocent glamour.
Product name
Pottery Barn Bassinet

Brand

Pottery Barn Kids

Target gender
Unisex
Duration
 up to 6 month
Color
White, Taupe, Chocolate
Feature
Movable
Size
37.5x 22.5x 38.5"
Availability
In stock
Rating
⭐⭐⭐⭐ ☆ 

 

4.5

 /5

Price
$330
Latest Price
Pottery Barn Wicker Bassinet Reviews & Its Features
Pottery Barn wicker Bassinet is GREENGUARD Gold Certified bassinet. It does not use the chemical the manufactures generally use to paint the wood. Its finishing is applied in a multi-step process using paint which is safe for children.
Overall this bassinet is fantastic. The only negative point of this bassinet is that it is quite expensive as compared to others (Check the latest price).
In this Pottery barn wicker bassinet review, I will give you all the necessary information that would help you to make a valuable decision. 
1. Unique Design That's Gentle On Kids
The pottery barn bassinet is made up of a thin tightly rattan but its base where it stands is made of solid poplar wood, MDF (medium density fiberboard) and rubber.
That makes it durable and sturdy enough to hold babies who weigh heavy for a longer period of time.
It has a practical construction specification with a height that's neither too low nor high and just perfect so you can see them from the bed.
Always remember that your bassinet weight limit defines how long can baby sleep in the bassinet?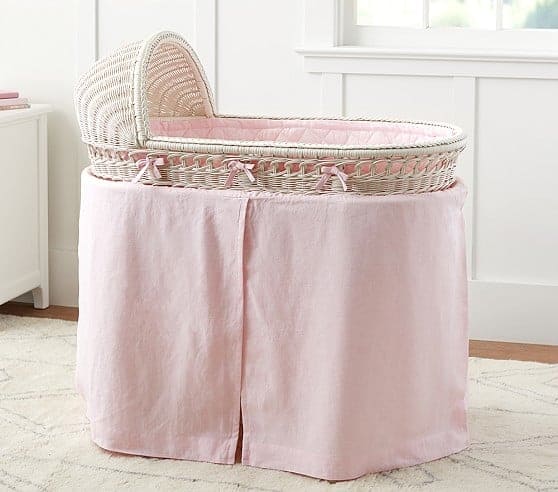 To protect the babies' eyes from direct sunlight or room light, Canopy is provided. And the good thing about this canopy is that you can easily attach or detach it from the bassinet within a minute.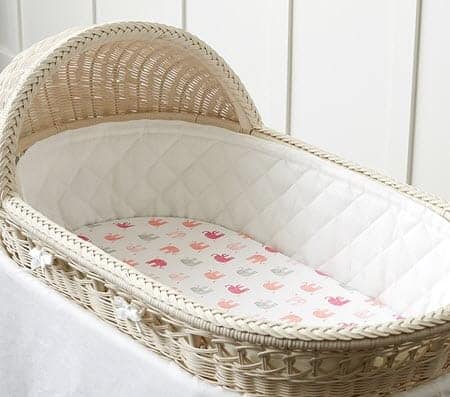 The side of the bassinet is covered with soft woolen and cotton, to protect the baby's skin.
Along with that, it also has a broad base that prevents the baby from toppling over and a strong bottom that efficiently holds its weight (approximate 28lbs).
Note: There are a lot of other bassinets that can hold the heavier baby.
The feature of the bassinet that we like the most is its rocking feature.
Usually, wood bassinet doesn't have this feature, but pottery has. You can rock your bassinet with the forward and backward with a gentle push.
2. Easy To Wash And Maintain
The best thing about this pottery barn bassinet bedding is that it is quite easy to maintain and a light dusting with a soft and dry cloth would serve the purpose.
That means you don't need to do hard wash, which takes a lot of your time.
But you should make sure that the pretty possession is shielded from direct sunlight and also extreme temperatures. Otherwise, the bassinet loses its pretty looks
For more information, refer to this article: How to clean a bassinet properly?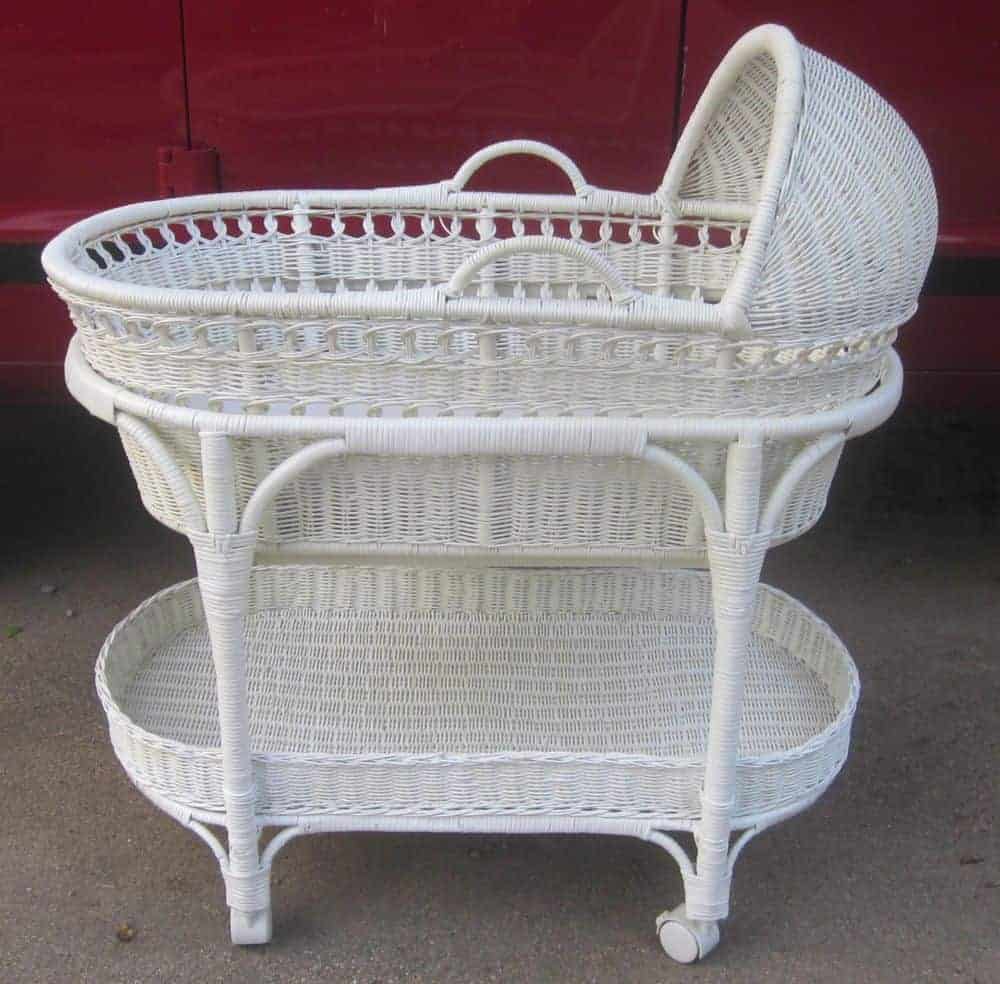 Also, there is no need to use any kind of chemical cleansers, polish or wax as they may damage the bassinet and also be harmful to the baby's health.
3. Safe And Tested Material
The Pottery barn wicker bassinet meets all the safety standards that have been enacted by the American Society of Testing Manufacturers, the US Product Safety Commission and the Canadian Cribs and Cradles Regulations.
No other bassinet in the market meets all these safety requirements, and I believe its simple and sober design makes this possible.
It comes with a lot of matching accessories such as pottery barn bassinet bumper, bedding and bassinet sheets which you can buy separately.
All these things are also made up of tested material too, so don't need to worry about it.
4. Highly Durable
Another essential part of the Pottery Barn wicker Bassinet is definitely its durability.
Its base is also made up of wood with a cross-braced platform that gives it stability and strength to hold a baby who weighs a lot.
The weight of the bassinet is 23 pounds, which is very low as compared to other wooden bassinets. This bassinet is quite heavy, so casters are provided to move the bassinet from one room to another.
The pottery barn bassinet mattress is quite durable, and you would not need another one for your first baby. If you are planning for another baby, then you would have to buy a new mattress.
The final verdict is that the bassinet is a major throwback to old nurseries but it has all the elements of modernity that makes it a perfect fit for the new-age parenting.
So, these are the few fantastic features and Review of the Pottery Barn wicker Bassinet. If you have been searching for the best value product, click here to make a purchase from our verified suppliers for an unbeatable rate
Overall, there are no cons as such that might stop you from purchasing the bassinet.
This lovable bassinet would like a perfect piece of furniture in your baby's nursery.
It has tested material for safety, robots design for durability, casters for easy to move feature and the huge storage underneath makes it the perfect bassinet for your baby.
The features in this bassinet that would make your life easier are that it is easy to clean and it requires less maintenance.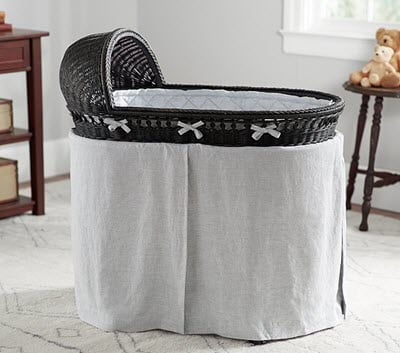 No other bassinet in the market can beat this bassinet in terms of maintenance.
Apart from all of the things above, Pottery Barn Wicker Bassinet is our tested and verified bassinet. So, feel free to buy this bassinet online from our verified seller.
So, what are you waiting for? Simply click on our link below to keep your baby happy and offer him a peaceful sleeping environment.