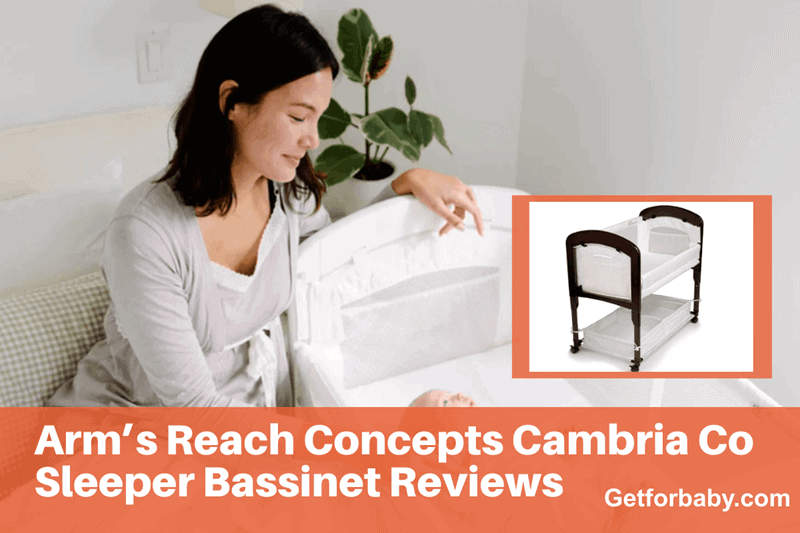 Arm's Reach Concepts Cambria Co Sleeper Bassinet Reviews
Arm's Reach Concepts Cambria Co-Sleeper Bassinet has a perfectly crafted bedside bassinet for babies of up to 5 months. It is made with curved wood for an elegant look, and the side of the sleeper is covered with transparent mesh for excellent visibility. And along with it, it provides better airflow that helps your baby sleep longer in it. Don't worry about your bed's height because it comes with adjustable legs from 24″ and 30″ with 2″ increments to adjust the height according to your bed. You can lower the one side of the bassinet for breastfeeding, which is an excellent C-section feature. Features do not just end here. So keep reading our Arm's Reach Concepts Cambria Co-Sleeper Bassinet Reviews to know why it is the best for your newborn baby.
Safety

93%

93%

Comfort

98%

98%

Easy of Use

90%

90%

Price and Longevity

65%

65%
Easy to assemble,

It comes with convenient storage underneath

Mesh for excellent breathability and visibility

Wheels make it movable from room to room

Water-resistant mattress

Easily attached and detached from the bed
A bit expensive

Bottom storage isn't exceptionally sturdy
Table Of Content
Product Specifications
Official Video Tour
Arm's Reach Concepts Cambria Co Sleeper Bassinet Reviews & Features
Elegant Design for Comfortable Sleep
Material & Mesh Fabrics
Height Adjustment
Convenient Storage Underneath
Arm's Reach Co Sleeper Safety
Easy to Use and portability
Care and Maintenance
Sheet and mattresses
The Bottom Line
| | |
| --- | --- |
| Product Name | Arm's Reach Concepts Cambria Co Sleeper |
| Brand | Arm's Reach |
| UPC | B01E9K3RTM |
| Age limit | Up to 6 month |
| Item Weight | 26 Pounds |
| Weight Limit | 18 Pounds |
| Dimension | 34 x 20 x 34 inches |
| Mattress Size | 9.88 x 7.99 x 3.46 inches |
| Sheet Size | 18 x 36 x 4 Inches |
| Batteries Required | No |
| Availability | In Stock |
| Rating | ⭐⭐⭐⭐ ☆ 4.5 / 5 |
| Price | $270.99 |
| Buying Options | |
| Registry Options | |
Arm's Reach Concepts Cambria Co Sleeper Bassinet Reviews & Features
Arm's Reach Cambria is the best bassinet for moms who love to keep their infants near them and want their babies to have a peaceful sleep.
We talk a lot about why you buy this bassinet and how it helps you, but now it's time to explore each feature in-depth to understand its pros and cons.
So, let's take a deep insight into Arm's Reach Cambria review.
1.) Elegant Design for Comfortable Sleep:
Arm's Reach bassinet is every new mom's priority because its unique design makes it a bedside sleeper and freestanding bassinet.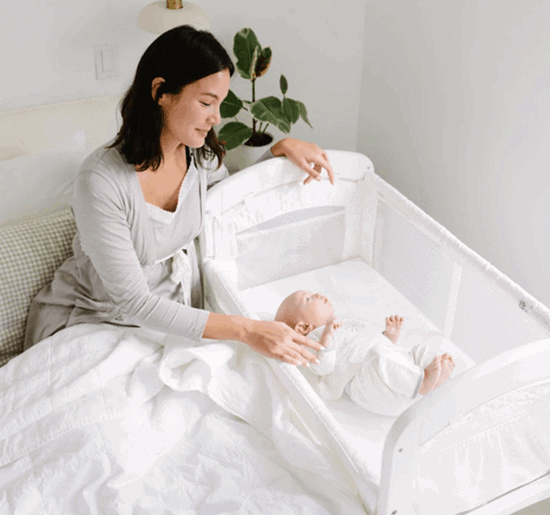 Sleeping with your baby on the same bed is hazardous. You are prone to rolling over your baby while you are both sleeping.
To prevent such happenings, you and your baby need to have your own sleeping space.
That way, Arm's Reach Cambria Co-Sleeper Bassinet is designed.
It allows your baby to sleep comfortably next to you safely from birth until about five months, like a Bedside Bassinet.
This bassinet enables you to quickly draw your baby close for feeding and comforting to strengthen the mother and child bonding.
Note: This is not only why people prefer co-sleeping; check out these 10 Benefits of Co-Sleeping With Baby.
It is the ideal solution for parents worried about the safety and comfort of their babies.
The dimensions of this bassinet are 34 x 20 x 34 inches, the best size for each baby, not too spacious nor small to make your infant irritable.
It is suitable for the baby up to 5 months for comfortable sleep.
But if you think it would go best for the next two months, it would be great to continue using it until your baby starts rolling on its own.
I had used it for my little angel for up to six and half months until I made him comfortable in his new comfy crib.
The weight of this bassinet is 27 lbs, but Arm's reach Cambria weight limit is not mentioned, not even on the official site.
But you will find an 18 lbs weight limit on Arm's Reach Cambria co sleeper instructions pdf.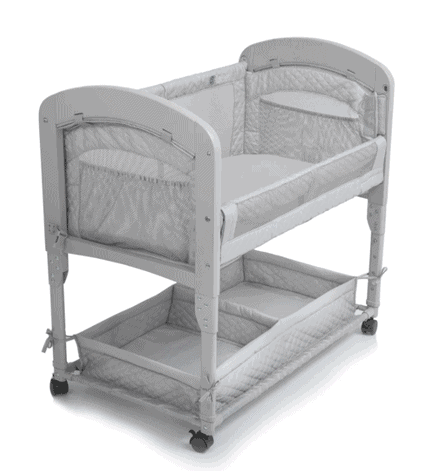 But simultaneously, this material makes it a little bulky.
When I first used it, I felt it would be difficult for all new moms, including the c section.
My priority is always to keep my baby in front of my eyes while working. The possibility of SIDs fills every mom with great fear.
But at the same time, it is impossible to take the bulky bassinet from one place to another after every hour.
The Arm's Reach solves this problem, as they provide four wheels to move it from room to room quickly.
You will love this feature because the ease it offers in the form of portability is helpful for all moms to do house chores and take care of their babies simultaneously.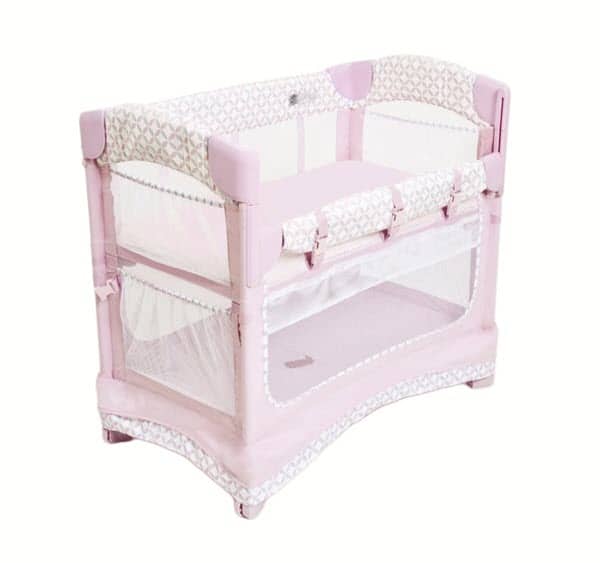 Moreover, the bassinet's broadside is covered with Mesh Fabric, which makes the bassinet breathable and ensures that your baby doesn't get overheated in summer.
The mesh also allows free flow of air, which reduces to almost zero the chances of suffocation. The increased visibility factor helps you see your baby throughout the day; moreover, it calms your baby while playing.
The reason is that babies love to see their mom; otherwise, they get cranky. So, these mesh fabrics make it possible for you to enjoy your baby's smile and do your work without any issues.
In addition to this, these soft mesh sides do not harm your baby if it presses its nose to it by any chance.
3.) Height Adjustment:
Height adjustment is infrequent in bassinets. Arm's Reach offers height adjustment features for ease of handling everything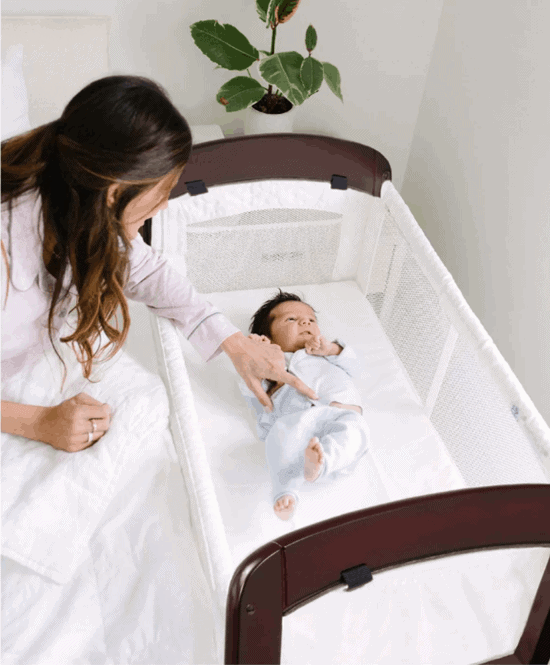 But if you have different heights, like a high height bed, don't worry; its leg extension feature will resolve your problem.
You can adjust your bassinet height from 24″ to 30″ with 2″ increments to meet your bed height. Just like a height adjustable bassinets.
You can buy it from the official site if required.
You can easily adjust it. It does not pull up but instead flips upward or downward and snaps into position before being velcroed.
Note: You can use these extensions only while the bassinet is attached to the bed, not in the freestanding position. Moreover, use only one kit, don't try to become over smart to use two at a time to double the height; it will cause your bassinet imbalance and collapse.
The feature I like about this bassinet is that it can be detached. Yes, you can disconnect the Cambria Co-Sleeper from the bed and set it as a stand-alone bassinet, just like a regular bassinet.
With this feature, l felt convenient while using it in any room throughout the day. So, there is no need to buy a separate bassinet for the day and a sleeper for the night. This bassinet will perform dual duty efficiently.
4.) Convenient Storage Underneath:
If you are a C-section mom and looking for the best solution that helps you keep in bed, then this bassinet is specially designed for you.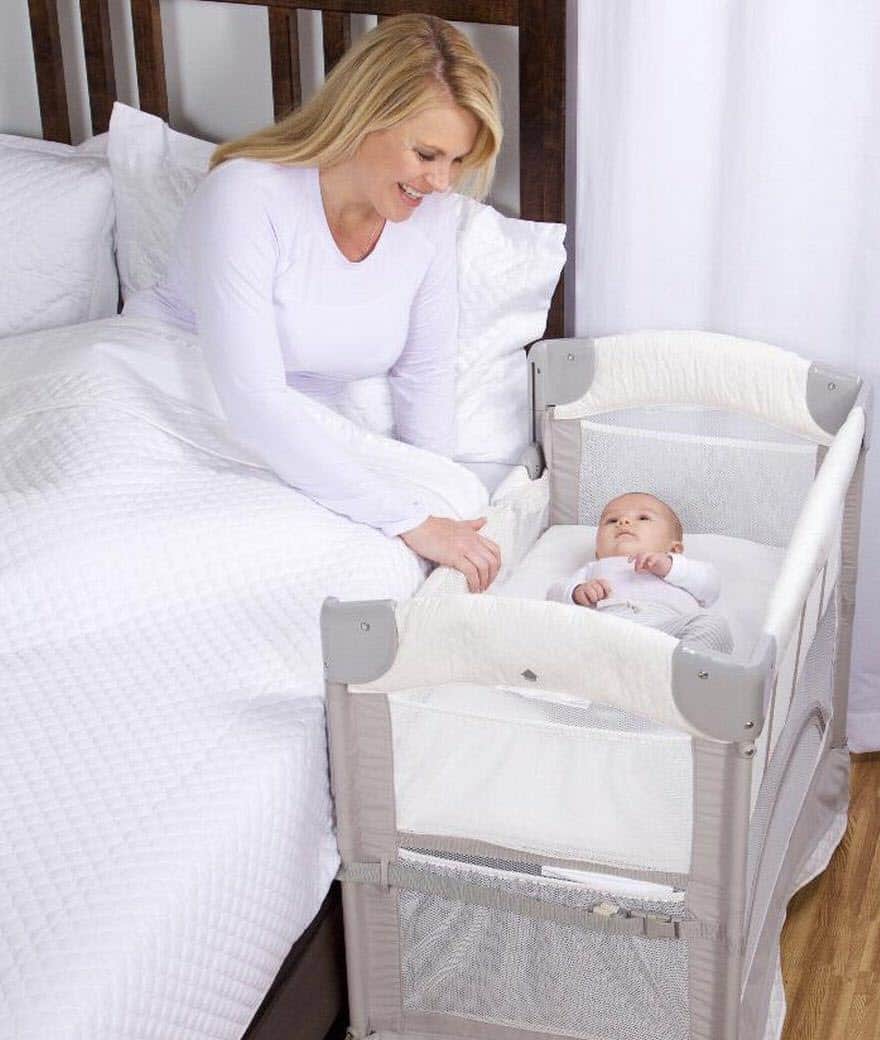 This Arm's reach bassinet comes with two big storage boxes underneath that help keep your baby essentials near your bed for easy reach.
You can keep baby essentials like baby diapers, milk, water, and other baby products.
Suppose you place this bassinet near your bed and want to pick anything from the storage? How do you pick it up?
It becomes challenging if you have back pain, which is very common during and after pregnancy and even more difficult for C-section moms.
But the positive side is that the bassinet has a wheel, you can push the bassinet and pick the thing you want, but again the bassinet is attached to your bed.
All moms who have such questions, like you, in mind, erase them because this bassinet comes with another feature that offers excellent ease.
For all C section moms particularly, this bassinet has side mesh pockets in addition to underneath storage.
These side meshes are not so big, but I kept the essential baby essentials in them like milk, bib, and diapers. All the other stuff, like soft toys or clothes in the lower section. This particular feature makes this bassinet my favorite.
5.) Arm's Reach Co Sleeper Safety
Arm's Reach Concepts Cambria Co-Sleeper Bassinet brings safety (like JPMA certified bassinets ) and comfort within your reach. It is the first bassinet to be patented and approved to be used with the adults' bed.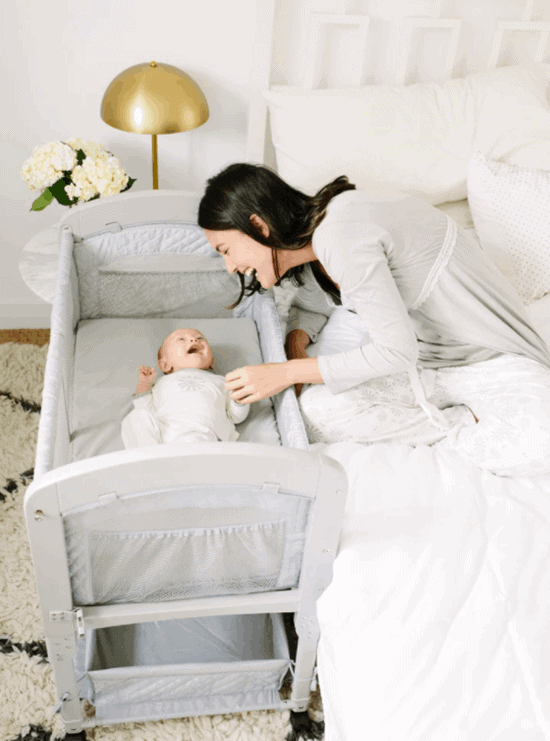 It is a safe alternative to bed-sharing.
It meets the BS EN 1130 safety Standard. It is endorsed by pediatricians and baby experts worldwide as the best product to give your baby a sound and safe sleep.
Dr. William Sears is one of the most influential pediatricians of the last 50 years. He says,
I believe the safest place for most babies to sleep is in an Arm's reach bedside Co-Sleeper bassinet.
Every new mom like me knows that sharing a bed with her newborn poses a safety risk. But having a baby near you is your need and a dream also.
You and your infant must have a separate sleeping area for various reasons.
This bassinet helps you to keep your baby in the same room near your bed, even attached to it. Moreover, it offers a peaceful sleep to your baby; simultaneously, you'll have your own space and will be able to enjoy a decent night's sleep.
Many other bedside bassinets in that market are safe and have additional features that meet modern moms' needs.
Check out this list of the best bedside bassinet, Or if you prefer to do co-sleeping like bed-sharing with the baby, then explore this option, Best Co Sleeper Bassinet.
6.) Easy to Use and portability:
Arm's reach co-sleeper bassinet is easy to use in one way, not the other. When you talk about only using it, there is no hassle. Its simple design makes it convenient to use whenever you want.
You can easily roll one side of it to change it into a co-sleeper. It comes with a nylon strap & plate to conveniently attach it to your bed.
On the other hand, when you want to utilize it as a standalone unit, it features tabs that hold the side up and secure it in place.
But when it comes to assembling the bassinet from scratch, you have to make a 15-20 min effort to assemble it.
Secondly, once the baby grows up, then the question arises where do you place your bassinet?
It is the biggest problem that most parents are facing today.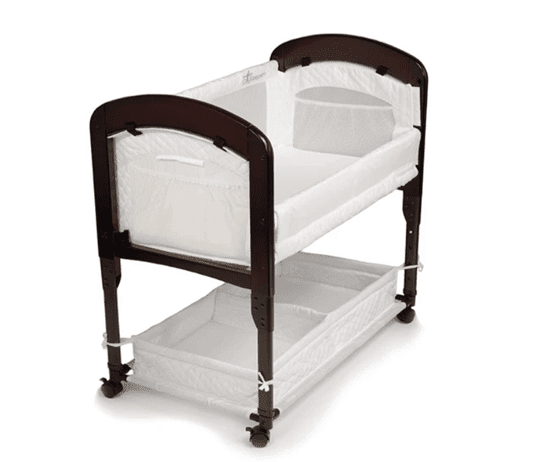 But you can disassemble Arm's reach Cambria co-sleeper bassinet and pack it again to the place wherever you want, to use it for your next baby.
When it comes to portability, you can count this as a drawback. As I have said earlier, it takes time to assemble and disassemble; it is not too much preferable for traveling.
Yet it is lightweight, compact in design once in a folded position, and easy to carry anywhere while traveling.
So, if you don't think that 20 minutes of assembling is not a big task over your baby's comfortable sleep, then surely you can take it with you.
7.) Care and Maintenance:
Care always matters; if you want your bassinet to keep productive, you must care for it. The experts recommended cleaning your bassinet for your child's safety after some time.
Changing the sheets and cleaning them is not stoppable because of the pooping, diaper leakage, and throwing up accidents.
But if your baby is a good boy and you don't have to take stress because of the accidents mentioned above, it is still preferable to change the sheet two times a week.
A bassinet is where your baby remains the whole day and night; it should be clean to provide your baby with a hygienic environment.
Let's talk about the maintenance of the Cambria co sleeper bedside bassinet.
Arm's reach concepts Cambria co-sleeper bassinet naturally come with one mattress and one fitted sheet and removable, washable fabric lining to quickly clean the bassinet.
The whole bassinet is machine washable but still has to take care of the soap you select to clean it.
I, personally, like that after cleaning the Cambria co sleeper bedside bassinet, it is straightforward to assemble it again; it takes less than 4-6 minutes.
8.) Sheet and mattresses:
In virtually all circumstances, bassinet accessories like sheets or a high-quality mattress are essential for your baby's bassinet.
Apart from providing comfort to your child, it also safeguards and maintains the overall quality of your bassinet.
The chances of being dirty due to pooping and peeing are less common due to waterproof mattresses or sheets.
But the pediatrician always recommends not to use extra sheets and mattresses because sometimes they don't fit perfectly in the bassinet, and your child may entangle his hands or feet in the space.
However, as it is necessary to have extra sheets and a mattress, just make sure that the purchase complies with safe sleep rules and shields your kid from any potential dangers while sleeping.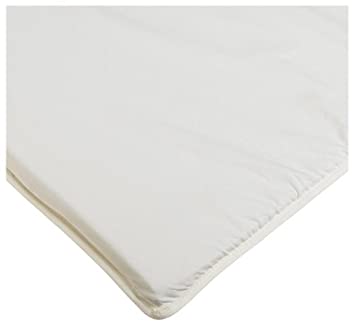 That is why I am sharing some sheets and mattresses that perfectly fit into your bassinet and never cause any harm to your baby.
| | | |
| --- | --- | --- |
| Name | Dimension | Latest Price |
| Arm's Reach Cambria co sleeper mattress | 31 x 17.5 x 1.3 inches | Price |
| Arm's Reach Cambria co sleeper sheets | 18 x 36 x 2 Inches | Price |
| arm's reach cambria co sleeper Fitted sheets | 18 x 36 x 2 Inches | Price |
I hope you found our Arm's Reach Cambria Co-Sleeper Reviews article valuable and informative, which helps you make a beneficial decision.
The Bottom Line
One of the first bassinet to be patented & approved to be used with the adults' bed made up of curved wood for elegant design.
It looks elegant, but it also creates a safe and peaceful environment for your newborn baby to sleep—big size.
It comes with a mattress with a removable fitted sheet that is easy to clean to ensure the baby sleeps in a clean & hygienic environment.
It is a wheel that gives you the freedom to move the bassinet in the room rather than pick it up to drive. And transparent mesh provides breathability and visibility to ensure the baby sleeps well in it.
Easy to lower side help you do breastfeeding and easily pick the baby at night is one of the most used features of this fantastic bassinet. If you ask us, it's a worthy product for you.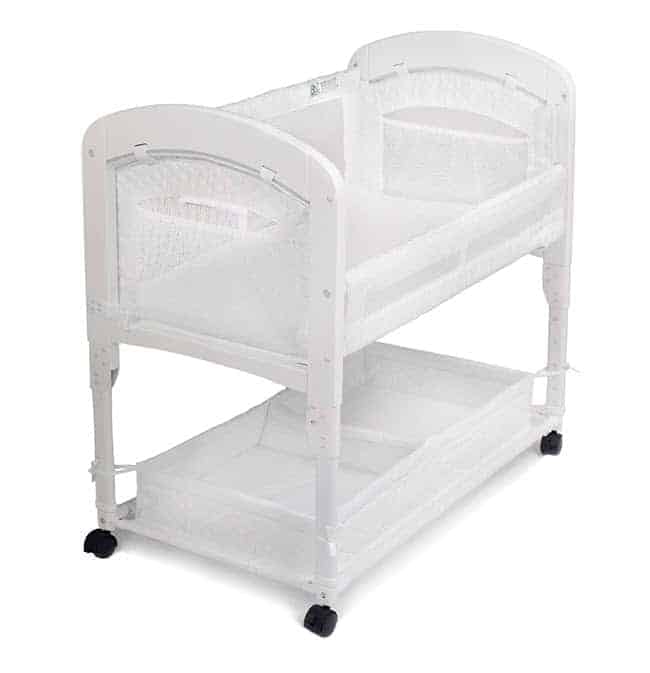 So, what are you waiting for? Click on our link to keep your baby happy and calm and offer him a peaceful sleeping environment.