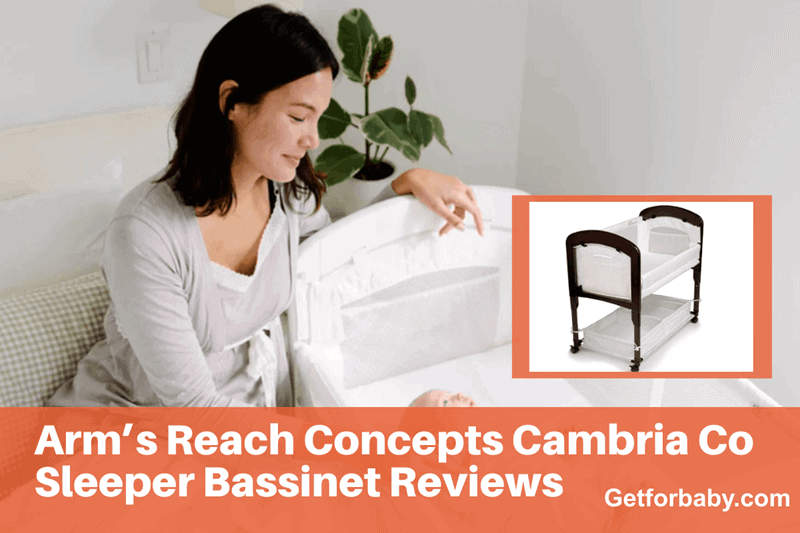 Arm's Reach Concepts Cambria Co Sleeper Bassinet Reviews
Arm's Reach Concepts Cambria Co Sleeper Bassinet has perfectly crafted bedside bassinet for babies of up to 5 months. It is made with curved wooden for elegance look and side of the sleeper cover with transparent mesh for excellent visibility. And along with it, it provides better airflow that helps your baby to sleep longer in it. Don't worry about your bed's height, because it comes with adjustable legs from 24″ and 30″ with 2″ increments to adjust the height according to your bed. You can lower the one side of the bassinet for breastfeeding, which is an excellent C section feature. Features not just end here. So keep reading our Arm's Reach Concepts Cambria Co Sleeper Bassinet Reviews to know why it the best for your newborn baby.
Safety

91%

91%

Comfort

95%

95%

Easy of Use

92%

92%

Price and Longevity

70%

70%
Easy to assemble,

Comes with convenient storage underneath

Mesh for excellent breathability and visibility

Wheels make it movable from room to room

Water-resistant mattress

Easily attached and detached from the bed

Can be converted freestanding bassinet
A bit expensive

Bottom storage isn't particularly sturdy
Product Name
Arm's Reach Concepts Cambria Co Sleeper
Brand
Arm's Reach
UPC
648357700312
Age Limit
Up to 6 month
Item Weight
27 pounds
Weight Limit
Not mention
Dimension
20 X 33.8 X 34 inches
Availability
In Stock
Rating
⭐⭐⭐⭐ ☆    

 

4.5

 /5

Price
$240
Latest Price
Do I Need Arm's Reach Cambria Co Sleeper Bassinet?
Sleeping with your baby on the same bed is hazardous. You are prone to things like rolling over your baby while you are both sleeping. To prevent such from happening, both you and your baby need to have your own sleeping space.
That way, Arm's Reach Cambria Co Sleeper Bassinet is designed.
It allows your baby to sleep comfortably next to you safely from birth until about five months. Like as a Bedside Bassinet.
This bassinet enables you to quickly draw your baby close for feeding and comforting to strengthen the mother and child bonding.
But this is not only the reason people do prefer co-sleeping; check out these 10 Benefits Co Sleeping With Baby
It is the ideal solution for parents worried about the safety and comfort of their babies.
Easy to assemble and has convenient storage underneath that brings all you need to take care of your baby in one place.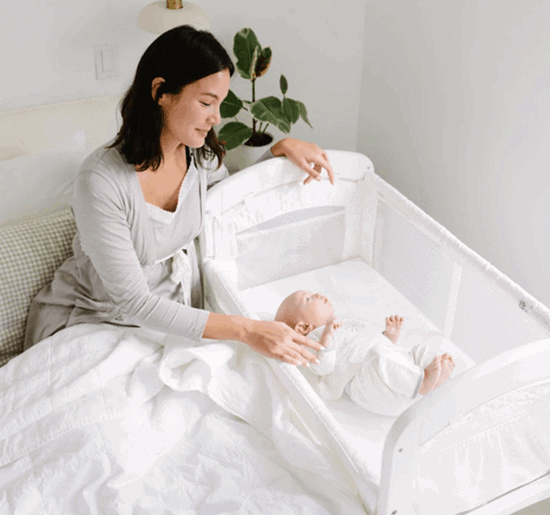 From the safety point of view: this bedside co-sleeper comes with a Nylon attachment & plate that you can attach/fix with your bed so that bassinet doesn't flip/fall due to push by mistake or at night.
Also, help to left no space between the bassinet and your bed. Which is very important when you lower the one side of the bassinet for breastfeeding.
Note: Before buying this co-sleeper or even bedside sleeper. We strongly recommend to read "Is Co-sleeping With a Newborn Safe?" to understand how you can do co-sleeping or bedside sleeping safely. To keep your baby out of danger.
Cambria co sleeper bedside bassinet also comes with a mattress, removable, washable fabric lining, fitted sheet to easy maintenance, and comfortable sleep.
What else you want in this excellently crafted bassinet, So click the link to add this bassinet in your nursery.
Arm's Reach Concepts Cambria Co Sleeper Bassinet Reviews & Features
We talk a lot about why you buy Arm's reach Cambria Co sleeper bassinet and how it helps you, but now its time to explore each feature in-depth to understand there pros and cons.
So, let take a deep insight into Arm's Reach Concepts Cambria Co Sleeper Bassinet Reviews.
1.) Elegant Design for Comfortable Sleep:
The Arm's reach bassinet frame is made up of sturdy wood that gives it more durability and longevity. The dimensions are 34 x 20 x 33.75 inches, suitable for the baby up to 5 months for comfortable sleep.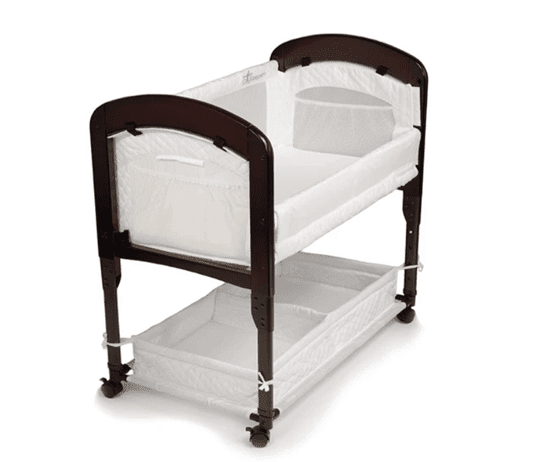 The weight of the Arm's Reach Cambria Bassinet is 27 lbs and but Arm's reach Cambria weight limit is not mentioned, even not on the official site.
But they recommend stopping using it when newborn up to approximately five months in age or when the child begins to push up on hands and knees, whichever comes first.
Check this: How Long Can a Baby Sleep In a Bassinet?

Due to its material that uses, making it a little bulky.
So to quickly move it room to room, a wheel ( 4 wheel )is provided.
The bassinet's broadside is covered with Mesh Fabric, which makes the bassinet breathable and ensures that your baby doesn't get overheated in summer, but don't forget about to keep the bassinet warm in winter.
The mesh also allows free flow of air, which reduces to almost zero the chances of suffocation.
Have a high height bed, don't worry, here is leg extension to resolve your problem. With this extension, you can adjust your bassinet height from 24″ to 30″ with 2″ increments to meet your bed height.
The feature we like in this bassinet is, It can be detached. Yes, You can detach the Cambria Co-Sleeper from the bed and set as a stand-alone bassinet just like a regular bassinet.
2.) Convenient Storage Underneath:
This Arm's reach bassinet comes with two big storage boxes underneath that help you to keep baby essential near your bed for easy reach. You can keep things like baby diapers, milk, water, and other baby products.
But there is a downside to the storage. 
It's a bedside co-sleeper bassinet, so the storage must be on the bassinet side rather than underneath.
Suppose you place this bassinet near your bed and want to pic anything from the storage? The how you pick it. It's become tough if you have back pain, which is very common during and after pregnancy and even more difficult for C section mom.
If you are C section mom and looking for the best solution that helps you keep in bed, check out the best bassinet after c section.
But the positive side is, bassinet has a wheel, you can push the bassinet and pick the thing you want, but again bassinet is attached with your bed.
3.) Arm's Reach Co Sleeper Safety
Arm's Reach Concepts Cambria Co-Sleeper Bassinet brings safety and comfort within your reach. It is the first bassinet to be patented and approved to be used with the adults' bed.
It is a safe alternative to bed-sharing.
It meets the BS EN 1130 safety Standard. Endorsed by pediatricians and baby experts worldwide as the best product to give your product a sound and safe sleep.
Dr. William Sears is one of the most influential pediatricians of the last 50 years. He says,
"I believe the safest place for most babies to sleep is in an Arm's reach bedside Co-Sleeper bassinet."
Many other bedside bassinets in that market are safe and have many other features that meet the modern mom need.
Check out this list of the best bedside bassinet. Or if you prefer to do co-sleeping like bed-sharing with the baby, then explore this option, List of Best Co Sleeper Bassinet.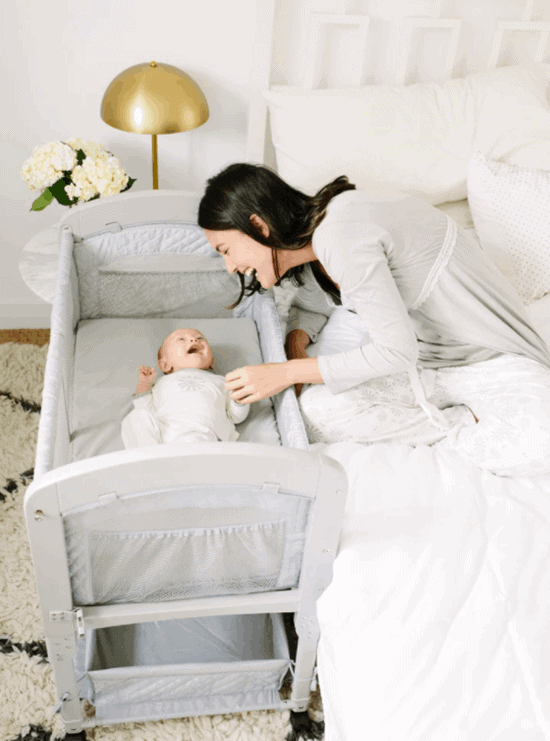 4.) Easy to Use and Maintain:
Let talk about the maintenance of the Cambria co sleeper bedside bassinet.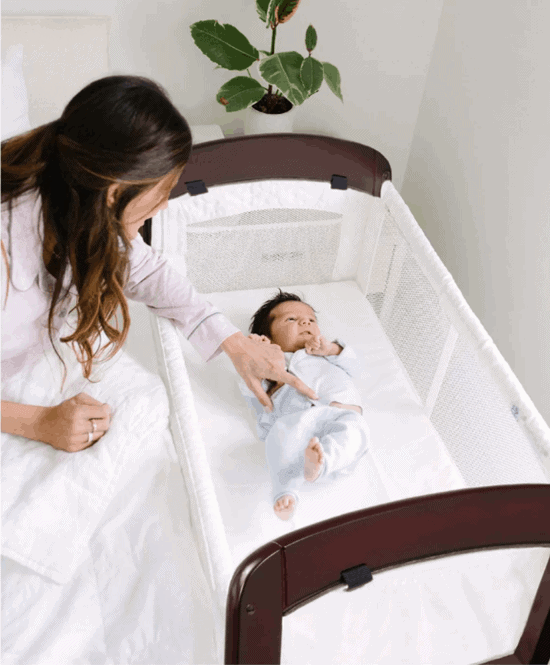 Arm's reach concepts Cambria co sleeper bassinet natural come with one mattress and with one fitted sheet, and removable, washable fabric lining to quickly clean the bassinet.
The whole bassinet is machine washable but still have to take care of the soap you select to clean it. Check out this guide: How to clean the bassinet? Give you a little bit of an idea of how to clean it.
Two things we personally like are, after cleaning the Cambria co sleeper bedside bassinet is straightforward to assemble it again; it takes less than 4-6 minutes.
But when we talk about the bassinet to assemble it from scratch, it takes up to 20min to assemble.
The second, once the baby group up, then where you place your bassinet? This is the biggest problem that most of the parents are facing today.
But you can disassemble Arm's reach Cambria co sleeper bassinet and pack it again to the place wherever you want, to use it for you, next baby.
I hope you found our Arm's Reach Concepts Cambria Co Sleeper Bassinet Reviews article, useful and informative, that helps you to make a valuable decision.
One of the first bassinet to be patented & approved to be used with the adults' bed made up of curved wooden for elegant design.
Not only look elegant, but it also creates a safe and peaceful environment for your newborn baby to sleep. Big size 
Mattress with a removable fitted sheet that is easy to clean to ensure baby sleep in a clean & hygiene environment.
A wheel that gives you the freedom to move the bassinet in the room rather than picking it up to drive. And transparent mesh provides breathability and visibility to ensure the baby sleep well in it. 
Easy to lower side help you do breastfeeding and easily pick the baby at night is one of the most used features of this fantastic bassinet. If you ask us, then yes, it's a worthy product for both of you.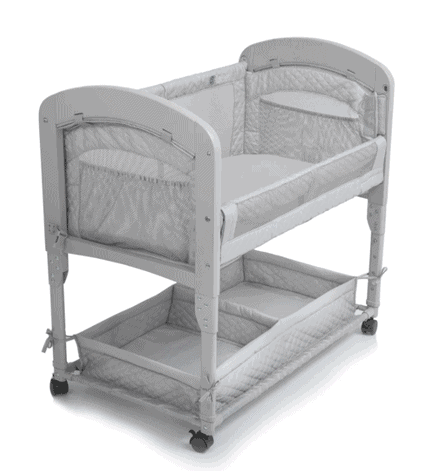 Now, tell us how you like our Arm's Reach Concepts Cambria Co Sleeper Bassinet Reviews. Drop your valuable view in the comment box. 
So, what are you waiting for? Simply click on our link to keep your baby happy and calm and offer him a peaceful sleeping environment.
Sakshi Patel
Senior Content Writer
Sakshi Patel is a busy Mom who enjoys spending most of her time with her cute daughter and a pet dog. She joins us as a senior content writer, and because of her creative writing style, has become our top-rated content writer