Ronbei Bedside Sleeper Review
Ronbei bedside sleeper baby bed is an excellent bedside & bed-sharing bassinet for infants. Its 9 positions height-adjustable leg & retractable feet help you perfectly match your adult bed height. And for easy movement, it comes with the wheel. Its unique lowering mesh-side-wall panel offers two features; easy access & keep an eye on the baby. Its safety strap helps you attach the bassinet to the bed for safety. Apart from that, it also has soothing tunes to help your baby sleep in a calm & relaxing environment. One of the best things it can incline to support the newborn in acid reflux. But, there is still more to explore, so keep reading our ronbei bedside sleeper reviews.
Safety

91%

91%

Comfort

96%

96%

Easy of Use

94%

94%

Price and Longevity

76%

76%
bedside and bedsharing

Height adjustable leg 9 position

Mesh side for breathability

Easy lower side with zipper

Easy to assemble and dissemble

Machine washable sheets

Removable toy bar & Soothing device

Lockable wheel

Incline bassinet

Large size increase longevity
A little bit costly

Not suitable for small room
| | |
| --- | --- |
| Product Name | Ronbei Bedside Sleeper Review |
| Brand | Ronbei |
| UPC | B07XDW2LTH |
| Age limit | Up to 5-6 month |
| Item Weight | 28.7 lbs |
| Weight Limit | 20 lbs |
| Adjustable Height | 18″ to 25.6″ inches |
| Dimension | 35 x 20 inches |
| Mattress Size | 32" x 18" x 2″ inches |
| Sheet Size | 32" x 18"  inches |
| Batteries Required | Yes |
| Availability | In Stock |
| Rating | ⭐⭐⭐⭐ ☆  4.8 / 5 |
| Price | $209.99 |
| Buying Options | |
| Registry Options | Add To Amazon Registry |
Ronbei Bedside Sleeper Review
A Ronbei bassinet is an excellent option for c section moms and infants. I already listed its pros & cons, but a more detailed description of each feature is necessary to make a well-informed decision.
So, let's take a deep insight into a ronbei bassinet review.
1.) Smart & safe Design:-
RONBEI Bedside Sleeper baby bed is a uniquely sleek designed bassinet that perfectly attaches to the parent's bed for safe bedside and safe co-sleeping with infants.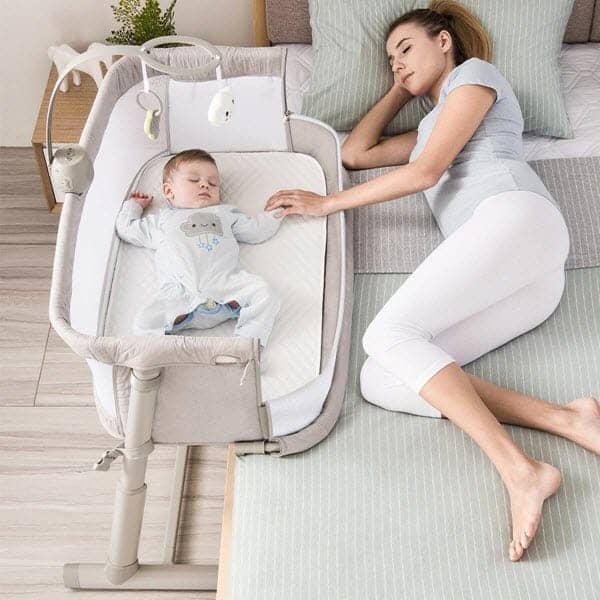 The thing that makes it safe is its 2-Strap.
That helps you attach it to the parent's bed to avoid an accident; for example, accidently pushing at night can flip the bassinet.
It has 9 position height adjustable leg (min 18 inches to 26inc max) to match your bed height, making it a perfect tall bassinet for a king or queen-size bed.
The dimensions for the RONBEI Bedside Sleeper are 35.7 x 21.2 x 6.9 inches, which is a very decent size (large bassinet) with 28.9 pounds item weight.
The weight limit of the RONBEI Bedside Sleeper is 20 lbs and is recommended for 0-6 Months by the manufacturer.
Both the bassinet's Sides are made of transparent mesh that can enhance the airflow, lower the risk of SIDS, and allow parents to monitor their child from far away.
Its inner side has premium quality microfiber to lightly touch babies' skin.
And the best thing is that it's a CPSC-certified bassinet which means it meets all the safety standards. Not even a single model of the RONBEI bassinet has been recalled yet.
2.) Easy to Accessible & Baby soother:
As we discussed earlier, it comes with 9 adjustable height positions. But apart from that, its foot is also adjustable, which helps you in many ways.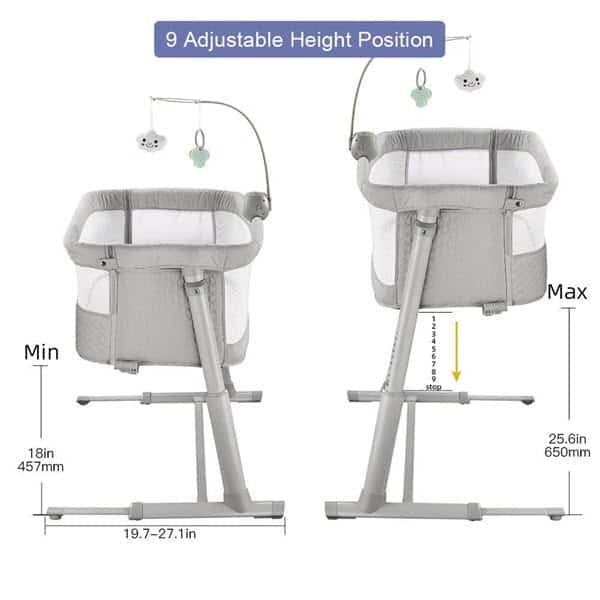 For example, it is easy to fit under the bed even if the space between the bed and floor is small or there is no space under the bed because of its flat retractable foot.
Once you bring the bassinet over to the bed, you can pull down the zipper to co-sleep with the baby without actually sharing the bed as Pediatricians recommend.
Help you quickly access the baby and reduce stress on the back.
Make it an excellent option for c section moms or if you are looking for a breastfeeding bassinet.
Safety rails on the sidewall keep the baby in his sleeping area at night.
Another fabulous feature of the bassinet is the nightlight also makes it easier for moms to get in and out of bed, Turn on the bassinet's nightlight and check the baby's activity.
Its soothing music lul the baby to sleep faster, and hanging toys help develop the brain by providing plenty of activity to feel and grab.
And the best thing about this toy is that it is removable; you can attach it to the crib once you transfer the baby from bassinet to crib. So there is no need to buy another soothing kit.
3.) Portable & Easy to Maintain:
To use the Ronbei bassinet anywhere in the room and make it portable, manufactured add the lockable wheel to roll the bassinet on wheels.
Personally, I love this feature of safety locks that keep the wheels in place when it's not meant to be in movement and provide additional safety.
The thing I like about it is its independently adjustable leg, which gives you the liberty to adjust the height of the leg separately.
You can increase the height of one leg and lower the other to incline the bassinet, which helps the baby with acid reflux.
Note: Inclining a bassinet more than 9 degrees is not safe for infants as per the new study because it can chock the baby. Read; can newborns sleep on an incline before inclining the bassinet.
From the maintenance point of view, all the fabric is removable and machine washable, making it easy to clean the bassinet.
You don't need to do spot cleaning as we do in other bassinets. Just remove the fabric and though in the machine, and all done.
Now, let's check how to disassemble the ronbei bassinet.
The Assembly of the Ronbei bassinet is also straightforward; you just need to read the manual instruction carefully to assemble it.
Check this video to understand how you can assemble & disassemble the Ronbei Bedside Sleeper baby bassinet.
4.) Ronbei bedside sleeper sheets & mattress
Having an extra sheet saves you from a lot of things. Suppose your baby messed up in the middle of the night and you don't have an extra sheet or want to clean it, then?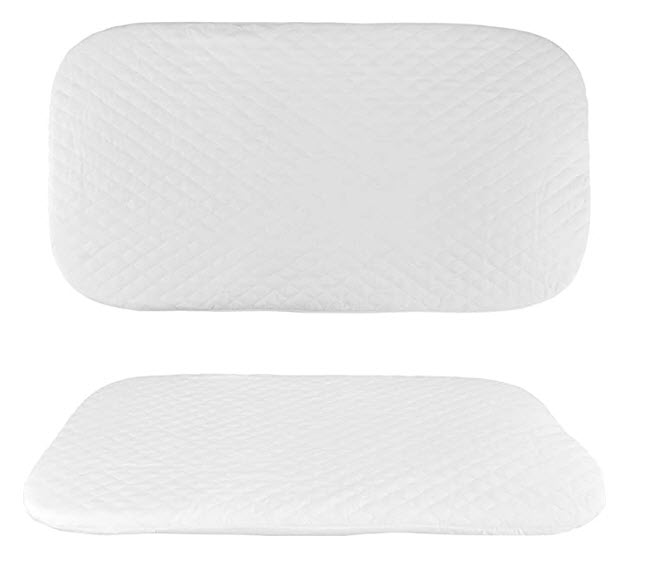 That's why mom recommends having 2 extra sheets and 1 bassinet mattress; how many bassinet sheets do you need?
The dimension of the ronbei bassinet sheets is 17.7×31.5 inches.
Its fabric is also breathable like a bassinet, providing a safer, snugger fit.
Whereas the ronbei bedside sleeper mattress size is 18″ x 32″ x 1 inch thick.
If you want to improve the mattress's longevity, I recommend buy a waterproof pad cover too.
Here are some of the ronbei bedside sleeper replacement sheet and mattress options.
| | | |
| --- | --- | --- |
| Product | Dimension | Latest Price |
| ronbei bedside sleeper sheets | 32″ x 18″ inches | Price |
| ronbei bedside bassinet Fitted sheets | 32″ x 18″ inches | Price |
| ronbei bedside sleeper Mattress | 32″ x 18″ x 1″ inches | Price |
| ronbei bassinet Mattress pad cover | 32″ x 18″ inches | Price |
I hope you found our Ronbei bedside Sleeper review informative and helpful in making your future purchasing decisions.
The Bottom Line
Ronbei bedside Sleeper is safe bedside and co-sleeper bassinet that can also be used as a c-section and breastfeeding bassinet
And Its one-side lowering (zipper side) feature helps in that.
Its mesh sidewall lowers the temperature, provides better airflow and makes it easy to keep an eye on the baby.
From the maintenance point of view, its fabric and mattress cover are machine washable, making your cleaning process much more manageable.
Its lightweight construction, 9 position height adjustable leg, retractable feet, and lockable wheel make your bassinet portable.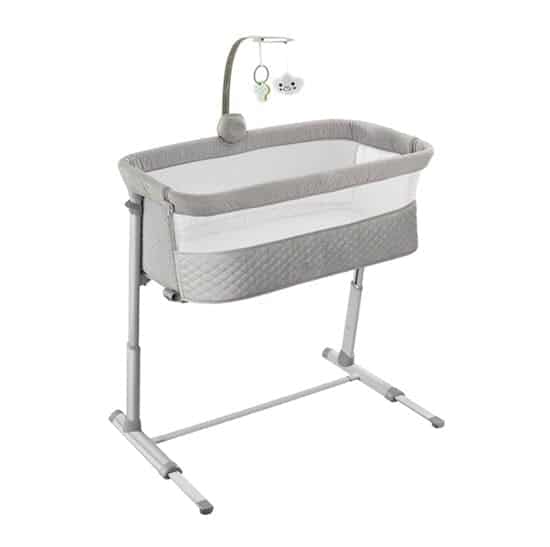 What else are you expecting from such a fantastic bassinet? So stop thinking and click our link to buy it from our verified seller.
Here are some of the important pieces of information that you need.
Getforbaby editorial team is committed to providing the most helpful, updated & trustworthy parenting information. When creating or updating the existing content, we rely on credible sources, respected health organizations, professional groups of doctors, & only high-quality sources, including peer-reviewed studies, to support the facts within our articles. Learn more about how we write Getforbaby content.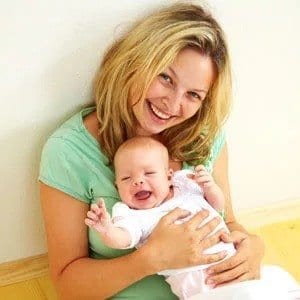 Dr. Sakshi Patel
Senior Content Writer
Dr. Sakshi Patel, an expert in Human Development and Family Studies, combines her academic knowledge with personal experience as a mother to twins. She provides comprehensive articles and meticulous reviews on baby essentials, offering accurate and up-to-date information to help parents make informed decisions. Read more.