Yes, bassinets need extra sheets to create a clean, hygienic, and dry environment that is safe and conducive to healthy sleep for newborns
Because the bassinet sheet always comes in contact with your baby's gentle skin, placing the newborn in an unclean environment can lead to a severe skin infection.
That's why parents and doctors recommended having an extra set or minimum of three sheets, 1st in use, 2nd in backup, and the 3rd read to wash.
Infants spend more time sleeping than awake in the first few weeks.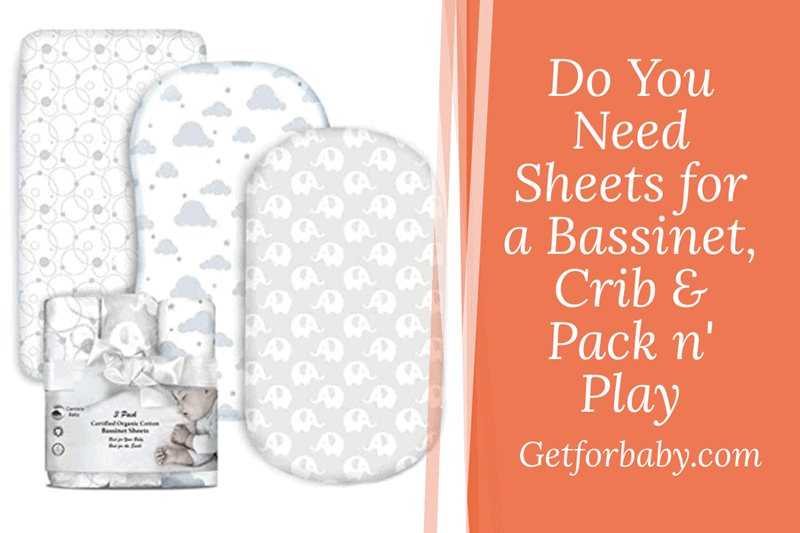 So, sleep is your baby's basic need at this stage, and the bassinet's sheet plays a vital role in it.
But are bassinet sheets safe?
According to the American Association [1] Of Pediatrics, it is safe but whatever sheet you buy, ensure it fits properly on the mattress shape and doesn't have any loose parts.
Because loose sheets are unacceptable as they threaten the well-being of your little one.
Until now, we have talked about we need a sheet to provide infants a clean place to sleep. But what about a bassinet, Does bassinet need sheets too?
If yes, then what is the reason behind this? So let's check it too.
Do Bassinets Need Sheets?
Yes, bassinet needs a sheet too, because it increases its longevity by acting as a barrier between the soft mattress pad & baby; any drools, throw-ups, or leakages can be managed without the hassle.
Also, cleaning the mattress frequently lowers its softness and damages its fabric. So having a sheet means it increases the bassinet and mattress longevity.
Yes, bassinet needs a sheet too, because it increases its longevity by acting as a barrier between the soft mattress pad & baby; any drools, throw-ups, or leakages can be managed without the hassle.
Also, cleaning the mattress frequently lowers its softness and damages its fabric. So having a sheet means it increases the bassinet and mattress longevity.
It acts and can also use as a mattress cover and mattress protector.
Without a sheet, preventing the bassinet from getting dirty is challenging because the mattress takes a lot of time to clean and dry.
This means you need a backup to place in the bassinet while cleaning others.
On the other hand, the cleaning bassinet sheet is much more comfortable and takes less time to dry down than a mattress.
So, make sure that your soft padded bassinet mattress covers fit perfectly and tightly conform to the mattress's shape.
Are all Bassinet Sheets the Same Size?
No, all bassinet sheets are not the same size because bassinets can vary in shape and size. This naturally means that the mattress pad will also go in dimensions. So, remember to look for two things whenever you look for sheets.
First is the mattress's size, and second is the mattress's shape to find its respective sheet.
And also, make sure it's a waterproof sheet to prevent any liquid from seeping through into the mattress.
If you want to protect the mattress, a waterproof sheet is a perfect barrier between your baby's mess and the mattress.
What Size Are Bassinet Sheets?
Bassinet sheets come in various sizes, depending on the size of the bassinet. But the most common sizes are 30″ x 15″ and 33″ x 18″ inches, with a mattress that is 1 to 2 inches thick.
It is always best to buy a bassinet sheet from the same brand as your bassinet.
Loose sheets are not suitable for your baby as they pose a threat of strangulation, which is also why getting the sizing of the sheets is so important.
The size of the few popular bassinets sheets are;
| | | |
| --- | --- | --- |
| Sheets | Bassinet Sheets Size | Latest Price |
| HALO Bassinest Fitted Sheet | 30" x 16" inches | Price |
| 4moms mamaRoo Bassinet Sheet | 29.2″ x 17.3" | Price |
| Fisher Price Soothing Motions | 31″ X 15″ Inches | Price |
| Maxi-Cosi Iora Bedside Bassinet | 31.4 x 19.6 inches | Price |
| Chicco Close to You Bedside Bassinet | 18.5" x 29" inches | Price |
Explore our list of the Best bassinet sheets.
How Many Bassinet Sheets Do You Need?
You will need at least three or more bassinet sheets. Because baby tends to throw up more frequently than others, like after every feed, it is just not practical to change a mattress every few hours in a single day.
Sure, you can keep burp cloths, napkins, and wet wipes to minimize mess. But, the smell and the wetness are not suitable for the baby.
How Often To Change Bassinet Sheets?
You should change the bassinet sheets twice weekly to keep the surroundings clean. But if your baby's diaper leaks are even worse, then the only option left is to change the sheets more often.
If you notice any soiling or wetness on the sheets, be sure to change them right away.
But with just two sheets, you do not want to be stuck in a situation where one sheet is still drying.
No matter what companies' assurances. Washing the mattress will compromise its integrity.
Maintaining the mattress's shape and firmness is essential for maximum comfort and protection. So, make sure you have a minimum of three bassinet fitted sheet
Q1.) Do Crib Sheets Fit Bassinet
No, crib sheets are not designed to fit bassinets, as they are typically larger in size. And If you try to force a crib sheet to fit a bassinet, it will become loose over time and increase the risk of suffocation.
Q2.) Do I Need A Waterproof Sheet For Bassinet?
No, It depends upon your personal preference. Many parents find waterproof bassinet sheets helpful in case of accidents or spills and provide an extra layer of protection against dust and other allergens.
If you ask me what I prefer. In that case, if my mattress is waterproof, I will go with a simple cotton sheet ( or organic bassinet sheets ) to save some bucks; otherwise, the waterproof bassinet sheet is the best option.
Q3.) Are Bassinet Sheets Necessary?
No, the decision of whether or not to use a bassinet sheet is a personal preference. However, using a bassinet sheet can help keep the bassinet clean, increase its longevity, and make it easier for you to maintain.
Q4.) Can You Use A Crib Sheet For A Bassinet?
No, a crib sheet can't be used as a bassinet sheet because it is not designed for the bassinet. Additionally, the fit of a crib sheet on a bassinet is not as snug, which can pose a safety hazard for your baby.
Q5.) Where To Buy Bassinet Sheets?
There are many online retailers that sell bassinet sheets, and you can often find them for a lower price than you would find in a store.
If you need help finding a suitable bassinet sheet, read our buying guide. Bassinet Sheet Buying guide.
Now, what's next? Here is a few more informative guide for you.
I hope you like our "Do you need bassinet sheets?" guide and find it informative.
Now, let me know how many bassinet sheets are planning to buy and why. Put your valuable comment is in the comment box.
Don't forget to share the article because sharing is carrying.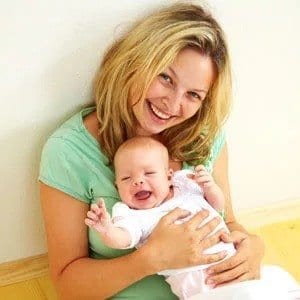 Dr. Sakshi Patel
Senior Content Writer
Dr. Sakshi Patel, an expert in Human Development and Family Studies, combines her academic knowledge with personal experience as a mother to twins. She provides comprehensive articles and meticulous reviews on baby essentials, offering accurate and up-to-date information to help parents make informed decisions. Read more.
Getforbaby editorial team is committed to providing the most helpful, updated & trustworthy parenting information. When creating or updating the existing content, we rely on credible sources & including peer-reviewed studies, to support the facts within our articles. Learn more about how we write Getforbaby content.
We believe you should always know the source of the information you're seeing.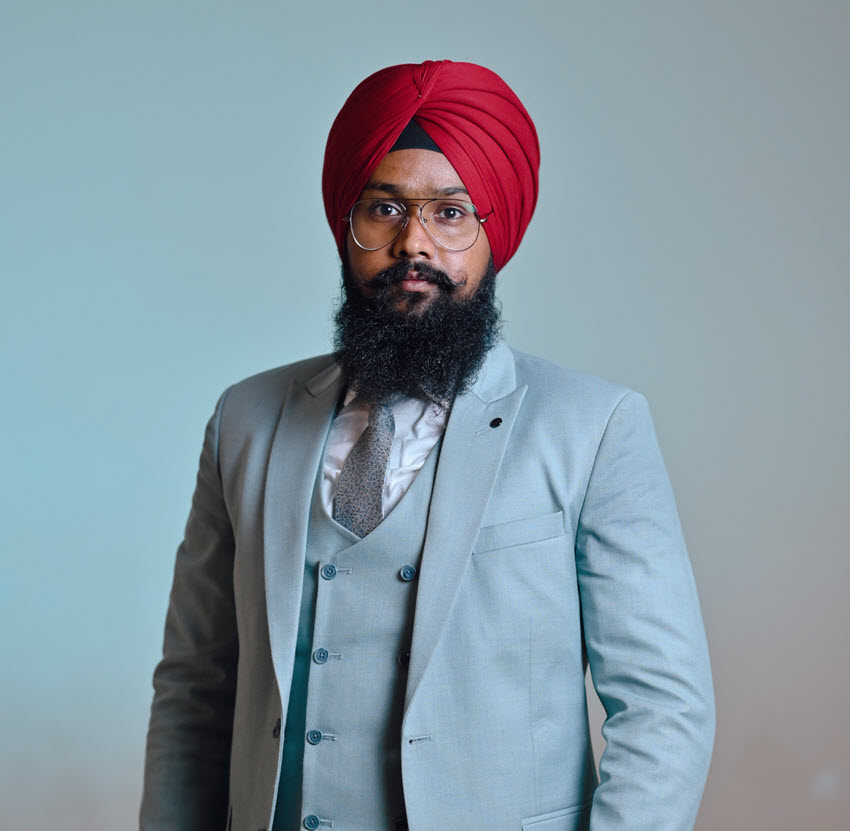 Harvinder Singh is a founder of Getforbaby and an electrical engineer by profession. He is an expert in evaluating facts, doing in-depth research, and handling technical stuff. He completes his Bachelor in Electrical from Jammu university. Full Harvinder Singh Profile