Yes, bassinets need sheets to provide your newborn with a clean, hygienic, and dry environment for safe sleep and good health.
Placing a baby in an unclean environment can lead to a severe skin infection in the future.
That's why parents recommended having three sheets, 1st in use, 2nd in backup, and the 3rd read to wash.
It's just like you have sets of sheets for your bedding that help keep your bed clean.
Infants spend more time sleeping than awake in the first few weeks of their lives.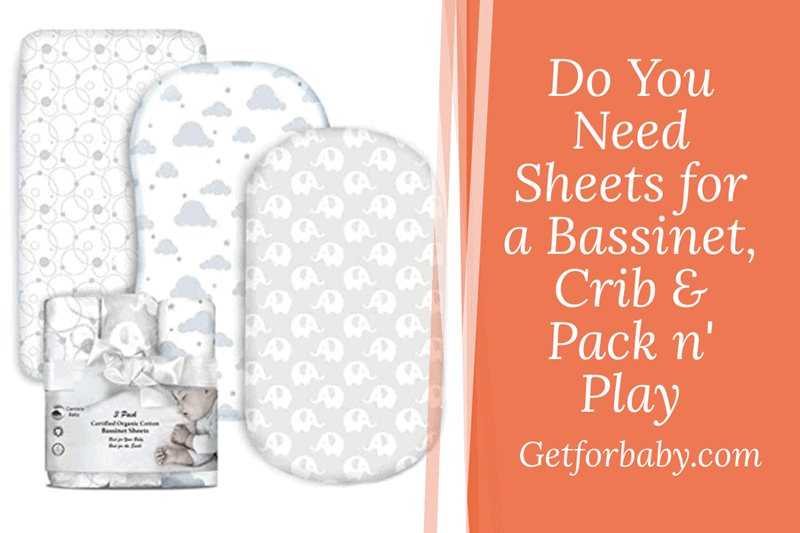 So, sleep is your baby's basic need at this stage, and the bassinet's sheet plays a vital role in it.
It keeps your baby's bassinet clean and hygienic by acting as a barrier between the soft mattress and your baby; any drools, throw-ups, or leakages can be managed without much hassle.
Without mattress covers, preventing the bassinet from getting dirty is challenging. Because the mattress takes a lot of time to clean and dry, which means you need to have a backup mattress to place in the bassinet while cleaning others.
On the other hand, the cleaning sheet is much more comfortable, and it takes less time to dry down than a mattress.
Also, cleaning the mattress frequently will lower its softness and damage the fabric.
Bassinet fitted sheets are made especially to come in contact with your baby's gentle skin.
So, they are made from natural, breathable materials (e.g. organic bassinet sheets) that ensure the baby has no difficulty in breathing & not get overheated.
The most important thing to keep in mind is that the sheets you get for your baby's bassinet are fitted ones. Loose sheets are unacceptable as they threaten the well-being of your little one.
So, make sure that your soft padded bassinet mattress covers fit perfectly and tightly conform to the mattress's shape.
How Many Bassinet Sheets Do You Need?
The ideal number of bassinet sheets is three or more, as per my experience with newborns. Because babies tend to throw up more frequently than others, like after every feed, it is just not practical to change a mattress every few hours in a single day.
Sure, you can keep burp cloths and napkins, and wet wipes to minimize the mess. But, the smell and the wetness are not suitable for the baby.
Well, how often to change bassinet sheets? There is no number available that you are looking for; in short, just make sure to keep your baby's surroundings clean at all times.
If your baby's diaper leaks are even worse since the only option is throwing the sheet in the washing machine. With just two sheets, you do not want to be stuck in a situation where one sheet is still drying.
You are praying that your baby doesn't throw up or has a diaper leak for fear of running out to sheets to put on the mattress.
No matter what companies' assurances, washing the mattress will compromise its integrity. Maintaining the mattress's shape and firmness is essential for maximum comfort and protection.
So keep a set of at least three sheets for your bassinet so they can be washed regularly.
Are all Bassinet Sheets the Same Size?
No, not all bassinet sheets are universal because bassinet can vary in shape and size. This naturally means that the mattress will also go in dimensions. So, remember to look for two things whenever you look for sheets.
First is the sheet's size, and second is the shape of the sheet. Also, make sure it's a waterproof bassinet mattress cover sheet that you need to prevent any liquid from seeping through into the mattress.
You need to protect the mattress, and a waterproof sheet is a perfect barrier between your baby's mess and the mattress.
The most common size of bassinet sheets is 15″ by 33″ inches, with a mattress that is 1 to 2 inches in thickness. It is always best to buy a bassinet sheet from the same brand as your bassinet.
Loose sheets are not suitable for your baby as they pose a threat of strangulation, and this is also why getting the sizing of the sheets is so important.
Word of Advice
You must need at least 3 sets of bassinets sheets for your baby to deal with any mess. And at least one extra bassinet mattress to make sure your baby always sleeps in a clean and hygienic environment.
The mattress should be stiff enough to support your baby's back, and you should always place your baby on its back, never sideways, to reduce the risk of SIDS.
Feel free to explore some best options;
Best Organic Bassinets Sheets
Now, what's next? Here is a few more informative guide for you.
I hope you like our do bassinets need sheets guide and find it informative to help you make a valuable decision.
Now, let me know how many bassinet sheets are planning to buy and why. Put your valuable comment is in the comment box.
Don't forget to share the article because sharing is carrying.