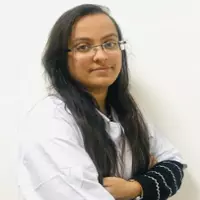 Dr. Aarti R. Motiani, MD, DNB
Specialty: Pediatrics
Education: MBBS and MD from Baroda Medical College
Experience: 10 years
+91 92651 50931 | [email protected]
Dr. Aarti R. Motiani is a consultant pediatrician with over a decade of experience in patient care. She has a special interest in nutrition, immunization, and child development and believes in providing care that is minimally invasive and focuses on holistic, parent-led approaches to behavior management. Dr. Motiani is associated with Tatvaan Children's Clinic in Gujarat, India, where she provides a range of services for infants, children, and adolescents. In addition to her clinical work, she also shares informative videos on pediatric health and parenting tips through her YouTube channel.
Education and Experience: Dr. Aarti R. Motiani received her MBBS and MD from Baroda Medical College, where she was awarded gold medals for her academic achievements. She has over 10 years of experience in pediatric care and is passionate about providing personalized, compassionate care to each of her patients. Dr. Motiani's special interests in nutrition, immunization, and child development have led her to develop a holistic approach to care that emphasizes the importance of parental involvement and education. She believes in minimal use of medicine and focuses on counseling parents for every behavior of the child.
Our Medical Review Process
Getforbaby believes in providing the most accurate content to its readers. Hence we get our articles reviewed by highly skilled experts in the relevant fields. The articles are reviewed to ensure their authenticity, factual correctness, and relevance. The board members also add inputs drawn from their years of experience. Learn more about our medical review board.
Newly becoming mom always wants to keep their newborn in front of their eyes (co-sleeping), but the American Association Of Pediatrics (AAP) prohibits this activity. Why? Because it higher the risk of SIDS, which we already explain in Is...
read more