Until yet, we compared the Bassinet with Crib and Pack n Play ( bassinet vs pack n play) , but we did not compare the Pack n Play vs Crib with each other to see the difference between them.
bassinet can only use for the first few months of the newborn, and after that, we have to switch the baby from bassinet to Crib or Pack n Play, as per your need and preference.
But choosing between Pack n Play and Crib is a difficult task.
Both are designed to provide comfort and safe, sound sleep to newborns and easily help moms do baby chores.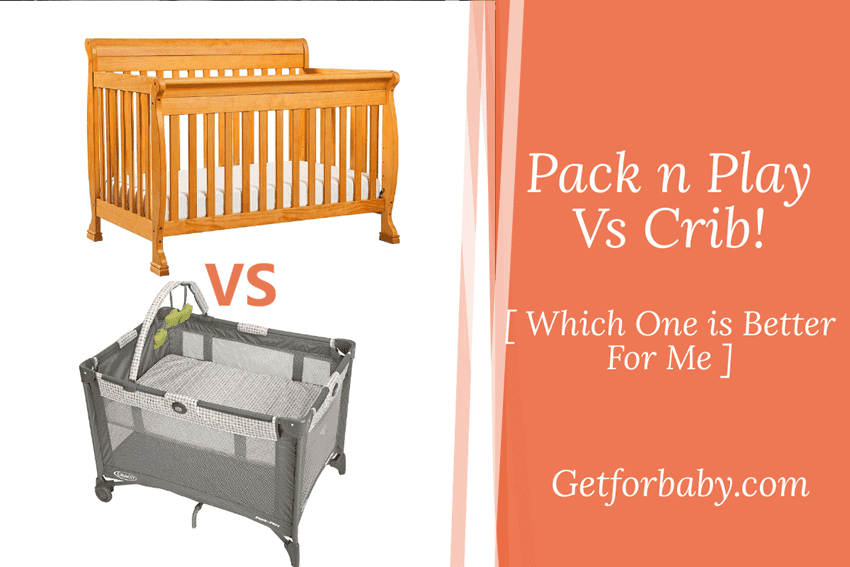 Then what truly makes them different from each other, which one is easy to handle and maintain for the long term, and which one is better for you, a Pack and Play or Crib?
All these questions will be answered in this in-depth guide with my own experience with Crib and Pack n Play to help you make a valuable decision. So, let's compare the Pack n Play with Crib to know more about them and check who wins the battle.
Pack And Play Vs Crib for Newborn!
There is a lot of difference between Pack n Play and Crib for, e.g., Pack n Play is small in size compared to Crib; in terms of foldability, only a few models of cribs are foldable, but all the Pack and Plays easy to fold. Also, they are travel-friendly, but the Crib is not due to heavyweight.
Both meet the safety standards of baby sleep set by the American Academy of Pediatrics (AAP) [1] and CDC [2]. According to them, both provide a safe place for the baby to sleep.
Now, let's discuss their features and compare them with each other to understand which suits your needs.
1.) Design That Makes Big Difference:-
Pack and Play are more comfortable than Crib because it comes with addons, like a removable bassinet and changing table. And once your baby starts rolling in it, you can move them to Pack n Play and then to playard to let baby safely play in it.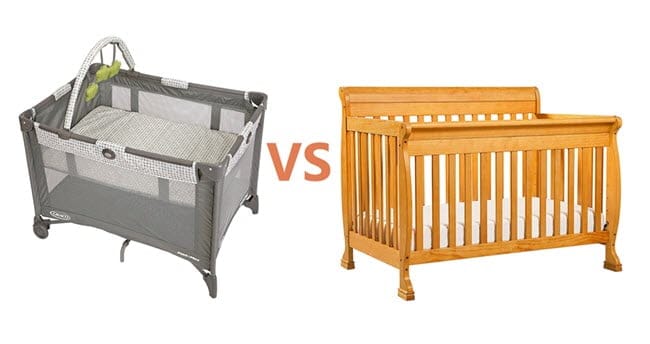 Whereas in baby Crib, bassinet and changing station is not available.
There is only a large-size flat, comfortable mattress for the baby to sleep on as per the recommendation of APP for safe sleep [3].
Pack n Play and Crib come in various dimensions, e.g., small size for a small room, and large size if you want to use it for a longer time.
Have a look at the standard pack n play dimensions vs Crib.
| | |
| --- | --- |
| Product | Size  (Measure in cm) |
| Pack and Play size | Usually, come in 100  x 70 approx* |
| Crib size | Dimensions ( Measure in cm ) |
Watch this quick overview video to understand some fundamental differences.
Both of them are designed to use more than 1-2 years. But, it depends upon the size and other factors such as weight limit, age limit, how long babies are feeling comfortable in it, etc.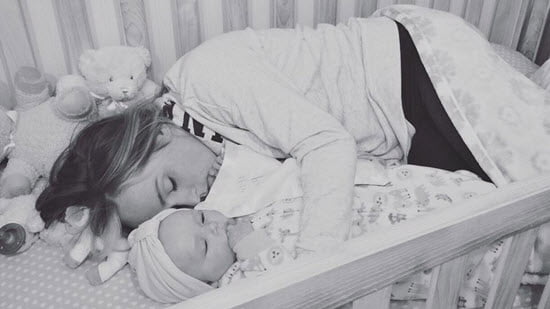 According to manufacturers, universal Pack n Plays can be used until your baby crosses 30 lbs in weight or 35 inches in height, whatever comes first, in short up to 2-3 years.
In contrast, a crib can hold a weight of 70-90 pounds and is big in size, letting you use the crib for even more than 3-4 years.
Check this; How long can you use a pack and play? To help you to make a valuable decision.
The side Wall of the pack n play is crafted with Mesh for good airflow; when you place the baby at the bottom, the baby doesn't feel suffocated.
And, the crib is framed with wood bars and has a minimum gap that doesn't trap your baby's hand.
So in terms of design and flexibility, Pack and play win the match.
2.) Maintenance, Ease of Use & Portability:-
The most significant difference between Pack n Play and Crib is its portability, Ease of Use, and Maintenance.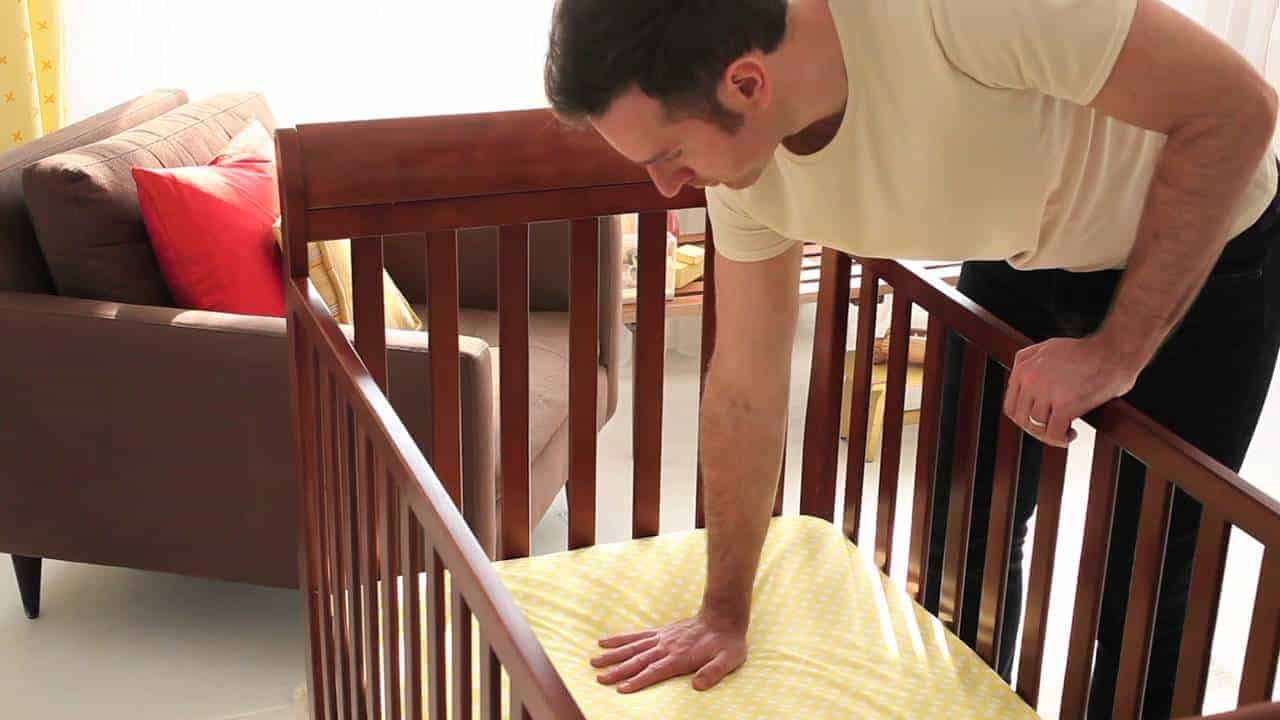 Baby Cribs are made of wood, metal, or acrylic material, so they are heavier, stronger, and designed to be put at a fixed place for years, mostly until your baby outgrows it.
Pack n Play is easy to move as it is made of plastic, aluminium, and Mesh.
The most important and handy tool is the wheels that help move it from one room to another.
Due to the material, cribs are more stable than pack n play. Moreover, Pack and plays are easily foldable, and they only need 5-10min to be folded and packed in a carry bag that comes with them for hassle-free travel.
In contrast, cribs are not foldable or packable, but still, you can fold them using tools in many hours, and it is a difficult task.
From a maintenance point of view;
Cribs are easy to clean, and you just have to remove the mattress and clean it, and the rest of the frame can be cleaned with wet cloths. Whereas in pack n play take some time.
You have to remove all the fabric, mattress, sheet and dismantle the frame sometimes to machine wash it.
Need help to clean them without damaging the fabric and frame?
Here is a guide for you;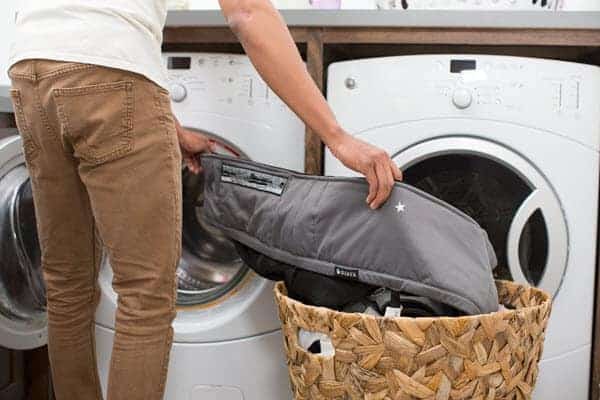 So, in short, ask yourself what you want, a travel-friendly pack n play that you can take where you want, or a large size comfortable crib that can even support your weight to do safe co-sleep with a newborn.
3.) Comfort is Important for Good Sleep:-
When it comes to good sleep, comfort is necessary not only for babies but for work exhausted moms also. And Pack n play and crib both provide comfort but in different ways.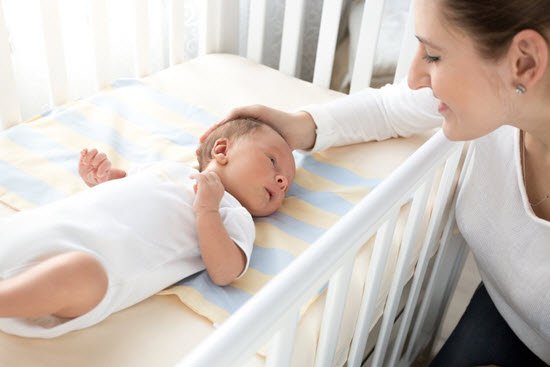 There is no doubt, a Pack n Play offers more features than a crib. Firstly, the extended changing station helps you quickly change your baby's dress and clean it day and night.
Secondly, the mesh storage area is a handy tool for every mom. It keeps your baby's essentials like nappies, wipes, creams, powder, and bibs within your reach.
Pack n Play comes with other soothing features like removable mobile that generate music, vibration, and lullabies to soothe your baby to sleep faster.
Moreover, the nightlight helps you check in on your baby at night time.
In contrast to baby Crib, Changing tables, soothing devices, and storage boxes do not come with it. You have to buy them separately, which puts a burden on your pocket. But, that does not mean the crib is not comfortable.
You can do so many things to make the crib more comfortable. And one of the best things is that, later on, you can convert that crib into a Toddler Bed due to its strong frame that lets you use it even after 4 years.
So want you to want; Pack n play or crib. In my opinion, In the end, in terms of comfort, Pack N Play win the match.
4.) Which One is Cost-Effective:-
Although there is a huge difference between Pack N Play and Crib prices, this is primarily because of the accessories.
Pack n play price ranges from $60 to $300. The lower price pack n play provides you with some features.
And the costly pack n play offers more features like an infant seat, canopy, soft toys, mobile, changing station, storage organizer, bassinet, and playard.
On the contrary, baby cribs are mostly higher in price, ranging from $170 to $500. But these cribs do not come with the features mentioned above, and you have to buy them separately.
So, what do you want, a baby sleeping area with many features to take care of an infant Or a simple, sober sleeping area that you can, later on, use as a toddler bed?
Final Words
Both products have some pros and cons, and both meet the safety standards for sleep set by pediatricians.
Now, according to my opinion and experience with pack n play and Crib, both are good in terms of their feature. But pack n play is a little better in terms of comfort because they have all the features you need to take care of an infant.
But in the end, the choice is yours!! Here is the list of Top rated baby Cribs in 2022 and Top-rated pack n plays in 2022.
Now, what next? Here are a few informative guides that help parents take care of their babies.
I hope you like our guide, Pack and play vs Crib. And found informative and helpful that help you to make a valuable decision.
Now, it's your turn. Let me know what you will buy & why; let's help other moms make a quick decision and put your comments in the comment box.
And don't forget to share the article because sharing is caring.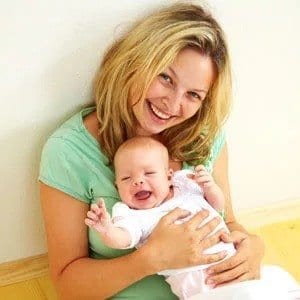 Dr. Sakshi Patel
Senior Content Writer
Dr. Sakshi Patel, an expert in Human Development and Family Studies, combines her academic knowledge with personal experience as a mother to twins. She provides comprehensive articles and meticulous reviews on baby essentials, offering accurate and up-to-date information to help parents make informed decisions. Read more.