If your baby is not sleeping in Pack n Play or is afraid to sleep in it, you should make their sleeping environment more comfortable and safe for sound sleep.
Many parents love to buy Pack N Play because it is an excellent place for their little ones to safely play and sleep.
While Pack N Plays are convenient, but they are not always comfortable. Its mattress pad, for instance, might be too hard or rigid for your child to get a soft surface to sleep.
But, as per the guidelines by Marchofdimes.org [1]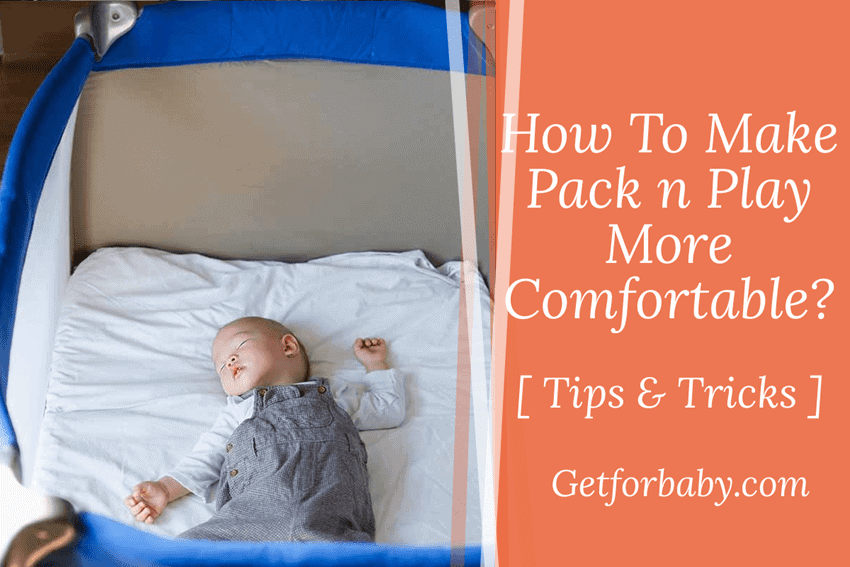 Put your baby to sleep on his back on a flat, firm surface, like in a crib or bassinet. Do this every time your baby sleeps, including naps.
There is a lot of publisher on the web that supports the same thing. Have a look at what the American Academy Of Pediatrics (AAP) [2] has to say on this topic:
Use a crib, bassinet, or portable play yard with a firm, flat mattress and a fitted sheet. Avoid sleep on a couch or armchair or in a seating device, like a swing or car safety seat (except while riding in the car).
Also, watch the below video by APP to understand it a bit little more.
So from the above statement & video, it's clear that a baby should sleep on a flat and firm surface and don't put something soft like a blanket or toy in the pack n play because it increases the risk of SIDS.
Now, the question is then how you can make your Pack n Play more comfortable if you can't place anything in it.
Well, No doubt a softer & comfortable mattress pad is the primary factor that helps make your pack n play more comfortable, but this is not the last thing you can do.
There are a lot of other things that make it more comfortable for infants to sleep.
Which I already explained in the guide with proof & evidence that supports my view.
I have learned that thing through my own experience as a mom, and they work well for me. I strongly recommend reading our guide, How to make bassinet and crib more comfortable before moving to next.
But for those who don't want to read, here is a quick summary to make the pack n place more comfortable.
Place Pack n Play near your bed:- Baby feels secure & safe when they are near their mom.
Use a swaddle blanket:- It restricts the movement, helps to feel warm & gives them a feel of a cuddle.
Make them feel secure:- When babies sleep secure (like holding them before putting them in it), they sleep longer as per the study. [3]
Play Lullabies or Read Book: Lullabies help the baby sleep faster, and if you have, it means you are on the plus side.
Well, these are the thing that helps you, but how can you make your Pack n Play Mattress more comfortable. Well, this is the exact thing that I'm going to explain next?
How To Make a Pack n Play Mattress More Comfortable?
Most Pack n Play comes with a thin and firm mattress foam pad about 1″ or 1.5″ inch thick to maintain the hardness for safe sleep. But you can still use a Quilted fitted sheet and soft blanket under the Mattress's sheet (carefully) to make it more comfortable.
But first, you have to understand why it is not safe to use a soft mattress for a baby.
Watch this experiment below, performed by FullControlLab, in which they demonstrate, how soft Mattresses increase the risk of suffocation when babies accidentally turn/flip on their stomachs.
Now you understand it clearly, why it is not safe and what you have to do to lower the risk when you are doing it. Here your observation & skill to analyze the risk help you.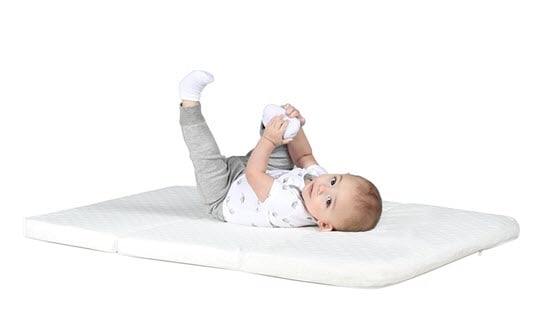 Most Pack and Play mattresses have a sheet or protector cover (Mattress topper); you can place a soft blanket under a fitted sheet to increase the softness of the mattress.
But putting it under the mattress's sheet is a challenge. That's why I recommend using quilted pack n play sheets.
It is just what you need; it's crafted with a soft material that helps create a quiet nest for your baby to rest.
AS per cpsc.gov, [4] the fitted sheet is safe to use.
Place baby on his/her back in a crib with a firm, tight-fitting mattress. Do not put pillows, quilts, comforters, sheepskins, pillow-like bumper pads or pillow-like stuffed toys in the crib. Consider using a sleeper instead of a blanket,,,,,,,. Use only a fitted bottom sheet specifically made for crib use.
Once you place it over the mattress pad correctly ( no loose corner & other things ), it increases the mattress's softness. It makes it comfortable that what your baby wants.
It does not just increase comfort; it also increases the mattress's longevity because cleaning the pack n play mattress frequently reduces its hardness & lose its shape.
Now, what next? Here are a few essential articles that help you to take care of your newborn baby.
I hope you like our guide and found it informative that it helps you to make a valuable decision. Now, put your helpful comment and feedback in the comment box to help other moms like you make a quick decision.
And don't forget to share the article because sharing is caring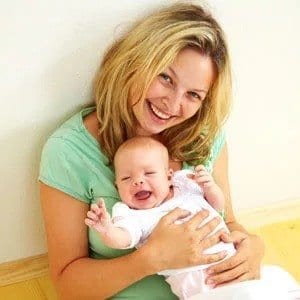 Dr. Sakshi Patel
Senior Content Writer
Dr. Sakshi Patel, an expert in Human Development and Family Studies, combines her academic knowledge with personal experience as a mother to twins. She provides comprehensive articles and meticulous reviews on baby essentials, offering accurate and up-to-date information to help parents make informed decisions. Read more.