When you plan to buy a pack n play for your newborn, you must have to understand how long you can use it and how safe it is to let your baby sleep in the Pack and play.
A pack and Play are small enclosed spaces which are cordoned off either by a metal or a plastic frame & fitted with a mattress.
They prove to be safer for the babies to spend both their rolling, setting and sleeping hours.
Because the pack n play provides a controlled environment, it gives a sense of security to the baby and the parents alike.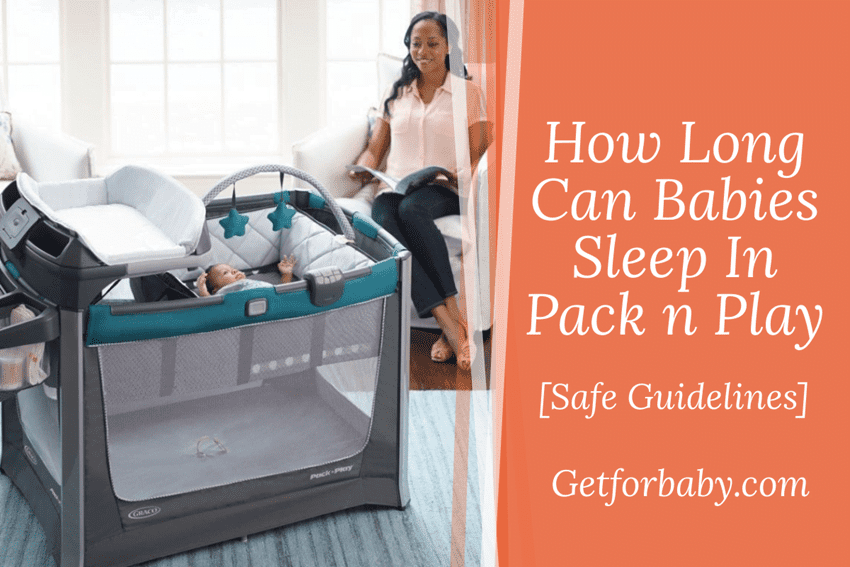 And the good thing is, Childrenswi.org has also recommended the use of pack n play for safe sleeping.
Also, the American Academy of Pediatrics (AAP) recommends to let your baby sleep in Baby Crib Or Baby Bassinet or Pack and play to lower the risk of SIDS.
Pack and Play are not only used for sleeping purposes. You can use it for a diaper changer, a short nap, playtime, etc. But, the question is, How Long Can Babies Sleep In Pack n Play?
The question looks pretty straightforward, but to answer it is a little complicated.
To understand when you should stop using the pack n play for your baby to sleep in, keep the baby's 3 factors of Age, weight, and height in mind. These 3 factors define the longevity of pack n play.
So, stay with me and keep reading.
How Long Can Babies Sleep In Pack n Play?
Your baby can sleep in Pack n Play as long as they are comfortable in it. You must keep 2 things in mind. First, make sure your baby doesn't cross the pre-set Weight & Age limit to be on the safe side. Secondly, until the baby doesn't gain the strength to climb on the sidewall by himself.
To make it easier for a parent to understand, let me break down these factors into a more practical way with examples pertaining to daily life.
1.) Size that Provides Comfort To Baby:-
Generally speaking, the baby's size is a critical determining factor in deciding how long your baby can sleep in Pack and play.
Usually, most of the pack n play comes in approximately 40 x 28.5 x 29 inches ( the size may vary depending upon the manufacturer of the pack n play you have).
So, once your baby reaches the height of 35 inches or 89 cm, it is time to bid adieu to the Pack n Play.
But, babies differ in their patterns of growth. Some grow slower and some faster than others.
So, you need to be vigilant for your baby's safety and keep an eye on the baby's growth.
For a big baby who has outgrown the Pack n Play, sleeping in a restricted space can pose a huge problem and is not suitable for proper growth.
Some babies are naturally more energetic than others and often feel restricted in the pack n play. Such babies move around too much even while sleeping.
2.) Weight Limit & Floor strength:-
Pack n plays differ in their weight limit recommendations. The pre-set weight limit for your baby to stop using the Pack n Play is approximately 30 lbs ( 14 kgs). This would make your baby about 2 and a half years old.
A baby who is over the above-recommended weight can cause the Pack n Play to collapse.
But keep one thing in mind, not all pack n plays have weight limit recommendations.
The bottom of some pack n plays touch the floor, which means there is no need to worry about the weight limit in such cases.
Dr Gary Kramer says that although the baby's weight has to be considered, more important is the baby's size that determines whether your baby has outgrown the Pack n Play or not.
Besides, an important consideration to determine the safety of your baby sleeping in a Pack n Play is the floor strength.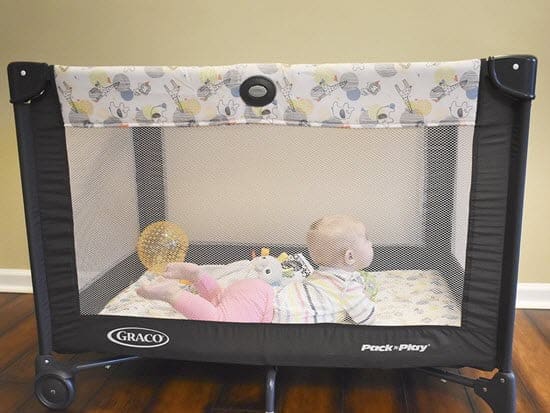 The Consumer Product Safety Commission hands out specific guidelines for parents to follow while using a Pack n Play for their baby's sleeping purposes to avoid entrapment, suffocation, or strangulation of babies.
3.) Sidewall Height & Strength:-
The sidewall height and strength play a considerable role in defining how long you can use Pack and play.
Your newborn baby will grow faster than you think; soon, he or she starts rolling in it and later on start moving in it or even try to climb on the sidewall.
Most of the pack n play side walls are Mesh made for better breathability and lower their temperature.
But that Mesh is not strong enough to hold the baby standing or push when climbing on it.
Suppose your baby I standing in it and with his or her push your Pack and play flip, which in turn could lead to severe accidents.
The American Academy of Pediatrics found that most injuries that the babies incurred were in the neck and head regions due to falls, some due to product failures, and others due to consumer negligence.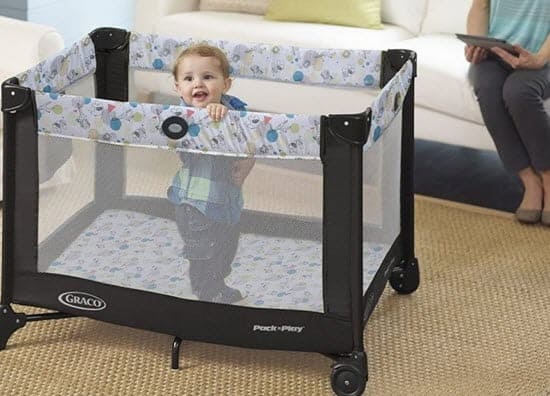 Some babies may not have crossed the recommended weight and age limits but are pretty tall and can easily climb on the side to move out of it.
In short, when your baby starts pushing the side or starts standing in pack n play, that the clear sign that it's time to stop using Pack and play and time to switch them to a crib or standard bed.
Watch these CDC safety guidelines from safe sleeping.
Note: Moving a baby from pack n play to crib is very straightforward, but it depends on your baby's resistance to sleep in a new place.
So write a handly guide for a smooth transition: How to Transition Baby to Crib?
Some-FAQ
When To Stop Using Pack n Play?
According to the American Academy of Pediatrics, there is no fixed number that lets you know when to stop using a pack n play.
But you should stop using it when your baby crosses the Weight & Age limit set by the manufacturer or when your baby gains the strength that enables him to jump out or push the pack n play.
What comes to the forefront is that you have to stop using the pack n play once your baby outgrows it. Always keep in mind "safety" should go before "comfort."
How Long Can Baby Sleep in Pack n Play Bassinet?
The Pack n Play bassinet can be used until your baby is still an infant of about 3-4 months Or begins to roll over by himself. Once your baby outgrows the bassinet, it increases the risk of suffocation and leads to the infant's death.
Watch this experiment perform by Full Control Lab.
Once the baby starts rolling over by himself, it is an ideal sign for you that it a time to move the baby from his pack n play bassinet to pack n play for safe sleep.
You can read our below guides, To make a more valuable decision for your baby's safety.
Mow, What next?
Well, if your baby outgrows the pack n play, then here is a handy guide for you to transition baby to crib. Or if not, then feel free to spend some time on our blog to get more helpful information.
Now, it's your turn. What you think? How Long Can Babies Sleep In Pack n Play, according to your experience as a mom? Put your valuable comment in the comment box to help other moms like you make a quick decision.
Don't forget to share the guide because sharing is caring.