When it comes to choosing between two similar products, then it really becomes difficult to make a decision.
Both the Fisher-Price Soothing Motions Bassinet and the Halo bassinest are unique and the best-selling bassinets of 2018. The quality and features of both bassinets are the best as compared to the other bassinets in the market.
These are both truly fantastic bassinets, and if you're like me, you want to give your baby the best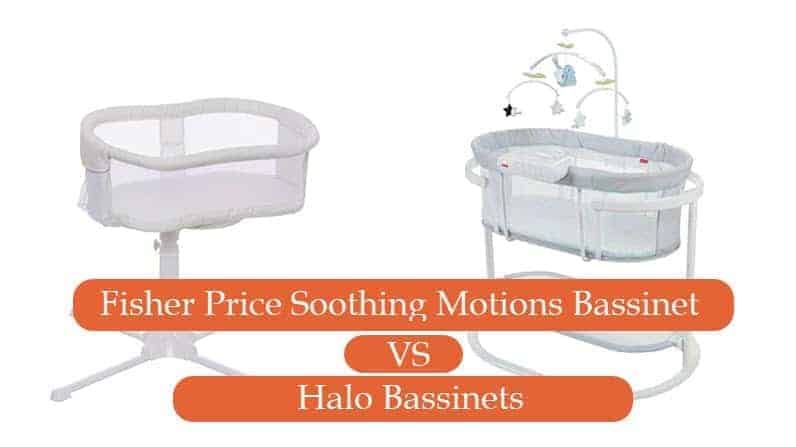 . And, since you want your baby to have all the comfort possible, this should pique your interest.
We compared & reviewed the features of both, the Fisher-Price Soothing and Halo bassinest and found that both bassinets have unique and special features and specs that really made us, as parents, sit up and take notice.
When I was looking for a bassinet for my baby, I wanted one that would be safe, would calm my baby and would allow him to sleep soundly. Because if he was safe, calm and sleeping soundly, then I could sleep soundly.
So, let's see how they stack up with features, value, and customer satisfaction.
But, before evaluating which one is the best, let's take a look at the features of both bassinets to get a better understanding of them so when we do the comparison you can easily get an idea of which one will meet your needs and the needs of your baby.
I tested both the bassinets with my soon-to-be four-month-old baby boy.
Read all the way down to see which one I thought was the best for baby as well as for a mom recovering from childbirth.
Features of Fisher Price Soothing Motions Bassinet
The Fisher-Price bassinet has some great features to help your little one get a great night's sleep. It's comfy and has some great features, including:
A calming sway motion generated by you or your baby.
Dual-mode lighting and projection by nightlight design that aids with nap and bedtime routine.
30 minutes of calming vibrations, music, and sounds.
Comfortable and soothing flat sleeping surface with deluxe overhead mobile sounds.
Optional lockout features, swaying motion, and variety of textures.
Able to pick up on cognitive cues.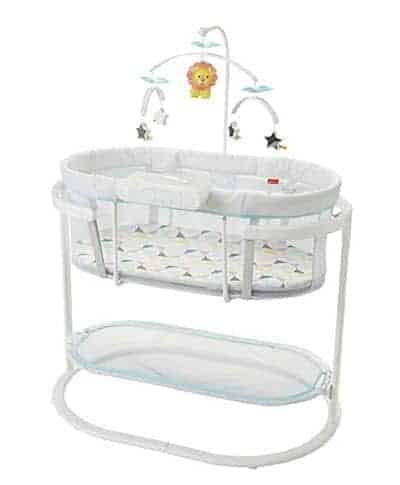 Features of Halo Bassinest
Halo's line of bassinets also offers a lot of unique features for your baby and you. And, as you'll see, cuts down on hassle too. Plus, the bassinets' features allow you to keep the baby close but avoid the dangers of co-sleeping.
Halo bassinets can rotate and swivel up to 360 degrees so you can bring your baby closer to you at night.
100% polyester coordinating fitted sheet
Polyester surface wipes clean with a damp cloth
The Bassinest have a stable 4-point base that adjusts from 24" to 34" high
They have a storage pocket for baby's essentials
Their polyurethane mattress pad is waterproof
They're designed with no toxic substances and its JPMA-certified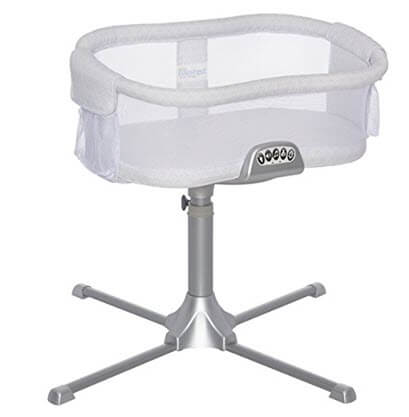 Fisher Price Soothing Motions Bassinet VS Halo Bassinest
So, we've looked at both bassinets and I'm sure you've noticed that they have a lot of different features and specs.
Now, the question is. Which one do you choose?
The Fisher-Price Soothing Motions is great because it's mobile, music and lighting actually teach your baby and help him grow cognitively. I love the idea of a bassinet that would help my baby increase his cognitive ability. On another hand, Halo Bassinest offer 2-level vibrations, music and overall sound along with its 360-degree rotation best for recovery (c-section) mom. And, at least with my son, music really helps soothe him, making him fall asleep more quickly.
So, let's compare the features of both of these bassinets one by one.
1. Clever & Unique Design
The Fisher-Price Soothing motion bassinet measures 27 x 38.8 x 48 inches, and the Halo range comes in at a larger 19 x 12 x 35 inches.
Halo bassinest need a large area to set up and occupy a huge space in the room.
If you have a tiny house like mine, then you should go for the Fisher-Price bassinet as opposed to the Halo bassinest. When I was buying things for my baby, I had to be really aware of the size.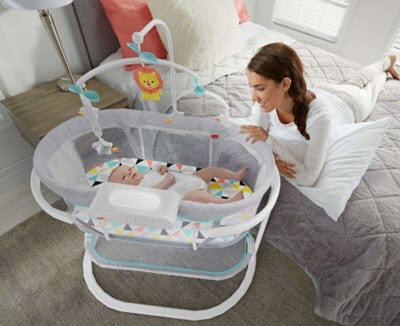 Apart from the size, if we consider the designs of both the bassinets then the Halo bassinest win the match. Halo's bassinets are designed by taking the comfort of the baby as well as the mother's in the mind.
For example, if you gave birth to your baby through C-section then it will be difficult for you to move or to get up from the bed to pick up the baby for feeding or soothing.
This is where the Halo bassinest's design comes to the rescue. Its design gives you the ability to pick up and put your baby back in the bassinet without having to leave the bed.
And, I can tell you from personal experience that this feature will be very helpful when you're recovering from a C-section. Getting in and out of bed was a chore for a little while for me.
Halo bassinets have one more unique feature that sets them apart from all the Fisher-Price models: their flexible sidewalls.
When you pick the baby up, the side of the wall can easily be flexed downward and, after putting the baby back, it pops back up to its original state. As a new mom, you'll need all the help you can get.
I wish my son's bassinet had flexible sides. It would totally cut down on the leaning over I had to do when still recovering from my C-section.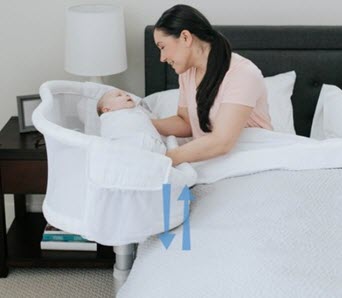 If you look at the design of the Fisher-Price, you'll see that it can be difficult to pick the baby from the bassinet.
It'll be difficult because first, you have to leave the bed, and then you have to bend down to pick up the baby, and then do it all over again to put him back. It can be a painful task for recovering moms.
Another nice feature of the Halo's bassinets is that they can also be used directly next to the bed.
In this way, you can be close to your baby for bonding and you'll reduce the risk from bed sharing. So, you can keep your baby close enough to you and prevent the risk of SIDS.
If you're a worrying mom like me then you should definitely go for this bassinet. The feature that I like the most in Halo bassinest is the adjustable base. You can adjust the height of the bassinet to match the height of your bed (a 24″ to 34″ high bed)
So, in short, when looking at the design, Halo bassinest take the win.
2. Weight Limit and Portability
Now, let's talk about their weight limits. Both the bassinets have the same limit, up to 20 lbs. But from my own experience and as well as moms, you can use the Halo bassinet for a little longer because of its size.
There is no hard and fast rule for a bassinet's weight limit like you have to stop using the bassinet when your baby becomes heavier than 20 lbs. No, you can use bassinet until your baby is comfortable in it or until he starts to roll over in the bassinet.
OK, so we've talked about the weight limit. But what about the weight of the bassinet itself?
The Fisher-Price bassinet is lighter in weight. It weighs only 20 lbs, while Halo's bassinets weight 46 lbs. This means that the Fisher-Price bassinet is easier to move from room to room.
So, in terms of portability, the Fisher price bassinet wins.
3. Comparing The Basic Features
The Fisher-Price model has great lighting options and a lovely overhead mobile that will keep your baby's attention. Plus, for they're good for the baby's brain development.
You'd be surprised at what your baby notices and learns even when they're brand new!
Have a look at the feature in Video
But don't forget about the 2-level speed vibration, sound and light feature of the Halo bassinest. Let's check the features of both the bassinets in a quick view to make a quick decision which one is best.
| | | | | | |
| --- | --- | --- | --- | --- | --- |
| Model | Vibration | Music/sounds | light | Rocking | |
| Halo | 2-level vibration | Lullabies, Nature and Womb Sounds | yes | No | |
| Fisher-Price | Yes | Soothing music & sounds | | Generated by you or the cues of the baby! | |
So, what you think, who wins in this battle. The Halo bassinest or the Fisher-Price bassinet?
Well, if you ask me, then I'd go with Fisher-Price because it comes with a light projection which is good for the brain development of the baby and self-rocking feature for soothing the baby automatically.
Whenever your baby wakes up and starts moving, the bassinet automatically begins rocking to put the baby back to sleep.
I personally like this feature the most. That's because I don't have to wake up in the middle of the night to rock my baby back to sleep.
Note: There are no batteries required for operating the Halo bassinet essential series, but all other series like plus, duplex, and premium need batteries.
But, you're going to be buying batteries for all of your baby's toys, so it's no big deal to pick some up for the bassinet as well!
4. Storage Space
A most needed feature of the bassinet. Both bassinets have storage spaces but the Fisher-Price bassinet has bigger storage space as compared to the Halo bassinest.
In the Fisher-Price bassinet's storage space, you can place a lot of things but in Halo's, you can only place small sized things, because it is just a pocket.
Keep this in mind, because I store spit-up rags, toys, and any number of my son's necessities. You don't want to be running all over to find that one toy he always cries for.
But allow me to highlight one beautiful thing about the Halo bassinest's storage space.
If you look at the design of the Halo bassinest's storage space, it is fitted around the bassinet which means it is easy to reach. Again, this is good for recovering moms.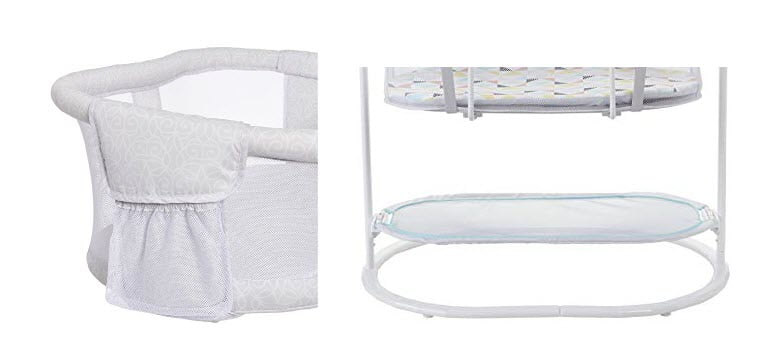 However, the Fisher-Price bassinet's storage space is under the bassinet. Moms have to leave the bed to reach storage. I think it's difficult to just reach over to get a spit-up rag or whatever you need.
So, who do you think wins in this battle?
Well, I think it's up to you to decide because, if you're a recovering mom from a C-section, then the Halo bassinest is for you, but the Fisher-Price bassinet is better if you like to have more storage space.
5. Comfortable Sleeping Area & Mesh Side
In terms of ventilation, both Fisher-Price Soothing Motions Bassinet and Halo bassinest get 8/10. Both bassinets have mesh on their side which makes them fully ventilated.
The mesh side is not only for ventilation, but it also gives you the ability to watch your baby in the bassinet from far away.
So, you could be on the other side of the room but still, keep your eye on the baby.
Again, when they are brand-new, you are going to love this feature.
Halo bassinest come with a 100% polyester coordinating fitted sheet, made from polyester that wipes clean with a damp cloth and is machine washable, while the Fisher-Price bassinet uses high-quality fabric.
When we are talking about the comfort than how can we forget about the HALO Bassinest Newborn Insert.
This is an additional accessory you can buy separately. This inserter is designed to provide a narrower sleep surface to help your newborn baby feel secure in the bassinet.
It is made up of a breathable fabric and its surface is flat to provide smooth surface. The used fabric is machine washable and it's easy to clean.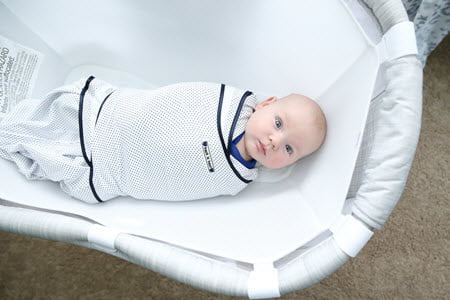 Have a look at the Halo bassinest Inserter.
Both the bassinets are JMA certified. But in my experience testing them, the Halo bassinest keeps my baby warm, cozy and soothes him automatically, which in turn, makes my life easier.
What Do We recommend?
When looking at the above discussion and comparison, both Fisher-Price Soothing Motions and Halo bassinets have excellent features. But, when looking at design options, Halo takes the cake.
It was so much easier to use for me. And the baby seemed to really like sleeping right next to me, with the bassinet pushed right next to my bed.
The 360-degree feature of the Halo keeps your baby close to you and safe. We think it's more useful than the soothing motions or self-rocking feature of the Fisher-Price bassinet.
Keeping my baby close to me at night gives me peace of mind. And I think it helps him to sleep because he can hear his mommy breathing right next to him.
When looking at the overall reviews, features, and specs, Hallo bassinets win, mainly due to their uniqueness.
So, do you know what you're looking for now? If you decide to purchase the Halo bassinest, which I recommend highly, then click on our verified link to get the Halo bassinest for the best price. You can also save a few bucks buy buying Fisher price bassinet online.
Sakshi Patel
Senior Content Writer
Sakshi Patel is a busy Mom who enjoys spending most of her time with her cute daughter and a pet dog. She joins us as a senior content writer, and because of her creative writing style, has become our top-rated content writer