Fisher Price Luminate Bassinet Review
The Fisher-Price Luminate Bassinet comes with Smart Sensing System, customizable lights, built-in sound detection, and music that makes it a high-end bassinet. And the best thing, all these features can control with the mobile app. The multi-colored bassinet looks fantastic in the room, but its solid design, gentle music, and soft amber light also provide security. The fabrics are stylish, smooth, and comfy, while breezy mesh sides help you keep an eye on your baby. The built-in Smart Sensing System detects cries and calms your baby with vibration and music, just like a soothing auto system, if your baby is weeping. To explore more about this fantastic product, keep reading the Fisher price luminate bassinet review.
Safety

92%

92%

Comfort

97%

97%

Easy of Use

91%

91%

Price and Longevity

65%

65%
Smart Sensing System Detects
Customizable lights, music, white noise
Vibrations controllable
Smart Connect app
Auto shut-off timer (up to 2 hrs)
Automatically Gentle floor light
Soft amber bassinet light
Includes AC adapter and soft,
Machine-washable mattress sheet
A bit costly
White fabric get dirty easily
| | |
| --- | --- |
| Product Name | Fisher-Price Luminate Bassinet |
| Brand | Fisher-Price |
| UPC | GHP38 |
| Age limit | Up to 7-9 month |
| Item Weight | 28 pounds |
| Weight Limit | 19.8 pounds |
| Dimension | 38 x 33 x 20.87 Inches |
| Mattress Size | 16″ x 32" x 2" inches |
| Sheet Size | 16″ x 32" inches |
| Batteries Required | AC adapter |
| Availability | In Stock |
| Rating | ⭐⭐⭐⭐ ☆  4.8 / 5 |
| Price | $249.99 |
| Buying Options | |
| Registry Options | |
Fisher Price Luminate Bassinet Reviews.
You can quickly choose it with fisher price luminate bassinet pros and cons in a hurry. There are hardly any cones in this customizable bassinet, while pros are many( such as Lights, Vibrations, Music, soothing sounds, and soft fabrics), making it a perfect fancy bassinet.
Below, I write Fisher price luminate bassinet review in detail, so let's take a deep look at its features.
1.) Unique Design for comfort:-
Fisher-Price Luminate Bassinet's design is unique and secure, while multi-colors give the bassinet a great look where it will place.
The legs look thin but are very strong and sturdy; even if you will kick the basinet, it doesn't even budge.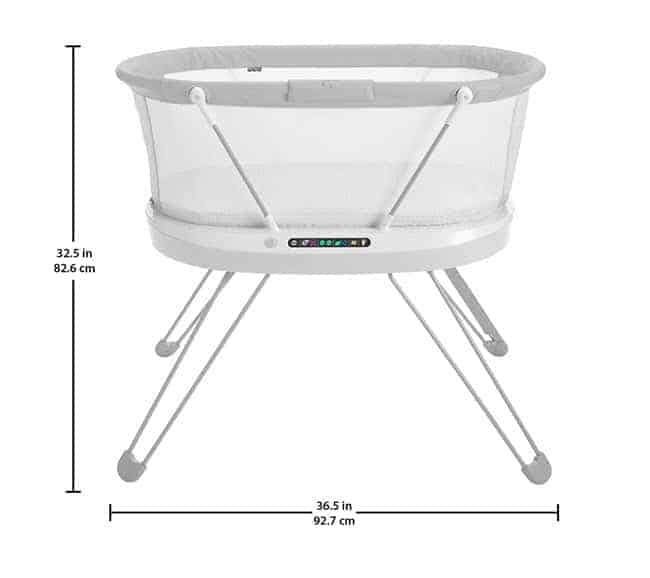 And the wire of the bassinet is hidden in one leg, giving the bassinet a cleaner look.
It is one of the great things I noticed in this classic bassinet.
Well, having a wired bassinet is more beneficial because it keeps functions running indefinitely compared to using extensive and costly batteries.
The Fisher-Price Luminate Bassinet dimensions are 38 inches (H) x 33 Inches (W) x 20.87 Inches (D) inches, and the item weight is 28 pounds.
At the same time, the Weight limit of the Fisher-Price Luminate Bassinet is 19.8 pounds, and there is no particular age limit from the manufacturer.
However, you can use it for 7-9 months because it is one of the bassinets that can be used for 6 to 12 months, and use it only for the child who cannot pull up or can't sit unassisted or is unable to push up on hands and knees.
You can place this bassinet near the bed due to its optimal height that meets most of the bed height; if your bed is high, I recommend going with the best bassinets for a tall bed.
Whereas, the white transparent mesh sides provide better visibility and reduce the risk of SIDS. In this way, you can keep extra safety of your baby.
2.) Smart Cry Detection Technology: –
This fantastic bassinet keeps your baby happy and calm with its unique Smart Sensing System that detects baby cries and responds accordingly.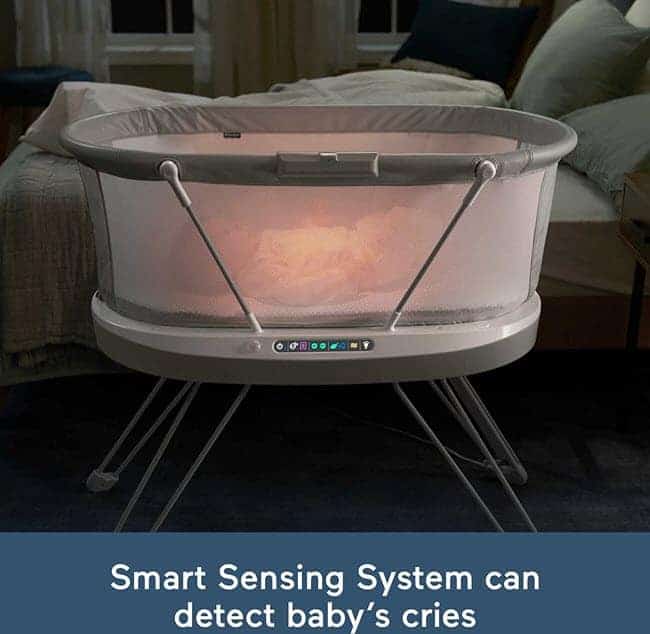 It has three soothing options, Ready, Settle, and Sleep playlist. You can keep the music and sounds on for 20 minutes.
Apart from that, there are multiple settings on the control panel, such as calming vibrations, sounds, nightlight, several white noise settings, and adjusting the music to provide calm to your baby.
And one of the best features that I like the most is its Mobile App. You can control these settings through an app via Bluetooth and wifi ( instruction manual ).
And for that safety point of view, you can set the setting to auto shut-off sounds timer for 2hr. So that baby does not get addicted to it.
Note: Using vibration in excess can hurt baby sleeping, and baby can get addicted to it and refuse to sleep without it, So always use a soothing system in vibration: Check this: Is vibrating bassinet safe?
Another thing, at night, moms want to check whether the baby is sleeping well or not.
In this condition, motion sensor foot-light provides them an extra comfort.
The harsh light in the room can disturb the baby's sweet sleep.
So, the bassinet's dim, soft light helps you see the baby in the dark without waking them.
A soft amber crib light is best for nighttime feeding, soothing, and check-in.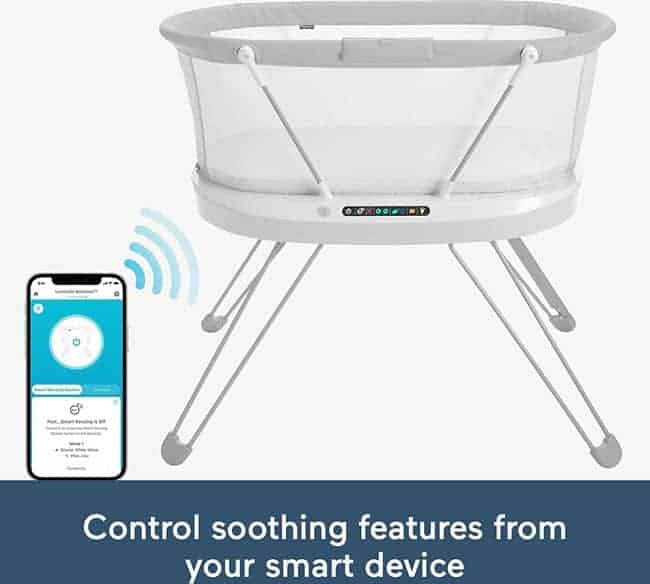 3.) Easy To Assemble and Maintain: –
The calming thing is that Fisher-Price Luminate Bassinet assembly and disassembly take a few minutes because all parts are numbered, and you can assemble them with a screwdriver.
Watch this quick short video to understand how you can assemble it.
The other great feature is its fabrics are machine washable with lukewarm water and baby-friendly detergent or soap.
You can clean the mesh sides with a damp cloth and detergent water. Though cleaning is easy, any unmanaged way can damage the bassinet so read our guide; on how to wash a bassinet.
Wiping the bassinet daily with soft fabric keeps the dust away, and the baby inhales clean air. So, in short, it's easy to assemble and maintain, so there is no need to worry about it.
4.) Fisher-Price Luminate Bassinet Sheet & Mattress
The Fisher-Price Luminate Bassinet is firm and soft, helping your baby sleep comfortably.
The Fisher-Price Luminate Bassinet mattress pad measures 31.63 inches x 15.75 inches and is 2 inches thick, too means additional softness.
Its flat surface is fantastic for safe sleeping.
Its mattress is soft and machine-washable but using hard detergent is not suitable for baby skin. If you want to increase the life of the mattress, use a waterproof mattress pad cover.
Please don't buy a loose mattress because it causes suffocation.
Whereas the Fisher-Price Luminate Bassinet sheet perfectly fits, I recommend having more than 2 sheets and 1 mattress to use when the other is not dry and clean. Check this, Do I need an extra bassinet sheet, and why?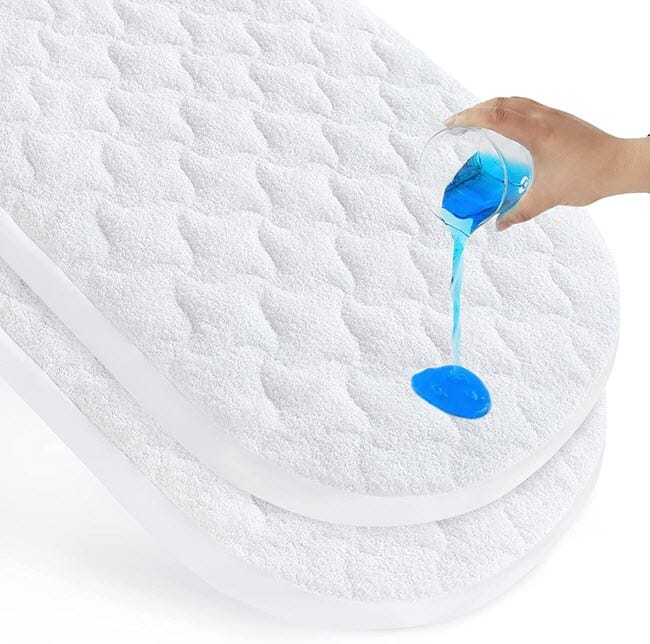 Here are some of the best bassinet sheets and replacement mattresses for the bassinet.
| | | |
| --- | --- | --- |
| Product | Dimension | Latest Price |
| Fisher-Price Luminate Bassinet Sheet | 16″ x 32" inches | Price |
| Fisher-Price Luminate Bassinet Fitted Sheet | 16″ x 32" inches | Price |
| Fisher-Price Luminate Bassinet Mattress | 16″ x 32" x 2" inches | Price |
| Fisher-Price Luminate Bassinet Mattress Pad Cover | 16″ x 32" x 3" inches | Price |
I hope you like my Fisher price luminate bassinet review and will find this information beneficial for you before making a final decision.
The Bottom line:-
The Fisher price luminate bassinet is specifically designed for ease for parents and the comfort of a baby.
This product comes with three soothing options( an auto shut-off timer, auto Gentle floor light, volume, and vibration control), making it an excellent choice for better sleep, protection, and crying babies.
With Multi Color and pretty cool shape, Fisher-Price Luminate Bassinet looks impressive anywhere in the house, and its lightweight design and thin legs make this bassinet easy to move from room to room.
One of the best things, its maintenance and cleanliness are straightforward. If you are a working mom, connect the bassinet with the app and control all settings remotely, saving huge time.

What are you waiting for? Simply click on the link to keep your baby happy and calm and offer a peaceful sleeping environment.
Here are some of the important pieces of information that you need.
Getforbaby editorial team is committed to providing the most helpful, updated & trustworthy parenting information. When creating or updating the existing content, we rely on credible sources, respected health organizations, professional groups of doctors, & only high-quality sources, including peer-reviewed studies, to support the facts within our articles. Learn more about how we write Getforbaby content.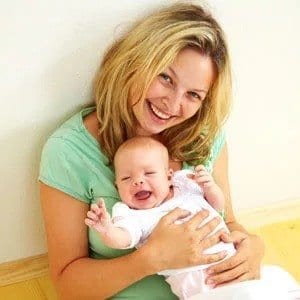 Dr. Sakshi Patel
Senior Content Writer
Dr. Sakshi Patel, an expert in Human Development and Family Studies, combines her academic knowledge with personal experience as a mother to twins. She provides comprehensive articles and meticulous reviews on baby essentials, offering accurate and up-to-date information to help parents make informed decisions. Read more.