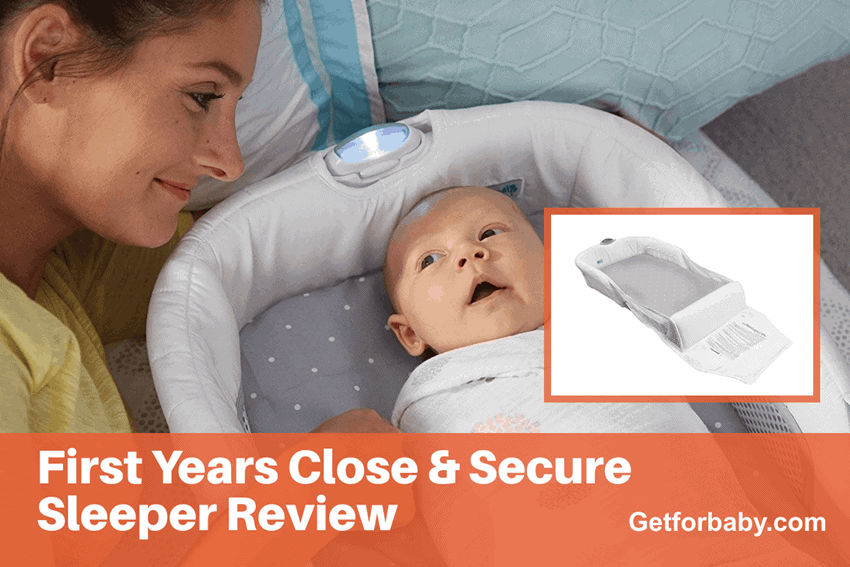 First Years Close and Secure Sleeper Review
The First Years Close and Secure Sleeper are specially designed for co-sleeping and bed-sharing with a newborn baby. It's made up of cotton and polyester to provide your infant with a peaceful and cozy environment. And it's head, and foot barriers are made up of polyurethane foam to minimize the risk of entrapment. This bassinet is very lightweight, and its easy zip to folding and carrying handleability makes it travel-friendly. The first years close and secure sleeper combines your baby's safety and your own comfort, which is so necessary for the first months of your baby's life. Still, many points need detailed discussion, so keep reading our first years close and secure sleeper review.
Safety

92%

92%

Comfort

97%

97%

Easy of Use

91%

91%

Price and Longevity

70%

70%
Perfect for co-sleeping

Well-designed to provide comfort and safety

Portable and travel-friendly

Machine washable

The attached nightlight makes monitoring easy in the dark
The baby will quickly outgrow the sleeper.

It takes up too much space.
| | |
| --- | --- |
| Product Name | First Years Close and Secure Sleeper |
| Brand | The First Year |
| UPC | B01BM26102 |
| Age limit | Up to 5 month |
| Item Weight | 3.8 Pounds |
| Weight Limit | No weight limit |
| Dimension | 28 x 16.5 x 5 inches |
| Mattress Size | 12.9 x 22 x 0.5 inches |
| Sheet Size | 12.9 x 22 inches |
| Batteries Required | C batteries |
| Availability | In Stock |
| Rating | ⭐⭐⭐⭐ ☆  4.6 / 5 |
| Price | 46.99 |
| Buying Options | |
| Registry Options | |
First Years Close And Secure Sleeper Review & Features
If you are thinking about co-sleeping with your newborn baby, this first year close and secure sleeper is an excellent choice for parents aiming for affordable and convenient bed-sharing for their newborn.
Its unique design and an array of features make it an essential part of your list of baby necessities to buy.
I have already given its pros and cons for your convenience, but now it's time to discuss them in detail. So let's check the first years close and secure sleeper reviews.
1. Innovative Co-sleeping Design
The co-sleeper is specifically designed to keep your baby safe within the privacy of its own bed.
From a safety point of view, lying down beside your baby is greatly discouraged. Because you might roll over or make movements during your sleep which can endanger your baby.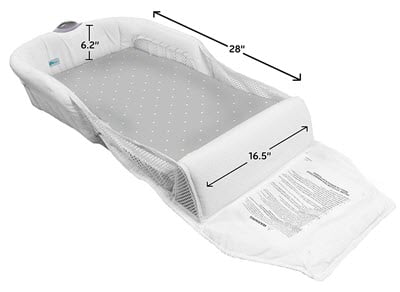 On the other hand, placing the baby in their own bassinet might not always be convenient for parents. That's why Bedside bassinets and co-sleeper bassinets are designed for moms.
This comfy co-sleeper dimension is 25.59 x 16.5 x 5 inches, which is enough for your baby's first four months.
It has an airflow design that allows air to circulate around your baby. It will reduce the risk of SIDs and offer a comfy sleep.
The head portion, which contains the nightlight, is made of plastic, and the sides are padded to provide for softness; near the bottom, the sides have a mesh portion and bumper to protect your baby from rolling out of the bassinet.
The mesh helps you fold the sleeper and, most importantly, makes it well-ventilated. So don't worry about your baby not getting enough fresh air like other bassinets.
Anti scoot wall at the base keeps your baby in place, helping you to make him or her sleep safely in the center of your bed.
If you are worried about how long you can use the bassinet, then the answer is that it totally depends upon your baby's advancement.
Note:- This bassinet is used straight on the bed or floor, so there is no recommended weight limit for the bassinet. So whenever your baby starts rolling in it, that means it's the best time to transfer the baby to the crib.
2. Portable And Travel-Friendly
The best part of this bassinet is it's easy to move and travel-friendly nature. As the sleeper is made mainly of cloth with a small amount of plastic, it's extremely lightweight.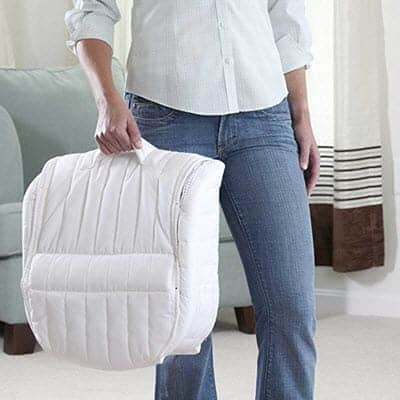 The weight of the first years close and secure portable infant sleeper is just 3lbs, making it a super compact travel bassinet.
Your baby can sleep anywhere you go, in his own bed, and get a cozy and safe sleep without any rigid base or sides.
Moreover, it doesn't have a legs option, so it can't be a standalone bassinet, but on the positive side, you will feel secure while putting your baby in it as it does not collapse down.
It is safest to place it on your bed or the floor. So, take it wherever you are going without any fear.
This point is great since babies get used to their bed and surroundings and may find falling asleep difficult without their usual environment.
You can easily open and fold this bassinet with one hand, and you don't need any tool. (Just like a foldable bassinet ).
Moreover, you can straightforwardly roll it and place it in the baby's bag for ease of carrying.
3. Nightlight To Watch Baby
The First Years Close And Secure Sleeper include a nightlight that is a helpful feature during the night to check up on your baby to make sure they are sleeping soundly.
Babies tend to wake up at odd hours and frequently require nursing or soothing, meaning parents' sleep suffers.
Walking to your baby's bassinet that is not near your bed can be especially difficult in the dark.
Switching on the room light to check your baby may cause a disturbance that will affect your partner and baby's sleep.
Moreover, the nightlight function is especially practical since it prevents accidents at night, which may occur due to parents trying to get to their baby in the darkness.
So having a nightlight is a huge advantage.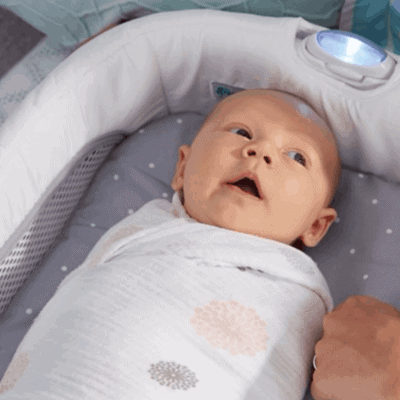 4. Easy To Store and Clean
The First Years Close And Secure Sleeper do not have many parts, so it is easy to store and clean.
The Co-Sleeper can be folded without much effort into a compact form suitable for storing anywhere, if you need help here is an instruction manual for your help.
Even if you lack space, you don't have to worry about the sleeper, as you can place it in a drawer until it's not needed.
The hassle of managing space is reduced greatly, which is an issue with other bassinets.
On top of this, all the covers are removable and can be machine washed.
Merely unzip the cloth and wash it in a gentle setting.
Note: Wash the first years bassinet replacement parts twice a week and the full bassinet after 3-4 weeks to provide a clean environment. Need help, here is a handy guide for you: How to wash bassinet?
The convenience of cleaning the sleeper makes it very hygienic and bacteria-free.
5. Sheets and mattresses
The First Years Close And Secure Sleeper come with a Vinyl-covered mattress and a removable sheet. The light color helps find a bug and any other insect in it.
As peeing and pooping or throwing out are normal incidents with a baby, preventive measures are necessary.
So, it is far better to buy additional sheets. So, I always put two to three fitted sheets and a safety first bassinet mattress in my almirah.
Here I will give some First Years Close And Secure Sleeper sheets and mattresses that fully fit in this bassinet.
The Bottom Line
Traveling abroad or going to your mother's home, the Fisher Price Stow N Go Bassinet is always with you so that your baby can sleep in their favorite bed.
The deep-set, unfoldable mattress, sung and cozy space, and better airflow offers your little one a comfortable sleeping experience.
The height is perfect for putting it near your bed, so you never feel uncomfortable sitting or lying on your bed; you can easily watch and play with your baby.
From the maintenance point of view, it is easy to clean, and the materials are durable, which means it never loses its shape.
It merely takes a few minutes to set up quickly; no tools required make it possible for new moms to do this task independently.
Its removable legs, compact folding ability, less weight, and carry bag make it a perfect choice to take with you irrespective of the place where you are going.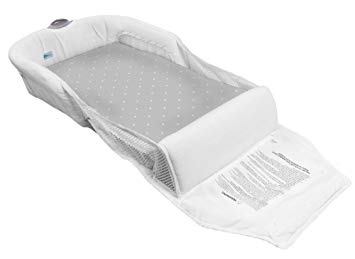 So, why are you still thinking? Click on our link below to keep your baby happy and calm and offer a peaceful sleeping environment.
Here are some of the important pieces of information that you need.
Getforbaby editorial team is committed to providing the most helpful, updated & trustworthy parenting information. When creating or updating the existing content, we rely on credible sources, respected health organizations, professional groups of doctors, & only high-quality sources, including peer-reviewed studies, to support the facts within our articles. Learn more about how we write Getforbaby content.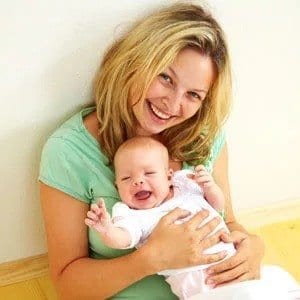 Dr. Sakshi Patel
Senior Content Writer
Dr. Sakshi Patel, an expert in Human Development and Family Studies, combines her academic knowledge with personal experience as a mother to twins. She provides comprehensive articles and meticulous reviews on baby essentials, offering accurate and up-to-date information to help parents make informed decisions. Read more.