While, choosing a bassinet, you spend tons of time on it, like considering mattresses, soothing devices, vibration, etc. But if your child is not feeling comfortable in it, it's nothing.
Your baby's skin is too soft, and a bit of negligence causes harm to their skin, leading to skin allergies. So having a quality sheet is worth buying.
Well, Bassinet sheets are available in various materials such as organic cotton, jersey cotton, polyester, flannel, etc.
But polyester & flannel are cheap; they can cause rashes on infants' soft skin.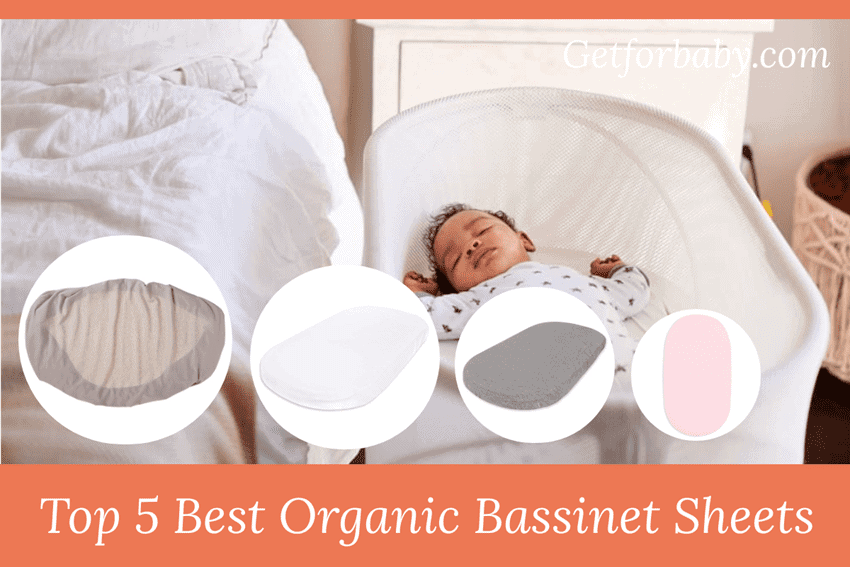 However, the organic bassinet sheet made of cotton and jersey is purely secure. It is chemical-free, come with premium elastic, and is simple in color.
Organic cotton absorbs baby sweat and ensures the baby is sleeping in a cool, dry place for proper growth.
And on the plus side, this soft & thicker cotton is easily washable and lasts more.
The only downside is that finding an affordable and pure organic bassinet sheet is tricky, so we created the list of the best organic bassinet sheets of 2022.
So let's take a look.
1.) Burt's Bees Baby Organic Bassinet Sheets
One of the best and most affordable organic bassinet sheets is offered by "Burt's Bees." It is made of breathable, 100% organic cotton and Jersey material that provides extra comfort to the baby's soft skin.
And free from harsh chemicals such as Phthalates, BPA, and lead that can irritate the baby's skin, making it GOTS certified bassinet sheet.
Along with it, it also comes preshrunk, so the sheet will never lose its shape after machine washing, which makes it one of the best organic bassinet sheets.
This universal sheet is perfect for hourglass-shaped, oval, or rectangular bassinet mattresses under 33″ x 15″ x 2″ inches.
And its item weight is 4 ounces.
The feature that impresses me is a 360º premium elastic with Extra fabric overlap on the bottom edge that never allows sheets to creep from the Mattress.
Along with it, it also comes with a solid pattern, and the cloud white color looks amazing, and extra stretch fabrics hold the Mattress snugly.

2.) Kushies Baby Organic Oval Bassinet Sheet
Kushies baby bassinet sheet is also made of 100% Organic Cotton, and there is no blending with synthetic materials.
At the same time, the high-quality elastic remains taut even after long-time use.
And don't get shrunk if you wash it carefully; How to clean the bassinet, sheet, and Mattress?
Its premium quality Jersey Cotton absorbs the sweat & keeps the baby cool by preventing moisture build-up.
This organic cotton bassinet sheet easily fits the bassinet size under 30″ x 18″ x 2″ inches, whereas its weight is 0.32 ounces.
Also, it easily fits many oval and rectangular pads of the bassinet. Also, it works in the stroller due to its elasticity.
The solid Grey color looks fantastic with modern bassinets and interior setup. And there is multiple color option available that match your nursery.

3.) ORGANICKID Organic Cotton Bassinet Sheet
ORGANICKID Bassinet sheet is made of the softest, 100% Organic Turkish, which brings it #3 on our list of the best organic bassinet sheets.
It is free from irritating & damaging dyes and colors; that's why sheets are approved by (GOTS) & OEKO-TEX Standard.
This sheet comes in a universal standard size and fits perfectly for oval, rectangle, and hourglass-shaped type mattresses.
Its size is measured in 32″ x 16″ x 4″ inches, and the item weight is 11.2 ounces,
The best thing is that the checkered pattern of the sheet looks decent, and along with it.
It also comes within a pack of three sheets per pack.
Three-pack is excellent as a backup in case of overnight spit-ups. 
Its cotton is soft and thicker and lasts more than conventional cotton, which doesn't last after use and washing.
The fabrics will never get pilled or lose shape after frequent washing in the machine.

4.) Lilly B Jersey Organic Oval Bassinet Sheet
Lilly B bassinet sheets are 100% Organic, and Jersey Cotton fabrics are perfect for a baby's thin and porous skin.
Damp sheets cause skin issues, but Lilly B. organic oval bassinet sheets allow unrestricted airflow, absorb all sweat, and keep the baby's skin safe.
Its soft and gentle cotton prevents rashes and wrinkles.
And on the plus side, the Premium Quality sheets are certified by Global Organic Textile Standards (GOTS).
The sheets are suitable for nursery bedding & mattresses, and all bassinets within the dimensions are 16″ x 33″.
Its elastic is strong, and stretches are enough to provide a snug fit thats why these sheet cover the Mattress entirely and tautly.
In my opinion, it is the unique thing about the sheet because the loose fabric is strongly discouraged by pediatricians.
It's a machine washable sheet and comes in a solid white color to match any bassinet.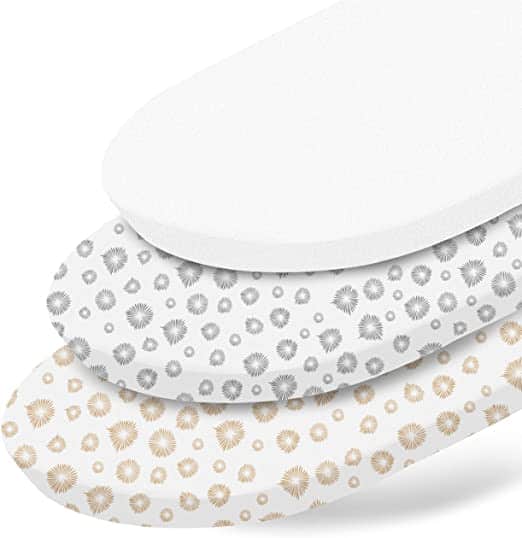 5.) TL Care Organic Cotton Bassinet Fitted Sheet
TL Care Bassinet Sheet comes in a Natural Color, and its Organic Cotton is soft enough that gives a Great tee shirt-like feel.
There are no worries about any artificial fabrics that can damage the baby's skin. And its high-quality material makes it warm, gentle, and cozy.
This TL Care organic cotton bassinet fitted sheet is sized 15″ x 33″ x 4″, and the item weighs 8.4 ounces.
The best thing is that its large size enables you to use it for large bassinets compared to standard organic fitted sheets available in the market.
Its Elastic corners offer a snug, secure fit, and sheets provide soft space to sleep in for your baby.
Overall, these sheets are well-made, wash well, and are very soft.
Note: Cleaning a bassinet is straighforeard but doing it in the wrong can damage it bassinet's fabric, sheet and especially its mattress can lose its longavity.
So Chek our handy guide: How to clean bassinet and its mattress?
The fabrics will never get pilled or lose shape after frequent washing in the machine.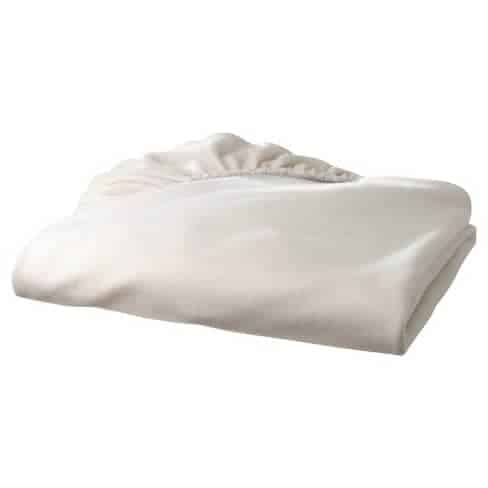 Now, If you want to make sure you don't wake up in the middle of the night and sleep comfortably in the bassinet, check these guides;
I hope you like our guide and it helps you find a suitable sheet.
Don't forget to share the article because sharing is caring.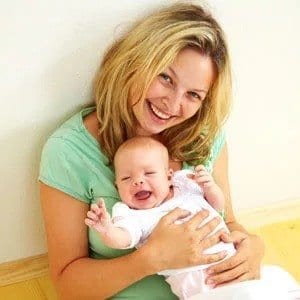 Dr. Sakshi Patel
Senior Content Writer
Dr. Sakshi Patel, an expert in Human Development and Family Studies, combines her academic knowledge with personal experience as a mother to twins. She provides comprehensive articles and meticulous reviews on baby essentials, offering accurate and up-to-date information to help parents make informed decisions. Read more.