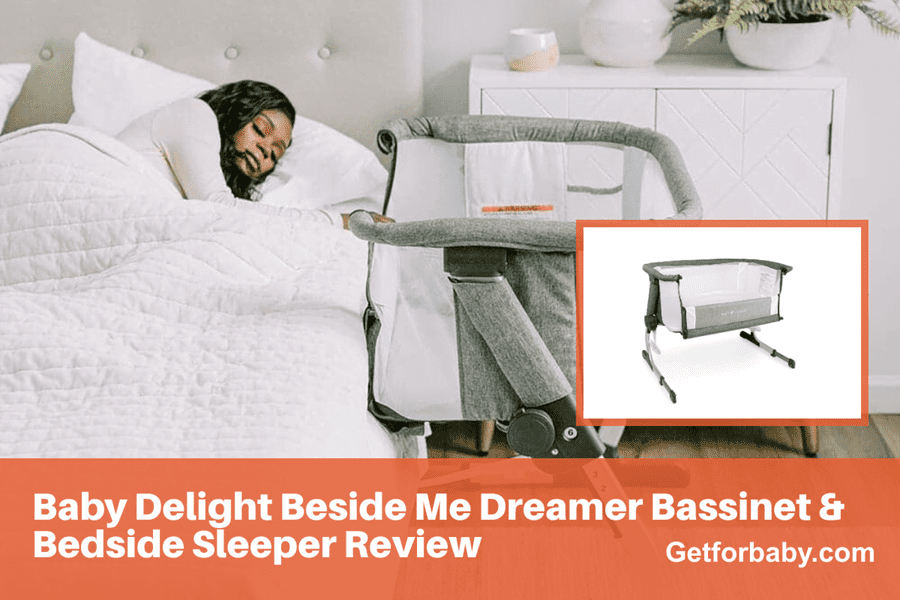 Baby Delight Beside Me Dreamer Reviews
Baby Delight Beside Me Dreamer is an excellent bassinet specially designed for safe bedside sleeping with infants. It serves two-fold purposes, i.e., it can be easily converted from a bassinet to a bedside sleeper. Its height-adjustable leg lets you easily match the height of your bed. And its Strap helps you to securely attach the bassinet to your bed. To easily access the baby, you can unzip the Side & lower it for an easy watch. Sidewall made up of mesh for better airflow. A small storage pocket is crafted on the Side to keep the baby essentials. To have a deeper insight into the product, keep reading our Baby Delight Beside Me Dreamer Bassinet & Bedside Sleeper Review.
Safety

91%

91%

Comfort

93%

93%

Easy of Use

85%

85%

Price and Longevity

80%

80%
2-in-1 Bassinet
6-Position Height Adjustable
Can lower one Side
Attached straps for Security
Waterproof Fitted Sheets
Breathable Mesh side
Storage Pocket
Small Storage Pocket
Don't have Wheel
| | |
| --- | --- |
| Product Name | Baby Delight Beside Me Dreamer Bassinet |
| Brand | Baby Delight |
| UPC | BD06040 |
| Age limit | Up 5 – 6 month |
| Item Weight | 23.4 Pounds |
| Weight Limit | 20 Pounds |
| Dimension | 37 x 22.5 x 30.75 inches |
| Mattress Size |  32.5″ x 21″ x 1″ |
| Sheet Size | 32.5″ x 21″ |
| Batteries Required | No |
| Availability | In Stock |
| Rating | ⭐⭐⭐⭐ ☆     4.4/5 |
| Price | $188.00 |
| Latest Price & Deal | |
| Registry Options | |
Baby Delight Beside Me Dreamer Reviews & Its Features
I have given a small glimpse of the Baby Delight Beside Me Dreamer Bassinet in the above section. In addition, I have mentioned the pros and cons associated with the specifications of the product. This will help to understand what does this bassinet has in store for you.
I will provide you with a detailed Baby Delight beside Me Dreamer Bassinet & Bedside Sleeper Review in the coming section. However, if you want to know in-depth about this bassinet, keep reading it until the end.
1.) Unique Design for Comfortable Sleep:-
The Baby Delight Beside Me Dreamer Bassinet is designed in a very unique & comfortable way to provide safe and sound sleep.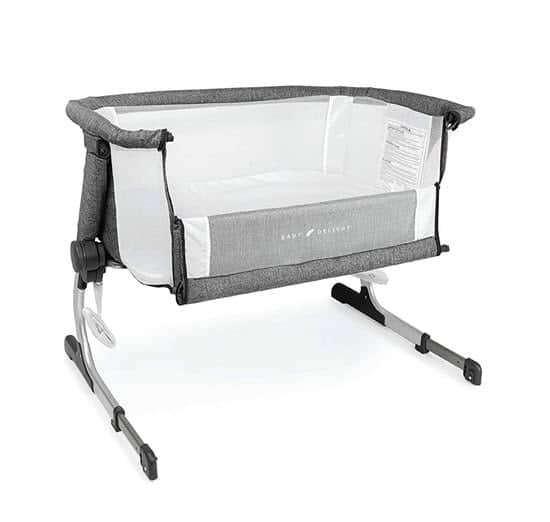 You can place the bassinet near the bed, and with the help of the Strap that comes with it, you can securely attach the bassinet to the Side of your bed.
This thing reduces the risk of flipping due to accidentally push at night.
And to easily watch & access the baby at night, you can lower its Side Panel by simply unzipping it.
When you are lowering the Side, you will notice that you cannot fully drop its Side.
The reason behind this is to keep the baby in its sleeping area.
Baby moves a lot when they are sleeping and could roll out of the bassinet, which is not safe.
So, this little boundary between you and your baby makes it a safer bassinet than the other bedside bassinets in the market.
The Height of the Bassinet is 24 inches which is enough to accommodate the height of your bed.
But in case you want to lift your bassinet, you can use its height Adjustable leg that lets you lift the bassinet to 12 inches more.
The feature that makes it more unique is foldable feet. Suppose you don't have space under the bed the how you can adjust these long feet.
When you can fold it to reduce the gap between the bed and bassinet.
Its created with a blend of 70% polyester, 15% plastic, and 15% metal that adds firmness to its design.
And the size of the Baby Delight Beside Me Dreamer Bassinet is 37″ x 22.5″ x 30.75″, which is quite big enough to support a baby up the 6-7 months.
But the age limit recommends by the manufacture is 5 months and the weight limit is up to 20 lbs.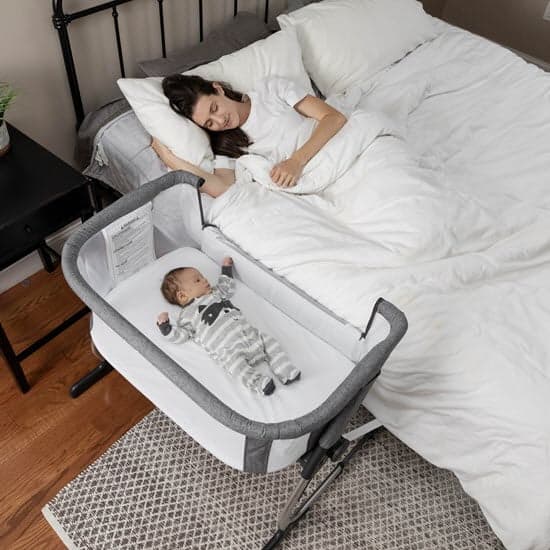 You can easily assemble the bassinet without any tools in less than 5-minutes. This will not only saves your time but will also help in easy assembling.
2.) Convertible Design for Safe Beside Sleeping:-
Baby Delight is a 2in1 mode bassinet that you can use as a bedside or standalone bassinet as per your need.
This is only possible due to its Safe Panel design that lets you convert this bedside bassinet into a standalone bassinet. This task will only cost you a fraction of seconds, and you will be done.
You can place it in the room where ever you want. Such as near the sofa by adjusting its Height or In the lobby during the daytime.
It has enhanced the visibility to take care of my baby.
And the best part that I liked about this bassinet is the effortless adjustments. I didn't require any external tools to set up the height as per my needs.
The only downside of the bassinet that I feel is, it does not support the Wheel to move it from room to room but it's lightweight enough that you don't feel any discomfort while shifting it from one place to another.
Another great thing about Baby Delight bassinet is its MESH Side.
The lightweight mesh walls of the bassinet allow the proper airflow for infants.
You do not need to worry about suffocation as it is adequately ventilated & also lowers the temperature in the bassinet to reduce the risk of SIDS.
Baby Delight itself a 2020 mom award-winning bassinet, which means it's best for your newborn baby. However, you can still do many things to make your bassinet more comfortable.
3.) Easy To Maintain & Use:-
Being a mother, I found this baby delight bassinet a true delight for my baby. I can easily wash the bassinet accessory in the machine. All I need is to put the sheet, Mattress, and fabric in the washing machine, and it is done.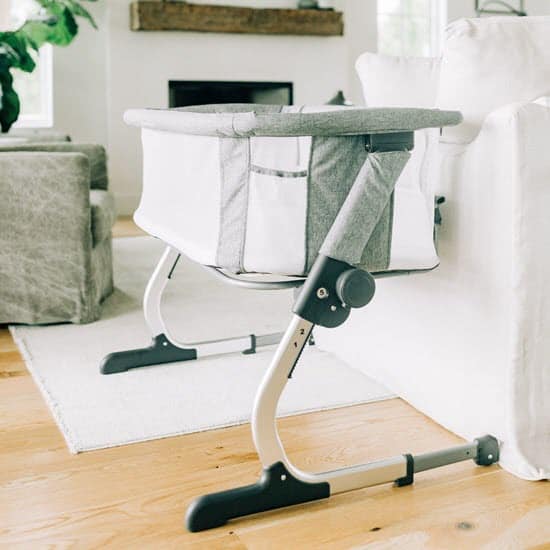 Once the sheet or the bassinet material gets dirty, you can easily remove the fabric for cleaning.
You need not put yourself under any burden that how you will be cleaning it.
You just need to remove the fabric from the rails and clean it seamlessly.
Note:- Before using any detergent or chemical to clean the bassinet, read its clean instruction. Otherwise, you can damage the fabric, and Mattress can lose its softness.
Then, read our ultimate guide: How to clean a bassinet step by step?
Another feature that helps you to take care of your baby is its side pocket.
Baby Delight offers a small Side Pocket Storage to keep baby essentials near your arms each at night. But its side storage pocket is small enough to only hold one item at a time—for example, milk bottle or diaper, etc.
Having something is always better than nothing.
The feature that I feel is missing in such a great bassinet is its Hanging Toy & Mobile to soothe the baby at night. Having such a feature is like the cherry on the top of the cake.
4.) Baby Delight Bassinet Mattresses & Sheet:-
Baby delight bassinet comes with waterproof sheets and fiber-filled mattresses that are not the only firm but also play a vital role in the sound sleep of your infant.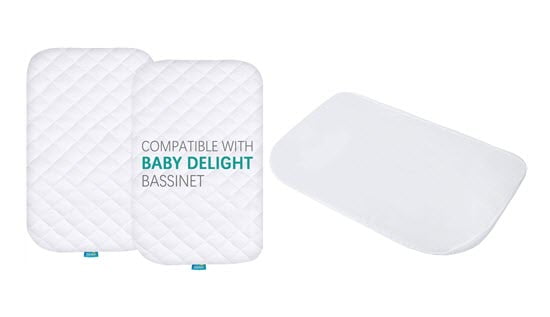 Its mattresses are unique in their shape and size. They are flat from two corners and slightly rounded from the other two corners.
This design makes them special.
Therefore, it's a little challenging to get alternatives for these mattresses.
So, I recommend buying a mattress's cover to protect them from any damage.
The sheet is also waterproof, so you need not worry about the child's comfort at odd hours. The sheets come in a standard size, and in case you want to change them, you can easily grab the replacements.
| | | |
| --- | --- | --- |
| Product | Size | Latest Price |
| Baby Delight Beside Me Dreamer Sheets | 32.5″ x 21″ | Price |
| Baby Delight Beside Me Dreamer Mattress |  32.5″ x 21″ x 1″ | Price |
| Baby Delight Beside Me Dreamer Cover | 32.5″ x 21″ | Price |
As I already said, both the mattresses and sheets are machines washable, so it doesn't pose any hurdles for cleaning. However, you always recommend that you go for an extra sheet when you are getting the bassinet.
It will not only keep you on a safer side but will also make things easier to manage.
I hope you got all your answers lingering in your mind from our Baby Delight Beside Me Dreamer Reviews. And, I hope that it will help you make a sensible decision for buying the apt bassinet for your little one.
Baby Delight Beside Me Dreamer is a 2in1 bassinet design to provides a safe & comfortable sleeping area to infants anywhere in the house.
Its height-adjustable leg matches the height of your bed, and it's easy to remove the side panel give you the ability to access the baby easily.
In addition, you can effortlessly switch from bassinet to bedside mode for safe bed sleeping with infants.
Its lightweight structure makes the bassinet portable from room to room. In addition, its foldable feet & Strap help you properly attach it to your bed.
The mattresses, sheet & fabric of the bassinet are machines washable that make the whole maintenance of the bassinet easy. So that your munchkin always stays in a clean environment.
All the necessary features that you expect from a bassinet come in the bundled Baby Delight bassinet.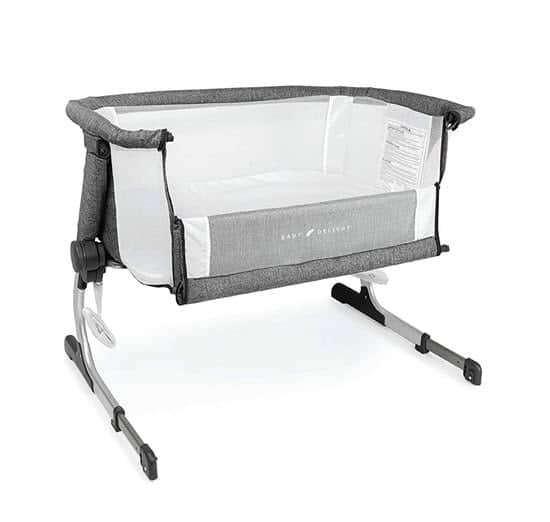 So, what else you are looking for in this bassinet is JPMA certified; just get your Baby Delight beside Me Dreamer Bassinet & Bedside Sleeper to make your life more relaxing and comfortable. 
So click the link to buy it from our verified seller to get a manufacture's warranty.
Here are some of the important pieces of information that you need.
Getforbaby editorial team is committed to providing the most helpful, updated & trustworthy parenting information. When creating or updating the existing content, we rely on credible sources, respected health organizations, professional groups of doctors, & only high-quality sources, including peer-reviewed studies, to support the facts within our articles. Learn more about how we write Getforbaby content.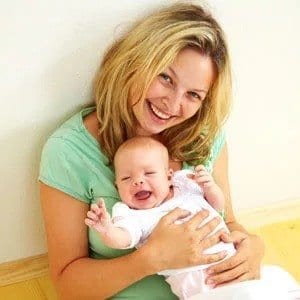 Dr. Sakshi Patel
Senior Content Writer
Dr. Sakshi Patel, an expert in Human Development and Family Studies, combines her academic knowledge with personal experience as a mother to twins. She provides comprehensive articles and meticulous reviews on baby essentials, offering accurate and up-to-date information to help parents make informed decisions. Read more.